Are Foreign Stocks Really Cheaper Than Domestic Stocks?
Includes:
ADRD, ADRE, DBEF, DBEM, DDBI, DEFA, DMRL, DPK, DZK, EDBI, EDC, EDZ, EEM, EEME, EET, EEV, EFA, EFO, EFU, EFZ, EMF, EMLB, EMSA, EPS, ESGD, ESGE, EUM, EWEM, FDT, FEM, FLQE, FWDI, GAB, HEEM, HEFA, HFXI, IDEV, IDHQ, IEFA, IEMG, IVV, KEMP, KLDW, MFLA, MSF, PPLC, RFDI, RFEM, ROAM, RODM, RSP, RYARX, SCHE, SDS, SFLA, SH, SPDN, SPEM, SPLX, SPUU, SPXE, SPXL, SPXN, SPXS, SPXT, SPXU, SPXV, SPY, SSO, UPRO, URTH, VEA, VFINX, VOO, VWO, XSOE
by: Strubel Investment Management
Summary
The S&P 500 trades at a higher P/E than both foreign developed and emerging market indexes.
There are enormous differences in sectors weighting between the indexes.
Investors need to thoroughly understand the types of stocks that make up an index. Looking at just the P/E is not enough.
I frequently read how foreign stocks (assuming you're an American investor) are more attractive due to lower valuations. Right now, the S&P 500 trades at a P/E of 22.56 compared to 18.81 for International Developed Markets and just a 16.02 P/E for Emerging Markets. On the surface, the advice to invest more in foreign stocks or funds because they are cheaper makes sense. But everything might not be as it seems.
While international markets are certainly cheaper, it's important to point out that they are composed of different types of stocks than the US market. The table below shows the sector weightings (using iShares funds as a proxy for the index) for the MSCI Developed Market Index (IDEV) and the MSCI Emerging Market Index (EEM), compared to the S&P 500 (IVV).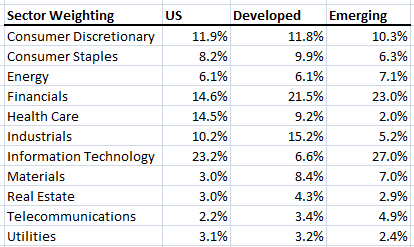 We can see that developed markets are heavily overweight financials, industrials, and materials compared to the US. Importantly, they are heavily underweight technology stocks and are also underweight healthcare stocks. Emerging markets are different as well. As with developed markets, they are overweight financials and materials and underweight healthcare. However, they are surprisingly overweight technology stocks.
The picture is even more complicated when you start looking at things at an individual country level. We've again used sector weightings from MSCI country indexes using iShares funds as proxies. We've highlighted in blue significant overweight sector deviations from the US.

We can see that almost each country's index has a certain "theme." Want to overweight materials and mining? then Australia or the UK is a good choice. Want almost half the index to be financials? Canada, Spain, and Australia have you covered. What's even more interesting is that several countries have no companies in certain sectors. Switzerland has no energy or technology companies. Italy has no materials companies. And, Canada has no healthcare companies to speak of. When you are investing outside of the world's largest stock market (the US), you are often getting exposure to specific combinations of countries and sectors (as you'll see later).
Why Sector Weightings Matter
The reason why the sector weightings are important has to do with each index's valuation. The two charts below from FactSet show current revenue growth for each sector for 2017 and 2018 (different companies are on different fiscal years) for the S&P 500. Even though the S&P 500 is a US index, about half of the revenue for S&P 500 companies comes from overseas, so it gives a good glimpse into how each sector is performing at a global level.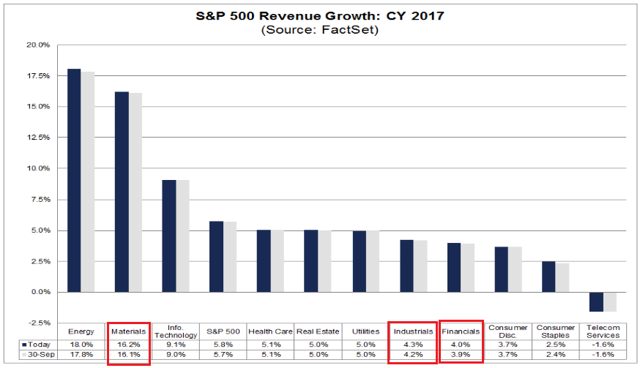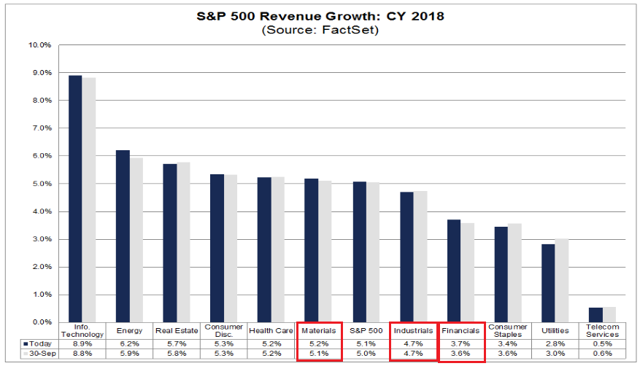 We can see that for two of the sectors that foreign indexes are most heavily overweight, financials and industrials, have some of the weakest growth, while information technology and healthcare, two sectors that are underweighted international, are showing some of the strongest growth. It's also important to point out that certain sectors such as healthcare and technology have usually had above-average return on assets, making them more attractive sectors for investment compared to other lower return sectors such as energy or materials (and mining).
Given all of this, it would look like we could say that Developed Markets look cheap for a reason. Extremely low exposure to the high growth, high return on capital technology sector. It also appears Emerging Markets may be considered undeservedly cheap, given they actually are overweight technology and underweight slower growing industrials.
However, we once again have to consider the underlying components of the index. Recall the sector weighting by country table from the beginning of the article. The technology portion of emerging markets is heavily weighted toward Chinese companies with a smattering of South Korean semiconductor and Indian IT outsourcing providers thrown in for good measure. For some investors, this could be cause for concern. While China is a fast-growing economy with a burgeoning middle class, it's also not known for its high marks when it comes to catering to Western investors (e.g. the 2010-2011 epidemic of fraudulent Chinese small-cap companies). Perhaps a lower multiple is warranted?
Summary
This article isn't meant to offer any definitive guidance on exactly how much of your portfolio should be in foreign stocks or funds. Instead, the goal of this article is to point out that simply looking at the P/E for a certain category such as Emerging Markets or International Developed Markets or even the index for a certain country and declaring that index cheap is not enough research. Investors need to understand the types of stocks that make up the index and make sure that they are comparing apples to apples.
Disclosure: I/we have no positions in any stocks mentioned, and no plans to initiate any positions within the next 72 hours. I wrote this article myself, and it expresses my own opinions. I am not receiving compensation for it (other than from Seeking Alpha). I have no business relationship with any company whose stock is mentioned in this article.