Coca-Cola (KO) is the fifth most valuable brand in the world, according to Forbes Rankings, is recognized all over the globe and has been in business for more than 100 years. The company should be able to grow sales internationally and increase the bottom line while facing the challenges of changing consumer demands in North America. The company looks more attractive under the leadership of the new CEO, although I will not be buying the stock at the current price due to a high payout ratio.
Fundamentals
Seeking Alpha shows a payout ratio of 93.95% for Coca-Cola. At first glance, this seems extremely high. But, after more research, some of this can be explained by one-time factors that have inflated this number. A Motley Fool article suggests the actual number is more in the 70% to 80% range.
The company has recorded 55 consecutive annual dividend increases and is considered a dividend aristocrat. A look at a peer-to-peer comparison is unimpressive, as KO only excels in the category of dividend yield percentages. That's because their average payout ratio is double that of the S&P 500 Index, which comes in at 39%.

Source: MorningStar
Security With Growth Potential
Although the appeal of this company is not due to the balance sheet, buyers of the stock at the current price are most likely searching for secure dividend income. The dividend growth, along with an estimated brand value of $73.1 Billion, provides security in scary market conditions. There is also the possibility of strong bottom-line growth for this company. In a memo circulated April 19th, Credit Suisse equity analyst Laurent Grandet said that Coke is set to shine again under the new CEO. They expect soft drink sales to decline by 1%-2% in the U.S. and remain flat internationally. Credit Suisse believes in Coke's turnaround plan of becoming a "total beverage company," where they will focus on broadening the focus on a larger assortment of beverage types. Credit Suisse states: "In our view, this category approach is a big step in the right direction and one that its primary competitor PepsiCo (NYSE:PEP) took a few years ago with some success in the U.S."
New Leadership
On May 1st of this year, Muhtar Kent was replaced as CEO of Coca-Cola by James Quincy, who previously held the COO position. Muhtar had been the CEO since 2008. The company slowly and steadily grew under his leadership, but compared to the overall market, KO remained relatively stagnant during his leadership.
Analysts such as William Schmitz of Deutsche Bank are excited about the new CEO James Quincey: "I think the difference between James and Muhtar is James is acknowledging the plight that Coke now faces," Schmitz said. "He's making an afterlife business, meaning that they're signing off on distribution assets or the independent bottlers, so you have a step change increase in internal invested capital. Your margins go up significantly."
Soda Sanctions
The recent repeal of the soda tax in Chicago is proof that the beverage companies can fight soda sanctions being levied on them by progressive cities. This also offers hope that consumers will fight for products they enjoy and are starting to push back on state-levied sanctions against sugar.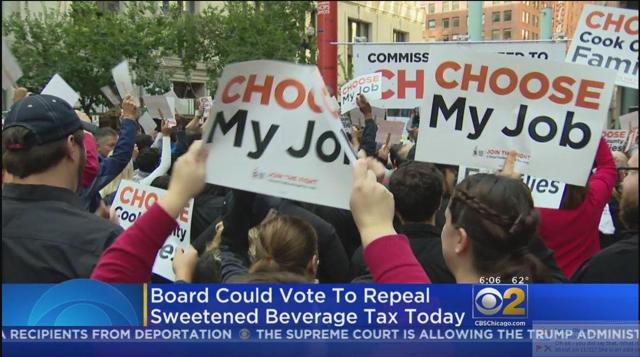 International Exposure
As the world becomes more globalized, many companies have searched for growth overseas. Coca-Cola is a recognizable brand across the planet and represents a status symbol for many people in developing countries. The company's strong international presence gives KO shareholders exposure to international markets, as well as a currency hedge. If the U.S. dollar weakens against other currencies, KO's profits should increase substantially.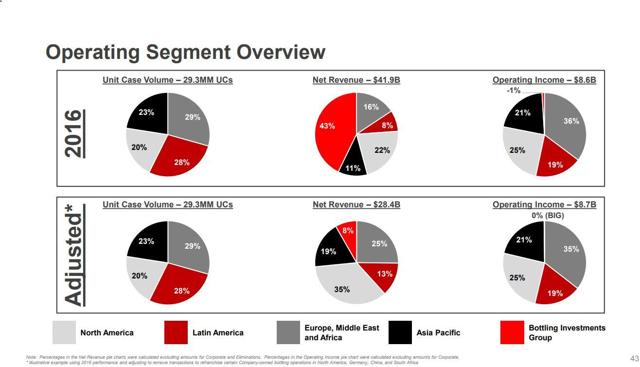 Source: Coca-Cola investor slides
Conclusion
There is a lot to both like and dislike about Coca-Cola stock. Buying it at the current price is an extremely personal decision. I would not be interested in buying this stock over $40 until either the balance sheet improves, or the new leadership posts consecutively better results. On the flip side, I would not discourage somebody from buying this stock at the current market price if they are close to retirement and are searching for security with a steady stream of dividend income.
Disclosure: I am/we are long KO.
I wrote this article myself, and it expresses my own opinions. I am not receiving compensation for it (other than from Seeking Alpha). I have no business relationship with any company whose stock is mentioned in this article.