Philip Morris International (NYSE:PM) missed on earnings. To be exact, by $0.11 under consensus estimates. Well, the market had a mini-freak-out: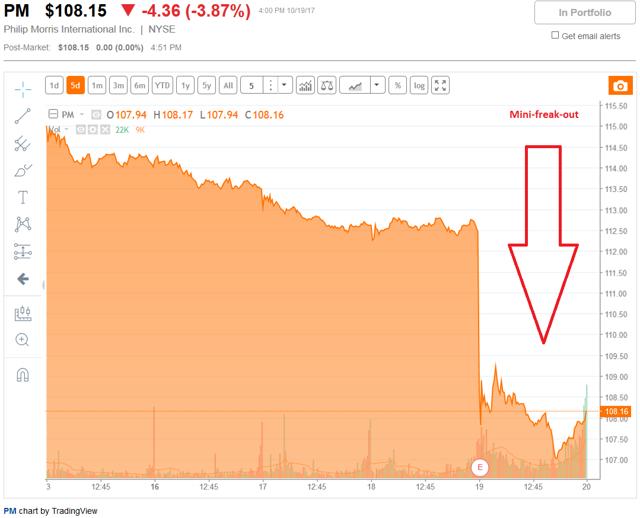 Should the price have dropped this far? That's up for debate. However, on the pessimistic side, PM has had two bad misses in a row. In Q2 2017, Philip Morris missed consensus estimates by $0.09.
So what's up?
This is from Jacek Olczak, the CFO, on the Q3 2017 earnings call:
"Thank you, Nick and welcome ladies and gentlemen. We're pleased by our third quarter performance, notably reflecting very strong currency and financial result, including growth in adjusted diluted EPS of 11.2%; sequential improvement in our total shipment volume performance supported by both cigarettes and heated tobacco units; higher total international market, excluding China and the U. S., and the continued positive momentum for IQOS in all geographies, particularly Japan and Korea."
Well, that doesn't exactly sound pessimistic. Management wasn't too down about this quarter, and for good reason.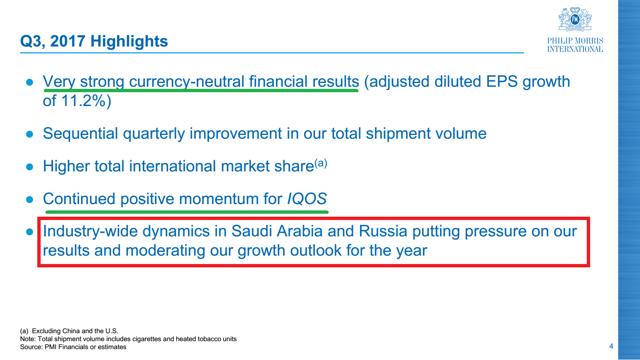 Ex-currency results were fantastic. Additionally, IQOS continues to see positive momentum. The primary reason I believe PM to be such a good investment is their new IQOS technology.
Jacek Olczak talks about the red box:
"However, industry wide dynamics in Saudi Arabia and Russia that we have flagged previously are putting pressure on our results and moderating our growth outlook for the year. In Saudi Arabia, the significant excise tax increase in June, which resulted in the doubling of retail prices, is currently driving higher than anticipated declines in cigarette industry volume, especially in the highly profitable premium segment where Marlboro is the leading brand.

In Russia, cigarette industry volume is also softer than expected, while net pricing in the market remains constrained by the competitive environment. We are therefore revising our 2017 reported continue reported diluted EPS guidance to a range $4.75 to $4.80 at prevailing exchange rates. Our guidance also now includes approximately $0.17 of unfavorable currency compared to $0.14 previously due principally to Egyptian pound. Excluding currency and the favorable $0.04 tax item recorded in the first quarter, our guidance represents a growth rate of approximately 9% to 10% compared to our adjusted diluted EPS of $4.48 in 2016."
Notice how management "flagged previously" that there was going to be pressure on results. They even showed a slide on the Q2 2017 presentation guiding for negative currency impact: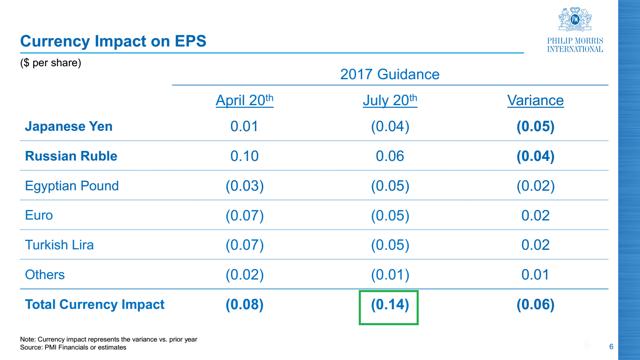 Philip Morris has changed their guidance, one reason is a negative currency impact. In Q2 2017, PM guided for EPS to be $4.78 to $4.93. Now in Q3 2017, PM is guiding for $4.75 to $4.80. The drop in stock price for PM is understandable, to an extent. Guidance for EPS now takes into account $0.17 of unfavorable currency exchanged which was previously $0.14.
On a positive note, PM is guiding for positive currency variance on their diluted EPS for Q4 2017. From Jacek Olczak:
"Additionally, for the fourth quarter, we estimate the positive currency variance on our reported diluted EPS at prevailing exchange rate. This is due to favorable comparison related to the Egyptian pound, which has an adverse transactional currency impact on our results in the fourth quarter of 2016 due to its significant devaluation versus the U. S. dollar."
PM saw it coming, again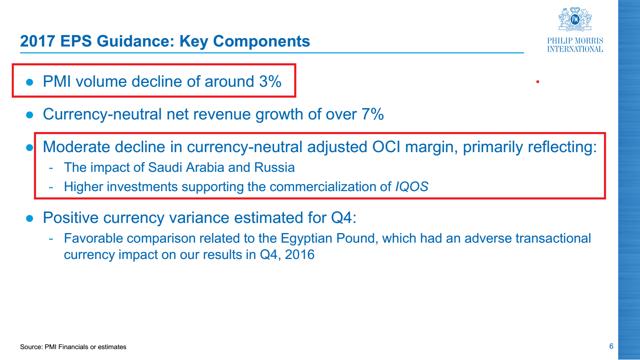 Couple things to note here. One is PMI volume being down around 3%. However, this is on the low end of the range management expected earlier in the year. Management guided for PMI volume to be down 3% to 4% earlier this year. Philip Morris expects a moderate decline in their adjusted OCI margin for the year. The high investment for commercializing IQOS is a good reason. The impact from Saudi Arabia and Russia is annoying, but this was something PM saw coming and flagged.
Improvements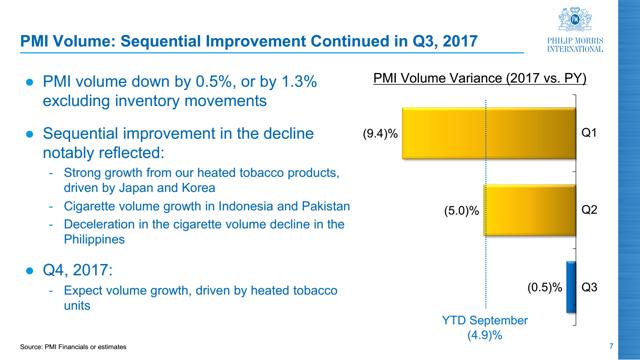 There has been a massive improvement from Q1 2017 to Q3 2017. Heated tobacco has seen massive success. Q3 2017 is barely down from Q3 2016. Compared to Q1 2017 and Q1 2016, the Q3 results improved dramatically. I believe management is right about volume growth for Q4 2017. The impact of Saudi Arabia on cigarette volume was significant, yet PM was barely down in Q3 compared to Q1 and Q2.
They are all going up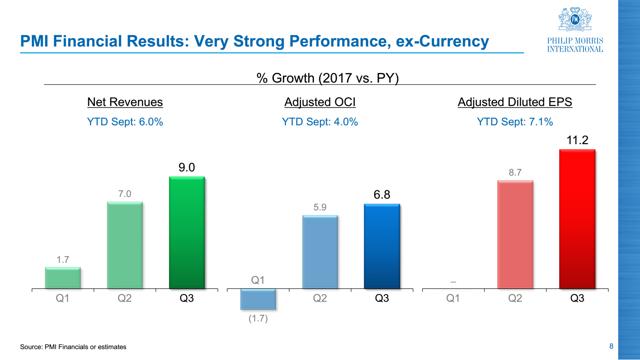 Note: OCI stands for operating company income. This is operating income, excluding general corporate expenses and the amortization of intangibles, plus equity (income)/loss in unconsolidated subsidiaries, net.
These numbers are very useful. This lets investors know that the company is continuing to see strong growth. Yes, there was a negative currency impact. But Philip Morris is showing growth in selling their products. Occasionally, you will get a note like this on the earnings call from a company selling internationally:
"Please note that our third quarter financial results on a reported basis were impacted by the Egyptian pound, which depreciated by approximately 50% versus the U. S. dollar since the third quarter of 2016, based on average quarterly rate and contributed approximately $0.08 of the total $0.12 negative currency impact in our EPS."
Cigarette sales are doing fine. IQOS sales are growing exceptionally: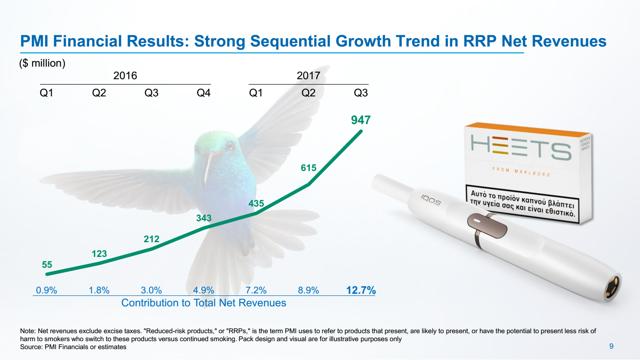 For investors unaware, "reduced-risk products" or "RRPs" is what Philip Morris has been testing overseas – aka the IQOS technology. The conversion rate for smokers who try IQOS has been substantial. Further, IQOS is massively safer for the smoker and those around them (according to PM's research). This is the product that Altria Group (MO) is trying to bring into the US.
So let's review, ex-currency, to see a picture of how PM is growing. In Q3 2017, net revenues were up 9%, OCI (operating company income) was up 6.8%, and adjusted diluted EPS increased by 11.2%.
The drop in price is silly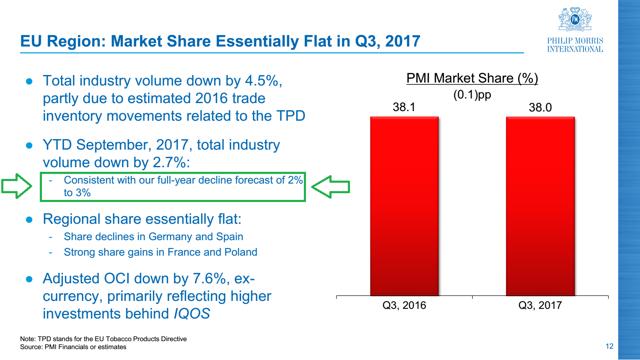 And yet again, Philip Morris guided for full-year decline of 2% to 3% for total industry volume. This was in part due to 2016 trade inventory movements. The EU region has seen a decline in volume. Philip Morris guided for 2017 being a rough year comparatively. And yet, the stock price has been doing gymnastics.
Gymnastics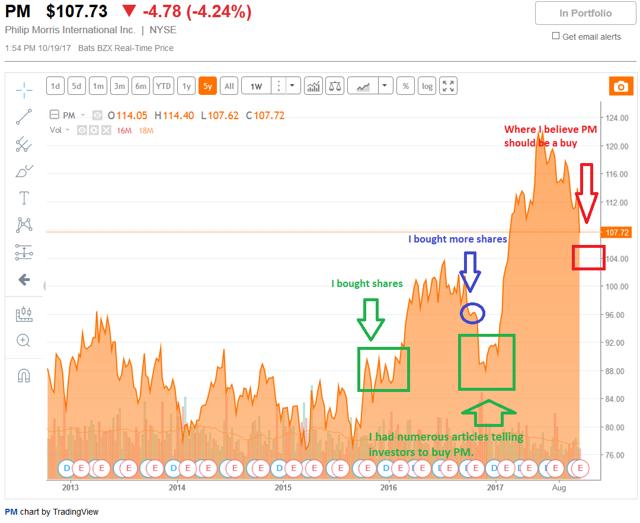 Philip Morris does a fairly good job letting investors and analysts know what's going on in the industry. However, the stock has been all over the place the last couple of years. I bought shares in the first green box and the blue circle. When the stock dropped to the second green box, I published numerous articles telling investors PM was at a fantastic price. I currently believe PM is a great hold candidate for anyone holding onto shares. My basic view for PM and MO is to buy at an attractive price and hold forever. Since the price started dropping, I've put a red box around where I'll start publishing buy ratings. At the current price, PM is a great hold investment flirting with a buy.
Philip Morris outlook
PM's cash flows have been lower because they had massive capital expenditures. The expenditures were invested to build factories for the new IQOS product. Dividend raises were small because of the cash being used for the future of the company.
With the biggest expenditures behind PM, the company will reap the rewards in the future. I expect IQOS to drive revenues higher. Dividend growth should quickly follow.
Click The REIT Forum to sign up for:
Actionable buy and sell target prices
Best research on preferred shares and REITs
Best reviews on the site – 284/285 stars
Stable dividend yields over 7%
You get instant actionable SMS alerts
Sign up before November 1st, 2017 to lock in at $370/year