During the conference call, General Electric's (GE) new CEO, Mr. John Flannery, stated that the company's Q3 2017 financial results were "unacceptable to say the least". As expected, Mr. Flannery reset expectations for this company and laid the groundwork for a possible dividend cut in the weeks ago (the Annual Investor Meeting is scheduled for the 13th of November 2017).
On a day that the company reported poor quarterly results and lowered guidance, the stock had to finish down big, right? No, GE shares ticked higher throughout the day - the stock was down by over 8% in pre-marketing trading - and actually finished the trading day in the green (up 1%). This one-day performance does not make up for the stock's poor YTD performance but, in my opinion, shareholder should be encouraged by the price action, especially when considering the company's quarterly results.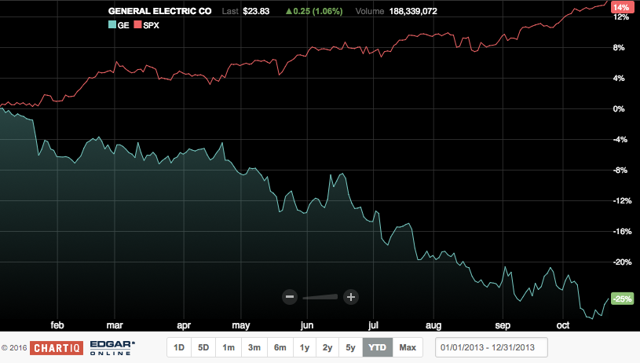 (Source: Nasdaq)
There is no denying that Mr. Flannery and team have a lot of work to do over the next few years. However, I believe that long-term investors should seriously consider staying the course because Mr. Flannery has some great assets to work with and he appears to have the right mindset to move this company past the Immelt era.
The Unacceptable Q3 Results
Before I get to the quarterly results, I ask you to first watch Mr. Flannery's CNBC interview that took place right after the Q3 2017 conference call. Thoughts? This was a great interview and I believe that Mr. Flannery is the right guy to turnaround this storied company. The most important takeaway from the interview, of course, in my opinion, was Mr. Flannery's extreme focus on the need to properly allocate capital. In my mind, this should be a top priority (no, I am not referring to the dividend!) because GE has some great industrial businesses under its umbrella but the previous management team failed to properly allocate capital to the right industries, at the right time. I believe that this will change under Mr. Flannery's watch.
I like what I have heard from Mr. Flannery so far but let's now get back to the Q3 2017 results. I fully anticipated a kitchen-sink type of quarter but GE's results were worst than expected. The company reported Q3 2017 adjusted EPS of $0.29 on revenues of $33.5B, which was a bottom-line miss but a top-line beat.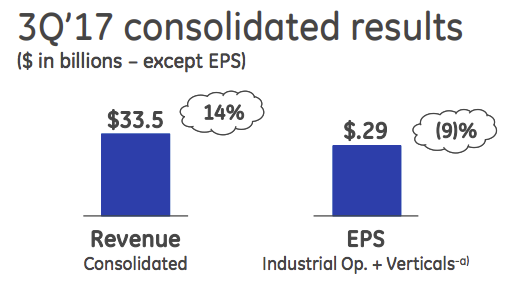 (Source: Q3 2017 Earnings Presentation)
As shown, the company reported a nice uptick in revenue (partially aided by the Baker Hughes acquisition) but saw adjusted EPS decline as a result of significant margin pressure and restructuring costs. The Aviation, Renewable Energy and Healthcare segments reported solid results, but all of the other units failed to impress.
The main culprit for GE's quarterly earnings decline was actually an operating segment that has been a top performer for many years --that is, the Power division. The Power division went from being viewed as the golden child to being viewed as the problem child in short order. GE has been heavily relying on Power to meet earnings estimates over the last five plus years, but the most recent quarter was major disappoint for this unit.
Power's profit declined by 51% for the quarter, which management blamed on three factors:
First, the decline in the market year-over-year principally in our service business. Aero derivatives and power conversion. Within services, we had less AGPs down 54% and lower outages. Outages were down 18% in the third quarter versus down 12% in the first half, a 50% acceleration in decline. Aero derivative unit were down 32 versus the third quarter of last year and far off our expectation in the quarter. Second, poor execution resulting in project delays and cost to quality items. In addition, we had to establish a bad debt reserve for our Venezuelan receivable.


Third, the mix effect of having lower volume and high margin in aero and service businesses and higher volume in low margin grid and balance of plant resulted in a substantial margin headwind.

-Jeff Bornstein, CFO
In the CNBC interview, Mr. Flannery mentioned that the macro environment for Power has been challenging for some time now and that he anticipates for it to be a tough space through at least 2018. He also mentioned that Power had been poorly ran, at least over the recent past, but he pointed out that the bright spot was the fact that the operating unit is a leader in an industry that has promising long-term prospects (50% market share and accounts for over 30% of the world's electricity). Anyway you slice it, the Power division will likely struggle for at least another year or two so it came as no surprise that management had to lower guidance.
The Reset

The company updated its 2017 financial guidance.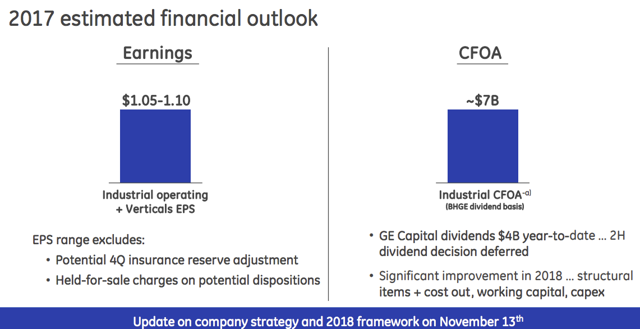 The earnings guidance came down from the previously communicated ~$1.50 range, so Mr. Flannery indeed reset expectations. Based on the low-end of the range, GE shares are trading at 22x 2017E earnings.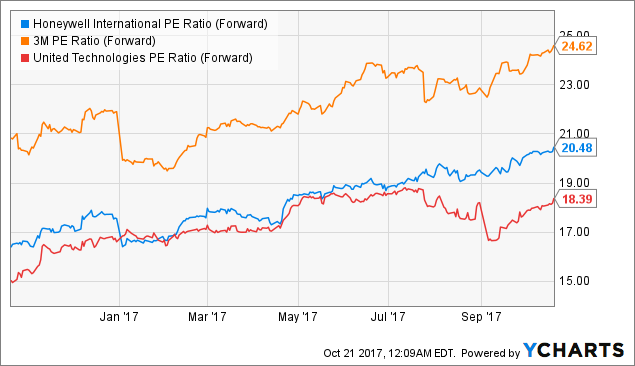 GE shares are trading at a premium when compared to peers but I believe that the company will be able to grow into its valuation in the years ahead. Moreover, the company plans to spin off or sell around $20B worth of assets over the next two years, in addition to cutting out in excess of $2B of costs in 2018 (up from an estimate of $1B), so there will be potential catalysts that could help propel the stock price higher.
Bottom Line

GE's Q3 2017 results left investors wanting more, a lot more. The horrendous Power results were a major surprise but the poor cash flow metrics were a bigger concern, at least in my mind. Simply put, cash generation is a real concern at this point in time. As such, I believe that investors should begin to bake in expectations for a dividend cut.
As I recently described in an interview with Amy Scott of Marketplace, it is now time for GE to spin off (or sell) major businesses. Therefore, I was encouraged when Mr. Flannery mentioned that around $20B of assets would be sold or spun off over the next two years. In my opinion, the $20B number will grow as we get closer to 2018.
The company's Q3 2017 results and management commentary just made GE's long-term story longer, but that does not mean that investors should begin to jump ship. GE has some great industrial businesses in its portfolio but the company is simply too complex to manage at this point in time. It will definitely take time for Mr. Flannery to right the ship but I believe that the stock is starting to find a bottom around the $22/$23 range, so investors with a long-term perspective should consider adding GE shares on any significant pullbacks.
Author's Note: GE is a core holding in my R.I.P. portfolio and I have no plans to reduce my position in the near future.
If you found this article to be informative and would like to hear more about this company, or any other company that I analyze, please consider hitting the "Follow" button above. Or, consider joining the Going Long With W.G.premium service to get exclusive content and one-on-one interaction with William J. Block, President and Chief Investment Officer, W.G. Investment Research LLC.
Disclaimer: This article is not a recommendation to buy or sell any stock mentioned. These are only my personal opinions. Every investor must do his/her own due diligence before making any investment decision.
Disclosure: I am/we are long ge.
I wrote this article myself, and it expresses my own opinions. I am not receiving compensation for it (other than from Seeking Alpha). I have no business relationship with any company whose stock is mentioned in this article.