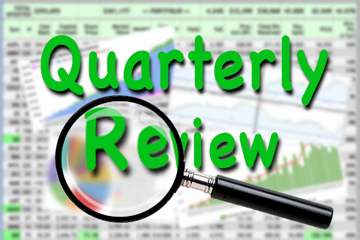 This is the 19th quarterly review of DivGro, my portfolio of dividend growth stocks. Soon I'll complete my fifth year of dividend growth investing (DGI).
In my Q2-2013 quarterly review, I wrote about a high adventure hike in New Mexico with my youngest son. While hiking down into a valley with heavy backpacks, I can't help but think that I'll have to climb back up again. Riding with the bulls give me a similar feeling. I can't help but think that we'll be challenged with a bear market, sooner or later.
Somehow, I feel that my DGI strategy wouldn't be fully vetted until I've survived a bear market!
With that somewhat sobering thought, let's look at what happened with DivGro in Q3-2017.
Dividend Income
In Q3-2017, I collected dividend income totaling $3,900, up 3.4% from the dividends received in Q2-2017 and up 34.5% from the dividend received in Q3-2016.
I received quarterly dividends from 51 different stocks this quarter:
Vanguard High Dividend Yield ETF (NYSEARCA:VYM) — income of $90.30
Also, I received monthly dividends from 3 different stocks this quarter:
The following chart shows DivGro's dividend income by quarter:

DivGro's average percentage payback is 9.6%, up from 9.4% at the end of Q2-2017. Percentage payback is a feel-good metric relating total dividend income to the total amount of capital invested.
Dividend Changes
Last quarter, I reported projected annual dividend income (PADI) of $14,961 and a projected annual yield of 4.5%. This quarter, PADI increased to $16,655 and projected annual yield increased to 4.8%.
The following table shows the stocks in my DivGro portfolio that announced dividend increases in Q3-2017. I'm including the new annual dividend and yield on cost (YoC).

| | | | | |
| --- | --- | --- | --- | --- |
| Company | Ticker | Increase | Annual Div | New YoC |
| Lockheed Martin | LMT | | $8.00 | 4.42% |
| Stanley Black & Decker | SWK | | $2.52 | 1.98% |
| Altria Group | MO | | $2.64 | 7.48% |
| Microsoft | MSFT | | $1.68 | 5.59% |
| McDonald's | MCD | | $4.04 | 4.30% |
| Walgreens Boots Alliance | WBA | | $1.60 | 2.40% |
| Cummins | CMI | | $4.32 | 3.76% |
| Main Street Capital | MAIN | | $2.28 | 7.76% |
| Verizon Communications | VZ | | $2.36 | 5.02% |
| Omega Healthcare Investors | OHI | | $2.56 | 7.11% |
| Realty Income | O | | $2.54 | 5.37% |
DivGro's average YoC is 3.9%, up from the 3.8% reported at the end of Q2-2017.
I'd like to see dividend increases above 7%. Five of the eleven increases topped 7%, while WBA is a rounding error below 7%.
MAIN, OHI, and O announce dividend increases multiple times per year, so it's better to assess their increases by looking at year-over-year increases: 5.56%, 6.67%, and 4.95%, respectively.
So, really, the outlier is VZ with a disappointing increase of 2.16%.
Here is a chart showing the growth of DivGro's projected monthly dividend income since 2014: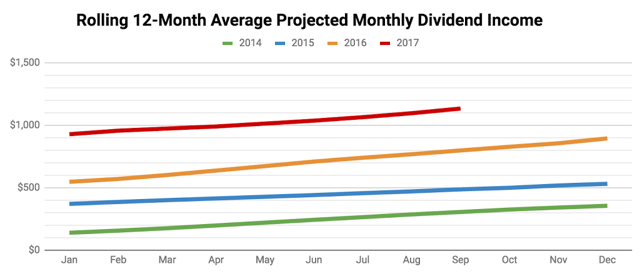 The curves are smooth because I'm using rolling 12-month averages.
Transactions
Following is a summary of my buys in Q3-2017. New positions are highlighted:
Company

Ticker

Date

Transaction

National Retail
Properties

NNN

17 Jul

bought 150 shares at $39.48 per share

Cisco Systems

CSCO

18 Aug

added 200 shares at $31.00 per share

Blackstone Mortgage
Trust

BXMT

22 Sep

bought 300 shares at $31.32 per share

Texas Instruments

TXN

26 Sep

bought 50 shares at $87.71 per share

CVS Health

CVS

26 Sep

added 10 shares at $81.52 per share

Intel

INTC

26 Sep

added 30 shares at $37.22 per share

NVIDIA

NVDA

26 Sep

added 10 shares $173.56 per share

Omega Healthcare
Investors

OHI

26 Sep

added 100 shares $31.90 per share

Valero Energy

VLO

26 Sep

added 8 shares $75.23 per share

Walgreens Boots Alliance

WBA

26 Sep

added 36 shares $79.00 per share
The CSCO trade was due to an options assignment. I don't have dedicated articles covering the NNN, BXMT, and TXN buys, but you can read about my reasons for opening these positions in my September review.
I closed one position in Q3-2017:
Company

Ticker

Date

Transaction

Reynolds American

RAI

19 Jul

sold 100 shares for $65.45 per share
RAI was acquired by British American Tobacco plc in a deal comprising of a cash payment and American Depositary Shares (BTI) equaling 0.526 × one ordinary BATS share. I didn't want to own ADR shares, so I sold RAI before the deal closed.
DivGro now contains 59 different positions, including 55 stocks, two closed-end funds (CEF), and two exchange-traded funds (ETF). Here is the distribution of DivGro's holdings by sector: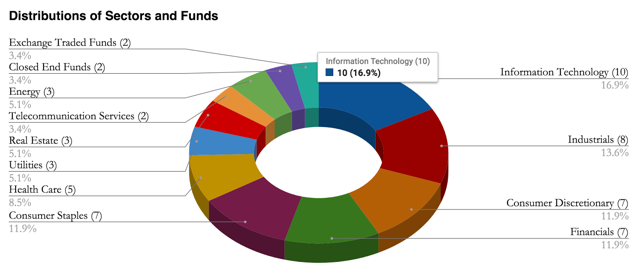 Market Value
At the end of Q3-2017, DivGro's market value represented a simple gain of 41.1% on the total amount invested. Of course, this does not take into account the timing and size of cash deposits. DivGro's internal rate of return since inception is 16.1%.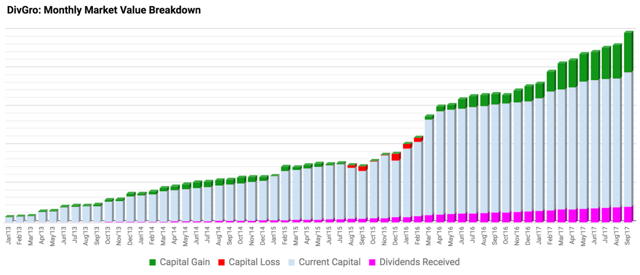 Portfolio Statistics
I monitor DivGro's performance in monthly Pulse articles, the latest of which you can read here. For quarterly reviews, I review general portfolio statistics.
First, let's look at the yield of stocks in my portfolio: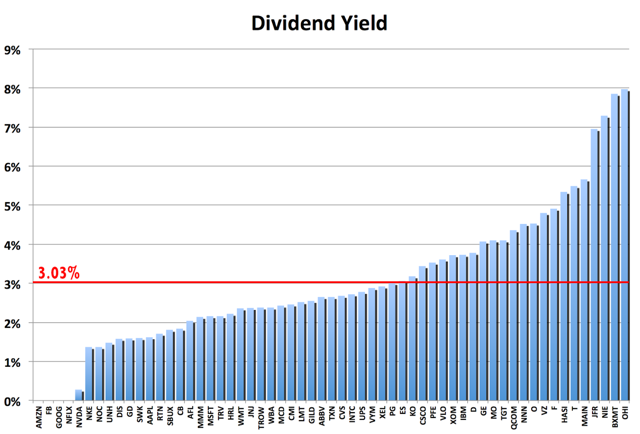 Two real estate investment trusts are the top yielding positions in DivGro, OHI and BXMT. The closed-end fund NIE is third. The average yield of stocks in DivGro is 3.03%.
Next up is the dividend growth rate. For quarterly reports, I look at the 1-year dividend growth rate, which will change throughout the year as stocks announce dividend increases. It is important to strike a good balance between high yielding stocks and high dividend growth stocks.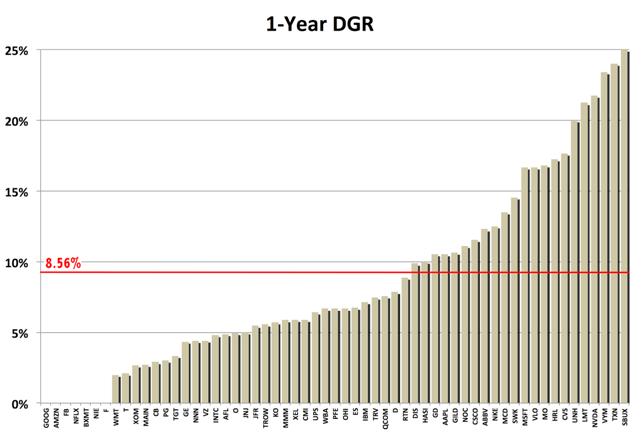 I like seeing dividend increases of about 7%, so I'm very happy to see about half of my DivGro stocks with a 1-year dividend growth rate exceeding 7%. The arithmetic average also is above 7%!
Let's look at the weight of individual holdings in DivGro. I prefer to see equal weights, but this difficult to achieve because I sell covered call options and to do so I need 100 shares (or multiples of 100 shares). Quite naturally, therefore, my portfolio will not be ideally weighted.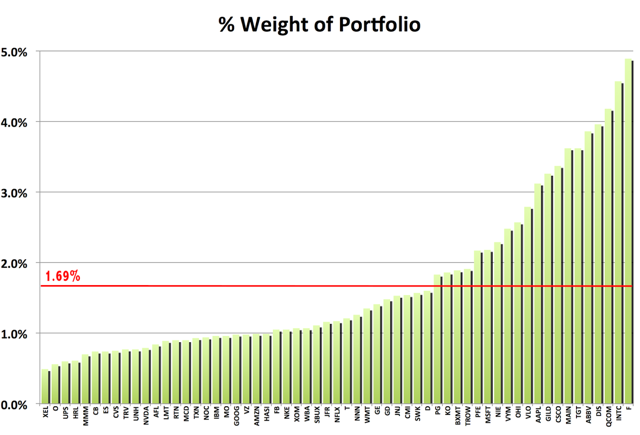 Next, let's look at the contribution of each position to DivGro's projected annual dividend income, which depends not only on the stock's yield but also on the size of the investment. Here, F and MAIN and OHI dominate: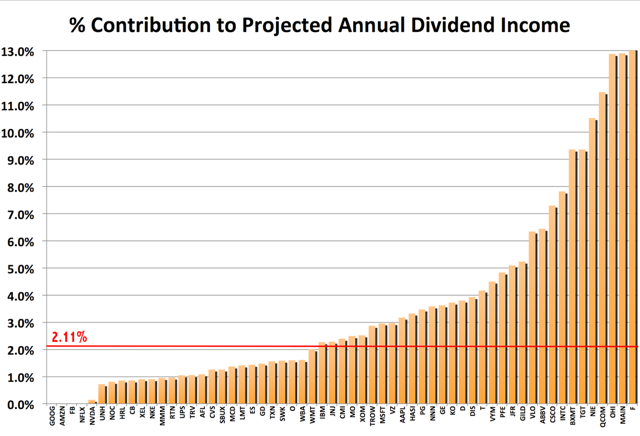 Finally, let's look at the payback percentage, or how much of my original investment I've received back in the form of dividends. Generally, stocks I've owned for a long time will have larger paybacks, but dividend yield also plays a role: payback will grow faster for stocks with larger yields.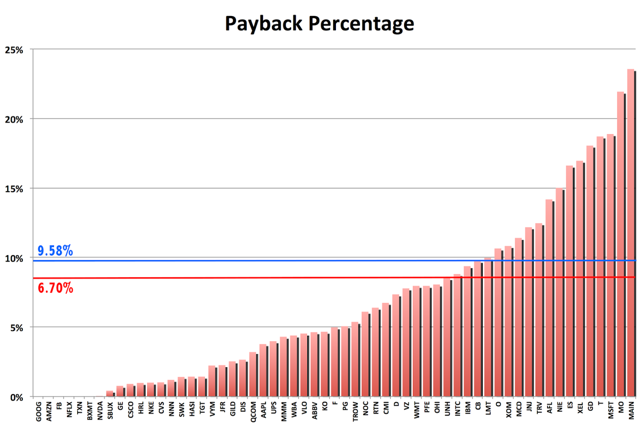 The payback percentages of MAIN and MO are above 20%. The arithmetic average payback percentage is 6.70%. However, on my portfolio spreadsheet, I calculate a weighted average payback percentage, which currently is 9.58%.
Goal For Q4-2017
In Q3-2017 I started accepting guest posts at DivGro. Unfortunately, I haven't received any submissions for a while and I'm hoping to keep this going, as it gives me a little breathing room to spend more time doing some research. Please consider submitting a guest post!
Towards the end of the year, I want to set new goals for 2018. With DivGro's 5-year anniversary coming up in January, I also want to set some medium-term and long-term goals.
Finally, I should really complete the transfer of stocks from our joint account at FolioInvesting to our trust account at Interactive Brokers. Doing so will provide more opportunities for options trading.
Thanks for reading and take care, everybody!
Disclosure: I am/we are long AAPL, ABBV, AFL, BATS, BTI, BXMT, CB, CEF, CMI, CSCO, CVS, D, DIS, ES, F, GD, GE, GILD, HASI, HRL, IBM, INTC, JFR, JNJ, KO, LMT, MAIN, MCD, MMM, MO, MSFT, NIE, NKE, NNN, NOC, NVDA, O, OHI, PFE, PG, QCOM, RAI, RTN, SBUX, SWK, T, TGT, TROW, TRV, TXN, UNH, UPS, VLO, VYM, VZ, WBA, WMT, XOM. I wrote this article myself, and it expresses my own opinions. I am not receiving compensation for it. I have no business relationship with any company whose stock is mentioned in this article.