Wheat Ending Stocks Higher Due To Feed Price Competition From Corn
Includes:
WEAT
by: The Mays Report
Summary
Forecasts of wheat feed use reduced by 810,000 metric tons.
Wheat production forecast raised by 40,000 metric tons.
I have revised my opinion of wheat prices, removing a suggestion of a possibility of a speculative long.
By G C Mays
The USDA's October WASDE Report lowered its estimate of U.S. wheat (WEAT) feed use by 810,000 metric tons. This more than offset lower beginning stocks and raised forecasted wheat ending stocks by 750,000 metric tons.
Wheat Supply & Demand
Production, Use, Beginning & Ending Stocks
The USDA raised its forecasted global wheat production for the 2017/18 marketing year, already the second highest in recorded history, by another 6.3 million metric tons. The new forecast of 751.1 million metric tons is just short of last year's record of 754.1 million tons. The largest production increases are in India (2.38 MMT), the European Union (2.2 MMT), Turkey (1.0 MMT), and Russia (1.0 MMT). Partially offsetting these increases is a reduction in Australia due to exceptionally dry, warm weather, according to the USDA.
In the U.S., the USDA raised forecasted production by a more modest 40 thousand metric tons to 47.4 million tons. This is still lower than 2016/17 production estimates of 62.8 million tons. More than offsetting the modest production increase is an 810,000 ton reduction in feed and residual use due to lower than forecast use. Causing this change is competition with corn feed.
Full year estimates of corn feed use increased by 1.91MMT, during the first five months of the 2017/18 marketing year for wheat, which began June 1. This likely contributed to limited upside price movement for wheat. I discussed this possibility in my July Report. Estimates of wheat feed use decreased by 1.36MMT, offsetting more than 70% of the gains in corn used for animal feed.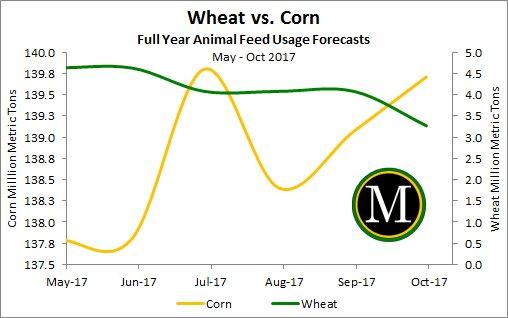 In contrast to the U.S., forecasts of foreign wheat food and feed consumption are higher than the previous month. According to the USDA, the European Union projects partial use of the extra 1 million tons for animal feed. India projects it will use its extra 1 million tons for food consumption while Russia expects to split its increased production between animal feed and higher ending stocks.
The USDA projects both world and U.S. wheat ending stocks higher.
Exports
The USDA left unchanged its full year forecast of 26.54 million metric tons from last month. Less than halfway into the 2017/18 marketing year, sales commitments represent almost 56% of the USDA's full year forecast. While sales commitments for the current marketing year are 4% lower than a year ago, U.S. exports are forecast 7.6% lower year over year, which results in U.S. exporters being on track to meet forecasted demand.
Price
The USDA's estimates of the average farm price is $4.60 per bushel, which is the same as last month.
At the time of my last report on wheat, entitled "Sanctions And Poor U.S. Crop Conditions Give Russia Upper Hand In Wheat Exports," published on July 29, 2017, the forecast of the average farm price for 2017/18 was $4.80 per bushel. Friday, a day after the release of the October USDA WASDE report, the estimate of the average farm price for 2017/18 was $4.60 per bushel, down $0.20.
While I pointed out a limited upside due to price competition from corn and soybean meal, even suggesting a speculative bias to the long side was clearly a less than accurate forecast. December wheat futures are down even more than the forecasted farm price.
As either an analyst or investor, what one must stay aware of when evaluating wheat, corn, and soybean meal, all of which animal feed is part of overall demand, is that the primary use of corn is livestock feed. Soybean meal is also used primarily for livestock feed. Humans directly consume very little soy. However, infant formula does use soy and it is also used in many other packaged food products.
Food consumption is the primary use of wheat, which is why there is a premium already built into wheat's price compared to corn, in my opinion. Demand from the feed market has a lesser but still material impact.
Given the above factors, I am revising my forecast of wheat. In my opinion, like corn and soybeans, wheat offers a good diversification benefit to an overall portfolio with a longer-term horizon. However, with more than 57% of monthly returns negative over the last sixty months, consistent positive returns are unlikely in the foreseeable future, in my opinion.
Disclosure: I/we have no positions in any stocks mentioned, and no plans to initiate any positions within the next 72 hours. I wrote this article myself, and it expresses my own opinions. I am not receiving compensation for it (other than from Seeking Alpha). I have no business relationship with any company whose stock is mentioned in this article.