By Parke Shall
Concordia's (CXRX) equityholders began to hit the exits in relatively fast fashion on Friday, after it was announced that the company was going to be seeking a debt restructuring in Canada. The actions of the company and the news remind us of numerous articles that we wrote about SunEdison (OTCPK:SUNEQ) some years back, as we repeatedly warned equityholders that most scenarios like the one SunEdison was in lead to the common equity eventually becoming worthless.
Bankruptcy plays or plays on restructurings rarely work out for equityholders, as it is generally only those far more senior on the capital structure that have a chance of meaningful recovery in a restructuring scenario. After all, that's why a company files for bankruptcy or restructuring to begin with: it has far more debt obligations than it can manage and claims for the company's cash or equity far outnumber available and potential recipients. In Concordia's case, its cash flow wasn't sufficient for the company to pay the interest on debt.

On Friday, it was announced that CXRX would be seeking a debt restructuring. Bloomberg reported,
Concordia International Corp., stumbling under debt that the Canadian drugmaker piled on during a takeover spree, is seeking to restructure its finances and cut borrowings by at least $2 billion after missing an interest payment Monday on some unsecured bonds.

Management is pursuing a plan under the Canada Business Corporations Act, according to a statement Friday, which didn't outline any potential terms of a deal but said the company would continue making payments on its secured debt. The CBCA allows companies to restructure out of court, although the plans require final court approval. Negotiations with lenders will continue during the process, the company said.

"Unfortunately, this looks like another case of a biotech darling that took on too much debt to fuel an aggressive takeover spree and failed to control their cash flow," said Carlos Rodriguez, a portfolio manager at Biscayne Americas Advisers LLC managing about $900 million. "The best evidence of that is the fact that their bond maturities are years away, yet they are restructuring now. The coupon payments were just too much for what their current cash flow is."
The stock, which had already fallen under a dollar subsequent to us warning about it several times in the past, fell another $0.36 on the day and ended Friday at $0.58. Here's a chart of how the stock traded on Friday.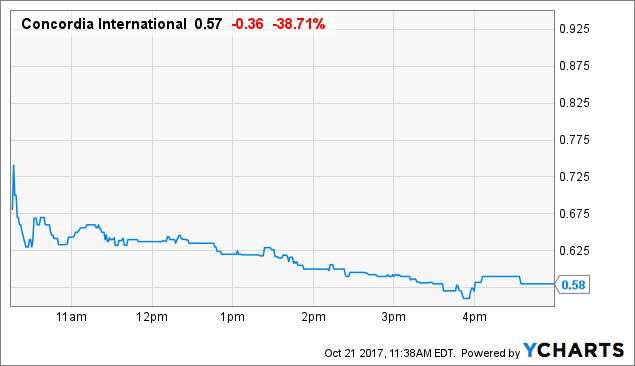 CXRX Price data by YCharts
We think equityholders have the right idea for the most part in calling it quits finally. A bet for the equity here would be somewhat of a long shot in our opinion, as the very bottom of the capital structure in restructuring efforts rarely will see any type of meaningful recovery.
Deja Vu
As happened in the case of SunEdison, we believe that the equity will continue to sell off as both retail and institutional shareholders alike begin to realize that the old Concordia, with its own capital structure, may be on its way out. We have been warning about Concordia for the better part of the last couple of years, with our articles and opinions archived over at TipRanks.


Those that are still bullish on CXRX may be better off waiting for the company to restructure and then analyzing its new prospects once its restructuring is complete. We don't believe that going in and making a long shot bet on the equity at this point is likely to pay off.

As we said above, in the end, companies file for restructuring because they can't meet their financial obligations and because there are far too many claims on what is usually a limited amount of cash flow/equity left in the company. Just like David Einhorn did late in the game with SunEdison, we feel as though the prudent move with Concordia is to sell the equity and wait for the restructuring to play out.
Don't Be Fooled By Daytraders
Finally, we wanted to make a quick note about daytraders. Daytraders generally get involved when a company files for restructuring or bankruptcy because the price per share usually becomes very cheap. Stocks under a dollar entice people from message boards and chat rooms to try and catalyze momentum trades in one direction or another.
Often times, the stock of companies which file for restructuring becomes very volatile and can even sometimes bounce significantly at points after the restructuring or liquidation is announced. This happened with SunEdison as well, but ultimately the endgame remained the same. SUNEQ now trades for $0.02.
As you can see from the chart above, the equity simply got demolished and CXRX's equity may look to be the next. If one wanted to play the restructuring, we would look higher up in the capital structure, a further analysis that we will consider taking on and publishing over the next week.
Disclosure: I/we have no positions in any stocks mentioned, and no plans to initiate any positions within the next 72 hours.
I wrote this article myself, and it expresses my own opinions. I am not receiving compensation for it (other than from Seeking Alpha). I have no business relationship with any company whose stock is mentioned in this article.
Editor's Note: This article covers one or more stocks trading at less than $1 per share and/or with less than a $100 million market cap. Please be aware of the risks associated with these stocks.