In 2015, Nabors Industries Ltd (NYSE: NBR) was dropped from the list of S&P 500 companies due to changes in market capitalization, and moved into the S&P 400 mid-cap; while its place was taken by SL Green Realty Corporation (NYSE: SLG). In the future, NBR may well move into the small cap category.

Source: Nabors Industries
This analysis highlights some of the macroeconomic signals that may affect NBR's future performance.
Oil market in a wait-and-see condition:
A brief discussion of the positives and negatives that may depict oil market outlook.
Positive indicators:
In a recent conference in London, OPEC's secretary general, Mr. Barkindo projected global oil demand to reach approximately 100 million bpd, by 2020. The projected demand exceeds the 2017 forecast of global demand of 96.8 million bpd.
Mr. Barkindo appreciated the recent recovery in oil prices by adding, "There is a demand for us to go forward to fortify our relationship with non-OPEC countries like Russia." The affirmation was arrived at in the luminosity of the recent recovery in global petroleum prices.
It is worth mentioning that the crude oil prices collapsed in Q4 2014, from $112/bbl to $62/bbl in the benchmark Brent index. Similarly, they plummeted from $105/bbl to $59/bbl in the benchmark WTI index.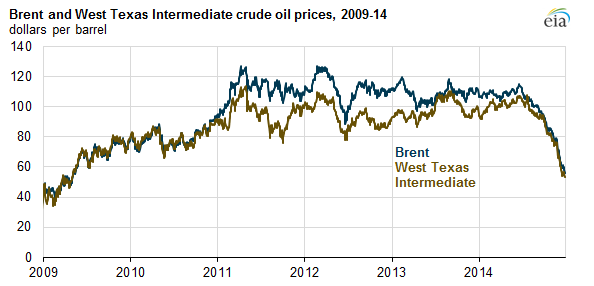 Source: EIA
The ruined oil prices have recently started rallying some support with Brent crude trading in the $57 range. The situation has improved primarily due to supply cuts by OPEC and non-OPEC members, but somewhat aggravated due to non-participation by US shale oil producers.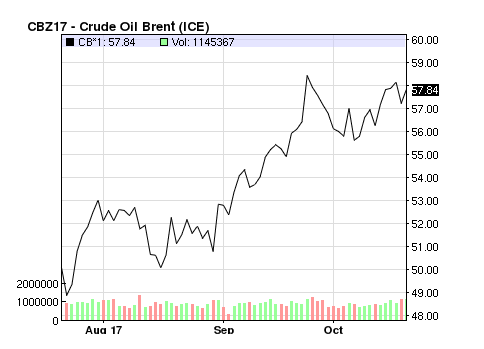 Source: NASDAQ
Now that the after effects of Hurricane Harvey and Irma are gradually settling down , the crude oil spot and futures are producing favorable changes. CME released prices for crude futures, demonstrating slight increments for the months of Dec. 17, Jan.-June 18.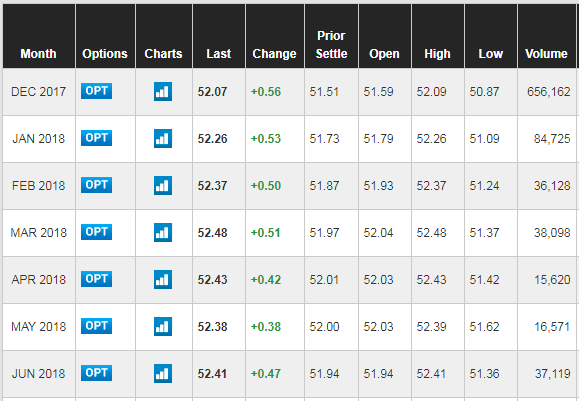 Source: CME Group
Negative Indicators:
On the contrary, certain factors point adversely towards the future of crude oil prices. According to a recent IEA report:
For September 2017, an increase of 90,000 bpd was noted in global oil supply that resulted in global output reaching 97.5 million bpd. The higher output seemed to arrive principally from non-OPEC producers, including US shale oil producers. The higher output is expected to cause supply-side pressure on oil prices.
Similarly, OPEC members have only complied with 86% of the planned supply cut, year-to-date. Libya and Iraq made excess supplies while Venezuela successfully reduced its supply.
A declining trend was witnessed in global oil demand in Q3 2017, as year-over-year demand growth declined from 2.2 million bpd in Q2 2017 to 1.2million bpd in Q3 2017.
Another element that can potentially build downside on the oil demand, is the development of autonomous technology in future. According to legendary energy trader and billionaire, Mr. John Arnold, the next 10 year period is undeniably important for the oil industry. He went on to indicate that the future of transportation will hail from autonomous vehicles, ride-hailing apps, electric vehicles and cheap electricity from renewable energy resources. Oil demand will be depressed as consumers will shift from ownership of vehicles to usage of transportation as a service. Furthermore, there is increased awareness about ozone layer protection, and the world will tend to use more environment-friendly and pollution-free means of transport.
Endpoint:
The global oil producers are determined to cut supply to re-balance the supply side glut in the market. It is desired that this initiative will move oil prices upwards. Notwithstanding the combined efforts of OPEC and non-OPEC countries, there is still a supply-demand imbalance which hinders the prices from stabilizing. Oil prices have significantly recovered from 2016, when they were near $27/bbl and hit an all-time-low since 2003. Nevertheless, due to the factors discussed above, there appears to be a wait-and-see situation for investors as the oil prices are unlikely to reach the $60/bbl target, by the close of 2017.
Nabors Financial and operational performance overview:
NBR's financial and operational performance is directly linked with world oil markets. An increase in global oil demand will have consequences for NBRs business as more demand translates into more drilling operations. The company is about to reveal its Q3 2017 results in an earnings conference call that is scheduled for Wednesday, 25th October, 2017 and the NBR investor may well be anticipating another weak quarter. The following Q2 2017 results caught my eye:
The leverage ratio, set as "net debt/TTM adjusted EBITDA" increased from 6.1x in Q1 to 6.6x in Q2; indicating more reliance on debt compared to equity/earnings.
The coverage ratio, set as "TTM Adjusted EBITDA / TTM Interest Expense" decreased from 2.9x in Q1 to 2.6x in Q2, indicating increased interest costs compared to earnings.
Total debt increased by $78 million over the quarter.
NBR has a total rig fleet of 458, located in the US, Canada, Alaska and several other locations, and including 06 rigs under-construction. Out of 458 rigs, only 206 were operating on average in Q2, 2017, while the average rig utilization amounted to 46%.
On a favorable note,
QoQ operating revenues spiked from around $562 million in Q1 to $631 million in Q2.
Adjusted EBITDA increased from $99 million to $138 million, QoQ.
Performance comparison with peers:
For peer-to-peer performance comparison, I have selected Transocean Ltd. (NYSE: RIG) and Encana Corporation (NYSE: ECA) based on offshore drilling and market capitalization. The comparison is tabulated below:
| | | | |
| --- | --- | --- | --- |
| | Nabors Industries Ltd. | Transocean Ltd. | Encana Corporation |
| Market Cap ($ billion) | 1.91 | 3.89 | 11.07 |
| P/E | -2.5 | -2.89 | 13.23 |
| P/B | 0.62 | 0.27 | 1.63 |
| Return on Assets | -8.10% | -4.66% | 5.33% |
| Return on Equity | -20.05% | -7.97% | 13.65% |
Comment:
It looks like NBR's performance has floundered compared to its peers. Its market capitalization; being the lowest and P/B ratio; being less than 1, denote lack of investor confidence. Likewise, return on assets and return on equity is significantly negative and in fact lowest among competitors. As previously discussed, the company's increased leverage to sustain its operations, is also a major concern, when seeing the overall fiscal picture.
About the share price:
The macroeconomic factors discussed in the beginning, together with the stumbling financial and operational performance, have begun to reflect on the company's share price. The 5-day, 1 month, year-to-date, and 1-year price charts presented below; all reflect that the share price has gone deep without solid recovery prospects in sight.
| | |
| --- | --- |
| 5-day price trend | 1-month price trend |
| | |
| --- | --- |
| YTD price trend | 1-year price trend |
Source: Yahoo Finance
Advice for the investor:
Given the wobbling crude oil prices, which are not expected to soar high, at least by the end of FY 2017; NBR is not the best buy in the oil services industry, not with the poor financial performance in comparison with peers. In fact, the Deutsche Bank has assigned the 'Hold' rating to NBR, and I cannot agree more.
Disclosure: I/we have no positions in any stocks mentioned, and no plans to initiate any positions within the next 72 hours.
I wrote this article myself, and it expresses my own opinions. I am not receiving compensation for it (other than from Seeking Alpha). I have no business relationship with any company whose stock is mentioned in this article.