Investment Thesis:
Articles on Seeking Alpha, have covered CRISPR stocks in great detail over the past year with a focus on the revolutionary technology and gene editing. Three companies have been the primary focus of this research with CRISPR Therapeutics (CRSP), Intellia Therapeutics (NTLA) and Editas Medicine (EDIT) being the primary beneficiaries of their closely held expertise in the field. These three companies are directly involved with the discoverers of the technologies and experts in manipulation of the CRISPR proteins, and most importantly - the holders of patents related to them (although still in dispute). Many investors are hesitant to put their monies into small pre-clinical companies who have nothing to offer aside from the excitement and potential for future revolutionary clinical products, but are tempted by the significant promise of CRISPR tech. There are a collection of major biotechs and pharmaceuticals who've entered into this space via licensing, partnerships and internal research which could provide exposure to the three CRISPR stocks, or the technology itself without the high levels of volatility and risk associated with smaller companies. We will cover our top stocks in this area and delve into their agreements to see where the greatest potential lies.
The large companies with skin in the CRISPR game are Bayer AG. (OTCPK:BAYRY), Vertex (VRTX), Novartis (NVS), Johnson and Johnson (JNJ), Allergan (AGN), Celgene (CELG), Glaxo Smith-Kline (GSK), Biogen (BIIB), Amgen (AMGN), Baxter (BAX) and AstraZeneca (AZN). These present their own sets of risks associated with their businesses, pipelines and financials; however, if you are looking for an investment in the CRISPR space that doesn't see a significant chance for a 10% move in a given day, these large companies may provide you the mechanism for that. We feel that NVS, VRTX and GSK currently maintain an enviable position in the CRISPR field and are the strongest investment options for this purpose. Although the lower risk/reward ratios would result in a smaller boost to these large companies compared to directly investing in CRSP, EDIT or NTLA they do provide a buffer against concerns related to patent information and the issues with a clinical stage biotech - while still being able to capture significant upside if a product comes to market.
CRISPR-Cas9 - A Rapidly Changing Field
We have previously covered the CRISPR field and CRISPR-specific small biotech companies in significant detail here.
As a quick summary of the technology, CRISPR itself is a series of regularly spaced repeats which separate 'memories' from past viral invasions in prokaryotes (bacteria/archaea). These memories are normally transcribed (converted from DNA to RNA) and then the RNA associates with a series of proteins which are associated with the CRISPR locus (most commonly studied is Cas9- use of this protein is usually referred to as CRISPR digestion or gene therapy by the investment communities) and then digests invasive DNA from a virus. We, as a scientific community, have adapted this technology by isolating Cas9 and providing it with customizable RNA sequences comparably to those it naturally associates with. This allows for the targeting of a nuclease to create double-stranded breaks in DNA at any location we deem desirable (within reason, and following a few basic rules). This customizable nature has been the focus of gene therapies and cell engineering platforms because we have been able to target genes of interest and disrupt them or create breaks which allow for integration of genes of therapeutic interest.
Novartis has Partnered with Intellia Therapeutics and Caribous Biosciences
Novartis recently has seen an explosion of exciting news associated with its approval of the first CAR-T cell treatment Kymriah. They are looking to continue this CAR-T success by developing a pipeline dedicated to the development of new CAR-T cells and human hematopoietic stem cells. This partners one of the few companies built around CRISPR expertise with the current leader in the CAR-T field, creating synergies and allowing for rapid developments using more effective tools for antigen development. Although they don't speak much about their CAR-T therapies with their pipeline, modulations and the ability to rapidly change the antigens of interest will allow them to diversify on their first-in-class platform.

Image generated by Rodriguez-Fernandez for an article by Raimondeau for labiotech.com
Beyond the development of their CAR-T cell therapies Novartis is developing CRISPR therapies internally and licensing for the ability to use this technology in patients. Their license agreement with NTLA provides them with the ability for in vivo therapies and ex vivo modification of targets within human stem cells (partnered with NTLA). Although commentary on this partnership and the pipeline contributions are not well covered by the company, as the products are likely in early stage and undergoing extensive internal reviews before moving forward, they and the partnership represent a hidden asset for NVS in the future. Considering that the CAR-T oncology market is expected to be valued north of $8.5 billion by 2028, developing a technique for rapidly developing novel CAR-T cells and efficiently creating therapies using CRISPR-Cas9 in partnership with NTLA allows NVS to maintain its first-to-market advantage and potentially remain a leader in generating new therapies.
With Novartis' partnership agreement with both NTLA and Caribou Biosciences there is another significant potential boost to its bottom line: equity holdings. As part of the partnership agreement Novartis made a substantial equity investment in both companies. This investment can be expected to support further agreements as well as financial gains as NTLA progresses into clinical trials and Caribou comes to market. Ultimately, Novartis may see a rapidly development of its CAR-T therapy pipeline, potential for HSC modifications as part of cell line generation or other therapies in the future as well as strong return on their investment in these CRISPR companies. For this reason, if you're looking for a strong potential investment in the future of CRISPR developments without the volatility of investing directly in NTLA (or due to your inability to invest in Caribou), NVS provides a strong vehicle for this.
Vertex has partnered with CRISPR Therapeutics
While Novartis has developed partnerships to work on both gene therapies and development of their novel CAR-T cell lines (see above), Vertex has focused on another revolutionary clinical product: corrective gene therapies. Vertex has partnered with CRISPR Therapeutics, which we have previously detailed as our strongest conviction selection among the three CRISPR biotech companies. These two companies have partnered on a wide range of blood-based diseases with their most significant clinical product, CTX001, looking to address both ß-thallasemia and sickle cell disease which represent a market of 360,000 births annually, with a potential for gene therapy treatment costing between $450-700k per patient, this is a very promising direction. Vertex is has agreed to share the cost for both research and development of CTX001 as well as a separate treatment for Cystic Fibrosis, with CRSP potentially earning up to $2.5 billion in milestones - VRTX sees a lot of promise. The companies also agree to share the profits of these treatments, which could be significant blockbusters. As we have detailed this is potentially dramatic market if CTX001 is successful, it will be the first curative treatment for $950k to $1million dollar diseases, which will likely be widely accepted and utilized.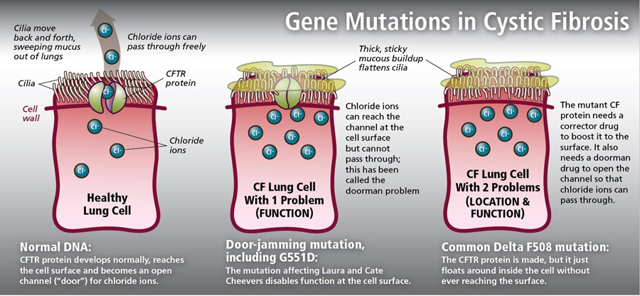 Image via Discover Magazine, produced by Vertex Pharmaceuticals.
In addition to CTX001, Vertex has taken a similar approach to NVS in partnering with a CRISPR company which supports one of their strong suits: Cystic Fibrosis. Cystic Fibrosis is a critical market to address, with no curative agents widely available and with a market of almost $14 billion by 2025, being a leader in CF supports a strong cause for investment in the space. Introducing CRISPR-Cas9 based therapeutic options for gene correction is a novel approach which compliments their current Phase II and Phase III trials for treating the disease. Vertex is currently the dominant force in the CF market, and looking to further strengthen their hold on the market and eventually provide a curative therapy - patients will continue to look to and trust in VRTX.
As a player in the future of CRISPR therapies with their collaboration, VRTX makes for a strong investment in the space. They also look to benefit as significant equity holders in CRSP, the CRISPR company which is most likely to see a product entering into clinical trials before any of its competitors. This will improve the return on the investment and provide financial benefits Vertex's bottom line while further improving on the quality of the collaboration between these two companies.
Risks to Investment:
As previously mentioned, we have suggested that both Novartis and Vertex provide strong options with regard to investing in the CRISPR space without assuming the risks of the three pre-clinical CRISPR stocks: NTLA, CRSP and EDIT. With regard to the financial stability of Novartis, their most recent quarter saw net income of $2.86 billion with 9 separate products beings seen as growth drivers. Vertex is smaller, but also profitable with a GAAP net income of $18 million in the most recent quarter. Both companies are expected to continue to experience positive net income and significant growth over the next years as their CRISPR partnerships develop - making each a strong case for investment as a financially stable CRISPR player.
Beyond the financial risks Novartis and Vertex are both exposed to the patent lawsuits and claims associated with the CRISPR stocks. These are covered in detail here, with the current outcome unclear. NTLA and CRSP are on the same side of the patent dispute across from EDIT, and have recently won patent rulings in the EU, Australia and China. With this wide-spread ex. US ruling in place, it appears that both Novartis and Vertex will be able to utilize their partnership outcomes, even if there are licensing restrictions applied by the patent battle in the US. As we have previously suggested, the overall outcome from the patent battle may be significantly more complicated, but we expect that CRSP and NTLA will benefit from future rulings, and thereby NVS and VRTX will also benefit from being attached to these companies. We do not expected the future patent litigation to negatively impact either company's overall financial status or ability to utilize their CRISPR discoveries, it may require adjustment of licensing, but would not impact the overall rationale for investment in such large companies (hence why they represent a less volatile play for the CRISPR space).
Conclusion:
We have previously detailed the CRISPR companies including EDIT, NTLA and CRSP for their investment potential, with CRSP coming in ahead of the pack. The volatility associated with these small companies and ever-present financial concerns associated with pre-clinical companies can be waylaid by investing in large established biotechs with strong partnerships. Bayer AG., Vertex , Novartis, Johnson and Johnson, Allergan, Celgene, Glaxo Smith-Kline, Biogen, Amgen, Baxter, and AstraZeneca all present potential investments in the CRISPR space with partnerships or internal research programs using the tool. Novartis and Vertex currently provide the strongest investment options for large biotechs in the space for those looking to have the potential to capitalize on the success of the CRISPR technology revolution.
Disclosure: I/we have no positions in any stocks mentioned, but may initiate a long position in NVS, VRTX over the next 72 hours. I wrote this article myself, and it expresses my own opinions. I am not receiving compensation for it (other than from Seeking Alpha). I have no business relationship with any company whose stock is mentioned in this article.
Editor's Note: This article discusses one or more securities that do not trade on a major U.S. exchange. Please be aware of the risks associated with these stocks.