City of London Investment Group PLC (OTCPK:CLIUF) has just held their second conference call in a series titled "Emerging Markets CEFs As Legacy Investments." In it they take note of ongoing malaise in the CEF world not limited to emerging market CEFs and lay blame firmly on the shoulders of those responsible. Along with this they have also suggested some changes to operations that, if followed, could breathe life back into actively managed closed end funds across the CEF universe.
City Of London presentation - Emerging Market CEFs as Legacy Investments
The presentation lists nine points which basically boil down to two things. First, boards are stale, members often times have little to no real investment experience, have outstayed their usefulness and allow others to handle responsibilities they themselves should be seeing too. Second, management, due to lack of proper board oversight and/or with their approval, are working in their own favor and that of the board, not that of shareholders. This has resulted in persistently low discounts to NAV, erosion of profits and erosion of NAV as unnecessary expenses pile up, and all instilling a general sense of distrust among shareholders.
from City of London presentation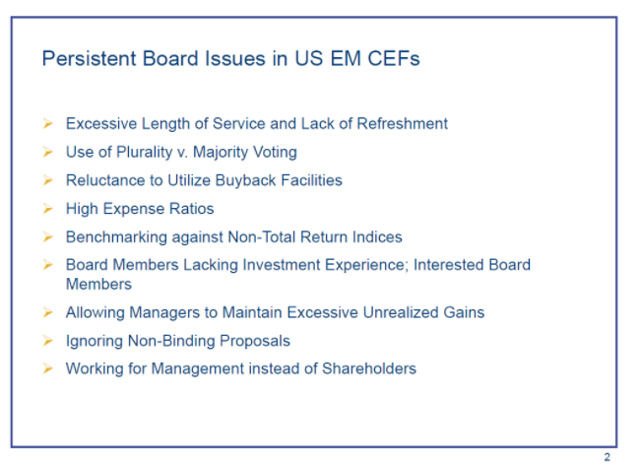 City of London didn't just criticize the boards and management of these funds. They also offered suggestions that, if pushed through and adhered to, could breathe life back into this ailing investment sector. These include term limits on board members, a certain level of expertise for board members, discount control mechanisms to include daily buyback announcements, caps on expense ratios and no Interested Party board members to prevent conflicts of interest.
from City of London presentation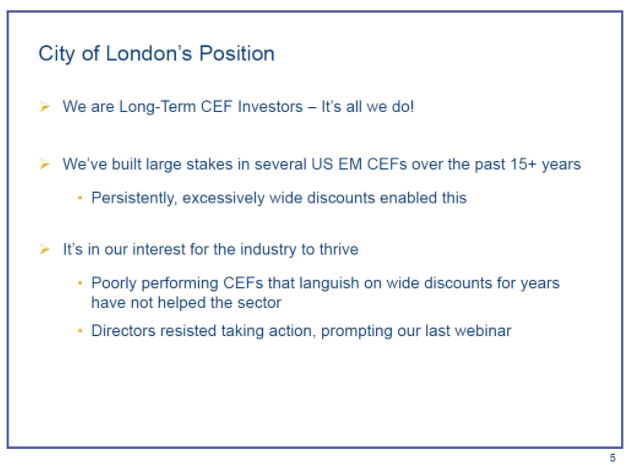 While shocking to hear that boards and management of CEFs don't always act in the best interest of shareholders, it really isn't news. What is news is that emerging market CEFs are falling behind the curve, succumbing to competition from alternative investment products and may not survive if things don't change.
Events precipitating this presentation include the liquidation of two major US-based emerging markets funds along with plans to reorganize seven more and the possibility another two will liquidate in the near future.
The Problems Are Not Limited To EM CEFs
Perhaps most important to note is that City of London sees this issue permeating the CEF landscape and not limited to emerging markets. This can be seen in activity in funds like the Equus Total Return Fund (EQS), MVC Capital (MVC) and at management firms like Brookfield.
MVC Capital was an equity focused CEF that has staved off declines in NAV and potential liquidation by transforming to an income-based fund. Management has recently reaffirmed their commitment to that end issuing statements to that effect. EQS is a long suffering fund also aiming to transform, this time into an operating company, but more likely to liquidate than not.
Brookfield has consolidated three legacy funds loosely related by way of "real assets", into one uber fund solely focused on real assets and investing in assets across the financial spectrum. It's called the Real Assets Income Fund (RA) and has been performing well since it was launched. The discount to NAV is shrinking, NAV is on the rise and distributions are so far covered by income and capital gains. Notably, the new fund was launched with a share repurchase program already in place.
What Has City Of London To Gain
Now, why is City of London so concerned about these funds and the decline of CEFs in general? It's because they are a boutique investment firm focused solely on closed-end funds and specifically emerging markets funds. It is in their interest for these funds to succeed otherwise they themselves will have to alter strategy and focus. The question is, will shareholders, management and board members listen?
Apparently so. City of London said it is pleased with actions taken by Aberdeen and encourages other to follow suit. The reorganization proposed by the management firm will create the Aberdeen Emerging Markets Equity Income Fund, if approved by shareholders, with a number of benefits if passed. The fund, if launched, will trade on the NYSE under the proposed ticker of (NYSEMKT:AEF).
from the Aberdeen press release; click here to view the document

First, the fund has issued an open invitation for other funds to merge with it if they so choose. Second, there will be an immediate tender offer for shares at 99% of NAV. Third, the fund expects to pay up 50% of NAV in 2018 including the tender offer and capital gains. Fourth, the fund will set up a targeted discount policy which will buy back shares when the discount reaches 10% and trigger a new tender offer if it exceeds 11% in a rolling 12-month period. The acquiring fund will be Aberdeen's Chile Fund. Funds to be acquired include:
from the Aberdeen press release
My Conclusion
I think it likely that we will continue to see liquidations and consolidations within the CEF universe. I also think it likely that, as City of London says, CEFs will be able to reinvent themselves and adapt to changing times as they have in the past. Regardless, this new Aberdeen fund sounds pretty interesting. I will on the look out for it, hopefully the shareholders of legacy funds to be merged agree with me.
Disclosure: I am/we are long APB, EQS, RA.
I wrote this article myself, and it expresses my own opinions. I am not receiving compensation for it (other than from Seeking Alpha). I have no business relationship with any company whose stock is mentioned in this article.
Editor's Note: This article discusses one or more securities that do not trade on a major U.S. exchange. Please be aware of the risks associated with these stocks.