Ford (F) currently trades at a 6.9 multiple to this year's forecasted earnings and a 7.9 multiple to next year's forecasted earnings. In addition, Ford offers a 5% dividend yield. Low price to earnings and high dividend yield should be a recipe for a solid investment. However, we should understand why the market prices Ford so cheaply and weigh on the risks that come from such an investment.
The business performance was not that stellar for Ford during the latest bull cycle. Revenue per share increased only 3.6% over the last six years. The profitability declined and so EPS went nowhere. As a result, the market is pricing a company that offers no growth in EPS, only small revenue growth, and faces cyclical and structural challenges in the future. Shares may be re-priced to a higher multiple of the historical trading range and appreciate to $13-$15 level, but further appreciation is unlikely. Yet, it still offers an opportunity for short-term investors, but long-term investors should stay on the sidelines. Let me share my backup analysis why I reached such a conclusion starting with a performance of Ford's shares over the latest bull cycle.
Shares performance
Ford's shares reached a peak in the latest bull cycle of $18.97 in January 2011. Since then, they followed a declining trend even though they tried to attack $18 numerous times. They declined to a low of $8.82 in August 2012, and after that, they attacked $18 in October 2013 and in July 2014. The shares could not move higher than $18.97 and so they reversed to the downside. The price of $18 seems to be quite a strong resistance. On the other hand, the shares found a support at a level of $10 numerous times.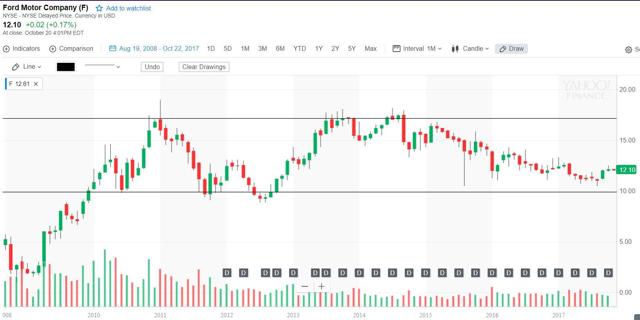 Source: www.finance.yahoo.com
Looking only at technical levels, it seems like the shares broke a declining trend that started in July 2014 and could appreciate to $13-$15 level. In the most optimistic scenario, they may attempt to attack $18 once again, but I would not aim for that.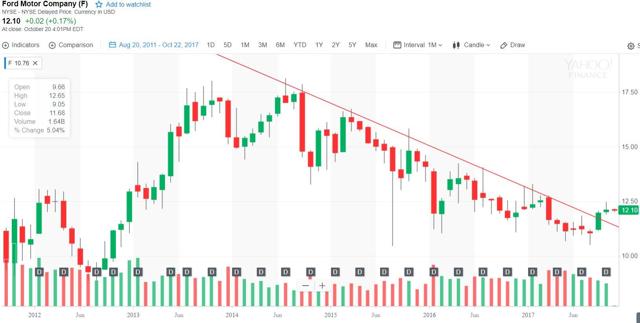 Source: www.finance.yahoo.com
The appreciation is also supported by fundamentals given the shares trade at a lower range of their historical multiple.
Low P/E ratio
One of the reasons for price appreciation is low valuation. The EPS for this year is expected to be at $1.76 and $1.53 next year based on analysts' forecast.

Source: www.finance.yahoo.com
This translates into a P/E multiple of 6.9 to this year forecasted earnings and 7.9 to next year forecasted earnings. By this measure, Ford looks like a bargain and another attack of $18 would be warranted. At a price of $18, Ford would trade at 10.2 P/E to this year's forecasted earnings and 11.7 P/E to next year's forecasted earnings. Given where S&P 500 trades, it would still be cheap. However, such multiples were rather an exception in the last bull cycle.

Source: Author's Calculation
The P/E was ranging from 5.1 to 12.1 ignoring the outliers from 2009 due to the financial crisis, 2011 due to a non-recurring tax benefit, and 2014 due to very low earnings. The P/E of 10.2 would rather be an exception, and therefore, I would aim for an appreciation to the $13-$15 level. At $15, the P/E would be 8.5 to this year's forecasted earnings and 9.7 to next year's forecasted earnings which would put the shares at a higher range of historical multiples. One additional observation that supports the short-term price appreciation is the dollar depreciation.
Dollar depreciation
The dollar depreciated by approximately 8%.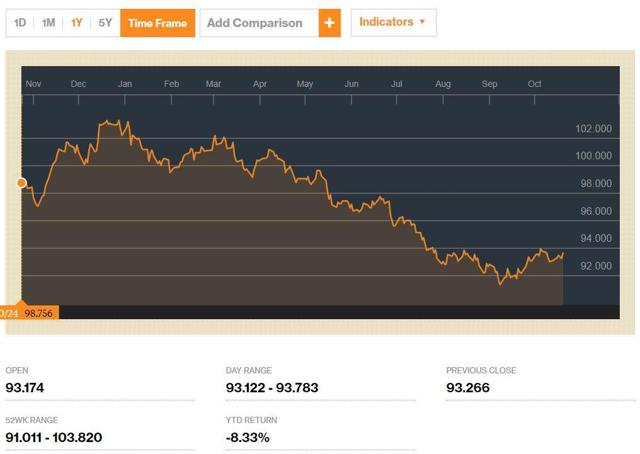 Source: www.bloomberg.com
Ford's revenues outside the United States represent 40% of total sales. As a result, depreciation in greenback translates into higher earnings.

Source: Ford's 10-K 2016
I would doubt the analysts were using lower dollar exchange rates for deriving their EPS estimate. Even though they raised their EPS forecast for this year 90 days ago from 1.52 to 1.76 (visible in above picture). In my point of view, this is rather a result of earnings beat for Q2 and Q1 at which point dollar traded at much lower values.

Source: Seeking Alpha
Therefore, I think the shares are poised to the upside in the short term. But I am more skeptical about the long-term performance.
Long-term trend
Ford's results were not that stellar in the last business cycle.

Source: Author's calculation
Sales per share increased barely and the profitability declined. The nominal sales increased by 17.7% in the period between 2010 and 2016. But, the total number of shares increased by 13.4%. As a result, sales per share increased only 3.8% over the 6 years. This is an annual increase in sales of 0.6%. The EPS went nowhere as well. If we exclude a tax benefit in 2011, then EPS was the highest in 2010. Even though sales increased, the EPS could not break above 1.9. And this trend is expected to continue in 2017 and 2018. The reason why EPS has not increased is a decline in profitability and an increase in shares outstanding. The outstanding shares were 3.4 billion in the year 2010 and 3.9 billion in the year 2016. And they continue to climb this year as well.

Source: Ford 10-Q 2Q 2017
Furthermore, the EPS could not rise because of operating margin decline. The operating margin was highest in 2010, 2011 and 2015. The EPS was also highest during those years. My conclusion is that EPS close to $2 is rather an exception. Since 2012, the operating profit reached 5% only once. If Ford can keep the profitability at 5%, then increase in sales would transform into an increase in EPS and shares would deserve higher valuations. But I would not consider this in the base case scenario due to the structural and cyclical headwinds in the car industry. In my point of view, these years were the best for car companies and the future possesses more headwinds than opportunities.
Car industry challenges
The car industry faces structural and cyclical headwinds in the future. Cyclical headwinds come from the fact that an unemployment rate in the US is reaching the full potential and probability of a recession in the three years' rises significantly. The US economy significantly influences the rest of the world and it would be fair to say that when recession comes to the US, the global growth slows and consumers would purchase fewer cars. As a result, I would not expect Ford sales per share to increase so dramatically that it would warrant significant share appreciation.
The other headwinds come from structural challenges the car industry is facing. First is the industry movement to electrification. While Ford is addressing this structural challenge, the impact on profitability remains to be seen.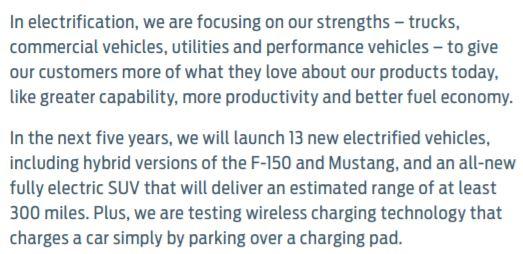 Source: Ford 10-K 2016
The second structural challenge comes from autonomous vehicles. Ford is addressing this by promising to bring 4 fully autonomous vehicles to the market by 2021.

Source: Ford 10-K 2016
It also remains to be seen what impact it is going to have on profitability, sales, etc. If the whole industry moves towards fully autonomous vehicles, it raises a question whether there will be a global demand for sales of 91.4 million vehicles per year. And then comes yet again threat to the car industry. The millennials are driving a shift towards the shared economy. This may result in a world needing fewer cars than there are today. This possesses a notable risk to all car manufacturing companies.
It remains to be seen what impact the whole structural headwinds will bring on Ford and others in the car industry, but it is a fair to say that it is rather a threat to their sales and profitability than an opportunity.
Takeaway
Ford trading at a low P/E does not necessarily mean a solid investment. In the short term, they may appreciate toward the $13-$15 level due to multiples re-pricing in line with the historical averages and potential EPS increase due to dollar weakness. However, I am more concerned for the performance in the long term. In my point of view, the whole industry faces structural and cyclical challenges that put a limit on further appreciation. As a result, I think it may be prudent to stay on the sidelines for long-term investors despite low P/E and a high dividend yield.
Disclosure: I/we have no positions in any stocks mentioned, and no plans to initiate any positions within the next 72 hours.
I wrote this article myself, and it expresses my own opinions. I am not receiving compensation for it (other than from Seeking Alpha). I have no business relationship with any company whose stock is mentioned in this article.