This article would be a fitting prequel to my other recent article, located here: 4 Lithium Miner Stocks That Could Explode
The Low Risk of High Risk Lithium Investments
There's something very satisfying about buying 10,000 shares in a cheap, promising lithium miner. I think it has to do with the contagious optimism in the lithium industry. With all lithium miners, the future is bright, the air is clean, and EVs are everywhere. It is the same type of optimism I felt after getting my college diploma.
At the turn of the century, oil pumps spotted the countryside, and people who put money into Mobile, BP, and Shell at the time knew they were investing in the future.
By 1915, Ford Motor Company had lowered the price of their Model T enough to make it affordable for the average American family. With this development, the dominance of horse drawn carriages would soon end. The benefits of the automobile finally outweighed the risk and cost of owning one.
Something similar is on the verge of happening now. Though not as profound as the change from horse to engine, the price of EVs is dropping, and their further adoption will bring us to a tipping point. Soon, the benefits an EV will bring will outweigh the risk and cost of owning one.
By the time my grandchildren are taking World History, they will be required to write a report on a chapter entitled "Fossil Fuels and the Transition to Green Energy". And because they'll have 25% of my brain, the report will begin: "Poor air quality forced the most populous nation in the world to make a change".
EV technology has presented itself over the last few years, but until now, countries of the world were not ready to embrace it. China has, but they need the raw materials to make it a reality. In order to supply China with the lithium required to convert to 100% EVs by 2040, all hands need to be on deck. ALL lithium juniors with a few prerequisites will garner take off agreements. I think two attributes are paramount.
Good management. Experience in the industry is key to succeeding.
Good property.
Why? Look at the supply forecasts below. The lithium supply is barely adequate for non-EV demand.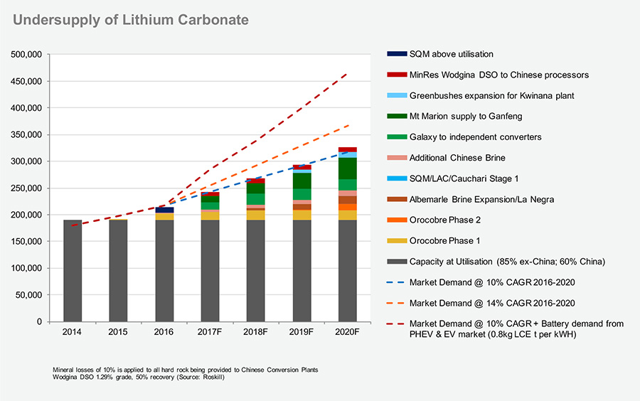 Source: Orocobre
There is going to be a lasting, critical shortage of lithium carbonate.
Where to invest?
Does it matter that the lithium company is in Canada, Australia, USA, or Argentina? For the most part the answer is no. The demand for lithium is projected to keep prices high enough to support viable operations in any country. However, the cheaper the better.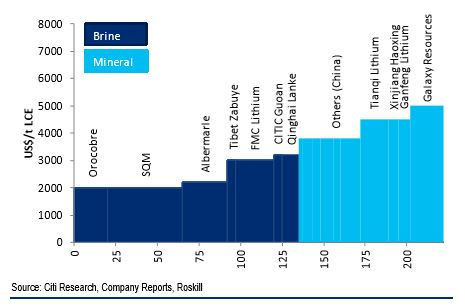 One of Matt Bohlsen's articles does a great job describing the lithium supply and demand here.
The current LCE price per ton is above $15k US. I believe prices will continue to remain at these levels for at least 3 years, after that they may dip, but still remain above $10k per ton. The risk for the higher cost mineral producers (Canada, Australia, Europe), is that they will have to tighten their belts to continue a profitable operation. For brine producers (mostly Lithium Triangle - Argentina, Chile, Bolivia), they will survive all market conditions. This does not take into account any new extraction techniques.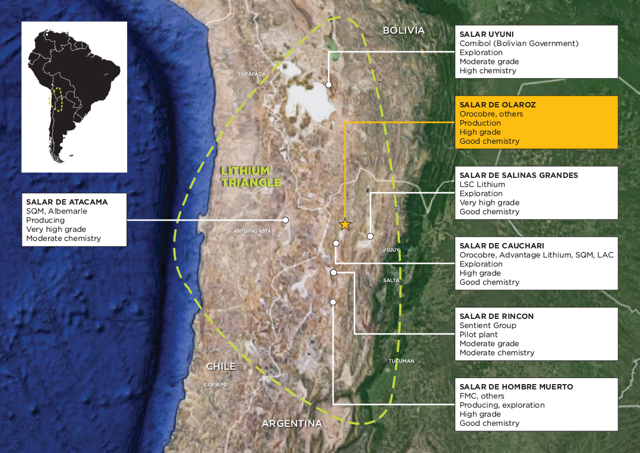 Source: Orocobre lithium supply
But for the foreseeable future, battery manufacturers are going to be desperate for lithium. Lithium miners will be funded, because lithium, at any cost, is still lithium.
Argentina
The Lithium Triangle sources 1/2 of the world's lithium. The Triangle consists of areas in Argentina, Bolivia, and Chile. Argentina is a great place to invest for the following reasons:
The Argentinian government is now pro-foreign investment, and will facilitate these companies in any way they can.
Local expertise in lithium. The region's drillers, engineers, technicians, production workers have experience in lithium exploration and mining. With the help of the local expertise, lithium deposits can more easily be found, explored, and developed.
Lowest production cost per ton LCE. The climate in Argentina is unmatched for a brine evaporation operation, which is the lowest cost method to date. The labor cost is much lower than Canada, Australia, or the US. The lowest cost producers are located in the Lithium Triangle, so if lithium prices drop, the producers here will survive.
Joint ventures are common. At first, it doesn't look appealing for a small lithium company to have only 75, 50, or 66% of the ownership of their flagship property. However, when the other stakeholder is a current lithium producer, all the resources that those companies used to get to production can now be leveraged by the new lithium company. Advantage Lithium (OTCQX:AVLIF) is a prime example of this.
Buyouts and mergers are more possible. We may not want our beloved CEO, Clayton Salinas Miner Jr. to sell out to FMC, Albermarle, or SQM, but the fact of the matter is that it will make us a lot of money. The assets the junior miners are exploring are often in the proximity of the big boys, who might decide to expand their resources or operations via acquisitions. If they see a viable resource or facility that suits their goals, they have the financing available to buy any small lithium company.
High Risk/High Reward Lithium Stock Picks
The following companies I am recommending are nano-cap stocks. Nano-cap stocks have market capitalizations between 5 and 50 million. The big risks with nano-cap stocks is the lack of information available, possible bankruptcy, and low liquidity.
The first problem, lack of information, is where I focus my efforts. Armed with adequate information, the investor who can tolerate high risk can do very well in nano-cap stocks. The lithium outlook is bright, but it is possible that these companies will not succeed. They they may go bankrupt, not be able to raise funds for drilling or production, or not be able to identify a good lithium resource. With my analysis, I hope to put these and other potential failure scenarios to rest. I believe the following four companies will progress to 10x their current market capitalization.
Lake Resources (ASX:LKE), Market cap 17m AU
Lake Resources has options on up to 165000 hectares (637 sq miles!) of highly prospective property in Argentina. They have are one of the largest lease holdings of any lithium mining company. One of these properties share the same salar as Orocobre, Salar Olaroz, which has proven to be one of the best brine deposits in Argentina. Their property at Olaroz measures 19000 hectares, which alone could be a flagship property. Another property they own is Paso Lake (29000 hectares), which is the next Salar to the west of Olaroz. They have Kachi Lake (~50000 hectares), which has not been drilled but shows good potential, and has returned results of up to 322 ppm lithium via surface sampling. They also have Catamarca (72000 hectares), which is a hard rock lithium property with good potential.
It is hard to tell at this stage, but it appears Lake has two flagship properties.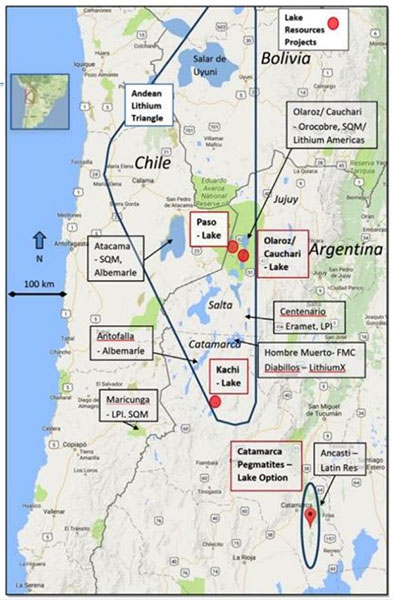 Source (and good article): Next Mining Boom
One flagship would be their Oraloz property, which they are seeking permits to drill. I believe this property derisks Lake in the near term. The largest pitfall for an emerging exploration company is not having a good resource. Studies by Lithium Americas show that there is good continuity in the aquifer at Oraloz /Cauchari.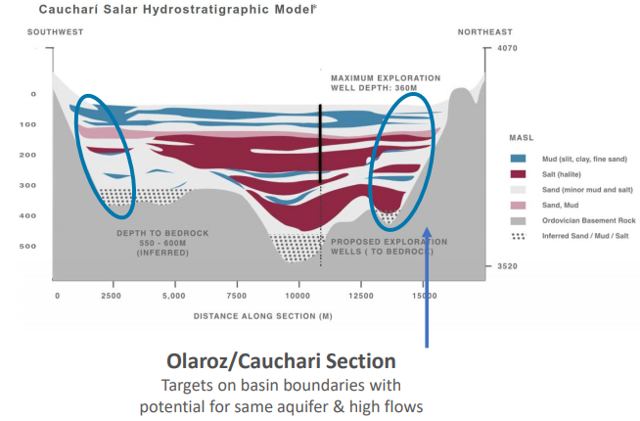 Lake doesn't have as central a location at Oraloz /Cauchari as Lithium Americas, Orocobre, or Advantage Lithium, but they have only to intersect the aquifer at a few places to prove the value of this property. Lake Resources, like Advantage Lithium, have options with how to progress this property. If they discover a good resource, they may be able to sell raw brine to their larger neighbors Orocobre or Lithium Americas.

The other flagship is their 50000 hectare Kachi lake property. In recent news a LOI (Letter of Intent) was signed between Lake and an Argentinian government entity. The government will facilitate the development of the Kachi project by expediting the stages of permitting and development to production. This will ensure the fastest possible road to production. Currently Lake is awaiting final approvals to begin drilling their Kachi property. This will begin the process of defining their resource.
Having two promising flagship properties are why I decided to take a position in Lake. However, it is certainly possible that their Kachi and Oraloz properties produce poor results, which could mean a substantial drop in share value or bankruptcy. All lithium juniors have these risks, but given the past exploration work at Oraloz, and having 3 additional large properties, they are likely to advance to resource definition and beyond.
Lithium Energi Exploration (CVE:LEXI)(OTCQX:OTC:LXENF), Market cap 10m CA
I like Lithium Energi Exploration because they also have the property to succeed, with options on up to 128000 hectares (494 sq miles) of highly prospective property in Argentina. With a recent agreement, LEXI also has the option to own all ROFR properties below, bringing the total to 228000 hectares!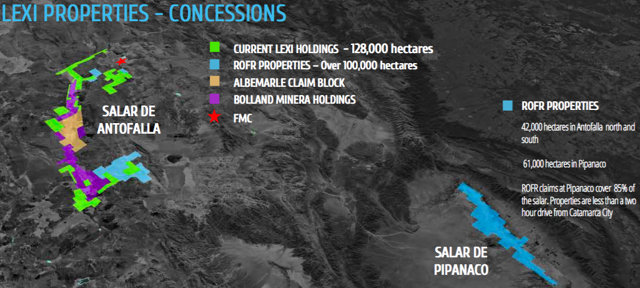 Source (and a good article): ER LEXI
What jumps out in the above article is this:
To be clear, Albemarle's larger, more central position in Antofalla remains an exploration-stage project (other than the INREMI-Bolland data, no exploration results have been made public by Albemarle), but management commented as follows in its September 2016 press release,"Albemarle believes that this lithium resource will be certified as the largest lithium resource in Argentina."
The Salar De AntoFalla was proven as a great lithium resource by Bolland Minera, a private mining company. Boland had drilled 56 boreholes over 265km2 and defined a resource of 2.22mt of lithium (11.8mt LCE) grading 350mg/l in the area now claimed by Albemarle. With this information, LEXI's holdings in the area have a great chance to yield similar results once properly drilled.
Another property with potential is Salar De Pipanaco, which has been minimally tested for lithium thus far. It is less remote than other Salars, with close proximity to cities Catamarca and La Roija. With better access to labor and infrastructure, if lithium is found in sufficient quantities here the benefits of the location will soon prove priceless.
LEXI has recently signed an agreement with IBC Advanced Technologies to utilize their proprietary Molecular Recognition Technology in the recovery of lithium from brine. If "MRT" is made functional for lithium extraction, LEXI could be a lot closer to production than most Argentina lithium juniors. I feel this agreement can only help LEXI, as a typical brine operation would take 5+ years to turn profitable. With this technology they may be able to turn a profit in 2018.
LEXI's board has experience in exploration and operations. Miles Rideout and Ing. Nivaldo Rojas both have world class experience in South American mineral exploration and operations. Mr. Rideout worked at Quantec Geoscience for 23 years where he initiated operations, and founded and managed numerous South American subsidiaries. He has extensive experience in exploration, mine permitting, financing, construction, and operation. Mr. Rojas has organized over 50 exploration teams for precious metals in Argentina, Chile, Bolivia, and is credited with important discoveries. Mr. Rojas also served as the Exploration Country Manager for Argentina with BHP Billiton (30b AU market cap!). To move forward, Lithium Energi needs to define it's resource. With these two board members I believe that will happen.
Novo Litio Ltd (ASX:NLI), Market cap 19m AU
Novo Litio was formerly known as Dakota Minerals. Novo Litio is Portuguese, and means "New Lithium" in English.
Novo Litio is a near term lithium producer. The PFS is in the works and they intend to be in production by Q2 2019. Unlike the top two picks, they are a hard rock lithium miner. Hard rock lithium miners are the only way lithium supply will meet demand in the near term. Starting up a new lithium brine operation is much more expensive than hard rock, and it takes a long time to reach advertised capacity. It took Orocobre 7 years from the beginning of planning, development and construction to the sale of their first lithium carbonate at their Oraloz brine facility.
NLI has property in Sweden and Portugal. With most of the automotive exports coming from Europe, the location of NLIs projects couldn't be better. The property in Sweden is large at 126 sq km, but is at an early stage awaiting drill permits. The Sepeda project in Portugal has a defined resource estimate of 10.3mt at 1.00% lithium. Their modest resource is a big reason they have such a small market cap, but an expansion of this lithium resource is due Q4 2017.
NLI's recent drill results at Sepeda are why I think this company will show big returns in the coming months. The results are very impressive with some samples at over 80 meters thick at 1.36% Li20! The coming resource upgrade is sure to make waves, and garner the attention of take-off partners.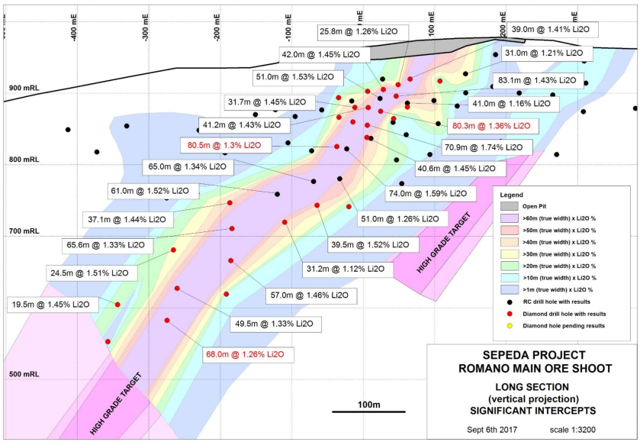 Source: Strong drilling results
NLI has 14 million (A$) in cash. Cash is normally a huge problem with lithium juniors, who have to use dilution to fund operations. With these resources their Portuguese and Sweden assets can be explored and drilled in parallel. NLI also has recently acquired mining rights in 354 sq km of property adjoining their Sepeda property. The exploration license is already granted for this property, so with cash to spare, NLI is immediately exploring.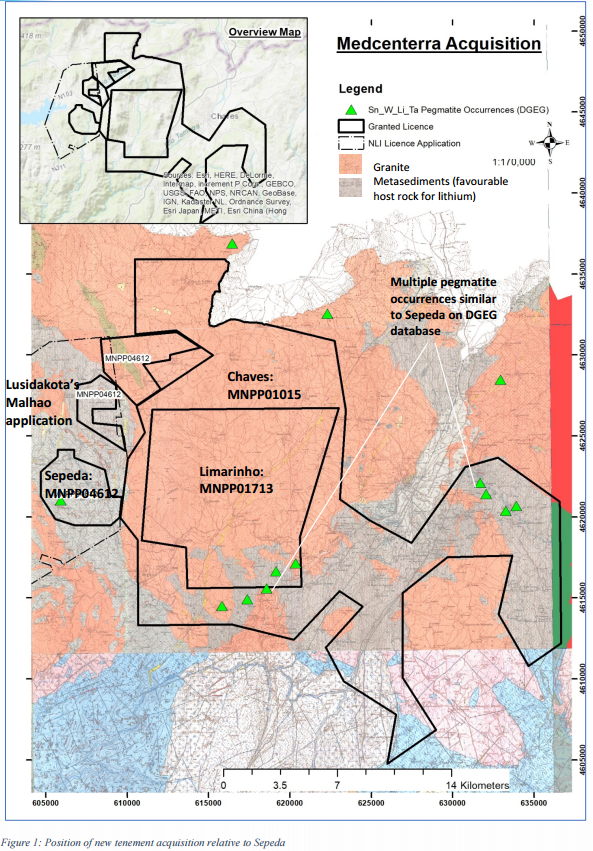 As icing on the cake, NLI has recently received broker attention with VSA Capital. They recommend them as a buy with 354% upside! The report is less than 1 month old, and provides compelling reasons that Novo Litio is poised to break out.
With all this good news one would expect the market cap to be much higher. This may be caused by the current legal battle over the mining licence at Sepeda. NLI has a binding agreement to acquire 100% of the granted licence and licence applications held by Lusorecursos, a local mining company. Unfortunately Lusorecursos has refused to transfer the licenses as agreed and has forced NLI to begin legal proceedings against Lusorecursos. NLI expects this matter to be resolved in November, so progress will continue as planned at Sepeda.
This is a problem, but I, along with the VSA Capital broker believe that Lusorecursos doesn't have a leg to stand on, and NLI will be awarded the licences for Sepeda. But if by chance the courts rule in Lusorecursos's favor, it will be a major blow to NLI, but will not be enough to stop them. As mentioned before, they are actively pursuing their other large properties and have the cash to fund these through resources estimation. They have identified pegmitite zones comparable to Sepeda in their new Portuguese holdings.
As I see it, the worst case is that NLI is set back 6-12 months. I think NLI is a great bargain, and will soon be a major supplier of lithium in Europe. Over time, I wouldn't be surprised to see the return on investment eclipse 20x with NLI.
Prospect Resources Ltd (ASX:PSC), Market cap 49m AU
Prospect Resources is also a near term producer. Prospect has completed their PFS and once funding is secured, they will be in production in 12-18 months. I think they will accomplish this as they have over 7 million (AU) in cash and no debt, which means they have the funding to keep the company moving towards production with exploration, updated resource reports, and other costs covered. They have seen very high demand for their lithium samples and writing is on the wall that a takeoff partner will soon be identified.
Prospect's hard rock Arcadia resource is 67mt at 1.13% lithium. As a comparison, Altura (current market cap at 470M AU) has a resource of 36mt at 1.04%. All proven resources at this size are either in production or have been funded for production.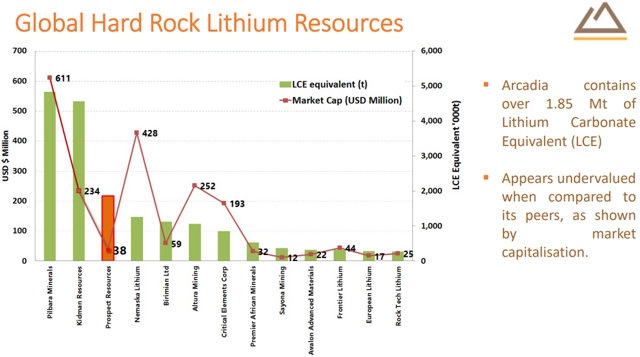 Source: Prospect presentation
The big problem with Prospect is that their Arcadia resource is located in Zimbabwe. The government is viewed as corrupt, and their president has been in power since 1987. President Mugabe has been referred to as a stereotypical African dictator. There have been protests since 2016 on the grounds of government repression, poor public services, high unemployment, and widespread corruption.
This is enough to write off Prospect, however, the government is working hard to increase foreign investment. Mining is one area where Zimbabwe is desperately trying to expand and protect. The country needs revenue to improve its economy. Despite the political climate, Zimbabwe is the world's 5th largest lithium producer.
I'm going out on a limb here but I think Prospect will succeed in securing an off-take agreement and become a producer. If that happens the stock will rocket. The management of Prospect have experience in working with the Zimbabwe government though the good times and the bad. Prospect will be spared most the problems plaguing Zimbabwe, because miners are giving #1 priority. You don't kill the goose that lays the golden eggs in a struggling economy.
Other high potential, high risk stocks to watch:
AIS Resources, Lithium Power International, LSC Lithium, Millennial Lithium, Neo Lithium. The companies I recommend in my first article would also fit in this category.
Conclusion
Yes, I am promoting high risk stocks. But those who recognize the potential of an investment early profit most.
For investors who are just catching on to the lithium battery revolution, the best way to play the game is to look past the traditional lithium producers. In this boom scenario, investors will be looking at companies with the lowest market caps, solid management and highly prospective deposits.
Source: Sayona invester presentation
Best to buy foreign stocks on their local exchanges because of liquidity concerns.
For more promising lithium miners, see my blog posts and other articles.
Disclosure: I am/we are long AVLIF, DMNXF, ASX:LKE, ASX:PSE, LXENF, ASX:NLI, NRGMF.
I wrote this article myself, and it expresses my own opinions. I am not receiving compensation for it (other than from Seeking Alpha). I have no business relationship with any company whose stock is mentioned in this article.
Editor's Note: This article covers one or more microcap stocks. Please be aware of the risks associated with these stocks.