Boy, I hate being so right.

My prediction that without a September/October correction, stocks would grind up for the rest of 2017.

And so they have.

For the first time in 20 years, we have seen a perfect week in the market; up every day to new all-time highs.

There have been no less than 53 new all-time highs this year, the most since 1995.

It was a firm middle finger salute to the 30th anniversary of the Great 1987 crash, which I participated in up to my eyeballs.

Parallels today can be found everywhere, but no one is looking; wildly expanding leverage though illiquid derivatives and ETF's, passive investing, computers replacing humans in the asset allocation process, and the Volatility Index (VIX) falling off the edge of the earth.

The Mad Hedge Market Timing Index blasted up to a 20 year high againat 92 where it now seems to live, indicating extreme overbuying and risk taking.

Most traders were perplexed over what to do because they have never seen anything like it.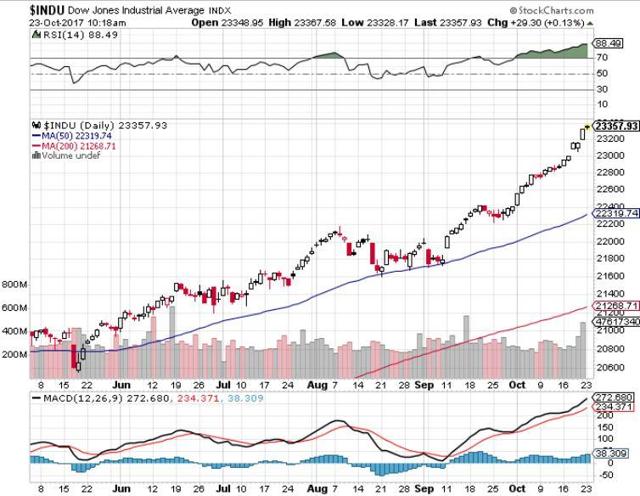 I am perplexed over what to do about it because I HAVE seen this before, in New York in 1975 and 1987, Tokyo in 1989, San Francisco in 1999, and New York again in 2008.

And while every fiber in my body is screaming at me to sell, I so far have successfully restrained myself from doing so.

I lie down and take a nap instead.

There are just too many positive drivers out there for the moment.

This is one of the few times in my 50 years of trading where the sun, moon, and stars have all aligned together.

A synchronized global economic recovery, artificially low interest rates, and the prospect of a once in a generation tax cut are a lot to sell against.

And while for much of this year, the rally was narrowly focused in a small group of shares like the FANG's, now EVERYTHING is going up, with sector rotating BY THE DAY!

The perma bears have been blown to smithereens.

So party on and let the good times roll, at least for the next two months.

When the biggest tax selling in history hits on January 2, it may be entirely a different story.

So, I am staying cautious, and small.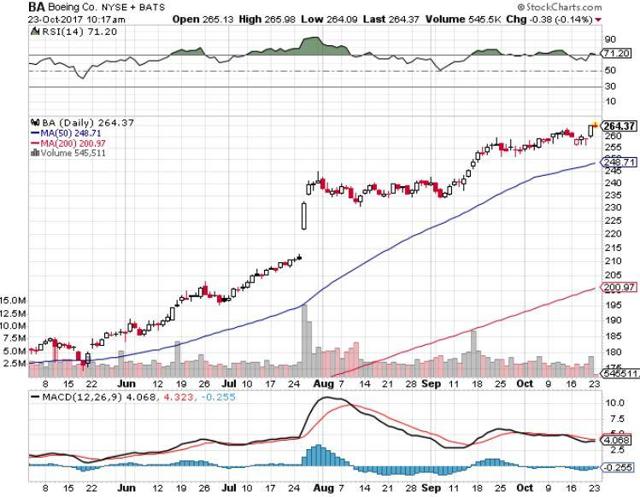 Leading the charge this year has been Boeing (BA), up 70% so far, which I first started aggressively recommending at $65 in 2012 (click here for"Turbulence at Boeing.") On Friday it hit $264.50.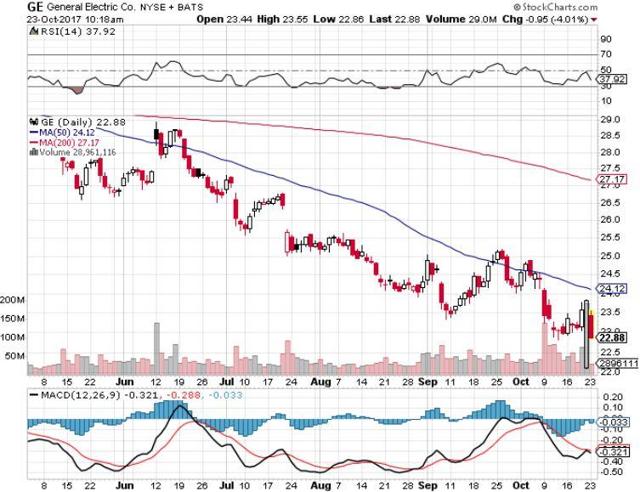 On the other hand, General Electric (GE) has been this year's dog of the Dow, falling some 29%.

After CE Jack Welch turned the company into a hedge fund that made light bulbs, its massive investments in the financial sector completely blew up, taking the stock down to an eye popping $5.

Only a last minute investment by Warren Buffet kept it from going to zero.

Next came a "bet the ranch" investment in energy, right when oil was trading around $150 a barrel.

Oops!

Now the cruel bill for this management expertise has come due for the shareholders.

The market also took notice of another staggering step towards tax cuts, which now look to happen sometime in Q1, 2018.

Also helping is the near ascension of Jerome Powell as the next Fed governor, the closest thing the Republicans have to another Janet Yellen.

With a serial debt hog in the White House, this should come as a surprise to no one.

The icing on the cake was Abe elected in Japan as prime minister this weekend, promising four more years of quantitative easing.

We did get 15 minutes of fear on Thursday morning when China's central banker asserted that asset prices are approaching a crash.

No doubt he will be right someday. But you can leave fortunes on the table until judgment day arrives in the meantime.

So, I am staying cautious, and small.

A short position in bonds seems to be the only safe thing out there, and I have been piling in at every opportunity.

Because of the lack of sweet spots my trade alert performance has started to flat line.
Flat lining at your career all time high is not a bad place to be.

Markets that go up every day at valuation highs offer nothing for traders, and I am being driven literally Mad.

However, I have voracious readers who expect me to send them a winning Trade Alert every day of the year.

If you can't stand the heat, get out of the kitchen.

It looks like we have a light data week coming forward.

On Monday, October 23 at 8:30 AM EST we get the Chicago Fed National Activity Index, a weighted average of 85 national economic indicators.

On Tuesday, October 24 at 9:45 AM EST we learn the September PMI Composite Flash Index, which is derived from a survey of 1,000 manufacturing and service companies.

On Wednesday, October 25, at 10:00 AM EST we obtain September New Homes Sales.

Thursday, October 26 at 10:00 AM we know the September Pending Home Sales, a read on homes sold in contract, but not closed.

Then at 8:30 AM EST we learn the Weekly Jobless Claims, which could be anywhere, thanks to the twin hurricanes.

On Friday, October 27 at 8:30 AM we receive another important read onQ3 GDP.

Wrapping up the week at 1:00 PM is the Baker-Hughes Rig Count, which delivered another rare fall last week.

As for me, I'll be headed up to the Santa Rosa Fairground and volunteering to work for the Red Cross.

I'll stop at Costco and fill the cars with supplies first.

I heard that now that the big fires are out, interest is railing off, but there are still 20,000 homeless.