Linn Energy (OTCQB:LNGG) has sold its Williston Basin assets for $285 million, bringing its asset sales this year up to around $1.6 billion. This puts it in a position to carry out its $400 million authorized share repurchase plan (and perhaps increase the program again in the future) as well as have ample funds to pay for midstream and development expenditures. Linn still has several assets (Permian, Eastern Oklahoma Waterflood and Bluebell Altamont) that it is attempting to sell. The price it received for its Williston Basin assets appears to be fair for current market conditions.
The Williston Basin Assets
The Williston Basin assets that Linn Energy is selling are non-operated properties that generated around 8,000 BOEPD in production in Q2 2017 (down from 9,800 BOEPD in the emergence presentation below). The production appears to be less oil-dominant than average for the Williston Basin, and is 57% oil. Proved developed reserves are estimated at 20 MBOE and the assets involve around 20,000 net acres.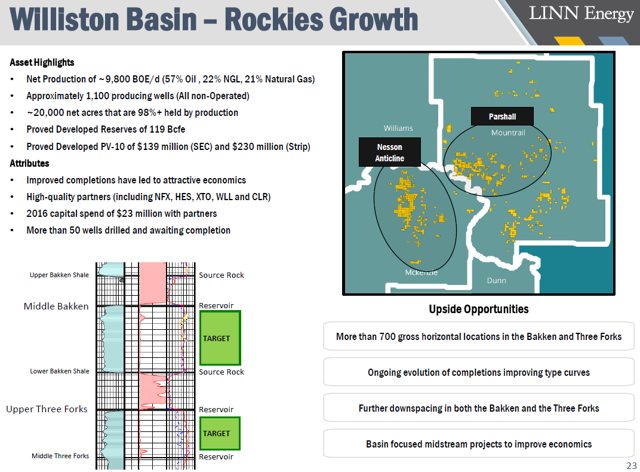 Source: Linn Energy
Linn mentioned that the proved developed PV-10 was $186 million at $50 oil and $3 natural gas, $139 million at 2016 SEC pricing ($42.64 oil and $2.48 natural gas) and $230 million at February 2017 strip prices (roughly $55 oil and $3 natural gas).
Property Valuation
The price per flowing BOE is a bit lower than other recent Williston Basin transactions. For example, Linn's Williston Basin properties sold for around $35,625 per flowing BOE, compared to around $45,650 per flowing BOE for Halcon's non-operated Williston Basin assets. The lower price can largely be explained by Linn's Williston Basin assets having a relatively low oil percentage. In its bankruptcy emergence presentation, Linn mentioned that the Williston Basin production was 57% oil, while Halcon's non-operated Williston Basin assets were 83% oil.
I had previously noted that Williston Basin assets were going for over 2x proved developed PV-10 at SEC pricing, so I believed that Linn could potentially fetch a bit over $300 million for its Williston Basin assets. The $285 million sale price is slightly lower than that estimate, but appears to be a fair price at 2.05x proved developed PV-10 at 2016 SEC prices.
Effect On Linn's Financials
Linn has previously mentioned the cash flow or EBITDA associated with its past divestitures, but didn't give a number in this case. I'm guessing that annualized EBITDA at 8,000 BOEPD in production and $50 WTI oil and $3 Henry Hub natural gas is probably around $45 million to $50 million or so. That EBITDA range would be reached if the non-operated Williston Basin assets had lease operating expenses of around $8 to $10 per BOE. At $45 million to $50 million EBITDA, the $285 million sale price represents roughly 6x EBITDA.
Conclusion
Linn Energy continues to sell its assets and stockpile cash. It had been marketing the Williston Basin assets along with several others. The Williston Basin sale will likely be larger than each of the remaining asset sales, although the combined sale price of its remaining marketed assets could be in the $400 million to $450 million range.
Linn is getting a decent price for its various assets, but the total sale proceeds so far plus the value of its remaining assets and its stake in Roan Resources wouldn't cover its debt at the time of filing. Therefore, I don't think there can be much of an argument that Linn's bankruptcy wasn't inevitable at $50 oil and $3 natural gas. The issue was that it funded many asset purchases primarily with debt, made those asset purchases when prices were high and also had significant cash outflows going towards distributions (along with interest).
Author's Note: If you thought this article was interesting, please scroll to the top of the article and click on "Follow" next to Elephant Analytics. Thanks for reading!
Disclosure: I am/we are long LNGG.
I wrote this article myself, and it expresses my own opinions. I am not receiving compensation for it (other than from Seeking Alpha). I have no business relationship with any company whose stock is mentioned in this article.
Editor's Note: This article discusses one or more securities that do not trade on a major U.S. exchange. Please be aware of the risks associated with these stocks.