Being an author and active trader at the same time becomes problematic when you have a great idea and no time to share it with your community in a timely manner. This was the case with the preferred stock starred in this article -- we discussed it with our subscribers in the chat, but never got the chance to properly introduce it to the public before it had already made its move.
That said, in this article we will do our regular step-by-step analysis and a recap of our trade -- not to show off, but to emphasize on the importance of having information in a timely manner.
The Company
As per Sterling Bancorp's (NYSE:STL) website:
Sterling Bancorp, of which the principal subsidiary is Sterling National Bank, specializes in the delivery of service and solutions to business owners, their families, and consumers within the communities we serve through teams of dedicated and experienced relationship managers. Sterling National Bank offers a complete line of commercial, business, and consumer banking products and services.
We don't want you to get the impression that our content is built on a copy/paste basis. However, the highlights related to Sterling Bancorp are not subject to comment from us, and at present we lack the authority to draw conclusions on what's good, what's bad and what we expect to happen with a company that big -- regardless of whether it's in the short or long run.
In a nutshell, what the recently completed merger between the two companies achieved is as follows:
Sterling Bancorp today announced the completion of its previously announced merger with Astoria Financial Corporation (NYSE:AF). The merger leverages Astoria's strong presence on Long Island and complements Sterling's expansion strategy in the greater New York City market. The transaction combines two banks with deep ties to the markets and communities they serve. The combined bank will have approximately $30 billion in assets, $20 billion in gross loans and over $19 billion in deposits with a diversified commercial and consumer loan and deposit base, solid capital foundation and broad footprint in a dynamic and growing marketplace. The combined institution will serve New York City, Westchester County, the Hudson Valley, Long Island, and northern New Jersey. The combined company will operate under the Sterling Bancorp name and its principal banking subsidiaries will operate under the name of Sterling National Bank.
Having all the basic information we need, here is the market's opinion on the company: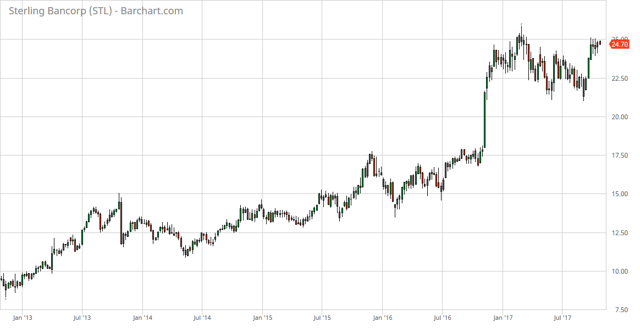 Source: Barchart.com - STL Weekly Chart (Five Years).
We are no experts, but this looks like a home run.
Last but not least, just recently the bank completed the 2017 company-run Dodd-Frank Act Stress Test. Information published by the bank can be found here, should anyone have the capacity to extract information from it and feel as if it relates to the subject at hand.
The Preferred
As already mentioned, we are looking at Sterling Bancorp, 6.50% Non-Cumulative Perpetual Preferred Stock Series A (STL-A). This preferred stock previously traded under the symbol AF-C, before the merger between Sterling Bancorp and Astoria Financial was completed. In spite of this, STL-A should be treated as a completely new issue as the only thing in common between the two are some metrics and the fact that it did not reach the market through an IPO, but was given to holders of AF-C.
Let's take a look back at AF-C: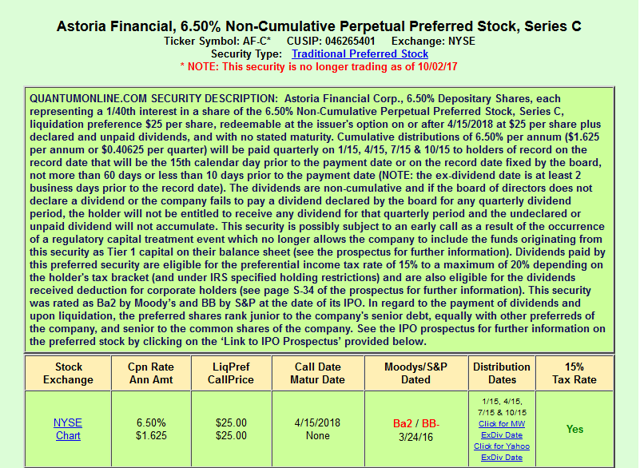 Source: QuantumOnline.com - AF-C.
As per the official press release:
... each share of Astoria's preferred stock (AF-C), par value $1.00 per share with a liquidation preference of $1,000 per share, has been automatically converted into the right to receive one share of Sterling's preferred stock (STL-A), par value $0.01 per share with a liquidation preference of $1,000 per share.
There are two major differences that you will notice easily, unless we missed something.

Source: Author's spreadsheet.
The call date has changed from April 15, 2018, to Oct. 15, 2022.
No credit rating has been assigned yet to the "new" preferred stock, but we would bet on a better one than the BB- that had been assigned to AF-C by Standard & Poor's.
Dividends paid by this product are qualified, and although its current yield and YTC might be sitting at 6.21% and 5.44%, respectively, the non-qualified equivalents of these are not easy to find in today's preferred stock market -- at least not from a company like Sterling Bancorp.
The yield-to-call curve of STL-A currently looks like this: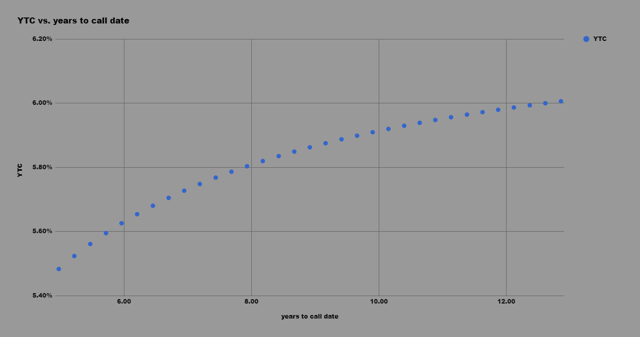 Source: Author's spreadsheet.
Having already mentioned the two major changes, at least the ones most visible to the naked eye that have not been lurking deep in all the available SEC filings, let's see what the market thinks about all the changes that occurred: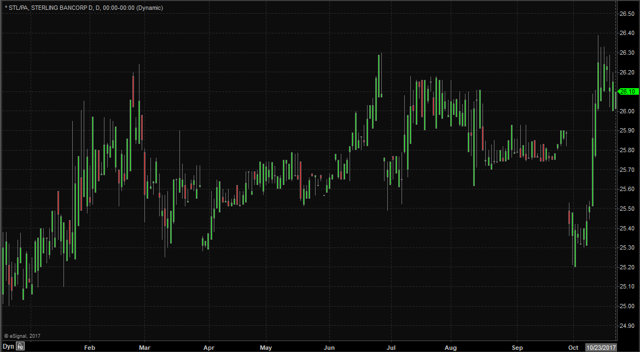 Source: eSignal - STL-A (previously AF-C) Daily Chart.
Thumbs up for eSignal -- it would have been hard to illustrate the major difference in price movement otherwise. Having seen most of the metrics we care about, let's see how the stock stands up relative to its peer group.
Peer Group
The criteria applied in our database are:
Preferred Stock Fixed Rate
Money Center Banks
YTC > -0.1
Last Price > 25
Here are the results:
Source: Author's database. Note: Something went wrong with STL-A's YTC in the database, so we added it manually on the chart.
The relatively short duration and decent yield-to-call make it stand up pretty well in comparison to its peers.
Capital Structure
We will also briefly take a look at the company's capital structure, using data from Fidelity:

Source: Fidelity.com - Sterling Bancorp - Financial Statements.
Addition to the S&P Preferred Stock Index?
Thanks to a question from one of our subscribers, we realized that STL-A has the potential to become an addition to the S&P Preferred Stock Index (NYSEARCA:PFF). The issue is 5.40M shares, and thus it is eligible from this perspective. But we have to monitor the volume over the next couple of months before drawing any conclusions.
Our Approach
Sterling Bancorp, 6.50% Non-Cumulative Perpetual Preferred Stock Series A (STL-A) was on our radar since day one, kind of, and we discussed it in the "Trade With Beta" chat. At the time, our initial purchase was made around the ~$25.40 level. But as you can see on the stock's daily chart, it did not hang around for too long.
However, even at the current market price this product might be of interest to more conservative income investors. The upside potential is not exhausted by any means, especially if the PFF's managers take a liking to it.
Conclusion
We are not rushing to add more of STL-A to our portfolio at these levels just yet, mostly because we had the ability to grab it much cheaper. But this does not mean that being a buyer now is completely out of the question. Buying the dip might actually be a viable strategy for this one.
Do you want to be ahead of the curve and have early access to ideas like this one? Then you're invited to join my team and the great community we have formed at "Trade With Beta."
Disclosure: I am/we are long STL-A.
I wrote this article myself, and it expresses my own opinions. I am not receiving compensation for it (other than from Seeking Alpha). I have no business relationship with any company whose stock is mentioned in this article.