Daimler (OTCPK:DDAIF) reported its third quarter earnings result last week and from an operational perspective they were quite decent. The results though were marred by one-time charges related to the emissions scandal (€223 million) and Takata airbag-related recalls (€230 million).
The stock has been up 14.5% since my BUY rating last quarter. While the forward earnings multiple (7.0x; Source: Morningstar) still remains reasonable, I think those with a holding period of less than a year may want to allocate capital elsewhere in light of the many moving parts in the company's reorganization. Investors with a long term holding period should look to stay invested. The dividend yield is still impressive at 4.35%, and industrial cash flows comfortably exceed capex and dividend payment requirements. As far as arguments related to the siren song of electric vehicle adoption is concerned, increased R&D dollars (up 21% to €2.3 billion in Q3) being apportioned for EV technologies is likely to keep the company competitive as Daimler reorganizes itself to gain more agility under a changing automotive landscape. The company has also earmarked €35 billion in investments for electric cars over the next seven years under a car unit that is set to become nimbler if the company succeeds in getting shareholders to pass its reorganization bid. I therefore think it's either unfair or too early to beat Daimler with the EV stick.
Q2 Review and Commentary
There were a couple of key takeaways from Daimler's third quarter results. One, the company's performance on the operational front remains absolutely solid. Two, negative news flow around scandals have kept company shares undervalued by covering up its strength in underlying operations. But as we saw in the third quarter result, the net financial impact of these scandals seem less severe than previously imagined.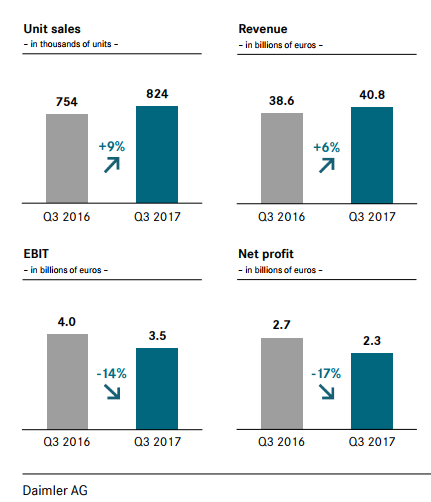 Revenues were up 6% in the quarter to €40.8 billion largely driven by a 30% bump in unit sales of Daimler Trucks. On the cost side, the company was less lucky as increased raw material costs and expenses related to new technologies led to gross profits that were 3.8% lower compared to last year. In the earnings call Daimler mentioned that higher costs related to raw materials and new technologies will have a €500 million impact on the EBIT in 2017. EBIT in the third quarter at €3.5 billion was considerably lower than the prior year comparable figure of €4.0 billion. The drastic drop was on account of the €453 million net impact from the recall and scandal related charge in the Mercedes-Benz car division.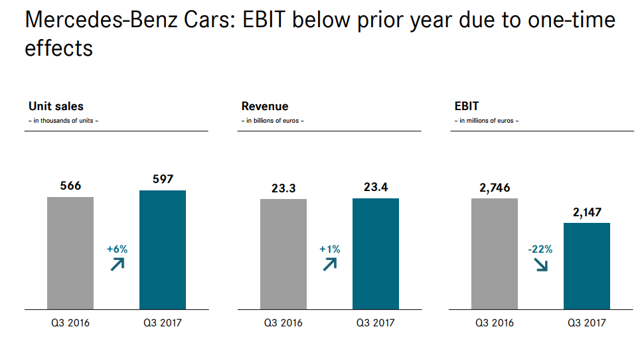 Meanwhile, the company acted on its bid to give more operational independence to its units. The corporate overhaul stepped short of divestment and instead opted for a holding company structure. Daimler AG as a parent will house three legally independent entities - Mercedes-Benz Cars & Vans, Daimler Trucks & Buses, and the Financial Services division. In order to assuage concerns from its heavily unionized workforce, Daimler will improve the funded status of its pension obligations by contributing €3 billion and extended a labor pact that rules out forced layoffs till 2030.
Conclusion
When we look at the forward earnings multiple of the three leading German automakers, Volkswagen (OTCPK:VLKAY) (5.7x) trails both BMW (OTCPK:BAMXF) (7.6x) and Daimler (7.0x). When I last wrote on Daimler, it was trading at almost the same multiple as Volkswagen but their performance has rightly diverged. And I think returns from this source of correction is largely over. The case for something similar happening between Daimler and BMW is not as strong. While Daimler has scored a higher revenue growth rate relative to BMW in recent quarters, BMW has managed to keep its net income margins nearly 200 basis points above Daimler. Therefore a swift burst in the stock like the one observed in the previous quarter seem unlikely over the next quarter. The next source of return will come from strong operational performance and they will be slow to accumulate.
Note: If you find the article interesting, kindly hit the like button to be updated about my latest insights!
Note: Company related data have been sourced from the filings of Daimler.
Disclosure: I/we have no positions in any stocks mentioned, and no plans to initiate any positions within the next 72 hours.
I wrote this article myself, and it expresses my own opinions. I am not receiving compensation for it (other than from Seeking Alpha). I have no business relationship with any company whose stock is mentioned in this article.
Editor's Note: This article discusses one or more securities that do not trade on a major U.S. exchange. Please be aware of the risks associated with these stocks.