In late August, I wrote an article about a potential short opportunity in Kraft Heinz (KHC). Over that period of time, the short position is a little more than $6 in the money. This follow-up article is to reiterate the current short thesis for KHC, and give potential investment ideas of how to maintain short exposure. KHC's price action continues to trend lower, with little sign of letting up. Fundamentally, the company remains under pressure, with flat revenue growth, amid potentially contracting operating margins. Finally, using option strategies, you may be able to get short exposure with limited risk.
Price Action
In the previous article, KHC was rolling over, below its 200-day moving average, but had yet to break key support below $80. Over the span of a few months however, support has been broken, and selling pressure continues on the stock. A number of analyst downgrades have been the catalyst for intensifying selling pressure. The list of firms that downgraded KHC are as follows: Morgan Stanley, Goldman Sachs, Susquehanna.
Looking purely at upcoming support areas, it doesn't look as if buyers will emerge until the high $60 range. KHC has earnings on November 1, which should lead to volatile trading, and potentially be a catalyst for more investor selling should the company miss estimates.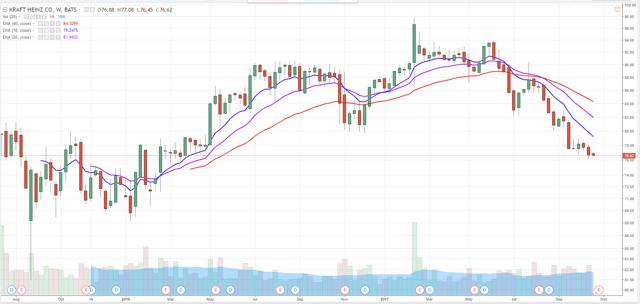 Fundamental Narrative
Two of the major themes weighing on KHC currently are slowing demand for packaged goods, on top of factors that could potentially squeeze margins in coming years. KHC is trying to navigate through a period when more consumers are avoiding its products. Ingredients that are not seen as healthy are being thrown to the side in favor of more natural, organically produced goods. For example, increasing health concerns around high fructose corn syrup, found in KHC's Ketchup, are linked to obesity levels, which continue to rise at alarming rates. Moreover, food agencies are taking aim at food producers over nutrition and the ethical issues inherent in the production and marketing of food. The chart below shows a list of KHC's peers and their year-to-date performance. Aside from Hershey (HSY), which has seen takeover rumors recently, the industry is experiencing compressing valuation multiples.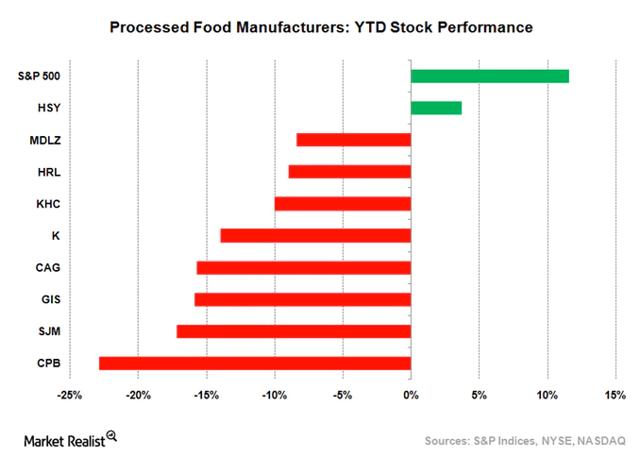 Additionally, margins may potentially be squeezed in coming years as commodity cost inflation rises, while KHC also may be forced to spend more to improve its brand. Commodity input costs are rising for items such as milk, eggs, corn, wheat, and oils. This is especially affecting cheese and coffee, to the tune of $80 million in the second quarter, and stands to further eat into profit gains. This could force KHC to sell off assets in areas where inflation and competition are too drastic leading to lack of profit potential.
Moreover, KHC may be forced to increase its brand spending in coming years. Although KHC has referenced its need to up investments behind its brands to increase sales volumes in recent earnings calls, little has actually been done. Increasing such spending will likely reduce operating margins, which management is reluctant to do. This leaves KHC in a dilemma, one in which it needs to find a way to grow top-line revenue in coming years, or investors will continue to push its stock price lower.
The Trade
The combination of a lower trending stock price and deteriorating fundamentals signals that KHC remains a short opportunity. The best way to play the current trade is by initiating a bear put spread. You can construct the spread using the January 2019 expiration with 75/70 strikes for a cost of $2.05, and a chance to make $2.95 should the stock price move below 70 by expiration. You should buy a contract of the 75 strike, and sell a contract of the 70 strike, thus defining your risk and reward. The potential max return on investment is 143%, but remember that loss of principal is possible, so weight the investment accordingly.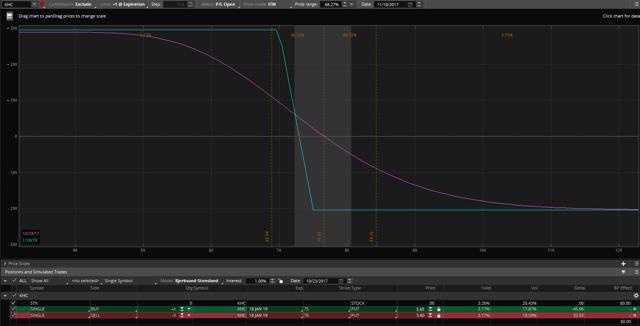 Conclusion
Although I have been short KHC for the last two months, there still exists further profit potential. KHC's share price remains in a strong trend lower, with another $5-6 to the downside left before the next buying support zone. Additionally, the company's fundamentals are deteriorating, with management currently having to fend off margin compression. A great way to play this short trade is by limiting risk using a bear put spread strategy.
Disclosure: I am/we are short KHC.
I wrote this article myself, and it expresses my own opinions. I am not receiving compensation for it (other than from Seeking Alpha). I have no business relationship with any company whose stock is mentioned in this article.