Summary
The Dividend Growth Total Return model portfolio returned 5.7% versus 4.5% for the S&P 500 TR in 2017 Q3.
95% of the portfolio's companies beat their respective Q2 earnings expectations.
Average year-over-year non-GAAP EPS increased over 13%, ahead of the S&P 500's 10.3% EPS growth.
Year-over-year dividend growth of 20.2% compared to Q3 2016.
Portfolio Strategy Update
Q3 was another strong quarter for the Dividend Growth Total Return (DGTR) model portfolio. I created this model to track the dividend growth stocks with higher earnings and dividend growth potential in my personal portfolio. It is also similar to a portfolio I previously managed for an RIA. The general philosophy is simple: Higher earnings leads to higher stock prices. With increased demand for higher-yield stocks from income investors, lower-yield/higher-growth dividend growth stocks present a relative value. As interest rates nudge higher, I believe the higher-yield stocks will be more at risk of a price correction. Having higher earnings growth and dividend growth helps to mitigate this concern and so far, this approach has paid off nicely in 2017.
As a total return investor, I'm interested more in overall return than income or yield. Still under the age of 50, I have some time before I shift my focus more to income, though I expect to still have at least half my portfolio with more of a growth orientation in retirement. This portfolio is targeted at those in the accumulation stage and those looking to add some growth to other high-yield positions. Based on prior research I've written about on SeekingAlpha, I selected dividend growth stocks as the vehicle of choice, given their long-term outperformance compared to the S&P 500 index. Information on the portfolio's rationale and screening process can be found in the original article.
I expect low turnover (e.g. <20% annually, so about a 5-yr average holding period, hopefully longer!) in this portfolio, but I'm not averse to making changes if the macro or company-specific environment changes. Every buy, sell, or hold decision has an opportunity cost, and in hindsight you can always have regret or wish to have done something different. I tend to worry less about this on an individual stock basis. From a portfolio standpoint, the goal is to make more "right" decisions than "wrong" and to have a rationale in your decision-making. I provide some details on a few positions later in the update, but no changes were made in Q3.
Performance Review
In 2017 Q3, the DGTR portfolio outperformed the S&P 500, returning 5.7% versus 4.5% respectively including $1,126 in dividends. Year-to-date, the DGTR portfolio returned 22.1% compared to 14.2% for the S&P 500 TR. The weighted portfolio yield as of September 30, 2017, was 2.2%. This model portfolio started on January 1, 2017, with $200,000 as its initial principal and was worth $244,136 as of September 30. Returns, trades, and dividends are tracked using CNBC.com's portfolio tool.
Earnings and Dividends
A key component of this model's strategy is a focus on companies with above average earnings and dividend growth, and in Q3 it delivered on both. The portfolio benefited from strong EPS growth relative to the S&P 500 and analyst expectations. On an equally weighted basis, the average increase in non-GAAP EPS for the portfolio was 13.1%, well above the 10.3% average earnings growth for the S&P 500 as reported by FactSet. This excludes Boeing's year-over-year earnings growth, as it had negative EPS in Q2 2016, so technically EPS growth was even higher. FFO growth was substituted for EPS growth for the REIT positions. 95% of the DGTR portfolio's companies beat analyst EPS expectations compared to 72% for S&P 500 companies based on FactSet's tracker; the DGTR portfolio is meeting its goal of higher earnings growth.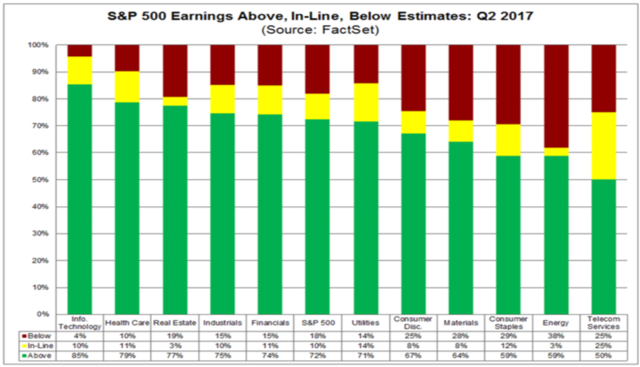 The portfolio's strong earnings growth was led by technology and financial companies including Texas Instruments (TXN), Visa (V), UnitedHealth Group (UNH), and CoreSite (COR), which all had EPS growth between 24% to 36%. Hasbro (HAS) also delivered 29% year-over-year EPS growth. Consumer discretionary stocks Nike (NKE) and Disney (DIS) had earnings declines.
Only two stocks raised dividends in Q3; Marathon Petroleum (MPC) delivered an 11.1% dividend increase and Walgreens (WBA) raised its dividend by 6.7%. Most of the portfolio's holdings increase dividends in Q1 and Q4. While I don't expect to see the 20% dividend growth as in 2017, with the strong earnings growth this year, an overall raise of 15% isn't out of the question.
Portfolio
As of September 30, 2017, the DGTR portfolio has returned 22.1% since inception (1/1/2017). It added $1,126 in dividends in Q3. The portfolio's Q3 year-over-year equally-weighted per share dividend growth averaged 20.2%, keeping pace with overall return.
| | | | | |
| --- | --- | --- | --- | --- |
| Ticker | Company | Yield (%) | Current Value | Total Return* |
| | Boeing Co | 2.23 | $16,269 | 65.9% |
| COR | CoreSite Realty Corp | 3.22 | $14,099 | 44.1% |
| FNF | Fidelity National Financial Inc | 2.11 | $13,953 | 41.8% |
| V | Visa Inc | 0.63 | $13,471 | 35.4% |
| | American Tower Corp | 1.93 | $12,985 | 31.0% |
| | Amgen Inc | 2.47 | $12,679 | 29.8% |
| HAS | Hasbro Inc | 2.33 | $12,599 | 27.6% |
| TXN | Texas Instruments Inc | 2.77 | $12,281 | 24.8% |
| | FLIR Systems Inc | 1.54 | $12,257 | 10.0% |
| UNH | UnitedHealth Group Inc | 1.53 | $12,143 | 23.6% |
| | DowDuPont Inc | 2.66 | $12,115 | 20.9% |
| | Home Depot Inc | 2.18 | $12,103 | 23.9% |
| | Stryker Corp | 1.2 | $11,788 | 19.5% |
| | Accenture PLC | 1.97 | $11,481 | 16.2% |
| MPC | Marathon Petroleum Corp | 2.85 | $11,160 | 13.5% |
| | Principal Financial Group Inc | 2.92 | $11,131 | 13.5% |
| WBA | Walgreens Boots Alliance Inc | 2.07 | $10,502 | -5.4% |
| | Extra Space Storage Inc | 3.9 | $10,310 | 6.4% |
| NKE | Nike Inc | 1.39 | $10,214 | 3.0% |
| DIS | Walt Disney Co | 1.58 | $9,463 | -4.8% |
| Cash | | 0 | $1,134 | 0.0% |
| Total Portfolio | | 2.16 | $244,137 | 22.1% |
*Total Return since 1/1/2017, includes dividends.
Source: CNBC.com portfolio tracker, as of 9/30/17.
Portfolio Changes
I made no changes to the portfolio in Q3, but I made one change at the start of Q4. As of October 10, 2017 (~1 PM EST), I sold the portfolio's position in WBA and used the proceeds plus cash to acquire shares of AbbVie (ABBV). While some believe in buy-and-hold forever, I am willing to make changes if I believe there is a better opportunity or to rebalance the portfolio.
After the end of Q3, more stories about Amazon (AMZN) entering the pharmacy space came out and WBA declined about 10%. Should AMZN proceed, even if the immediate impact is small, there's no denying AMZN's ability to disrupt traditional businesses. I was also already considering dropping WBA because of its low dividend increases the last few years. Retail has generally been an industry where I prefer to own a producer like NKE to a store. My interest in WBA had more to do with it being a different avenue into healthcare through pharmacy. With other recent developments, I believe ABBV is a better growth opportunity for the next 3-5 years.
ABBV and AMGN arrived at a settlement for their dispute over AMGN's biosimilar for Humira. AMGN will be able to launch the biosimilar in Europe next year, but not in the US until 2023. ABBV will issue AMGN a nonexclusive license. While terms were not disclosed, ABBV will receive royalties from the AMGN's sales of its biosimilar. When building the initial portfolio, I shied away from ABBV in part because of its dependence on Humira and the lack of clarity about when biosimilars might enter the market and the potential impact on ABBV's earnings. This settlement mitigates those concerns enough for me to initiate a position in the model; I already owned ABBV in my personal portfolio. As AMGN's drug comes online in 2018, I'll monitor results to evaluate the impact on both companies.
Other Corporate News and Potential Future Changes
These are some current holdings that have had (or will have) split offs or have experienced recent developments that may impact future growth or dividends. I will be monitoring these stocks and considering whether to keep them in the portfolio in 2018.
Title insurer FNF split off Black Knight Inc (NYSE:BKI), its integrated technology services and analytics business. I originally purchased FNF a few years ago in part because it had BKI, which provided higher growth in a related business. I will be evaluating what to do with these shares after we get more info on FNF and BKI now that the split is completed. I will probably either sell BKI and invest the proceeds in FNF, or sell both and select another stock. JP Morgan Chase (JPM) is a potential candidate if I were to replace it with another financial.
Dow Chemical (NYSE:DOW) and DuPont merged to form DowDuPont (DWDP). The stock has appreciated nicely since the finalization of the merger. Similar to FNF, there are plans to split the company into parts. Also, DOW's dividend has been flat for two years. I was willing to overlook this because of the planned merger, but with its completion, I'd like to see an increase. As we get more clarity on the dividend, business plan, and timeline, I'll decide what to do with DWDP. I have been monitoring specialty chemical maker Celanese (CE) as a potential replacement.
EXR has been overdue for a dividend increase for two quarters. While I still like the self-storage industry and EXR's nice 3.8% yield, relative to other positions EXR has a lower projected growth rate and I prefer to see consistent dividend increases each year. Combined with AMT and COR, the portfolio is heavy on REITs, though I think of AMT as a proxy for telecom and COR as information technology. FedEx (FDX) is a stock I've been watching lately and wouldn't mind adding to the portfolio.
Closing Thoughts

Source: Google Finance.
The S&P 500 continued to climb to record levels in Q3 (red line), supported by higher earnings growth and a decline in interest rates (blue line) since December 2016. While I'm happy to see the strong returns, I find it concerning that the market is so unfazed by global events including: North Korea's continued missile launches and the escalation in rhetoric by both their leader and ours, the destruction and dislocation caused by the hurricanes and wildfires in the US and Puerto Rico, the lack of substantive legislation on healthcare or tax reform, and the decertification of the Iran nuclear deal. I would think these events collectively increase political risk and business costs, reduce productivity and security, and disappoint on post-election expectations that led to the initial market climb last November. While all of this may be true to some degree, it has yet to slow down or reverse the market's climb.
Earnings for the DGTR positions increased at a faster pace than prices, resulting in a slight decrease in the portfolio's PEG ratio to 3.1 from 3.2 in Q2. It is worth noting two outlier PEG values: FNF (18.57) and EXR (4.44). FNF currently has a 1.1% estimated 5-yr growth rate; I'll be interested in the next management call for an update on the next year post split-off. EXR is a REIT, so metrics involving earnings can get distorted. Excluding all of the REITs and FNF, the PEG for the remaining 16 positions is 2.15. Generally, I prefer to see this below 2.0, but 2.15 seems pretty favorable given the elevated market PE and compared to the lower-growth consumer staples and utility stocks trading at PEG ratios above 3.0. The potential replacement stocks I mentioned earlier all have PEGs below 1.7, so they would improve the overall valuation of the portfolio.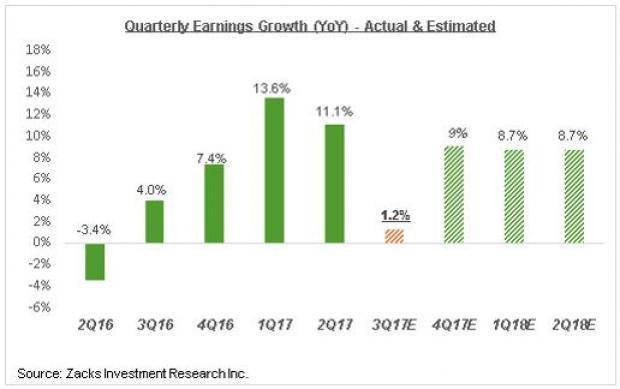 As shown in the graph above, Q3 earnings growth estimates are low for the S&P 500, creating an opportunity for the DGTR portfolio to outperform. Forward estimates are around 9% for the following 3 quarters, compared to the DGTR portfolio's 2018 estimate of 11.5%. If history is any indication, I'd expect the S&P 500 earnings estimates to decline. The chart below shows the downward revisions to Q3 estimates over the last 3 months, as an example.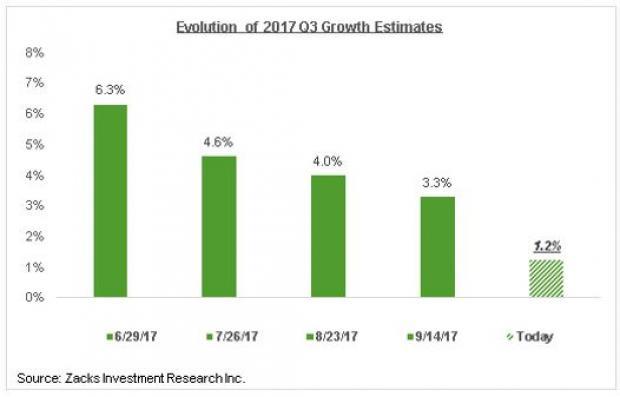 The US economy continues to grow slowly and there is the potential for a boost if the government can pass tax reform or other pro-growth policies. Global growth has also been improving. The IMF recently raised 2017 and 2018 global growth forecasts slightly to 3.6% and 3.7% respectively. Global growth should mitigate some of the currency headwinds faced by the portfolio's multinational companies and support growth in the US economy through increased trade and investments. Increased growth will also support the Fed's plans to continue raising short-term interest rates.
While Fed rate hikes have yet to impact longer-term interest rates, assuming the trend continues, longer-term rates will eventually normalize. At that point, I'd expect some PE compression in lower-growth, higher-yield dividend stocks that investors are using as bond equivalents. Hence the DGTR portfolio continues to focus on higher-growth companies with higher percentage dividend increases. I expect to make a few portfolio adjustments in the coming quarters in support of this objective, but overall, the portfolio is positioned well for investors seeking total return.
Disclosure: I am/we are long NKE, DIS, HD, HAS, WBA, MPC, FNF, PFG, SYK, UNH, FLIR, BA, V, ACN, TXN, DWDP, AMT, COR, JPM, CE, ABBV, AND EXR. I wrote this article myself, and it expresses my own opinions. I am not receiving compensation for it (other than from Seeking Alpha). I have no business relationship with any company whose stock is mentioned in this article.