Flexion Therapeutics (FLXN) received FDA approval for its knee OA pain product Zilretta earlier this month. The stock had a considerable run heading into the PDUFA date and has generally trended down since Zilretta was approved. The rally heading into the PDUFA date and a widely expected approval is usually not a recipe for strong post-approval gains and this is why I decided to remove the position from our Growth Stock Forum portfolio ahead of the PDUFA date slightly below $27 for a nice 53% gain. I will be looking to buy back the position in the following weeks if the price drops to a level I find attractive and/or depending on Zilretta's early uptake.
Zilretta – good label, but with some limitations
Flexion got what it wanted in the label:
1. It includes the description of glucose findings in type 2 diabetes patients. This is very positive for the product as 20% of patients with knee OA pain have diabetes and Zilretta has an advantage over other corticosteroids as it doesn't cause a spike in blood glucose upon administration. I think we should see an above-average uptake in diabetes patients as this is a strong selling point for the product.
2. The label contains comparative plasma PK results between Zilretta and IR TA.
3. Adverse reactions table shows events similar to placebo, showing Zilretta's excellent safety profile.
4. Zilretta can be stored at room temperature up to six weeks. This is another positive development as the base case was that it needed to be refrigerated.
On the negative side (but not surprising), the label warns that Zilretta is not indicated for repeat administrations. The company is conducting a study to gather safety data after repeat administration and the results should be available in Q3 2018, but it remains to be seen whether this study will be enough for an updated label. I don't expect this warning to have a significant effect on Zilretta's uptake, but payers might cause problems for patients coming back to have a second injection, though they really shouldn't - at least based on the health economics analysis the company announced a few months ago.
Zilretta was priced at $570, roughly 15% above the company's guidance for $500 and the company expects the net price to be approximately $500.
Launch to be slow due to initial hurdles

It is becoming increasingly difficult to launch a drug in the U.S. Payer pressure is ramping up and getting adequate coverage and getting the drug reimbursed even after coverage is obtained has become quite a task for drugmakers. Zilretta's launch could prove more difficult than the ordinary drug launch due to it being sold through a buy and bill model. Zilretta will receive a miscellaneous J-code for 2018 while a permanent J-code will be available in 2019. This creates additional paperwork for physicians' offices and lengthens the reimbursement time, which could negatively affect the uptake in 2018.
Medicare coverage is another hurdle for Zilretta's launch as it accounts for a large part of the addressable market (54% Medicare, 8% Medicaid, and 38% commercial) and given the approval timing, Zilretta will reach Medicare formularies in 2019 rather than 2018.
And, as mentioned above, repeat administration could be an issue with some payers, but the company should have additional data to support repeat administration by Q3 2018. It is an open-label study, and Flexion expects to share the data with payers even sooner.
The duration of Zilretta's effect also could prove as a launch hurdle – a patient will receive an injection and will not come back for a couple of months, making the physician's trial of the product and conversion cycle lengthier than usual. I assume the majority of physicians will try Zilretta in a few patients and see how they respond before embracing the product and using it in the majority of their patients (or not if they are not satisfied with efficacy/safety).
These are the main reasons to expect a slow launch and Flexion is, in fact, guiding for a slow launch and expects sales to pick up materially in 2019. That said, the analyst sales consensus for 2018 is not that high (currently at $37 million, down from $41 million in early October), which means expectations may be low enough already for the company to beat them, though that remains to be determined based on the actual demand in the following months.
Additional considerations – new indications for Zilretta, pipeline expansion and M&A
Zilretta also could be used off-label in hip and shoulder and the company intends to start exploratory trials in late 2017. We probably won't see the expanded label in the next few years, but positive results from these trials should encourage off-label use.
The company also intends to expand its pipeline through internal efforts and in-licensing.
FX101 - Fluticasone Extended-Release should be Flexion's next clinical candidate. Its duration of efficacy should double that of Zilretta, but FX101 is a product that also would cannibalize Zilretta. So, we should consider FX-101 more of a Zilretta 2.0 (new and improved) rather than a real second product, but it is a candidate with greater sales potential given the greater duration of effect and the possibility to lower medical resource utilization and provide better health economic value than Zilretta and other competing products.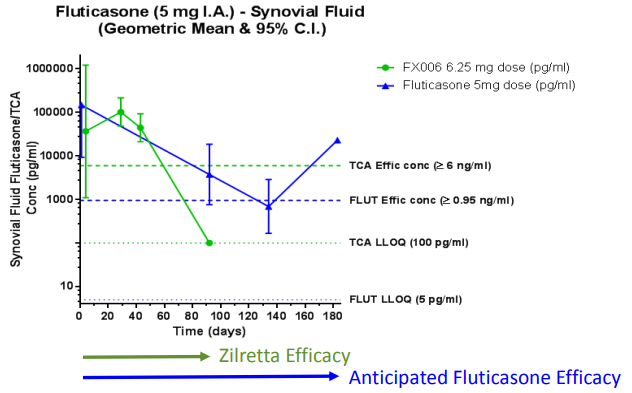 Source: Flexion presentation
In-licensing of pipeline candidates is another source of potential value creation. The company is working to add at least one candidate to its pipeline and is targeting areas that are synergistic to Zilretta. A deal announcement is likely in the next 12-18 months.
And finally, Flexion remains an attractive buyout target. Sanofi was mentioned as a potential buyer earlier this year, but I wouldn't base my investment decisions on buyout rumors, as they often do not materialize.
Conclusion
Zilretta's approval marks an important milestone for Flexion, but getting a product approved is just the start of another, substantially different battle – selling it. Flexion has assembled an experienced team and while the initial uptake may be slow due to the hurdles mentioned above, I think Zilretta is well positioned for long-term growth. I remain on the sidelines for now and will wait for an opportunity to initiate a position in the following weeks/months, depending on where the stock trades and how Zilretta's initial uptake looks like. Flexion's balance sheet looks quite strong after the latest offering - the company raised at least $122 million in gross proceeds, which puts the pro-forma Q2 cash balance at roughly $475 million. The company did not need to raise additional funds to fund Zilretta's commercialization, but the raise fits the company's narrative of in-licensing additional pipeline products.
Author's note: Growth Stock Forum subscribers had an early look at an expanded version of this article on October 9, and have access to regular exclusive updates on every stock I am covering.