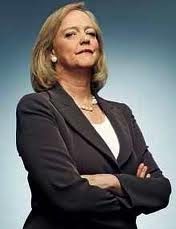 As unsettling and as murky as things once looked for computer and printing giant Hewlett Packard (NYSE:HPQ), it is evident that the word "stability" is now at the top of its new direction - one that included the appointment of a new CEO in Meg Whitman. It goes without saying that whenever new leadership is installed in any company, considerable amount of change typically is the norm, otherwise what would have been the point? In the company's first couple of quarters since her appointment, I think it is fair to say that she hasn't exactly wooed the critics yet to her side as many still wish to bring up that she has little to no hardware experience. But these same critics must realize that it is still early.
Successful Options for HP
However, be that as it may, it already seems that she has indeed placed her stamp on the company and seems to be more dedicated and focused on improving the company's existing businesses rather than hiding that they might be flawed fundamentally as well as within its execution. One of these concerns was evident with the company's indecisiveness regarding its PCs and ToughPad tablet initiatives. However since it has now decided to keep both units, the question regarding its new direction is how far outside its paradigm is the company willing to think and can it outsmart and out-innovate its rivals in Dell (NASDAQ:DELL) and Apple?
One of the challenges for Hewlett Packard continues to be with how it is perceived - particularly regarding its PC division. Why can't it restore its relevance in that regard? There is no question that there is still a market for PCs - this is even though the tablet and smart phone crave have just started to take off. But it is hard to fathom that the enterprise will begin to substitute workstations for tablets. During Microsoft's (NASDAQ:MSFT) recent earnings announcement the market realized that is clearly not the case. It is clear that people will buy any platform that offers something different - this is regardless if that "difference" is practical.
In its most recent report, it showed some signs of strength, but clearly there were several areas that required significant attention. Net income of $1.47 billion, or 73 cents per share, in the three months that ended January 31 was somewhat of a disappointment when compared to $2.6 billion or $1.17 per share in the year ago period. Adjusted for one-time items, the company earned 92 cents per share, above the 87 cents expected by analysts surveyed by FactSet. Revenue was $30 billion, down from $32.3 billion and slightly below expectations of $30.7 billion. This represented the fastest revenue decline for the company since the recession hit 2009 results.
Printing and Services to the Rescue
To be fair the company had a pretty good non-execution related reason for the drop, but these things rarely (if ever) matter on Wall Street where all that is material are the numbers on the balance sheets. As I have said before, I think Whitman should seriously focus the company's attention on services to model the transformation of IBM (NYSE:IBM) and to some extend Dell. I think this will be one preemptive way to prepare for the imminent decline of PC sales that have already shown some considerable signs of decline. However, the company's servers, storage as well as networking businesses continue to perform well.
Summary
Hewlett Packard is by no means a market darling, but it does continue to show that it can compete effectively with names such as EMC (EMC) as well as Cisco (NASDAQ:CSCO) - names that are considered dominant within their core markets. For HP, printing and imaging also continue to show positive signs as it continues to dominate Lexmark (NYSE:LXK). However, since its earnings announcement, the stock has been on a moderate decline as it seems that some investors have opted for greener pastures while HP continues to work to get its house in order. It's hard to argue with such a move. The numbers were not great and there are likely better investment plays out there. But it is also hard to ignore the value that HP has now become while trading at $25 with a P/E of 8.