"Our aspirations are our possibilities…"

Robert Browning
Prime Minister Shinzo Abe of Japan won a landslide snap election last Sunday that assured his LDP Party and its coalition partner, Komieto, control of the legislative agenda ahead. This means the long-stalled, and at times shaky future of the Integrated Resorts bill enabling legislation passed last December is back on track. Before the big Abe win, some industry observers were said to give the bill little chance to even reach the debate stage until the end of 2018, dashing hopes of developers presumed to get licensed.
New research coming from Global Market Advisors last Tuesday now believes the lawmakers could have time to resume debate on IR legislation by the end of this year. They said the upcoming extraordinary Diet session beginning next week could well trigger IR discussions of two core pieces of legislation that are necessary before the government can kick off the RFP process.
First, there is the gatekeeping bill -- the Responsible Gaming Law. There are already several drafts of the bill floating around. Nearly all the debate on this highly sensitive issue has been aired so it's conceivable that one of them could make it into the special session for a vote. If that happens and the passage is achieved, the Diet can move on to a consideration of the second key bill, namely the crucial enabling law that will define the sites, scope, tax rates, possible entry fees, configurations, locals gaming, Japanese partnership participation and allowable casino space. This is the bill that will not only define the scope and design of operator proposals but more importantly, separate the sheep from the goats.
Since the first bill passed last December, major casino operators expected to be leading the pack of license contenders have thrown around investment numbers anywhere from $5 billion to $10 billion. If the law sets that kind of ambition to the projects it expects, the field of developer presumptive will materially narrow.
But the Responsible Gaming bill needs to move first. Our sources confirm GGA's view that it is "within the realm of possibility" that the responsible gaming bill could achieve passage before the end of 2017. If that key bill makes it by year's end," our source said, "you can reasonably expect the enabling legislation to be debated and probably passed by late Spring 2018." Our sources further believe that major operators expected to be in the finalist mix are already working out sets of options so that if the Diet does act, they'll be ready to start firing their RFP's by summer.
"The winners could be announced as early as the end of Q3 2018," said another source in the Tokyo financial community. "That's probably because there's only a handful of viable contestants with the financial, management, development and operating track record that would provide high comfort levels to Japanese regulators."
The big catalysts for the winners will begin long before the first-hand gets dealt sometime in 2022/3.
As we have previously pointed out, like any great stakes race, there are always pole position favorites, middle shots, and long shots. And as in any horse race, anything can happen so we're not about to lay sure thing odds on any operator. Yet clearly we have the chalk, as bettors say.
We can comfortably characterize any of those listed below as smart bets, i.e. companies with a strong shot at a license.
We've looked at our own archived data from a history of casino legalizations and license awards. They follow a fairly predictable outline that naturally varies by jurisdiction, both domestic and foreign. But the principles governing final decisions are always the same. Governments want clean, deep-pocketed, proven casino resort developers, capable of working with local authorities. Lobbying and political contacts likewise play a role, but not as dominant as one would think may have been the case 30 years ago.
Below: Proposed MGM site for Osaka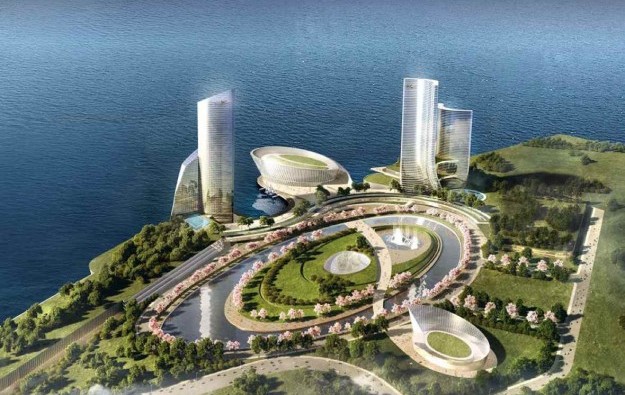 Governments know that no developer is perfect. Company histories in this business reveal their share of bum decisions, black sheep and overpromises over the long term. But we are in a new era. Today, you need to add attributes like the record of corporate responsibility, environmental sensitivity in planning facilities and fair employment practices. All the best-positioned bidders to a greater or lesser extent amongst themselves, share these attributes. In the end, as usual, the best mousetrap wins. And the operators shown here are all proven solid mousetrap builders.
So we see a series of catalysts to their stock ramping up long before the final envelopes are unsealed, as it were.
Briefly, we like the usual suspects:
Las Vegas Sands (NYSE:LVS), MGM Resorts International (NYSE:MGM) Wynn Resorts Ltd. (NASDAQ:WYNN) Melco Resorts and Entertainment (NASDAQ:MLCO). These are in our view, the pole position "chalk" bidders. If the bill mandates Japanese company partnerships as a prerequisite for consideration, we think companies like Universal Entertainment (OTC:UETMF), the pachinko giant and casino operator or Softbank (OTCPK:SFTBF) (OTCPK:SFTBY), the financial/telecommunications house, to be in the mix as well.
In order of sequence, watch for these trigger events to tick bullish for the companies above:
1. News within the next several weeks that the extraordinary session of the Diet agreed to take on the Responsible Gaming bill and subsequently pass it, pushed by Prime Minister Abe's continued public support.
2. Consideration of the enabling legislation thereafter, which will define the scope and operating design of the new industry. If the final version of the bill favors large-scale, dramatic projects sited in huge metro areas like Osaka, Yokohama or Tokyo, the companies listed above are by far the best qualified to deliver. Look for this news before year's end, or if delayed to 2018, by 1Q18.
3. Passage of the enabling legislation. This is a biggie. It could come by early 2018. All potential bidder shares will get a bump, particularly the chalk favorites noted here.
4.Public exposure of the proposed resort designs and amenities. Expect truly spectacular, never-seen-before features, technology breakthroughs and high sensitivity to traditional Japanese values and aesthetics of nature. This should happen by late Spring.
5. Announcements of license awards by region. This is the big kahuna of all catalysts for the shares of those companies awarded the licenses. Most likely, winners will establish Japanese subsidiaries with local financial partners. This could be a 2Q 2018 event and it will materially spike the trade on the winners.
The period between the announcement of winning bids and grand openings by 2022/3 will be anti-climatical relative to the stock. And the companies earmarked here will probably continue to be traded on their respective performances in their key venues like the Las Vegas Strip and Macau. The outlook at this juncture is bullish at the moment. Macau GGR is expected to grow to $33 billion for 2017, according to Lawrence Ho of MLCO. We think it will reach $40 billion by 2022. Las Vegas visitation continues growing and, save black swans or recessions, could reach 45 million visitors by 2019 or before. US regional growth will continue subdued, or flat.
The takeaway here: Of the group cited above we believe Las Vegas Sands, which reported powerful earnings beat for Q3 as we had forecasted in prior posts. Consensus earnings estimate was $0.67 and actual came in at $0.77. Revenues of $3.2 billion beat consensus $3.12 billion. Hold normalized property EBITDA was up 10.4% to $1.18 billion. The stock is the most attractively priced as an entry point at $63.15 a share at writing. The strong Q3 beat LVS delivered followed the results in which we likewise forecasted a beat above consensus. (Analyst 2Q estimates were for $0.59 vs. actual.$0.73) As we have long guided, we still strongly sense a case for a PT of $70 or more for this unfathomably undervalued stock.
Regardless of that, there are just too many potentially good catalysts in LVS's near-term and its price really cheap in our view, to pass up serious consideration of accumulating against what we see as an intermediate and long-term upside for the stocks named here, and in particular, the most attractively priced LVS.
Author's Note: All my gaming stocks are held in a blind trust for my family so as to avoid potential conflicts of interest with casino consulting clients past, present and future.
Disclosure: I/we have no positions in any stocks mentioned, and no plans to initiate any positions within the next 72 hours.
I wrote this article myself, and it expresses my own opinions. I am not receiving compensation for it (other than from Seeking Alpha). I have no business relationship with any company whose stock is mentioned in this article.