When running scans on free cash flow yield, I noticed General Electric Company (NYSE: GE) back in Q2 of 2016 to have a confusing outlook. Why would a company with negative free cash flow/FCF be so loved, pumped and even continue to offer the dividend while cash reserves depleted? Recently, Jim Cramer came out and said the cash flow was an issue. I couldn't agree more and wrote the brief, "GE's Q3 2017 Swift FCF Yield."
Possibly more alarming than the cash flow is the debt. They are holding roughly $136B in long-term debt. Wow! At the new share lows around $21; $136B long-term debt is nearly 75% of GE's market capital. Before we talk about the popular speculation of a dividend cut/suspension, let's compare the debt with companies notoriously scoffed for lack of profitability.
Amazon, Tesla w/o Profitability? GE Says, Hold My Beer
When Amazon.com, Inc. (NASDAQ: AMZN) shareholders sing their praise they are often countered with quips, "Amazon has no profits" or "Amazon share price is inflated." In the past, Amazon had gone through rough years. In 2014, they had an average loss, -$0.52 earnings per share. Their current price to earnings or P/E is approximately 246.

Tesla, Inc. (NASDAQ: TSLA) is no stranger to skepticism. They certainly have die-hard fans, but look at their lack of profits. Year after year they have been in the red. This is ignored because they are emerging tech, a new way of thinking, the future as some say. If Tesla is superior in anything, it is taking pre-orders. I sometimes think they should just take the money and run. Yet, they have rewarded shareholders. A look at the 52 week price range, $178.19 - $389.61, shows that people could have doubled their investments.

Despite any negativity towards Amazon or Tesla, their debt management is better than General Electric's. Though GE can show earnings on the income statement, is it really profitable when all the cash figuratively belongs to the lenders?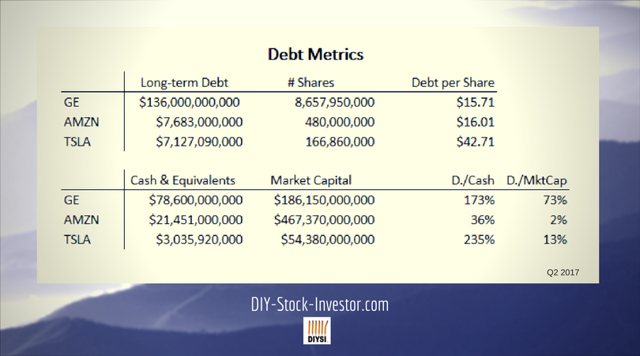 GE's long-term debt equates to $15.71 per share. That appears less than Amazon and Tesla, except when put into the following context. In a hypothetical, if every share of GE were sold by the market to help pay-off debt; $15.71 out of the going rate of $21.50 PPS would have to go towards the debt. In the same hypothetical, Tesla would have to pay an increased, $42.71 per share to pay-off debt, however that would come from the current market price of $326 PPS.
The size of GE's debt is further illustrated when considering the cash on hand that could be used for payment. At Q2 2017 GE's long-term debt was 173% greater than the size of their cash reserves. Amazon could potentially pay all of their long-term debt as it is only 36% of their cash on hand. In this context, Tesla has the higher disparity with their debt being 235% greater than the cash on hand.

GE's Cost Cutting: Cash Towards Debt vs Dividend
Cost cutting measures can be effective. More noticeably the ones being administered by Jason Industries (NASDAQ: JASN). My bullish take on the company can be read here, "Nano-Cap Finds Support In FCF And Cost Cutting." Cost cutting produces free cash flow for many needs. A company may look to make payments towards debt, acquire another company, and build/develop. Putting free cash flow towards the dividend payout is also necessary, but it comes out of an abundance of cash and isn't the top priority for survival.

In September 2017 it was announced GE would sell it's Industrial Solutions division to ABB, Ltd. (NYSE: ABB) for $2.6B. The deal is scheduled to be finalized H1 2018. GE shareholders are expecting more to be sold, but to keep things in perspective, the first sale is only a fraction of the $8B expense of paying the dividend. Seeing how the debt is large and free cash flow is limited, the dividend is in jeopardy. It may be better to look at competitors or even partners with advantageous fundamentals and div yield.
Honeywell And ABB Also Pay Dividends
Honeywell International, Inc. (NSYE: HON) is a competitor in the same space. Honeywell's dividend yield is 2%; 40% dividend payout ratio. Partner ABB, Ltd. has a dividend yield of 3%; 84% dividend payout ratio. Both are less than the potential dividend yield of GE's 4.5%, but again, this is likely to change. If GE were to keep the same yield, this would be about a 90% payout ratio. Below is a chart from Seeking Alpha comparing their debt.


Conclusion
General Electric has more problems than just a pending dividend adjustment. The company has large debt and lack of free cash flow that makes it a risky investment. Meanwhile, ABB, Ltd could be a better dividend stock or the competitor Honeywell International, Inc. The partner, ABB, Ltd has a modest P/E of 24. The stock is trading near 52 week highs, but within a tight range as that is only 24% from the 52 week low. Honeywell has shown steady growth in the share price for the 1yr and 5yr chart. Aside from reviewing these dividend stocks, at this juncture I don't assign either one as a strong pick. It is ABB, Ltd that I consider for a watch and to better research potential synergies of their M&A.
Disclosure: I am/we are long JASN. I wrote this article myself, and it expresses my own opinions. I am not receiving compensation for it (other than from Seeking Alpha). I have no business relationship with any company whose stock is mentioned in this article.