Oil inventories continue to draw across the world at an accelerating rate and prices have finally started rising. The following are a few of the key developments that I would like to point out to my readers.
Backwardation
The long-awaited backwardation of the futures curve is finally here. Oil price curve structure is important as backwardation encourages physical traders to liquidate storage at a rapid rate. Interested readers may want to read this recent Financial Times article on the topic.
This tweet from one of my favorite oil analysts, Art Berman, illustrates the structure of the futures curve for West Texas Intermediate crude oil: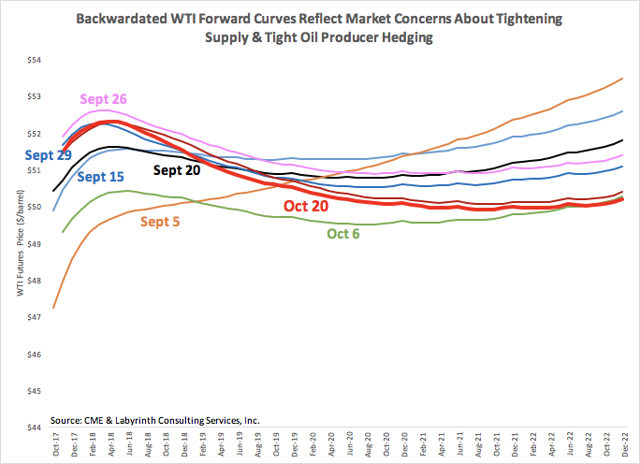 Readers should note that in just six weeks, the futures curve has transformed from full contango to full backwardation, pointing to how rapidly balance has shifted in favor of oil bulls.
Depressed Rig Count
Although Brent crude oil prices have risen nearly $10 per barrel in six weeks, rig count in the United States and across the rest of the world still have not started moving back up. The following graph from Drilling Info shows U.S. rig count is still suffering from the dip in oil prices in the second quarter: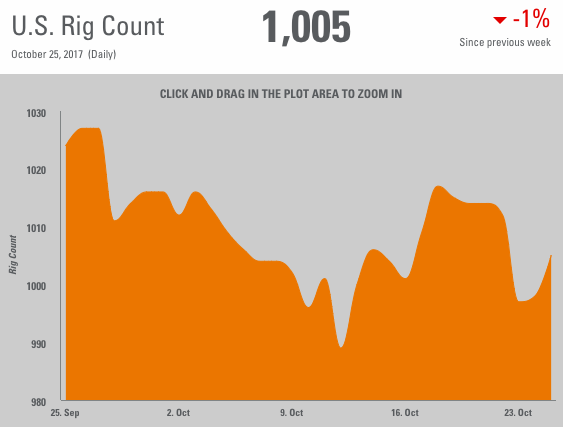 Furthermore, as I discussed in Global Rig Count Is Sinking on October 13, and most recent international rig count showed that the global oil supply is more fragile than even my estimate: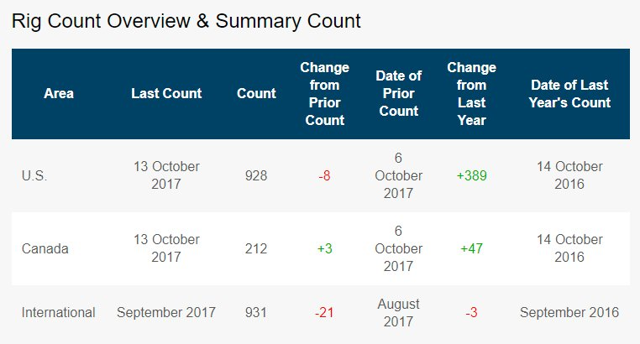 Production Will Not Bounce Anytime Soon
Yes, oil prices are rising, and yes, this will eventually lead to higher oil production, but not anytime soon. Readers should note that higher rig counts follow consistently higher oil prices by approximately three to five months, and higher production may follow higher rig count by another four to five months. In other words, I do not expect to see a surge in global oil supply for at least through 2Q18.
Bottom Line
Oil demand is high and rising at a surprising (surprising to the IEA, but not to my followers) rate, and oil supply remains muted. In the meantime, oil inventories are declining at an accelerating rate across the world.
As I reminder, I expect WTI and Brent crude oil prices to reach $70 and $72 per barrel, respectively, by the end of the year.
Follow For Free Articles
I keep a close eye on oil market dynamics, as energy prices affect many of my investments. If you'd like to stay on top of my future articles on this topic, the offshore drilling industry, as well as other companies, please click the "Follow" button at the top of this page.
Premium Research
Despite my conviction in oil prices, I see even better opportunities elsewhere. If you are interested in learning about my investment strategy and reading high-quality detailed research on Tesla, which will affect the future of oil markets, sign up for Tesla Forum. I am confident that you will find my research to be very insightful, and I look forward to discussing ideas with you.