How does one learn math? We start by learning how to count, then simple calculation, then we are able to solve calculus equations and other mathematical problems. Learning economic development is no different. Roads and ports (infrastructure), central banks (institutions) and education (human capital) are variables that determine economic growth.
In previous articles, we explained that economies are comprised of three main sectors, and over time develop through three stages: agriculture – manufacturing – service.
We also showed how Northeast Asian governments, through their policies, have accelerated their economies through this process.
Once we understand about the importance of a strong agriculture sector, we can move forward to manufacturing, just as we can move toward advanced math after learning how to count.
This article will explain to you about manufacturing in Asia, how it links to the ACD model, and some of the biggest names in this economic sector.
Manufacturing is Mathematics
Northeast Asian governments, through "rewarding and coercive" policies, organized and developed their infant manufacturing industries via "strategic sectors," enhancing successful businesses while "removing" the unproductive ones.
Using collective bargaining, the governments obtained foreign technologies to support their manufacturers. For example, if a foreign company wanted to operate in one of the Northeast Asian markets, it had to share its technological advantages with the government.
The governments banned foreign businesses from entering their markets, made sure that their infant industries competed amongst each other before they matured and were able to compete against foreign firms.
These governments also encouraged their firms to compete in the international market using export quotas and preferential treatment. Because of these policies and development strategies, Northeast Asian countries transformed into state of the art manufacturing centers.
Expand Industrial Sector in Rural Areas
After learning about counting, addition and subtraction, it would make sense to start learning more complex math formulas.
In less developed countries, most people work in agriculture. The first step in developing rural areas is to start with simpler manufacturing industries such as textile factories and food processing plants. Then they can go further into more sophisticated manufacturing.
Human capital also is enhanced over time. For example, a farmer gets a new job at a Nike (NYSE:NKE) textile factory and sews logos onto sport shoes, since he hasn't gone through a higher level of vocational training (something that is yet to exist in the early stages of economic development), thus he wouldn't be able to work as a technician for a solar panel manufacturing factory.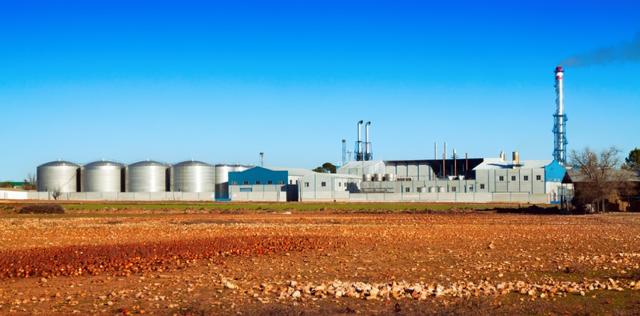 Industrial site in the middle of a field. Photo: Shutterstock
At this stage, a rural industrial economy is akin to learning addition and subtraction. They won't stand a chance against more educated countries.
The same can be said about infant industries. Compared to foreign firms, they have less developed infrastructure, less capital and lower "skills." The explains Northeast Asian government's protectionist policies for their "strategic industries."
Infant industries need a lot to become sustainable. They need credit, technology and well-educated staff. They need an "extracurricular math class," to stay ahead of the curve.
Support, Invest and Enhance
Northeast Asian governments reinforced their economies by subsidizing strategic industries, including infrastructure, telecommunications and heavy industries. They also obtained foreign technology and human capital to bring their manufacturing sector to new heights and further grow their economies. One of the most notable companies in this sector was Japanese National Railways (JNR). With support from the government, the company had developed and operated the world's first high-speed railway Shinkansen – Bullet train. In the mid-1980s, JNR was taken over by Japan Railways Group, a coalition of Japanese private companies including East Japan Railway Company (OTC: EJPRY, TYO: 9020), West Japan Railway Company (OTC: WJRYY, TYO: 9021), Central Japan Railway Company (OTC: CJPRY, TYO: 9022) and Kyūshū Railway Company (OTC: OTC:KYYHF, TYO: 9142).
Because of government investments in infrastructure and telecommunications, Japan's GDP, for example, went up from US$90 billion in 1965 to US$1 trillion in 1985.
After the Korean War, South Korea needed foreign exchange because its agricultural productivity was limited by regional geographical features. Following Japan's footsteps, South Korea made a textile cartel by providing cheap loans, reducing or even eliminating tax on raw materials.
Did it pay off?
Foreign exchange started to flow in and export increased. In three years, South Korea's overseas sales of merchandise went up by over 200%, from US$56 million in 1962 to over US$170 million.
Like Japan and South Korea, a large portion of China's investment went into strategic sectors, and the country achieved similar results.
But how well did these companies, or "teacher's pets," do? Companies have to be "tested" via controlled doses of competition, just like students regularly going through math tests to verify their progress.
Company "Trials"
To maintain efficiency in their State-Owned Enterprises (SOEs), Northeast Asia used a "carrot and stick" approach. The governments had their companies compete against each other, providing subsidies and contracts while eliminating credit access to underperformers.
During the 1990s, The South Korean government drew in several entrepreneurs to the car manufacturing industry by using subsidies. With stiff domestic competition and mandatory export, innovation grew and inefficiency shrank.
Also, in the 1990s, with the strategy called "Grasp the Big, Let Go the Small," China "disposed" their inefficient SOEs while providing generous loans to high-achieving companies.
Throughout the 2000s, many of these state-controlled companies delivered annual profits that were comparable to 3%-4% of China's GDP. This is the result of the highly effective program that had the biggest state companies compete against each other, and "filtering out" unproductive state firms.
But in today's globalized economies, countries are more interconnected. That means firms have to go beyond domestic competition and enter the international market.
Taking the SAT
When taking the SAT, it takes a lot of preparation to solve complex math problems in the exam. But in the end, those who get through can intelligently and efficiently solve problems. It's the same as forcing companies to export goods.
Japan encouraged export-oriented growth by reducing tax on exported revenues up to 80%. In addition to subsidies and tax breaks, Japan supported their firms with free land and publicly funded infrastructure investment. Uncooperative companies lost out a lot. As a result of exports, the Japanese automobile manufacturers have growing to become some of the biggest in the world.
Only two decades after the government executed the export-oriented growth policies in Japan, manufacturing and mining output grew more than 1,000%. This was the first Asian country to reach and maintain double-digit growth.
Furthermore, South Korea had taken a similar course of action, transforming its car companies to become some of the big names in the automotive industry.
How This Affects Your Investments
Asia is a mixture of economies where all different stages of development occur in various sectors and industries. By understanding a country's "math skills," you will notice its trends and can perhaps even pinpoint specific industries' future growth, and from there you can determine which industries in which countries to invest in. The same can be said about the service sector – a country's last stage to reach prosperity.
Developed countries in Asia-Pacific, namely Japan and Korea, have reached the point where their economies rely heavily on services and sophisticated manufacturing. For the context of this article, we recommend investing world class high-tech manufacturing, specifically the leaders in the field of automotive and electronic devices, because they have "taken the SAT," or focusing on exporting these goods to international markets. For car manufacturers, some of the more prominent names include Toyota Motor Corporation (TYO: 7203, NYSE: TM, LSE: TYT), Honda Motor Co., Ltd. (TYO: 7267, NYSE: HMC), Hyundai (OTC: HYMTF, KRX: 005380) and KIA (OTC: OTCPK:KIMTF, KRX: 000270). Meanwhile, Samsung Electronics Co., Ltd. (OTC: OTC:SSNLF, KRX: 005930), Sony Corporation (TYO: 6758, NYSE: SNE) and Canon Inc. (TYO: 7751, NYSE: CAJ) as leaders in the field of electronic devices and cameras.
For developing countries such as those found in Southeast Asia, as we have mentioned in our previous article, human resource here is relatively low. Therefore, we suggest that investors should base their portfolio around low-tech manufacturing companies. Some of the largest companies in the region that operate in the field of simple manufacturing includes Charoen Pokphand Foods Public Company Limited (SET: CPF, OTC: OTCPK:CPOKY) – one of Thailand's largest food producers and Astra International (IDX: ASII, OTC: OTCPK:PTAIY) – an Indonesian conglomerate operating primarily in simple manufacturing such as producing automobile parts.
China's position is rather unique, because even though this country has "taken the SAT," it's still in the development stage. Therefore, it's better to invest more on companies such as Aluminum Corporation of China Limited (SSE: 601600, HKSE: 2600, NYSE: ACH), Anhui Conch Cement Co., Ltd. (SSE: 600585, HKSE: 0914, OTC: OTCPK:AHCHY) and Zoomlion Heavy Industry Science and Technology Co., Ltd. (OTC: OTCPK:ZLIOY, HKSE: 1157, SZSE: 000157), because they have grown to become leading international suppliers of construction material and construction machinery.
In our next daily, we'll point out who you show pay attention to in Asa's money-making sector.
Disclosure: I/we have no positions in any stocks mentioned, and no plans to initiate any positions within the next 72 hours. I wrote this article myself, and it expresses my own opinions. I am not receiving compensation for it (other than from Seeking Alpha). I have no business relationship with any company whose stock is mentioned in this article.