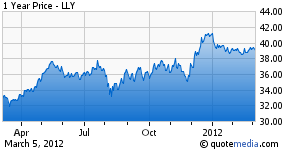 Last week I described an options strategy to profit from the potential success of Eli Lilly's (NYSE:LLY) drug for Alzheimer's, solanezumab. The key to my thesis is an assertion Lilly shares would decline no more than 10% -- and probably much less-if the drug fails. If it works, Lilly shares could rally 50%.
Today I highlight a safety harness for investors were solanezumab to fail: a takeover of Lilly. Lilly's bloated expenses ripen it for a buyout. In the 10 years ended December, the Indianapolis-based drugmaker spent $35 billion on research development. Yet it hasn't produced a significant, internally-developed new chemical since antidepressant Cymbalta won approval in August, 2004. The company is wasting shareholders' money.
This year Lilly plans to spend at least $12.4 billion on operating expenses, including at least $5 billion on research and development. Were an acquirer to cut half Lilly's operating expenses, it could use the savings to borrow roughly $60 billion at a 10% interest rate or $75 billion at an 8% rate. Lilly's market value is $44 billion.
Lilly has significant assets a buyer could raid. At the end of December, Lilly boasted $6.8 billion of cash and equivalents and an additional $4 billion of longer-term investments. It has land and buildings purchased for $6.8 billion. Market value is possibly $10 billion. (Lilly's property and equipment was on the books for $7.8 billion at the end of 2011, a purchase price of $14.6 billion less accumulated depreciation of $6.8 billion.)
Lilly's animal-health business, with sales of $1.9 billion in 2011, is probably worth at least 2 times revenue, or roughly $4 billion. The stability of the business probably makes it worth more than $5 billion. In other words, a buyer of Lilly could raise roughly $25 billion to offset the $60 billion it would have to pay for the drugmaker.
Potential purchasers of Lilly include AstraZeneca (NYSE:AZN). Stung by a string of research and development setbacks, the company is warming to a large acquisition. Its last major purchase was the $15 billion buyout of Medimmune in 2007.
Valeant (NYSE:VRX) lacks the size, but not the timidity, to bid for Lilly. Valeant chief Michael Pearson, who boasts about buying companies for less than two times revenue, almost certainly salivates at Lilly. Lilly trades at less than two times analysts' estimated 2012 revenue of $22.4 billion. Pearson offers a refreshing view on research and development, arguing companies often waste shareholders' money. Valeant quite possibly aspires to reach a size that would allow it to bid for Lilly. And if doesn't, a Pearson copycat could follow.
To be sure, chances are slim that Lilly, a pillar of Indianapolis that prides itself as a great place to work, would favor a strategy that leads to the firing of thousands of its 38,080 employees. The Lilly Endowment owns 136 million Lilly shares, or almost 12% of the company. That's why Lilly chief John Lechleiter is sincere in his promise to avoid a merger. But Merck (NYSE:MRK) expressed contempt about the possibility of buying Schering-Plough before acquiring its Zetia partner. Same with Pfizer (NYSE:PFE), which dismissed the potential of a big acquisition until it bought Wyeth. Sometimes reality forces a change of plans. Failure of solanezumab almost certainly prompt Lechleiter to smash the glass container housing Plan B.
| Lilly R&D | |
| --- | --- |
| Total | 34.9 billion |
| 2011 | 5 |
| 2010 | 4.9 |
| 2009 | 4.3 |
| 2008 | 3.8 |
| 2007 | 3.5 |
| 2006 | 3.1 |
| 2005 | 3 |
| 2004 | 2.7 |
| 2003 | 2.4 |
| 2002 | 2.1 |
Disclosure: I am long LLY.