Fallen Angels
Fallen Angels (NYSEARCA:ANGL) are bonds which were originally issued as investment-grade but have since been downgraded to junk status.
Many investment-grade bond fund managers are limited to investing in solely investment-grade bonds. When bonds get downgraded to junk status (fallen angels), they will be forced to sell them, and that's often anticipated by the market before causing the then investment-grade bonds to sell off before being downgraded. The theory behind fallen angels is that management will have a greater incentive to improve their financial health (and the downgrade may be from temporary financial stress) so they can get back into investment-grade status (gaining access to lower debt costs). Since they've been investment-grade before, it would mean they're likely in a better financial position than original issue high yields and could be easier for them to get upgraded.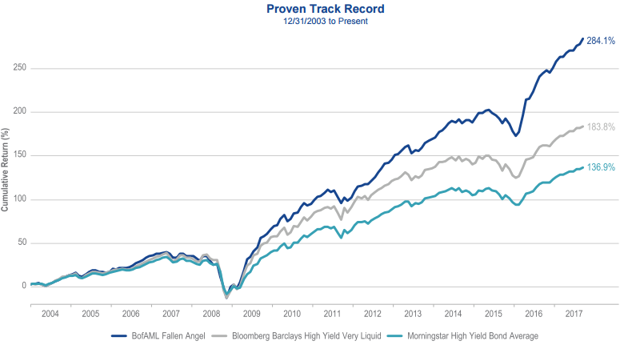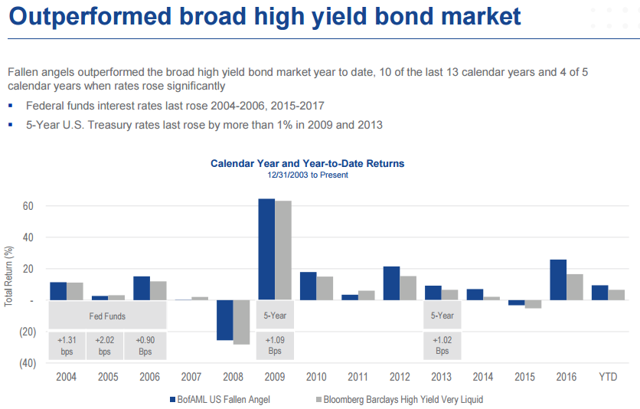 Source: VanEck Vectors
Fallen Angels have had much higher returns since 2004 compared to the Bloomberg Barclays High Yield Very Liquid Index, returning 284% compared to 183%.
Fallen Angels do have some risk, and a small amount will default like Lehman Brothers which went bankrupt. However, others will regain their investment-grade status by working on improving operations, improving cash flow, and reducing leverage like Xerox (NYSE:XRX) from 2000 to 2006.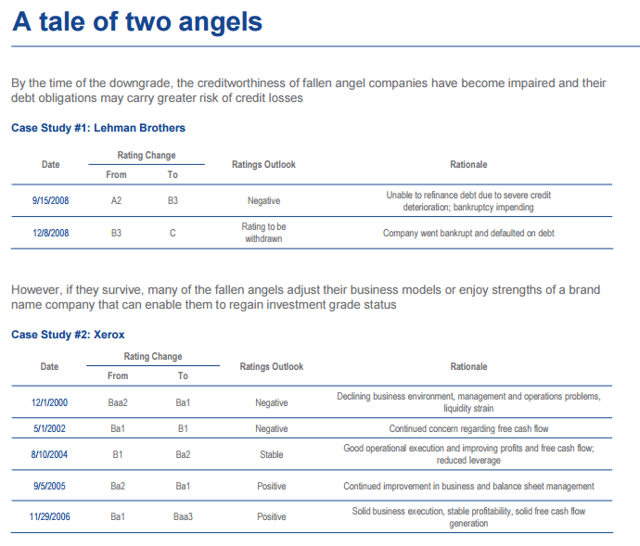 Source: VanEck Vectors
Higher Price Returns
In addition to offering higher total returns, Fallen Angels have offered higher price returns. Prior to bonds being downgraded to junk grade, they're usually sold off by the market as the downgrade is anticipated. It tends to oversell, however, so after the downgrade, Fallen Angels tend to appreciate in price on average. When the bonds enter the index, they'd already be oversold, so after it's added to the index, it tends to appreciate in price - this can be a contrarian strategy.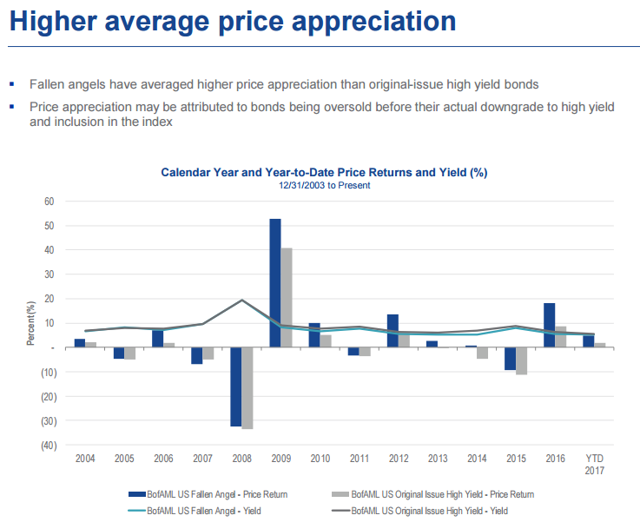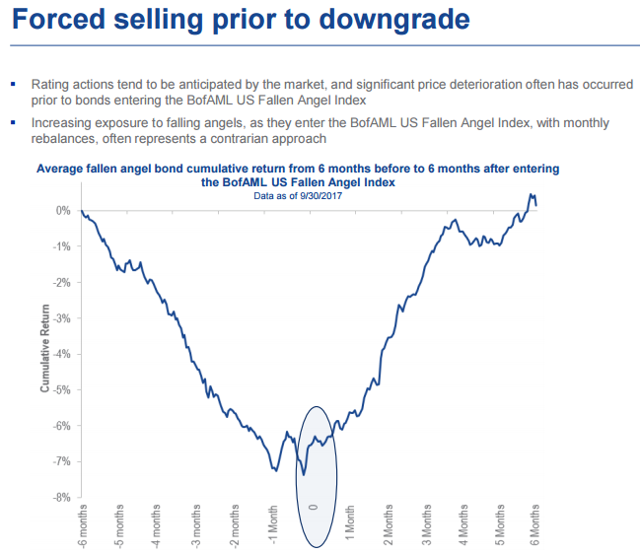 Source: VanEck Vectors
Higher Credit Quality
Fallen Angels are on average higher credit quality than the overall Junk Bond and Original Issue Junk Bond Indexes so it provides higher returns with lower credit risk. As you can see below, Fallen Angels are over 75% BB rated compared with less than half with the overall high yield market. The overall junk market includes 13.5% in CCC-rated bonds vs. only 3.9% with Fallen Angels. CCC-rated bonds have an extremely high default rate and any sign of weakening in the economy or sentiment will cause them to sell off immediately, B-rated bonds also have a much higher default rate than BB-rated bonds. Even though Fallen Angels have lower credit risk, they've still been able to offer high yields, having an average yield-to-worst of 5.16% vs. 5.43% for high yield.
The Fallen Angels index does have a higher duration at 6.63 years vs. 4.72 years, so there will be duration risk in the event of an interest-rate hike - however, I believe that Fallen Angels will still offer higher risk-adjusted returns in the long term.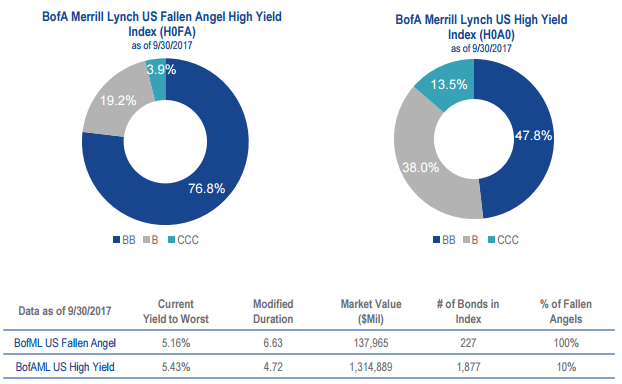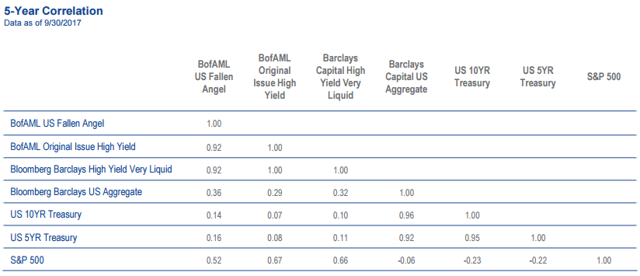 Source: VanEck Vectors
Diversification
If you invest in SPDR Bloomberg Barclays High Yield ETF (JNK) or another passive high yield ETF or fund, I suggest that you look into replacing your existing junk bond allocation with Fallen Angel bonds. Fallen Angels are less correlated to the S&P 500 (SPY) than the overall High Yield Very Liquid Bond market with Fallen Angels having a 5-year correlation of 0.52 vs. 0.66. Fallen Angels also have a low correlation with the Aggregate US Investment-Grade Bond Market (AGG) at 0.36 and Treasuries (0.14 for 10y, 0.16 for 5y). Therefore, it may make sense to use Fallen Angel Bonds as a portfolio diversifier and as a way to boost yield. However, when there's a correction in the equities market Fallen Angels won't offer much protection as Treasuries and would sell off but shouldn't as much as the overall High Yield index due to its higher credit quality.
Lower Default Risk Than Junk Bonds
Fallen Angel Bonds have had a lower average 12-month default rate (3.51%) compared to both Original-Issue High Yield (4.51%) and overall High Yield bonds (4.22%). In 2009, Fallen Angels had a 12-month default rate of 8.07% vs. 11.89% for Original-Issue High Yield and overall High Yield at 10.93%. Fallen Angels do come with added credit and default risk compared to investment grade bonds though so I'd suggest having your core bond allocation in investment-grade bonds and use Fallen Angels as an alternative to replace your current high-yield holdings.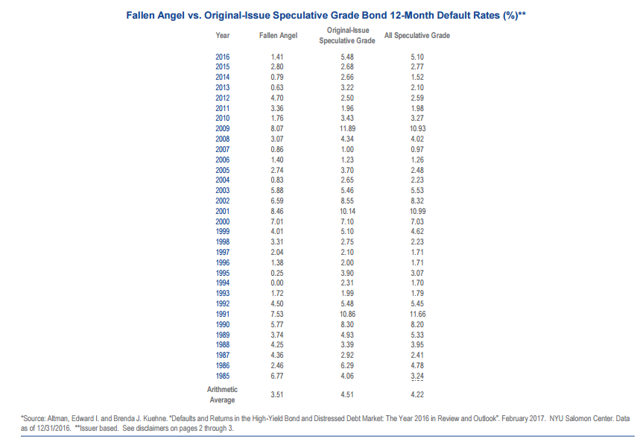 Source: VanEck Vectors
Overview of Junk Bond and Fallen Angel ETFs
Symbol
Type
SEC Yield
Duration
Avg Maturity
Credit Quality
MER
JNK
Very Liquid High Yield Market Index
4.96%
3.64y
5.92y

BB: 44.5%

B: 40%

CCC or lower: 15%

0.4%
ANGL
BofA Fallen Angels Market Index
4.77%
6.67y
10.86y

BB: 77%

B: 19%

CCC: 3.8%

0.35%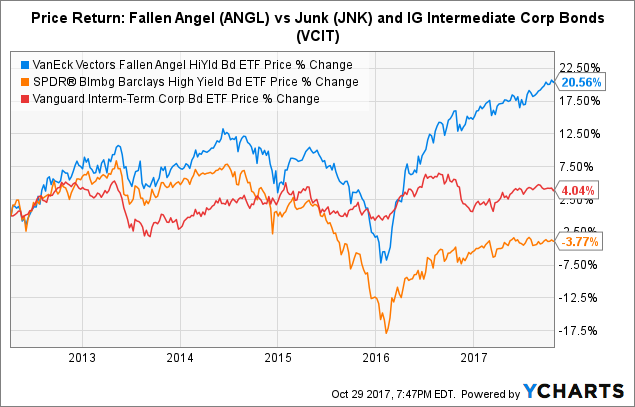 ANGL data by YCharts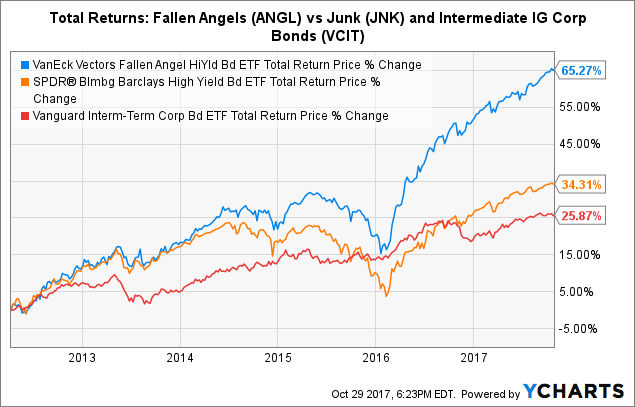 ANGL Total Return Price data by YCharts
VanEck Vectors Fallen Angels High Yield ETF
AUM: $1.1B
30-Day SEC Yield: 4.77%
MER: 0.35%
Duration: 6.67 years
Average Maturity: 10.9 years
Inception: 04/10/2012
One way you can invest in Fallen Angels is by using an ETF which follows a Fallen Angels index. This ETF follows the BofA Merrill Lynch US Fallen Angel High Yield Index which is the same index being reference above.
It has $1.1B in assets under management. There is also another ETF, iShares Fallen Angels USD Bond ETF (FALN), however, it only has $15M AUM and has a low volume, so this ETF is the only feasible way to invest in Fallen Angels.
It is made up of USD bonds which were originally issued as investment-grade but have since been downgraded. It is rebalanced every month.
It has a 30-day SEC yield of 4.77% which is only slightly less than JNK's 4.96% even though it has a higher quality credit mix, however, it does have more risk related to its longer average duration and maturity.
When ANGL was compared to SPDR Bloomberg Barclays High Yield ETF (JNK) and Vanguard Intermediate Corporate Bond ETF (VCIT), it had superior price returns and total returns. Price returns since inception on May 10, 2012, were 20.5% compared to JNK's -3.8% and 4.0% for VCIT. It also had a lower drawdown in 2015/early 2016 having a drawdown of about 17% compared to JNK's 25% although VCIT offered more protection, and its price performance during that period was flat. For total returns, Fallen Angels had a 65% total return with JNK having a 34% and VCIT having 26% total returns.
Risks
Credit Risk - The Fund does invest in noninvestment-grade rated bonds, therefore it will have a higher default rate and be more sensitive to weakening in the economy compared to investment-grade bonds. However, historically Fallen Angels have had a lower credit risk and default rates than the overall High Yield market. It has 75.9% of its assets in BB-rated bonds, whereas JNK only has 45.5% in BB-rated bonds with the rest being in B (18.9% for ANGL vs. 39.8% for JNK) and CCC-rated bonds (3.8% in ANGL only compared to 15.2% in JNK). Therefore, ANGL should be expected to have lower credit risk and default rates than JNK and should sell off less during recessions.
Maturities range from 1-30 years, and the fund has an average maturity of 10.9 years - longer maturities may increase the risk from interest rates rising. JNK has an average maturity of 5.92 years.
It has an effective duration of 6.7 years compared to JNK's 3.6 years which will mean that the fund should decline in price more than JNK if there's an interest-rate hike and appreciate more if there's an interest-rate cut.
The biggest sectors are Energy, Basic Materials, and Communications - so if there are sector-specific issues (like Oil suddenly plunging), it may cause bonds to sell off in those sectors.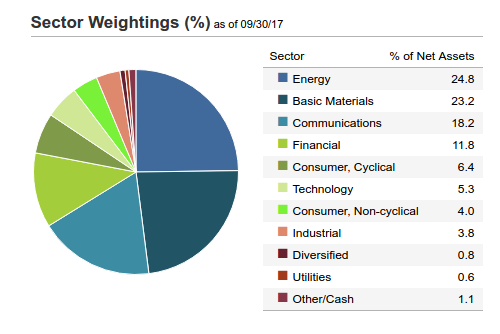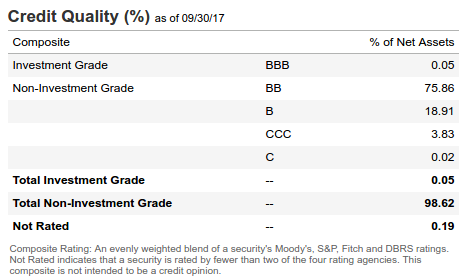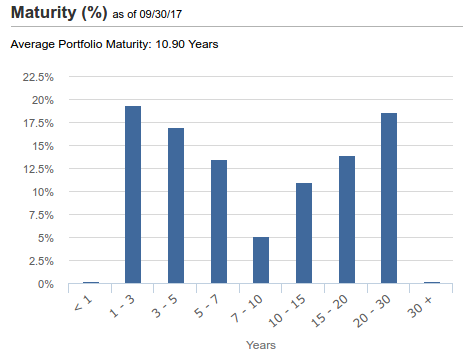 Source: VanEck's ETF Page
Disclosure: I am/we are long JNK PUTS.
I wrote this article myself, and it expresses my own opinions. I am not receiving compensation for it (other than from Seeking Alpha). I have no business relationship with any company whose stock is mentioned in this article.
Additional disclosure: Before making any investment decisions you should consult a qualified financial professional in order to discuss your risk tolerance, how to build your portfolio around that risk tolerance, and whether you should include High Yield or Fallen Angel Bond ETFs in your portfolio. Fallen Angels have risks higher than investment-grade bonds however historically have lower default rates than the High Yield Bond Very Liquid index (JNK). While ANGL has a higher credit quality mix with a higher average credit rating it is still subject to risk. Historical performance does not guarantee future performance.