Quick Take
Four Seasons Education (Pending:FEDU) has filed to sell $101 million in a U.S. IPO of its American Depositary Shares [ADSs] and that of a selling shareholder.
The firm provides supplementary, after-school math education services for students in grades K-12 in five major cities in China.
Four Seasons is similar in many respects to other education companies that have gone public with less than enviable results. Its VIE structure also leaves it vulnerable to Chinese government whim, so my opinion is to AVOID the IPO.

Company
Shanghai, China-based Four Seasons Education (Cayman-domiciled) was founded in 2007 to provide math education services to Chinese students.
According to the company, it is the largest 'after-school math education service provider for elementary school students in Shanghai (Population 24.15 million in 2015), as measured by gross billings and number of students, according to the Frost & Sullivan Report.' (Note: The Frost & Sullivan Report was prepared at Four Seasons' request.)
Management is headed by founder, Chairman and CEO Peiqing Tian, who has previously served in various coach and organizational committee positions for math competitions and as a teacher.
Mr. Tian owns 50.3% of the shares of the group (pre-IPO), and other shareholders include Chengwei Capital HK Limited, Crimson Capital Partners and individual investor Jun Guo.
Business
Four Seasons has developed a family of proprietary mathematics programs that it administers through its locations as well as through other schools who license the material.
Management says it believes it is the 'only after-school education institution teaching proprietary math courses in K-12 schools in Shanghai.'
Its content is divided into separate Elementary school programs:
Standard - Five standard programs for different student aptitudes
Ivy - Personalized, tailored classes for specific needs
Special -

Short-term

intensive competition workshops and courses
Four Seasons also began offering kindergarten programs in 2015 and middle school programs in 2017.
The firm had a total student enrollment of 116,924 as of its FYE 2017 year, which represented a 49.2% increase.
Four Seasons is geographically focused on the greater Shanghai region.
Market
According to an article by Bloomberg on the state of the Chinese private-school sector, a spate of after-school firms have gone public in Hong Kong, and their shares have risen due to the 'huge' education needs in China.
Notably, however, Chinese education companies listed on foreign exchanges operate as 'VIEs,' which stands for 'Variable Interest Entity.' VIEs may not own the underlying assets in China due to government restriction; instead, they have a contractual right to the profits.
The downside to this contractual arrangement is that it may be changed at any time by the Chinese government or even by management.
So as long as China's education needs are being financed by foreign direct investment such as through IPOs and the foreign entities don't receive exorbitant profits, the Chinese government may continue to allow the practice.
This serves to limit the potential for companies such as Four Seasons and adds an air of uncertainty to the investment prospects.
Competition
Management says there are no other companies teaching 'proprietary math courses in K-12 schools in Shanghai.'
So, while there are many competitive after-school elementary school math offerings, they likely feature non-proprietary content, which may be lower quality government-designed content that doesn't help students get into the better schools later in their development.
So, the firm faces significant competition from below and its marketing efforts must be focused on demonstrating the difference their proprietary materials make vs. the government standard materials.
Financials
Four Seasons' recent financial results can be summarized as follows:
Growing

topline

revenue, but at a decreasing growth rate
Growing gross margin - currently 66%
Increasing positive cash flow from operations
Below are the company's operational results for the past two and ½ years (Audited GAAP):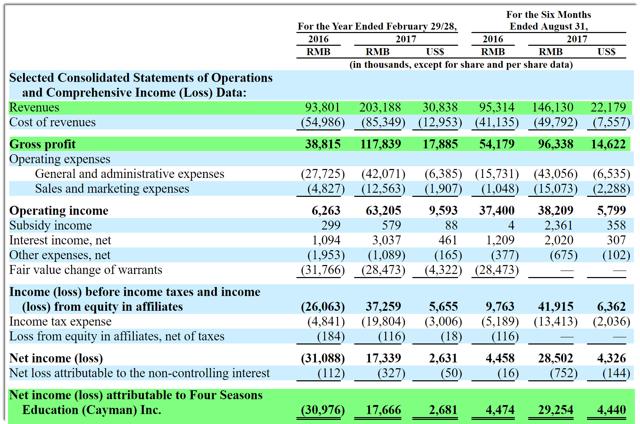 (Source: Four Seasons F-1/A)
Revenue
1H FYE 2018: $22 million, 54% increase vs. prior
2017: $31 million, 116% increase vs. prior
2016: $14.5 million
Gross Margin
1H FYE 2018: 66%
2017: 58%
2016: 41%
Cash Flow from Operations
1H FYE 2018: $10.6 million positive cash flow from operations
2017: $18 million positive cash flow from operations
2016: $153,000 positive cash flow from operations
As of August 31, 2017, the company had $45 million in cash and $18.5 million in total liabilities.
IPO Details
Four Seasons intends to raise $101 million in gross proceeds from an IPO of 10.1 million of its common stock ADSs at a midpoint price of $10.00 per share.
Assuming a successful IPO at that price, the firm would have a post-IPO market capitalization of approximately $437 million.
Management says it will use the net proceeds from the IPO as follows:
$12.4 million for the expansion of our learning center network,

$12.4 million for the improvement of our existing facilities,

$16.5 million for the development of our educational content and service offerings,

and the remainder for working capital and other general corporate purposes, including acquisitions.
The selling shareholder, Crimson Capital Partners, intends to sell 450,000 ordinary shares in the IPO, the rest is being sold by the company.
Listed managers of the IPO are Morgan Stanley (MS), Citigroup (C) and China Renaissance.
Commentary
Four Seasons is one of several after-school or private school Chinese companies attempting to go public on U.S. markets in recent months.
I previously wrote about another early childhood education firm in my article, RYB Education Aims For $100 million IPO.
Four Seasons and RYB may be different in that Four Seasons is focused on proprietary mathematics content, but in many other respects, the firms are quite similar.
They feature strong revenue growth, although at a decreasing rate. They are both VIEs, which present a significant question mark for the future of their revenue and profit streams.
They both enjoy strong, positive industry trends for the growth of supplemental education in China.
Although the future looks rosy, a recent Chinese education firm, RISE Education (REDU) debuted its U.S. IPO on October 20 at $16.00 and has since broken issue. It now trades at $13.81.
REDU had similar characteristics to Four Seasons in many respects, so the poor post-IPO performance leads me to question the desirability of Four Seasons' prospects.
Additionally, in relation to another recent Chinese VIE that went public in the financial services space, Qudian (QD), the Chinese government issued a statement just after the IPO questioning its high rates of interest to Chinese consumers, sending the stock down 30% in a matter of days.
This type of government interference makes owning a Chinese VIE IPO stock extremely risky.
Accordingly, my opinion on the Four Seasons' IPO is AVOID.
I write about M&A deals and IPOs. Click the Follow button next to my name at the top or bottom of this article if you want to receive future articles automatically.
Disclosure: I/we have no positions in any stocks mentioned, and no plans to initiate any positions within the next 72 hours.
I wrote this article myself, and it expresses my own opinions. I am not receiving compensation for it (other than from Seeking Alpha). I have no business relationship with any company whose stock is mentioned in this article.