Realty Analysis Has Turned Into A Reality Show
I love writing about Realty Income (O) because it always bring the best and the worst out of people. Aside of Tesla (TSLA) and Prospect Capital (PSEC) at the time, I can't think of any other stock that turn people so emotional.
My last article that compared two great monthly dividend payers - O and Main Street Capital (MAIN) - has drawn more emotions than usual. Thus far, two other authors used it for their own purposes which is perfectly fine, as long as things are being kept accurate and reflect the original article's theme/purpose accurately. Although this is too often not the case, I believe that numbers speak louder than words and facts overcome inaccuracies.
Let me start by saying that the O vs. MAIN was done simply because those are two stocks representing two segments that I follow closely. Nothing more, nothing less. I'm fully aware that this not a perfect "apple to apple" comparison but not only that I never claimed or meant it to be but with all due respect comparing two quality, monthly paying, RICs isn't that far away either.
Few Important Clarifications
Just like investors, different authors have different styles, preferences and views. This is what makes an efficient market and this is what makes SA a terrific platform.
1. When a stock like Tanger Factory Outlet Centers (SKT) has 20% short interest I wouldn't dare state that "I don't think the shorts understand the outlet business model." The shorts are usually the most sophisticated investors, and while that doesn't guarantee success I wouldn't be so quick to dismiss their lack of understanding... Arrogance is almost as harmful as inaccuracy is for an investor/analyst!
2. The distinction between "an investor" to "a trader" always make me laugh. You will never see a comment stating that "I'm a trader, not an investor." Never. Instead, you'll see many stating the opposite, as if by calling themselves "investors" they turn into something better-superior. Let me tell you a secret: I really don't care how people view me. I'm neither getting insulted nor feeling better about myself whether I'm being perceived as an investor or as a trader.
Truth is I don't really understand the difference - an investor is trading as much as a trader is investing, isn't it? - but I'm OK with/proud to be both... What I'm much more concerned about is to be accurate, professional and hopefully make money. If this means that I "need" to be names a trader - let it be. If that what makes some "investors" feel better about themselves and/or their (poorly performing) positions - let it be. I'm happy to take one for the team.
3. There is no value in stating the obvious and if something obvious is being stated - perhaps it's not so obvious after all. Have you heard anyone stating that Apple (AAPL) has such a large cap that makes him very comfortable about it? The more people talk about the quality of their night sleep when it comes to a certain position - the more sleep one should probably lose over that exact position. A real SWAN doesn't need a constant reminder that it is so... (white)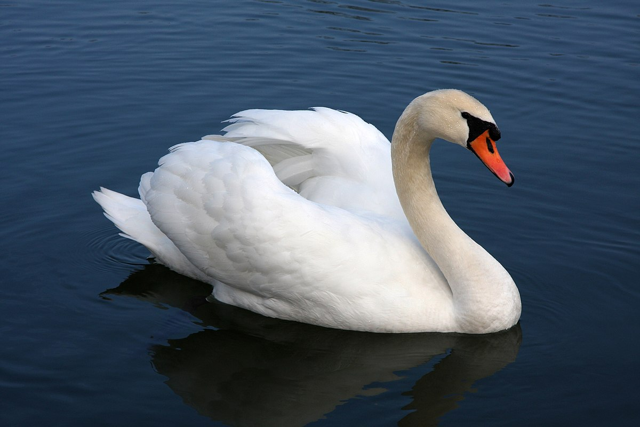 Few Important Insights
Over my three decades within and around the capital markets, I've gained more than few insights and I like to share with you few of those. This would assist us all in preventing confusion and inaccuracy.
1. RICs are unique not only due to their legal structure but also based on the drivers that affect them. Unlike a regular c-corp a RIC has additional factors that cause tides, ebb and flow. As such, RICs are not forever. Sure, you can hold them forever - and in the case of both O and MAIN this has been working fantastically - but the fact is that RICs experience volatile cycles that are more frequent than the overall market suffers from.
If you don't believe me, simply look at the below chart that present O, MAIN and the S&P500 (SPY) and count how many draw-downs greater than 10% each of these three instruments suffered from over the past five years: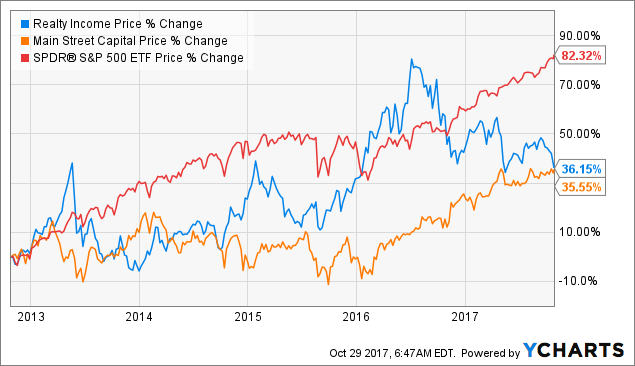 O data by YCharts
In case you wonder, the five-year time-frame isn't "manipulating" the data. You may choose any other time frame to do this simple drill and it would work just as much.
Now, since I know that some may (intentionally) interpret what I'm showing here incorrectly, let me make it clear: number of draw-downs doesn't equate volatility. Those are two different measures.
What the (biggest) number of draw-downs supposes to show is that RICs are being forced down (or up) by unique elements/factors - such as rates, yields and spreads - that make the sub segments (eREITs, mREITs, BDCs, MLPs, etc.) better or worse to be held during certain times.
Over the past two years I've changed my views/ratings regarding certain RICs' segments a couple of times and the numbers don't lie. Fortunately, unlike words, numbers can't be used in a misleading-confusing way.
2. When I wrote in my article that I may be biased towards MAIN, that wasn't a general-ongoing bias rather a current-valid bias that I've already expressed ten days ago. I'm "biased" neither on a permanent basis nor based on a personal "affection." I'm biased in favor BDCs over eREITs right now, until this may change. And this will change not because I'm biased but because the macro-landscape changes too.
I'm always keeping an open-mind. I'm happy to learn, change, improve... even admitting mistakes when they happen... I'm neither perfect nor dependent on a certain segment/sector of the market. This allows me to change my mind and to update my preferences, if and when needed.
Nothing lasts forever.
3. I'm not forecasting the end of brick-and-mortar retail malls and shopping center. The opposite, I believe that they will prevail. Nonetheless, I have very low conviction that they will perform as good as they used to over the past.
People find it hard to recognize, not to mention accept, a major-permanent change, even when it's crystal clear and taking place in front of their eyes. The human nature always and constantly sticks to the familiar. Most people find changes to be intimidating and in most cases refuse to step away from their comfort zone/s.
That which has been is that which shall be; and that which has been done is that which shall be done: and there is no new thing under the sun." (Ecclesiastes 1, 9)
In certain areas (human nature, character) this is certainly true but in other areas (e.g. retail) it surely isn't...
I'm flexible enough to admit that the current juncture is a non-familiar territory to us all. No one - I repeat: no one - can accurately quantify the effect of online powers such as Amazon (AMZN) and Alibaba (BABA) on traditional brick-and-mortar locations. We are talking about something that may last for many more years to come and the real-total effect is simply unknown. Therefore, calling retail eREITs "cheap" at this point in time is something that is solely based on the past and assume that the future won't be much different than the past.
I don't and can't accept this. As far as I concern, the uncertainty is so high that it's impossible - and very dangerous!!! - to use available numbers or projections - predominantly based on the past - in order to determine the right-current values. Fact is that what has been "cheap" in early 2017 has become much cheaper with every month that went by: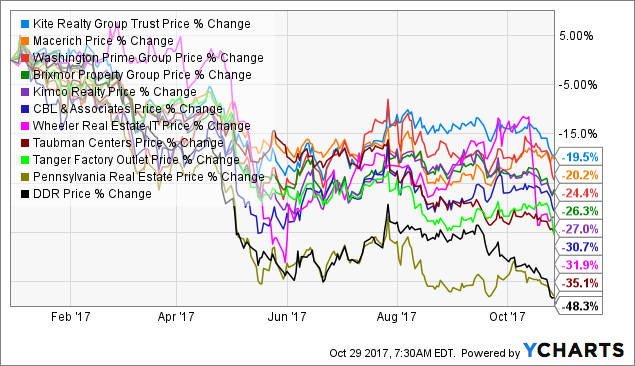 KRG data by YCharts
This for itself can tell you that things are far from being as simple as some present (or wish) them to be.
4. The problem of many micro-analysts is that they ignore the potential impact of major trends that are relatively young. We tend to forget that the shift from offline to online is quite new and that there are many services and products that may move from being sold at brick-and-mortar locations into cloud/ technology-based platforms. The sky is the limit for this shift way more than it is for retail eREITs to keep expanding its traditional, less needed, portfolio of properties.
You can't evaluate a retail eREIT without asking yourself some tough questions, out of which the most difficult one is: Does the model hold and to what extent? In many cases, the old models would lose more and more steam. Not only because more tenants leave/collapse but simply because the current growth assumptions are too optimistic and won't withstand the online storm.
There is almost nothing bad that one may say about Income Realty except except for one thing: Perhaps we are talking of a great business that is at the wrong place (literally) at the wrong time???
This is a huge consideration that any retail eREIT holder must ask; way before trying to determine next year's A/FFO or the safety of the dividend. The dividend may be as safe as ever, yet the business (as a whole) may not.
The Price Isn't Right!
Five months ago I wrote a short "Guide To Properly Assess The Beaten Up Triple-Net Lease Equity REITs". I expected O to pay a dividend yield of 4.65%-5.65% when the US 10-year yield was at 2.25%. Now, at 2.42% we should demand (on a technical basis) 0.17% more so the midpoint of the new range is falling at ~5.32%. Nonetheless, I claim that since O is now more risky than it was five months ago - we should aspire for at least 300bps above the UST10Y, i.e. 5.42% +/-. That comes to a stock price of ~$47/share or about 13% below current price of nearly $54.
Using some of the material that has been presented in a recent article by Brad Thomas actually make my point even stronger.
Frankly, neither the P/FFO nor the dividend yield makes me enthusiastic about O. If anything, these matrices only show how expensive O still is compare to its peer-group.

(Source: Brad Thomas)
I mean, in order for me to consider O I would expect the dividend yield compare to the P/FFO to be more attractive than 0.26 (=4.7/18.0)

(Source: Brad Thomas)
The Dividend/(P/FFO) ratio tells you how much a company is paying (in yield) for each unit of relative overvaluation (to its peer group). O's 0.26 is the third lowest (only FCPT and ADC offer a lower yield for relative valuation) among its peer group.
If one must own a tripe net-lease eREIT at this time of rising rates/yields - something we warned of nine months ago - surely there are better options than O, even if you are eliminating the non investment-grade rated ones.
It's no wonder that most triple-net lease names offer 5%-7% dividend yield these days with 5.65% being the median if additional-relevant names with higher dividend yields (e.g. GNL; 9.80%, OLP; 7.01%) would have been added to the mix.
Simon Property Group (SPG) is the largest eREIT in terms of market cap - $48.7B compere to O's $15.2B. Furthermore, SPG credit rating is A while O has a BBB+.
O is often being considered to be "the next SPG", i.e. an eREIT that may grow to the size and quality/rating of SPG over time, but one must wonder why would these two names currently pay almost the same dividend yield!?
Aren't the >x3 size and two-notch higher credit rating of SPG justify more than a mere 0.12% difference in dividend yields?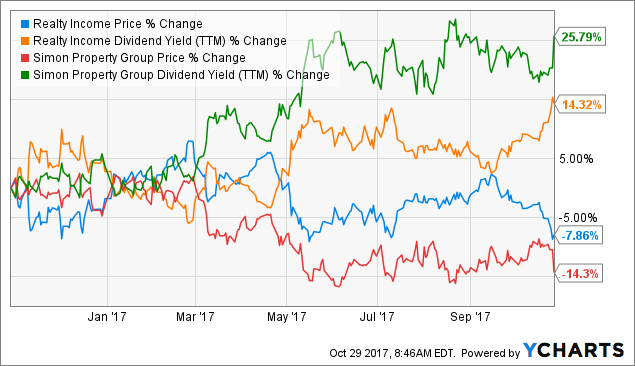 O data by YCharts
If you say yes - then clearly O is too expensive.
If you say no - then you probably have a good reason why SPG should pay a dividend yield that is almost identical to that of O. I can only presume that this reason has something to do with the exposure to retail tenants and the overall negative outlook for the retail sector.
That's perfectly fine but then one must ask: Isn't this same reason also applies to O? I mean, you can't claim that SPG deserves a discount to O due to a reason that applies to both companies!?
I trust that at this point, the next claim would potentially be that SPG exposure to troubled retailers is higher than that of O thus, punishing SPG more than O makes sense.
But then again, using the below data - originally presented n Brad Thomas' article - one can't help wondering why the better choice wouldn't be to stick to SPG that is growing its FFO/Share, on average, more than O does and even in 2017 is expected to grow at a higher rate!?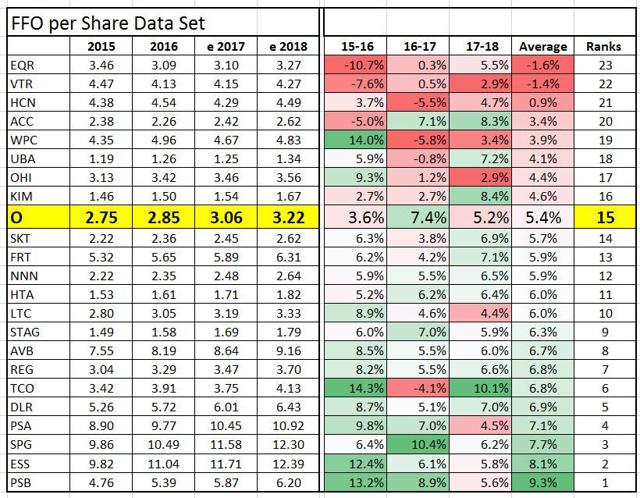 (Source: Brad Thomas)
Bottom Line
Investing (and trading!...) is all about risk management; measuring the risks against the potential reward.
My current stance towards the retail sector is both suspicious and cautious. While valuations of many names seem cheap based on past matrices, they may not be so taking into consideration what the future may hold for those beaten up names.
We are witnessing major changes and the shift from brick-and-mortar to online hasn't peaked as of yet. It's very likely that this major shift will undergo for many years and, consequently, brick-and-mortar would see more pain in the foreseeable future... and possibly beyond.
Therefore, in my opinion, it's better to be cautious than allegedly brave.
Even those who find retail eREITs to be attractively priced should be very minded of what they are getting into. While risk management mostly dictates the macro (big picture), relative value should determines the micro (best picks) - and O isn't looking good even if we only use the latter.
Although it has many qualities - O pricing is simply not attractive enough, neither compare to its triple-net lease peer group nor if it's being evaluated against a cross-segment group of eREITs with similar sizes and credit ratings. In a way, O is a victim of its own undoubted quality. Too many investors are willing to pat too much for this quality, more than it actually worth.
The subprime of 2008-2009 marks the biggest recession/crisis of recent decades. During these years O's AFFO per share was $1.86 (in 2009)-$1.90 (in 2008) and the share price trade as low as ~$15. This means that the P/FFO back then was ~8.
While I'm not implying that O should trade at P/FFO of 8 (which means that the stock price should trade at ~$24...), I do believe that when people state that O can't or shouldn't move lower they only express their own wishful thinking.
While subprime crisis represents a much distressed time for the entire economy, for O and its peer group those are distressed times too. Not as severe as 2008/9 but surely such that can't justify valuations that are based on the numbers of 2016-2017 or earlier years.
At $47 and even based on an AFFO of $3.05 for 2017 - O will trade at a P/AFFO of ~15.4, much more in line with its peer-group and still with a bit of premium thanks to its quality. At that price, the dividend yield will be ~5.4%, a yield that O should pay considering the risks that it comes with these days.
If you are buying O for a price which is higher than this - you simply buy too much risk for too little reward. It may work out from a trading perspective, should the share price climbs, but it won't change the conclusion of an evaluation that is based on both risk management and relative value.
Disclosure: I am/we are short O.
I wrote this article myself, and it expresses my own opinions. I am not receiving compensation for it (other than from Seeking Alpha). I have no business relationship with any company whose stock is mentioned in this article.