As I write this, Team Tesla (NASDAQ:NASDAQ:TSLA) is doubtless hard at work on the Q3 Update Letter.
The letter will require some clever wordsmithing indeed to thread the needle on so many troubling questions, to find a positive spin for the negative numbers, and to keep alive the hope in the hearts of the Fremont faithful.
The letter will be released after market close on Wednesday, along with the slimmed down version of the Q3 financial statements. In the past few weeks, the analyst world finally has caught up with CoverDrive in expecting record losses.
Most interesting of all will be the conference call. How much longer will Adam Jonas and Ben Kallo continue to kneel in adoration instead of to question with furrowed brow? After CFO Ahuja and CEO Musk duck and dodge on the main question, will their interlocutors bore back in again with a determined follow-up?
In short, will the analysts and journalists on the conference call finally lose their patience with non-answers and happy talk, and start demanding Tesla come clean with specific information?
Because there most certainly is a great deal of specific information to come clean with. Anton Wahlman has suggested 10 questions that cry out for answers (and a good many more were put forth in his article's comments).
Here, I touch on two recent reports that suggest huge problems at both the Fremont auto plant and the Nevada battery factory.
Another Niedermeyer Blockbuster
Edward Niedermeyer of The Daily Kanban is out today with another blockbuster story. (I reported on his earlier blockbuster here.)
Relying on a source whom he claims is familiar with the development and deployment of the Model 3 manufacturing equipment, Niedermeyer reports how Tesla did the hokey-pokey with an unnamed automated tooling supplier regarding Body In White (BIW) transfer lines for the Model 3.
First there were to be two transfer lines. A witch's brew of disagreements among Tesla personnel combined with personnel turnover led to numerous contract revisions, and the second line was dropped.
The plans then underwent no fewer than five revisions before a purchase order was signed, and then four more after it was signed, resulting in added costs as the timeline was compressed.
It gets worse:
In addition to the compressed deadline and high volume of design revisions, the Model 3 practice diverged from standard industry practice in that it was a so-called "cold build." Typically automakers completely design the production line and then contract the supplier to build the line at their facility, where it is thoroughly tested up to its nominal jobs-per-hour (JPH) specification before being shipped to the assembly plant for installation. The "cold build" approach that Tesla took with the Model 3 BIW transfer line skips the supplier testing step, meaning the line was shipped to Fremont for installation at Tesla's plant without having been validated.

Because of the compressed timeline and "cold build," Tesla's first Model 3 line will likely require more debugging than usual and could even require post-installation modification. That work must all take place at Fremont, requiring Tesla to pay for travel and overtime for the supplier's highly skilled engineers. That installation and debugging work is ongoing according to the source, who confirms that Tesla has not yet built a Model 3 using the automated tooling.
As they say, read the whole thing.
Niedermeyer, who obviously has done some careful review of permit applications filed by Tesla in California, cited a report from Wards Auto claiming Tesla needs a second body shop to reach the production volumes forecast Tesla has forecast for 2018.
From that story:
A source in position to know says a second body shop mirroring Fremont's would be required to support the high volume Musk has forecast. "I understand they're talking about a second body shop," he says, "but I can't see them reaching 2,500 to 3,000 weekly until the end of next year" with current production facilities.
Again, read the whole thing.
As he always does, Niedermeyer repeatedly reached out to Tesla for comment.
Tesla, alas, has been mum. Let's see whether the analysts and journalists on the conference call can elicit some meaningful information.
All this on top of the news that, earlier this month, Tesla slashed its Model 3 parts orders from a Taiwanese parts manufacturer, Hota Industrial Manufacturing Co. A report which, incidentally, is consistent with reports from a Seeking Alpha member who evidently works for a Model 3 parts supplier in the U.S.
The Gigafactory Woes
I reported recently on indications the Sparks, Nevada, Gigafactory has run into serious production problems.
There are further indications something is seriously amiss in Sparks. Someone claiming to be employed at the Gigafactory by Panasonic has continued to post about problems at the plant. From a recent post:
Possibly as high as 20-30% of Panasonic's employees on site are managers, engineers and actual technicians directly from Japan. The people there from Japan are nothing short of amazing. It's the American hires in management and technical positions that are responsible for the problems.

When you have technicians and managers causing more problems than they fix it's an issue. Not one of the technicians working there even knows how to use a basic voltage meter if that tells you anything, seriously. The technical test they took to be hired displayed a hammer, pry bar and wrench and asks them to identify which one is a lever. Once hired there's no training or apprentice programs to teach them technical troubleshooting skills that take years to obtain.

They have temporary technicians from Japan that are rotated in and out of the country who they refer to in-house as "TA's" (Technical Advisors). These guys are amazing but get ran to death trying to stay on top of all the problems the American hired employees cause (it makes being an American there embarrassing). The intention was for the TAs to train the Americans to do the job and while Panasonic is fully aware this isn't an overnight process they've also shortsighted themselves on the language and cultural barriers that prevent this from working.

*****

Panasonic is a very impressive company as a whole. Elon made a brilliant choice bringing them into this. Every single employee they have there from Japan are very impressive and nothing short of amazing. 100% quality production with no corners cut to meet production goals takes priority over everything with them… Like I said, the immediate fix is for Panasonic to send the American management from the top down packing out of there. I'm not sure the Japanese at Panasonic are aware they could do much better by recruiting out of state from areas where people do have generational experience in technical and production jobs.

I hate to say it because I'm a local (albeit transplanted from the Midwest) but the Gigafactory location decision was poorly made. Reliable power supplied to the factory likely wasn't a consideration since the early plans were to be off grid, but there's little excuse for the other location oversights that are now big issues with the physical location. The factory is too far away from where employees live with the nearest city being 20 miles away. The majority of the labor staff making $14 an hour the math doesn't work for what it costs them in fuel and vehicle maintenance cost to make that 40-mile round trip daily. They should have also known they were building in an area where people didn't have tech or production backgrounds.
Meanwhile, from Elon Musk we have Twitter postings about a campfire on the Gigafactory roof, and making this charming Instagram post of his Karaoke version of Johnny Cash's Ring of Fire. Do be sure to turn up the volume.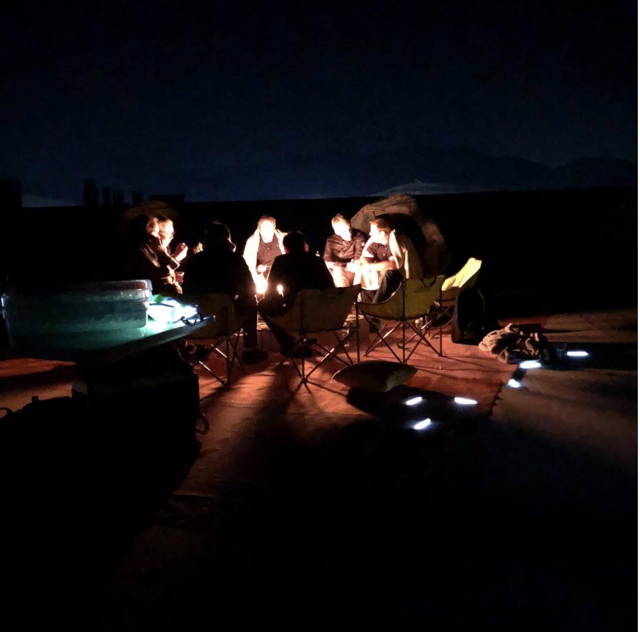 Johnny Cash.
Cash. It burns, burns, burns.
I think Musk is sending you a message.