One of the highest growth markets in consumer electronics is the tablet computer market. It is estimated by NPD DisplaySearch that the 2011 tablet growth rate was about 210% year-over-year, with over 72 million tablets shipped, while it is expected to reach as much as 383 million units by 2017, representing about 47% of all mobile PC shipments.
The leader in tablet computers is Apple Inc. (NASDAQ:AAPL), with its iPad (IOS platform) brand contributing to about 66% market share in 2011. It is now expected that Apple will launch its latest iPad3 model on March 7, 2012.
Other prominent players in the tablet domain are Amazon (NASDAQ:AMZN), with its Kindle Fire brand which operates on Google's (NASDAQ:GOOG) Android operating system, Research In Motion (RIMM) with its Playbook brand which operates on its proprietary QNX operating system, and several other players utilizing Google's Android and Microsoft's (NASDAQ:MSFT) Windows 8 operating system.
With so much at stake, Apple and its competitors seem to be positioning themselves for the lucrative tablet war. The outcome of such a war will depend on the competitive strategy utilized by the dominant players. There is no question that everyone will be taking shots at the leader: Apple. How Apple responds, reacts and strategies will either further solidify its dominance in such space, or in case of missteps, Apple can be dragged into a losing war of attrition on the terms set by its smaller rivals.
Many readers are familiar with Sun Tsu's classic Chinese military treatise, The Art of War. Although the book is estimated to have been written in the fifth century BC, it remains today one of the most recommended books in military and war strategy, praised for its tactical approach to winning a war. For many, business is war. For such reason, The Art of War has also become required reading in many leading business schools, where its tactics and methodologies can also be applied to managerial, competitive and business strategies.
The Art of War emphasized the importance of flexibility, positioning, adaptability to changing conditions, quickness in perfectly informed response, understanding of competitive factors, and most importantly, shaping the beliefs of others. It is always best to win a war without actually having to wage a war, despite having a much superior army that can guarantee a win on the battlefield.
In a 1988 translation of the book by R.L. Wing, the title actually appears as The Art of Strategy. According to such translation, its 13 chapters are titled: 1- The Calculations, 2- The Challenge, 3- The plan of Attack, 4- Positioning, 5- Directing, 6- Illusion and Reality, 7- Engaging the Force, 8- The Nine Variations, 9- Moving the Force, 10-Situational Positioning, 11- The nine Situations, 12- The Fiery Attack, and 13-The use of Intelligence.
In a sense, Apple has already won the first round for the tablet war. Its most precious winning tactics have been driven by its successes as well as its past failures. Apple had miscalculated in the launch of the Apple Newton in 1987, the first tablet ever launched. Such past failure has helped Apple in working on and perfecting its calculations ("The calculations") for the launch of the iPad.
Apple has positioned ("positioning") its product in such a way that its integrated software, hardware and service has made it very difficult for the competition to make any inroads. At the same time, whether deliberately or not, Apple has cemented its lead through "illusion and reality." As a result of Apple's track record for making great products, Apple has gained the almost blind loyalty of its clients. According to Reuters, in a recent survey by InMobi, 44% of respondents who said they are looking to buy a tablet, they said they would not even consider a product other than the iPad.
Most of Apple's competitors know they cannot take on Apple head on. Again, in reference to Tsu's strategies, they must find a competitive advantage that may provide them with some type of localized victory. Amazon has deliberately resorted to a price battle. By introducing the less costly Kindle Fire (priced around $200 while the iPad is around $500), Amazon is trying to attract cost conscious customers.
However, such a battle is not really fair (who said war is fair). For starters, Amazon does not care much about the Kindle's hardware profits, as much as they care about selling content for the Kindle: Digital books. In addition, the Kindle Fire is viewed by many to be an inferior product with limited features when compared to the iPad.
Similarly, Research In Motion introduced fire sale prices on its Playbook in order to move its inventory. Like Amazon, Research in Motion, at least for the time being, was less interested in making money on its Playbook, as much as it was interested in minimizing its losses and generating royalties and subscriptions for its linked Blackberry services.
It is rumored that Apple may introduce, along with the iPad 3, a cheaper version iPad to compete with the Kindle Fire. It is our opinion that doing so could be a dangerous gamble. Apple has never competed purely on price, and that has provided Apple its "status" and "cachet."
In the war for the tablets, Apple should not allow itself to be dragged into a battle at the terms of its competitors. Such war of attrition could ultimately cost Apple its "status." In an article we published on 8/15/2011, "who will take a bite out of Apple? Anyone?," we argued that Apple's bundled value provided by design, miniaturization, integration, innovation and creativity has afforded Apple the ability to price its products at a premium. Such competitive advantage must be maintained, otherwise, Apple can be dragged into the non-lucrative business of commoditized products.
The tablet war is Apple's war to lose. However, we do not believe that Apple will lose such a war. The rumored launch of the iPad 3 on March 7 is expected to generate substantial sales. According to InMobi's survey, 29% of those surveyed said they intend to buy an iPad 3, and 65% said they would consider buying a lower priced iPad or iPad2.
Despite competition, according to Trendforce, Apple's tablet market share is not expected to drop below 60% until 2015. However, despite such market share drop, total tablet sales for Apple are forecast to continue to increase, reaching as much as 95.5 million units by 2015.
For the time being, Apple has perfected the Art of the Tablet War and has kept its competitors at bay. Given the huge growth potential for the tablet market during the next five years, in addition to Apple's dominance in other products such as the iPhone, Apple shares can continue moving higher, although occasional pauses and consolidation would not be unexpected.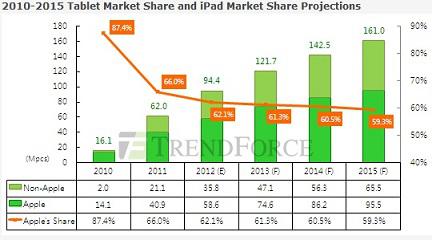 Source: Trendforce.
Disclosure: I have no positions in any stocks mentioned, but may initiate a long position in AAPL over the next 72 hours.