In this article, we'll look at our three best investment ideas that are the most undervalued according to conventional wisdom. More precisely, we will look at the three stocks in our portfolio that are trading at the biggest discount to consensus analysts growth projections for the next five years.
To calculate what the current market price of each stock is, we used a DCF model with a 10% discount rate, 3% long-term growth rate, and a 5-year "high-growth" period. We adjusted each company's TTM free cash flow for changes in working capital in order to smooth out cash flows. We then added back and cash and investments and subtracted any long-term debt.
We found three companies - D.R. Horton (NYSE:DHI), PayPal (NASDAQ:PYPL), and Alphabet (NASDAQ:GOOGL) - trading at prices that implied growth significantly below market consensus.
D.R. Horton
D.R. Horton screened as our most undervalued company with a share price that implies about 5.5% growth over the next 5 years, versus consensus estimates of 13.76%.
It is one of America's largest homebuilders. The company is fairly well diversified by both geography and price point. The bull case for DHI is pretty simple. The US still needs plenty of homes built. Homeownership rates are near all-time lows.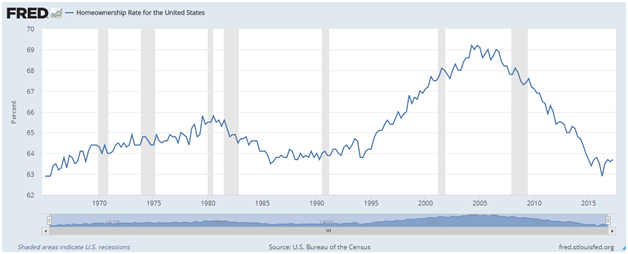 However, even that doesn't tell the whole picture. Not only is the homeownership rate low, but the amount of housing inventory is low as well. The graph below shows the ratio of total housing units to total households in the US. The ratio is at its lowest since the Census Bureau began keeping track.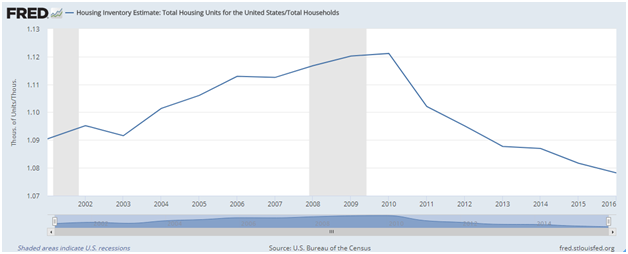 So, why is D.R. Horton stock still trading at levels that imply well below analyst consensus growth rates?
The Big Question
I think the biggest issue holding back the stock is the question of whether or not millennials still want to own homes. Much has been made about how the millennial generation behaves very different from previous generations. However, we believe that many behaviors of the generation can be explained by the unique economic issues it has endured. Millennials graduated college with record amounts of student debt, and many entered the workforce during or after one of the worst recessions in history. While some millennial behavior, for example consuming media content on mobile devices, is truly a cultural change, we think buying a house is not something that's changed. What has changed is the timeline. Millennials are simply doing things like getting married and buying a house later in life due to student debt and a difficult job market.
PayPal
Analyst consensus growth for PayPal is 20.27% over the next 5 years, but our DCF model shows the shares are only pricing in about 13.2% free cash flow growth over this period.
According to the latest CapGemini global payments statistics, non-cash transactions are projected to grow 9.1% this year and at 10.9% annually for the next 5 years, with the strongest growth to be seen in emerging Asian markets.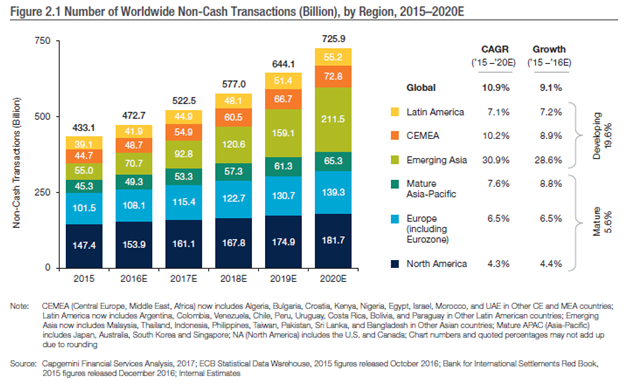 Global e-payment and m-payments (PayPal's core business areas) are expected to grow even faster at 17.6% and 21.8% respectively over the next 5 years.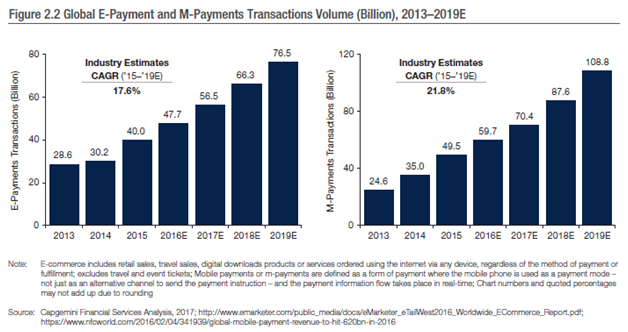 And no matter how you look at things PayPal's latest earnings report shows the company is meeting or exceeding the global growth rates. Total FX neutral payment volume was up 29%, the number of transactions grew 26%, total FX neutral revenue grew 22%, active customer accounts increased 14%, and transactions per active account grew 9%.
So why is a company that is a market leader in a fast-growing sector trading at levels that imply well below consensus growth?
The Big Question
Well, PayPal's ultimate profit growth has three important drivers: user growth, transaction growth, and the take rate. The take rate can be thought of as roughly equivalent to the company's gross margin - it's the percentage of each transaction that it keeps as profit. The take rate has steadily declined over the years, and that is what has held the stock back. As long as user growth and transaction growth increase faster than the take rate declines, PayPal should do fine. The stock's performance this year is testament to that.
Alphabet/Google
We also think Alphabet/Google is significantly undervalued. If you use a DCF model with just a 5-year high-growth period, Google is trading at exactly where analysts think it should be. The price implies 19% annual growth for 5 years, and that's exactly where consensus estimates are. However, we look to be in the midst of a titanic shift in advertising spending.
Advertising spend on traditional media outlets like radio, newspapers, and magazines is falling, while internet advertising is growing by leaps and bounds.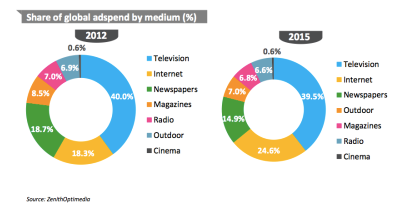 But the biggest opportunity lies in a shift of television ad dollars to online.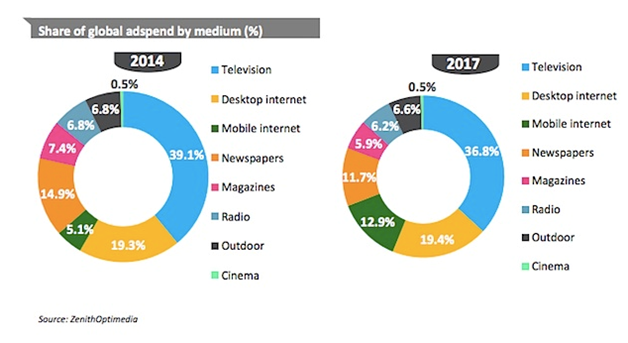 Over the last year or two, television ad spending has finally begun to slide. It's likely to be a slow, steady movement of ad dollars from traditional television to mobile and desktop internet. In the context of this advertising shift, a 5-year high growth rate seems quite short. We think perhaps a 10-year high-growth period makes more sense. If we use a 10-year high-growth period, then the current share price for Alphabet implies only an 11.5% annual growth rate, well below the 19.19% analysts are projecting for the next 5 years.
So how is a great, well-known, large-cap tech company trading at a discount to what analysts are projecting?
The Big Question
Well, if you scroll up to the last graph, you can see that when it comes to advertising moving online, almost all of the growth is concentrated in mobile. The big question for Google is whether or not it can be just as dominant in mobile as it was in desktop. In our opinion, this worry seems a bit overblown, given that Google has put up strong results over the past few years when the shift from desktop to mobile was underway. Given the company's good position in mobile search and its mobile-friendly YouTube platform, it's hard to see why mobile would trip up Google at this point.
Disclosure: I am/we are long GOOGL, PYPL, DHI.
I wrote this article myself, and it expresses my own opinions. I am not receiving compensation for it (other than from Seeking Alpha). I have no business relationship with any company whose stock is mentioned in this article.