While some may not care much about religious values when investing if you are strictly religious you may find that index-based ETFs may hold investments contrary to your religious or personal values (ex: weapons manufacturers. I'm not an expert on religion so if I've gotten anything wrong in my article or missed anything please let me know in the comments.
I'm writing this article simply to provide a resource for those who wish to invest according to a religious standard and I'm not trying to cause any sort of religious or political debate, however, some may not agree with the criteria that these funds use. If you don't agree with the methodology that the funds use then you don't have to invest in them but they are useful for those who wish to invest strictly according to their religious values.
If you wish to invest based on religious values you may go through and pick individual stocks, but that takes time and if you're not experienced in investing you may struggle with that and end up with a portfolio of mostly cash or a highly concentrated portfolio. That can make you exposed to inflation or make you vulnerable if you invest in a company that ends up failing.
There are investment products such as ETFs and Mutual Funds which are designed to hold investments that are compatible with religious values for Christians, Catholics, and Muslims. I could not find any funds based in the US that are focused on investing according to Jewish values but one may decide to look at ESG-based investing (which exclude "controversial" industries and invest based on environmental, social, and governance characteristics) such as the iShares MSCI ESG Select ETF (SUSA) or ETFs that invest in Israel such as the iShares MSCI Israel Capped ETF (EIS) or BlueStar TA-BIGITech Israel Technology (ITEQ) which focuses on the Israeli Tech sector - however, you'd have to look at what those ETFs hold to determine if they match your values.
Christian Investing
Inspire Investments offers 3 ETFs focused on biblical values. They also claim to donate 50% of their firm's profits to charities. These ETFs are new and were launched just this year.
Inspire Global Hope ETF (BLES)
MER is 0.61%
SEC 30 Day Yield is 1.4%
Assets under management is $52M
Inception Date is 02/28/2017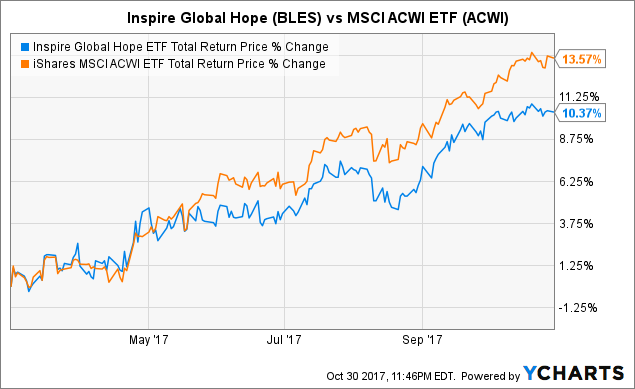 BLES Total Return Price
data by
YCharts
It holds 400 of most "inspiring" large-cap companies of around the world, 50% from the US, 40% international developed, and 10% emerging. Stocks are equally weighted and rebalanced quarterly. It uses their own "Inspire Impact" score to determine the companies "positive effect" on the world according to biblical values which determine holdings. They also engage in shareholder activism if a company no longer maintains a high Impact score. They performed a study (by Shane Enete, CFA at the Inspire-Biola Research Institute For Biblically Responsible Investing) which found that companies with higher Impact scores actually had produced a 4.7% in excess return compared to the S&P500 and S&P600 from 1/12 - 1/17, although it has underperformed since the inception of the BLES ETF and past performances don't indicate future returns. It should still perform similar to the general market (if you adjust for sector weights) since it has hundreds of holdings so this is a good way to broadly invest according to Christian values.
It selects its holdings from the Russell 1000 Index, MSCI EAFE Index, and MSCI Emerging Markets Large Cap Index.
It then removes companies based on the following criteria:

Source: Prospectus
It then assigns scores based on publically available policies using the following criteria:

Source: Prospectus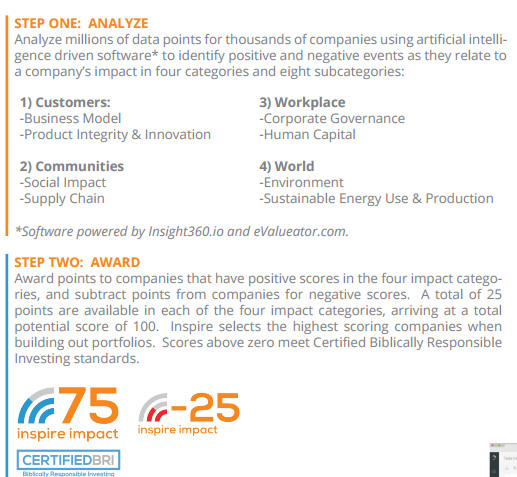 Source: Inspire Investments
If you look at what the portfolio looks like it has an average market cap of $15.5B and is about 50/50 large/mid cap. I've set the benchmark as the MSCI ACWI Index which is a global index that tracks mostly large/mega-cap stocks. It has a P/E ratio of 18.72 which is comparable to the index at 17.50, has a similar P/B at 2.33 vs 2.17, and it also has a similar P/S at 1.55 vs 1.66. It has a higher P/CF at 10.44 vs 7.25 and it hasn't done well in historical cash-flow growth at -6.7% vs 1% of the benchmark. Historical earnings growth were weak at 3.65% but still better than the benchmark at 1.40%. Long-term expected earnings growth is 10.9% vs 10.19% for the benchmark. Overall it has comparable fundamental ratios as the benchmark.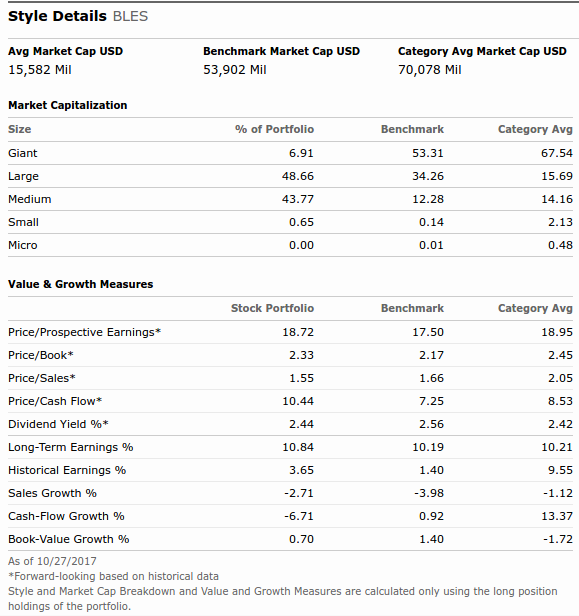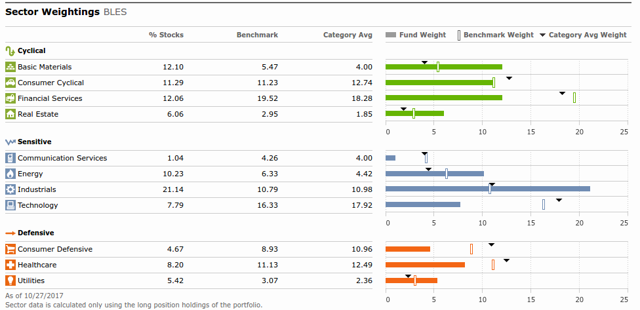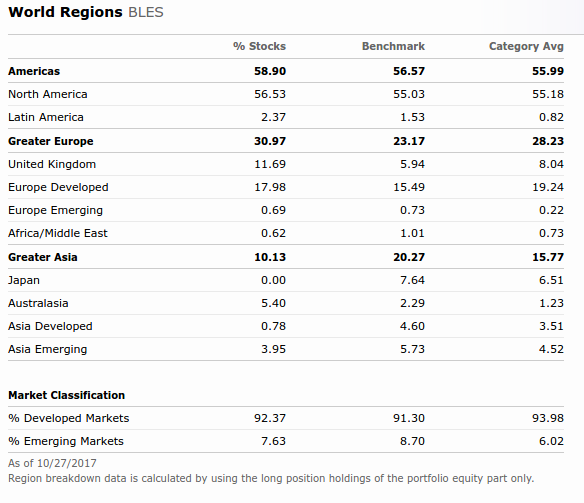 Source: Morningstar
When you look at the sector weightings, you'll see that it's overweight Industrials (using MSCI ACWI index as the benchmark) at 21% compared to the benchmark of 11%. It is also underweight Financial Services at 12% compared to the benchmark's 19%. Technology is also underweight at 8% compared to the benchmark's 16%. Differences in sector weights will result in different performances than if you invested in the iShares MSCI ACWI ETF (ACWI).
It offers geographic diversification with 40% of its holdings out of the US, with the UK having the 2nd most holdings at 11.7%. It's interesting to note that it does not have any holdings in Japan.
It is also underweight in Consumer Defensive sectors at 4.67% compared to the benchmark's 8.93% as well as healthcare at 8.20% vs the benchmark's 11.13%. It only has 5.42% in utilities, however, that is actually more than the benchmark at 3.07%. The low weights in defensive sectors might make the ETF more vulnerable to economic slowdowns. Otherwise, I believe it can provide enough diversification to serve as a core equity holding.
They also offer the Inspire Small/Mid Cap Impact ETF (ISMD) which uses the same methodology except with United States small and mid-cap stocks. It has an MER of 0.61%, an SEC 30 day yield of 1.02%, an inception date of 02/28/2017, and $30M in assets under management. It has 500 holdings. It has an average market cap of $2.3B.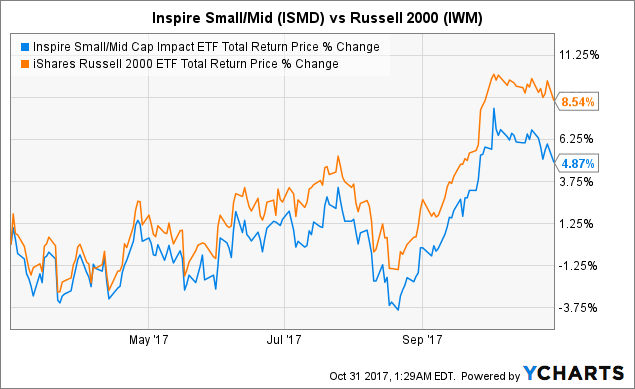 ISMD Total Return Price
data by
YCharts
Inspire Corporate Bond Impact ETF (IBD) is an ETF which applies the Impact score methodology to intermediate-term investment-grade corporate bonds issued by large-cap corporations. It holds 250 bonds.
It has an inception date of 07/10/2017, an MER of 0.61%, an SEC 30 day yield of 1.85%, and $22M assets under management. I could not find information on duration and credit rating distributions (however all are investment-grade). Maturities are distributed somewhat evenly from 1-10 years, with 28% having a maturity of 1-3 years, 25% having a maturity of 3-5 years, 17% having a maturity of 5-7 years and 23% having a maturity of 7-10 years. I'd expect it to act like an intermediate corporate bond fund. It does not offer many details on its website about its portfolio characteristics, however, all holdings can be seen and downloaded. Due to the lack of information, I'd recommend contacting them and talking with a financial adviser before choosing to invest in it.
Inspire Corporate Bond Impact ETF is the first faith-based bond ETF ever created and is carefully designed to create meaningful impact in the lives of people all across the globe by investing in inspiring companies and donating a portion of fees to support Christian ministry projects such as clean water wells, refugee relief efforts, Bible distribution and other worthy causes.
As a core holding "workhorse" of investors' fixed income portfolios, IBD mirrors the characteristics of the broad U.S. bond market while investing only in the investment grade bonds of some of the most inspiring companies in the United States aligned with biblical values, as measured by their Inspire Impact Score. Inspire Corporate Bond Impact ETF seeks to track the performance of the Inspire Corporate Bond Impact Equal Weight Index (see below "About The Index"). All Inspire ETF's meet biblically responsible investing (BRI) standards, which measure a portfolio's alignment with biblical values.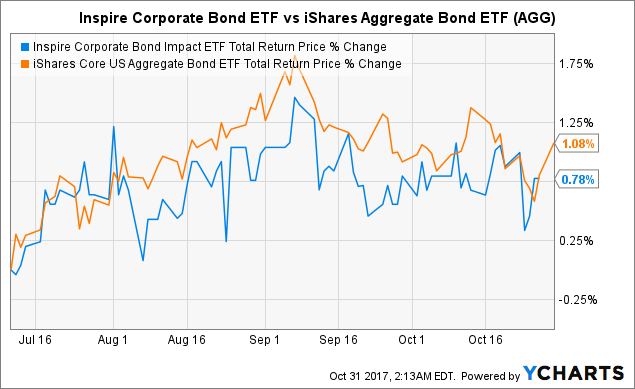 IBD Total Return Price
data by
YCharts
Catholic Investing
Global X S&P 500 Catholic Values Index ETF (CATH) - This ETF invests in companies from the S&P 500, maintaining the same sector weights as the S&P500 but excludes stocks which have been determined to be involved with activity inconsistent with Catholic values as determined by the U.S. Conference of Catholic Bishops. The ETF is rebalanced quarterly.
MER: 0.29%
Net Assets: $115M
30 Day SEC Yield: 1.53%
Inception Date: 4/18/16
The following activities are excluded from the index:

Source: S&P Indices
You can find out more about the index used for the S&P500 Catholic Values ETF at S&P Indices' webpage and the ETF's webpage.
As you can see from the chart below, it follows the S&P500 almost exactly due to having the same sector weights (beta 1.02).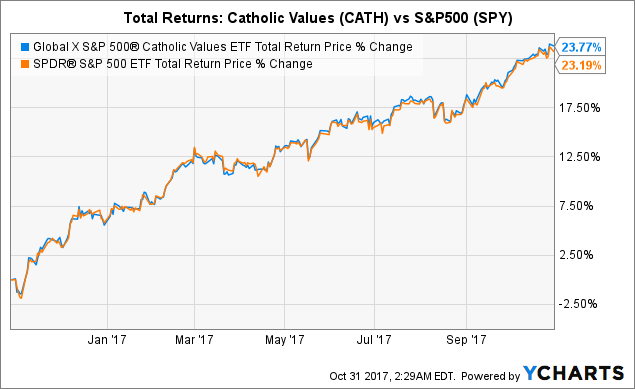 CATH Total Return Price
data by
YCharts
Source: ETF's Fact Sheet (as of September 30, 2017)
Islamic Investing
I could not find any ETFs which cater to Islamic investing, however, the Amana funds by Saturna Capital are a series of mutual funds which cater to Islamic values and has been running since the 90s.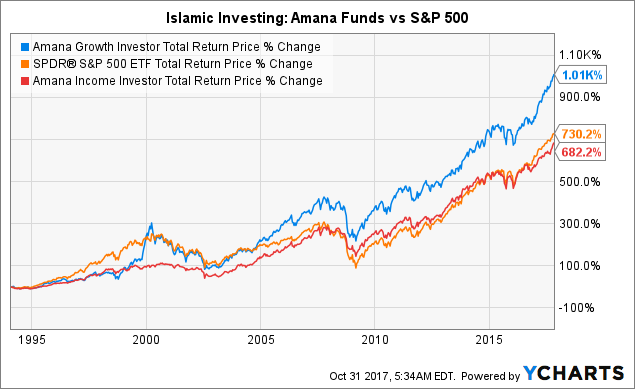 AMAGX Total Return Price
data by
YCharts
The Amana Growth Fund (AMAGX) is one of their funds. It has an expense ratio of 1.10% - you should keep this high fee in mind and decide whether it's worth it (historically it has been as it provided much higher returns than the S&P500). It has an SEC yield of 0.45%. It has a minimum investment of $250. It has an inception in 1994. It focuses on growth stocks, domestic and foreign. It has $1.64B in assets.
The Growth Fund invests only in common stocks, including foreign stocks. Investment decisions are made in accordance with Islamic principles. Generally, Islamic principles require that investors share in profit and loss, that they receive no usury or interest, and that they do not invest in a business that is prohibited by Islamic principles. Some of the businesses not permitted are liquor, wine, casinos, pornography, insurance, gambling, pork processing, and interest-based banks or finance associations.
The Amana Funds also do not hold interest-bearing bonds:
The Growth Fund does not make any investments that pay interest. In accordance with Islamic principles, the Fund shall not purchase conventional bonds, debentures, or other interest-paying obligations of indebtedness. Islamic principles discourage speculation, and the Fund tends to hold investments for several years.
You can learn more about this fund at its website.
Because this fund excludes the financial sector (banks and insurance companies) the growth fund managed to have a much lower drawdown than the S&P500 in 2008 in the financial crisis, coming down at only 38% compared to the S&P500 50%. In the early 2000s however, it had a much higher drawdown than the S&P. In 2000 (see SEC filing) it had large holdings in Technology companies: 9.9% in hardware, 18.5% in software, and 12.3% in electronics for a combined 40.7% in Tech. It also had a large holding in pharmaceuticals (13.1%) which also suffered a large drawdown and if you look at the NYSE Pharmaceutical Index (index value of 447 on Dec 29, 2000 to 249 on July 19, 2001 - representing a drawdown of 44%) then Pharmaceuticals did not recover until 2013. It is actively managed so that may cause overweighting or underweighting of sectors which may either help or harm performance. Overall, however, it has achieved much higher returns than the S&P500 (SPY) at over 1000% total return since inception compared to SPY's 730%.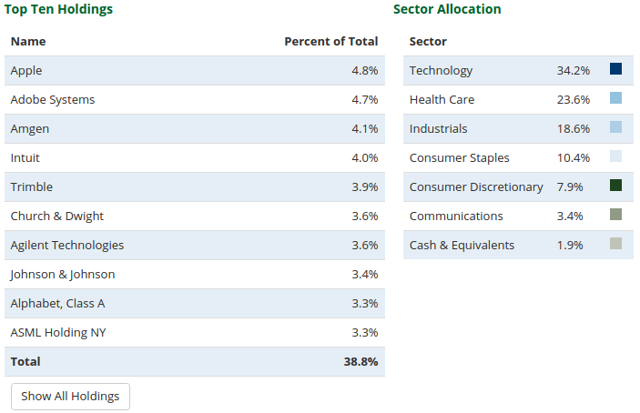 Source: Fund's website
There is another fund which focuses on domestic and foreign dividend stocks called the Amana Income Fund (AMAPX). It has an SEC yield of 1.07%, inception in 1986, an expense ratio of 1.13% and has a minimum investment of $250. It has $1.39B in assets.
It had almost the same total return as S&P500 (682% vs 730%), except it has done so with smaller drawdowns. In the 2000s crash, it had a max drawdown of about 30-35% compared to the S&P500's ~45% and the Amana Growth Fund's ~55%. In 2008 it had a drawdown of about 35% compared which was a bit less than the Amana Growth Fund's 38%, but they were both much less then the S&P500's much higher drawdown at over 50%. This is because it focuses on dividend-paying companies which are usually more stable and have more predictable income. It's top 4 sectors are Industrials at 23%, Materials at 20%, Healthcare at 19%, and Consumer Staples at 15.6%. It's large weightings in Healthcare and Consumer Staples can act defensively protecting you from economic downturns more than cyclical sectors.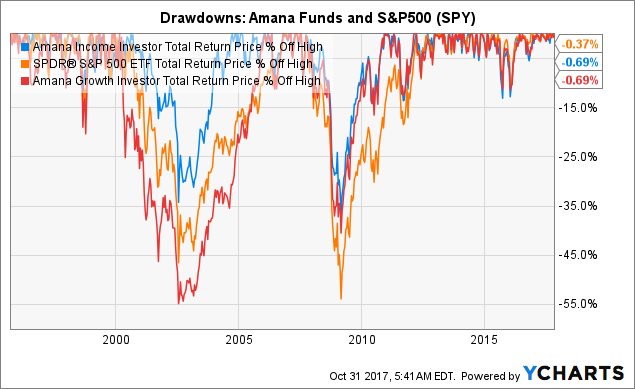 AMANX Total Return Price
data by YCharts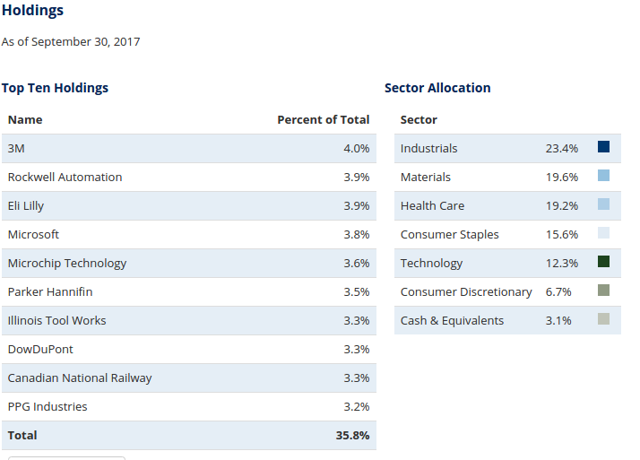 There is also the Azzad Wize Capital Fund (WISEX) which invests in Islamic bonds (sukuk) and Islamic banking deposits. It has a holding in a Goldman Sachs sukuk as an example among others. It has a minimum investment of $4000, and an expense ratio of 1.29%. It has a 30-day SEC yield of 1.14% and comparable total returns to short term credit bond ETFs such as the iShares 1-3 Year Credit Bond ETF (CSJ-OLD). Most holdings are investment grade, and 96% of holdings have a maturity of fewer than 5 years. It has a large holding in banks in developing countries which may expose it to geopolitical risk. You can learn more about it at its website.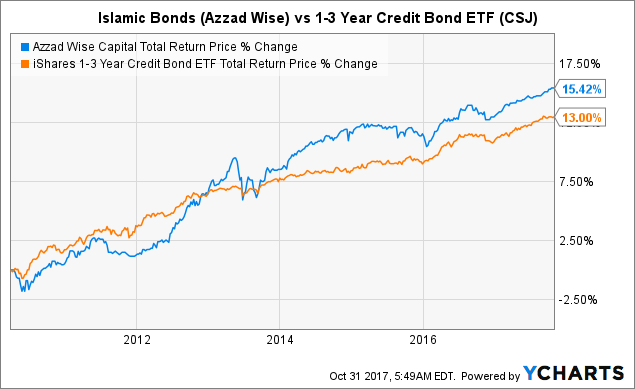 WISEX Total Return Price
data by
YCharts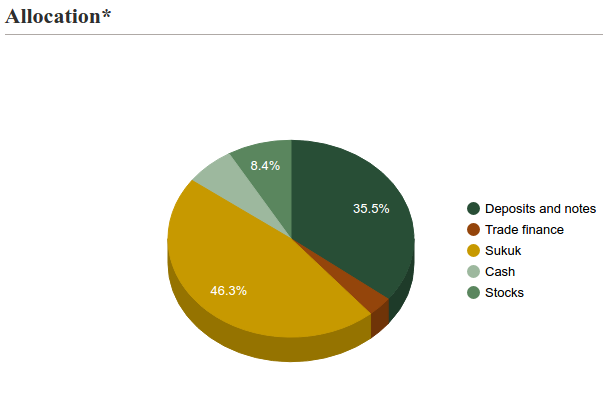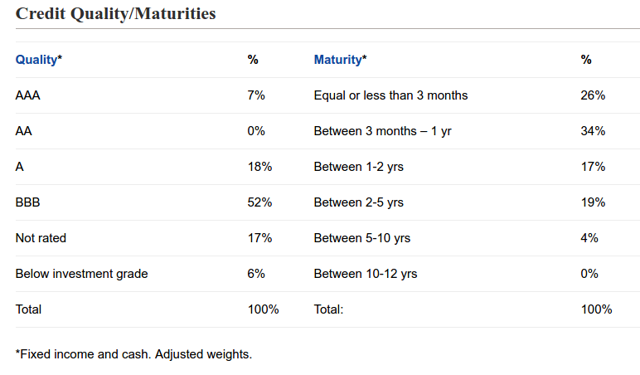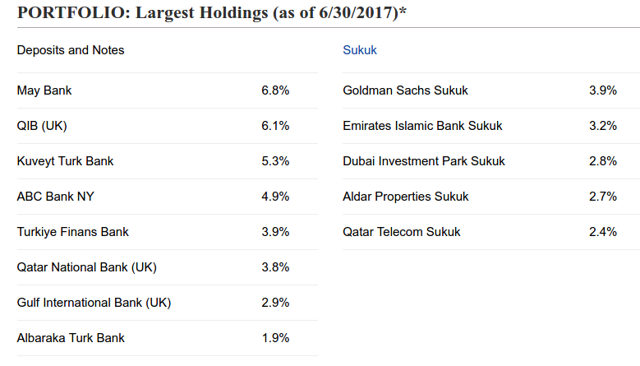 Source: Fund's webpage
All investments have risks. You should consult a qualified financial professional before making any investments or investing in any of these funds. Please conduct your own due diligence and analyze risks with a qualified financial professional before investing. This article is for informational purposes only and is not a replacement for individual expert advice.
Disclosure: I/we have no positions in any stocks mentioned, and no plans to initiate any positions within the next 72 hours. I wrote this article myself, and it expresses my own opinions. I am not receiving compensation for it (other than from Seeking Alpha). I have no business relationship with any company whose stock is mentioned in this article.