Late Monday night, an interesting article caught my attention regarding the future of Apple (AAPL) and key supplier Qualcomm (QCOM). Macrumors, citing a report from the Wall Street Journal, discussed the possibility of Apple dumping Qualcomm as a LTE chip supplier for its 2018 iPads and iPhones. While this is still speculation and might not be a huge surprise given the ongoing legal battle between the two, it would be a large blow to Qualcomm if it eventually happens.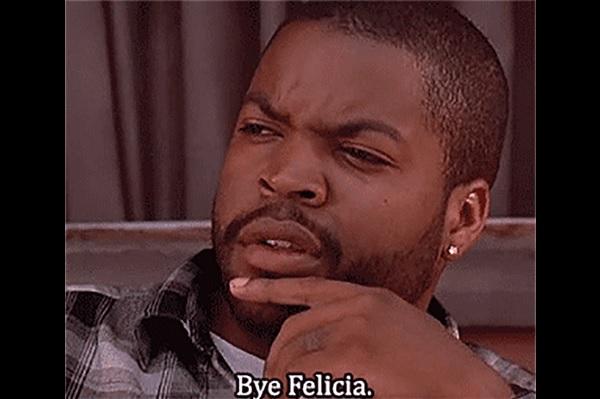 (Source: Google Images - the popular phrase came from 1995 film "Friday")
According to the report, Qualcomm is withholding software that Apple needs to test LTE chips in its next round of devices, hindering potential testing, after the January lawsuit that Apple filed. Qualcomm claims that Apple already has tested the chip for next year's devices. Of course, as the WSJ reports, Apple's plans could easily change in the coming quarters, perhaps as late as June 2018 or roughly three months before the launch of the 2018 iPhone.
The relationship between Apple and Qualcomm has been quite rocky since January, when Apple sued for $1 billion, accusing the chip maker of unfairly charging royalties and for failing to pay quarterly rebates. Apple maintains that Qualcomm charges excessive fees by demanding a percentage of an iPhone's entire value, even for technologies that have nothing to do with Qualcomm. The chip maker has responded that its products are at the heart of every iPhone, and has counter sued Apple, including an effort to block imports and stop sales of certain phone and tablet models.
At the moment, Qualcomm is at the heart of three of Apple's biggest products, the iPhone, the iPad and the Watch. Last year, in an effort to diversify its supplier portfolio, and perhaps as a first strike against Qualcomm, Apple started using Intel (INTC) chips in the iPhone 7 and 7 Plus. In the US currently, AT&T (T) and T-Mobile (TMUS) iPhones use chips from Intel (INTC), while Verizon (VZ) and Sprint (S) iPhones use the Qualcomm chips.
While Monday's report is still all speculation at this point, it makes 2018 a very interesting time for key Apple suppliers. Should Apple completely dump Qualcomm, it would be a devastating blow for the chipmaker, one that a fellow SA contributor valued at $13 per share back in August. This also could be an extremely large win for Intel and its mobile ambitions, which have lagged behind some peers in recent years. With analysts already calling for small declines in Qualcomm revenues and a larger earnings decline in its fiscal 2017 2018 periods, the situation could become much worse if Apple dumps the chip company from future devices. This makes Qualcomm a risky investment for 2018 if you believe Apple is about to say "Bye Felicia."
Disclosure: I/we have no positions in any stocks mentioned, and no plans to initiate any positions within the next 72 hours.
I wrote this article myself, and it expresses my own opinions. I am not receiving compensation for it (other than from Seeking Alpha). I have no business relationship with any company whose stock is mentioned in this article.
Additional disclosure: Investors are always reminded that before making any investment, you should do your own proper due diligence on any name directly or indirectly mentioned in this article. Investors should also consider seeking advice from a broker or financial adviser before making any investment decisions. Any material in this article should be considered general information, and not relied on as a formal investment recommendation.