The uranium sector sure gave investors a tease during the beginning part of the year, when many of the mining stocks staged a very impressive rally. Unfortunately, the turning point to "better days" was short-lived, and now the industry finds itself in the doldrums yet again.
Quite frankly, it's going to win over investor interest and dollars when the spot price chart looks like the following: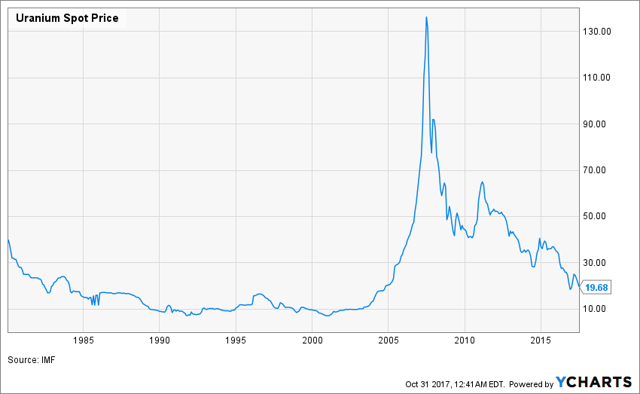 For the last few years, trying to time the bottom of the uranium bear market has indeed been akin to "catching a falling knife." Nevertheless, there are a good number of contrarian investors out there who don't mind shopping for merchandise during the Depths of Despair, and welcome the opportunity to go bargain hunting when there are few crowds to have to fight through. For these particular type of investors, it really is a complete buyer's market in the uranium sector right now, so there is absolutely no reason to settle for loading up the shopping cart with anything less than the best.
Robust PEA
On two occasions this year, I genuinely felt that shares of NexGen Energy (NXE) were ready to rip and breakout to the upside. The first occasion occurred on the heels of the company releasing a maiden Preliminary Economic Assessment (PEA) which showcased to the market for the first time using hard numbers just how robust and economical its flagship Arrow project is (even in the harshest of operating environments):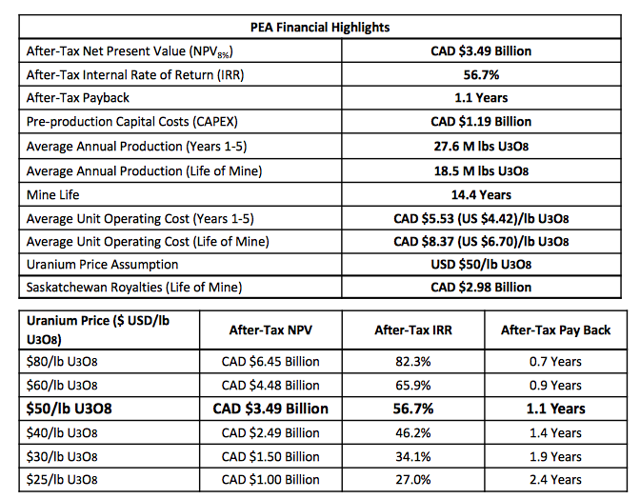 Source: NextGen Energy PEA Presentation
As the slide above shows, even in a world of $25/lb uranium, the Arrow project is still somehow able to generate a robust after-tax NPV (8% discount rate) of C$1.0 billion with a very impressive after-tax IRR of 27%.
South Arrow Discovery Potential
The second occasion when I thought shares would pick up positive momentum occurred earlier this month when the company announced intersecting shallow high grade mineralization at its South Arrow discovery.
Leigh Curyer, Chief Executive Officer, commented: "The scale of these South Arrow results are very exciting considering its very early in the discovery stage. They are unprecedented on the Rook I property and highlight the vast discovery potential of our dominant portfolio in the Southwest Athabasca Basin. An additional 5,000m of drilling has been allocated to South Arrow before the conclusion of the 2017 drilling program."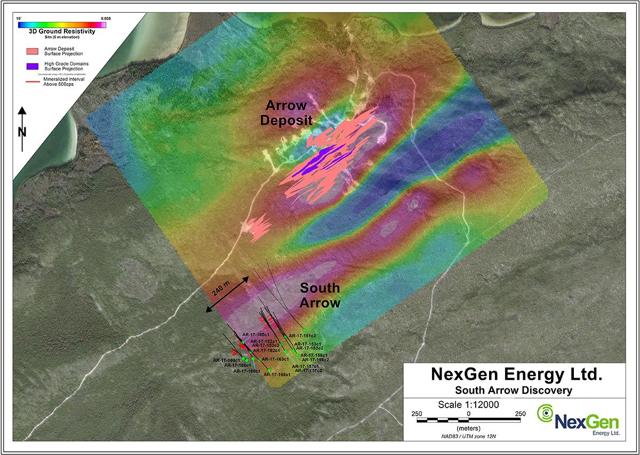 Source: NextGen Energy October Press Release
The possibility of unearthing a "twin tower" to complement the Arrow deposit could be rather significant and another game changer for NexGen shareholders. Although the industries are unrelated, the share price and valuation of Ivanhoe Mines (OTCQX:IVPAF) re-rated strongly after the discovery of the Kakula copper deposit, which is now being developed in parallel with the company's original flagship discovery, Kamoa. Although it is very early days for South Arrow, early indications suggest that blue sky potential could still exist on these fertile grounds.
Declining Share Price
Despite the impressive PEA numbers and the South Arrow announcement, nevertheless, in both instances, the rise in the NXE share price could not be sustained, and it was only a matter of time before we witnessed a sharp reversal back to the downside.
Shares of NXE have fallen -20% over the last 3 months, and are now only up 11.5% year-to-date, despite improving fundamentals.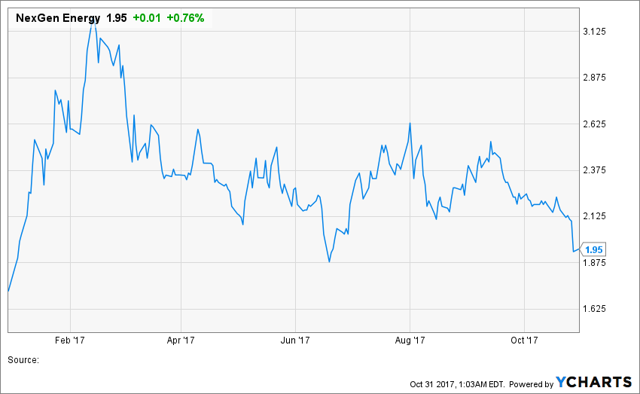 Long-term, I don't believe anyone remotely believes that uranium prices will persist at these absurdly low levels perpetually since the majority of projects out there simply aren't economical. The events of Fukushima in 2011 devastated the industry and created an excess supply environment that has been slow to work itself out, especially as Japanese nuclear reactor restarts have been slower to progress than many might have expected.
But if the past is to be used as any kind of barometer to try and predict the future, speculators know that whenever the uranium sector does decide to turn up again (and it will eventually with strong growth projected to come out of China, India, etc.), the move to the upside can/will be extremely fierce (the uranium price ran up from $10/lb to over $130/lb from 2003-2007). Since mining stocks provide leverage to the underlying commodity, the returns are amplified and can thus be quite staggering if one is situated in the right investment vehicles.
Strategic Asset
Despite a weak share price, I see appeal in adding shares of NXE at this particular time. Arrow is by consensus a world-class tier 1 deposit that features the highly coveted combination of both massive size and exceptionally high grade that should make it a prized and highly coveted takeover target in a recovering/healthy uranium market.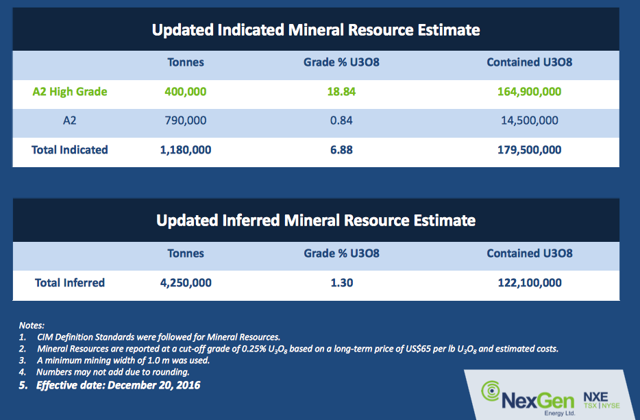 Source: NextGen Energy October 2017 Corporate Presentation
Arrow has often been referred to as a "strategic asset" from investors because it stands head and shoulders above most (if not all) other undeveloped/developed uranium projects out there.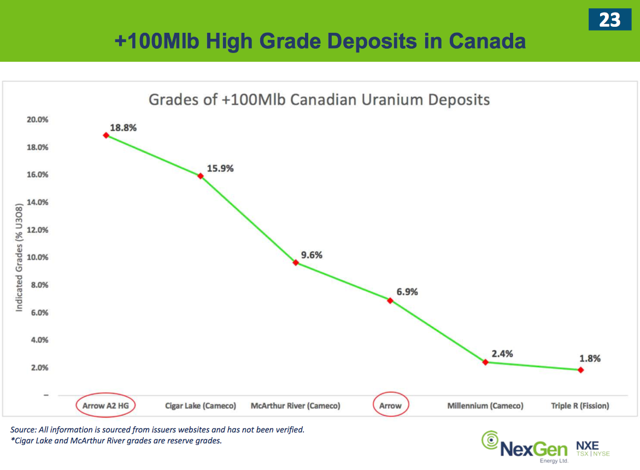 Source: NextGen Energy October 2017 Corporate Presentation
The above slide shows Arrow (and in particular the A2 High Grade zone) stacks up well against its Canadian peer group: Cameco (CCJ), and Fission Uranium (OTCQX:FCUUF).
Risks
The fact that NexGen is a developer and not yet in production is actually more of a positive than negative in my eyes in the current low price environment in uranium because the company does not have to worry about things such as: long-term contracts, maintaining operations and paying staff, servicing debt, etc.
As such, should the uranium bear market persist for quite awhile longer, NexGen will be better positioned to "weather the storm" than many of its sector peers. Despite that, like any other uranium miner, shares of NXE are susceptible to staying depressed for a long-period of time should the spot price of uranium fail to stage any kind of meaningful recovery and spark investor interest. Mining is inherently a volatile sector, and in the short-term, sentiment can having a more meaningful influence over the share price than actual company fundamentals; investors need to keep this in mind as NXE seems more fitting to me at this point in time as a longer-term buy and hold investment in one's portfolio as opposed to being utilized as short-term trading vehicle for making quick explosive gains.
Cash Position
In terms of cash position, the company is well financed with ~C$175 million (as of October 1, 2017) on hand, so there is little fear of the need for more dilution in the immediate term, especially at a low share price. Worth noting, though, are the ~48 million convertible debentures that were issued in each of last two financings done with CEF Holdings.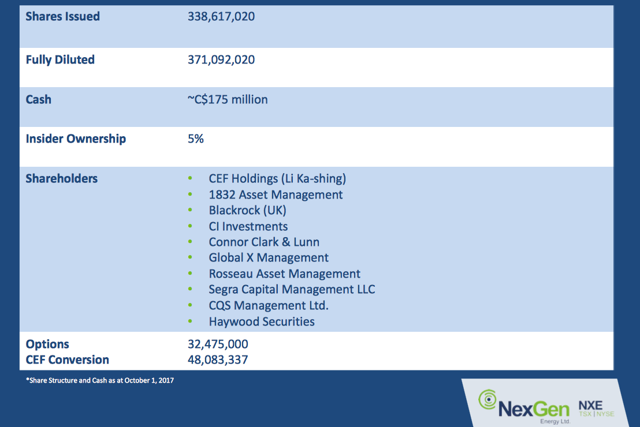 Source: NextGen Energy October 2017 Corporate Presentation
Although the use of debt/interest payments is not ideal for a junior developer not yet in production and able to generate revenue and free cash flow, NexGen was able to bring onboard a strategic partner/shareholder in billionaire Li Ka-shing, who's interest in the Arrow deposit is strong validation for the quality of the asset.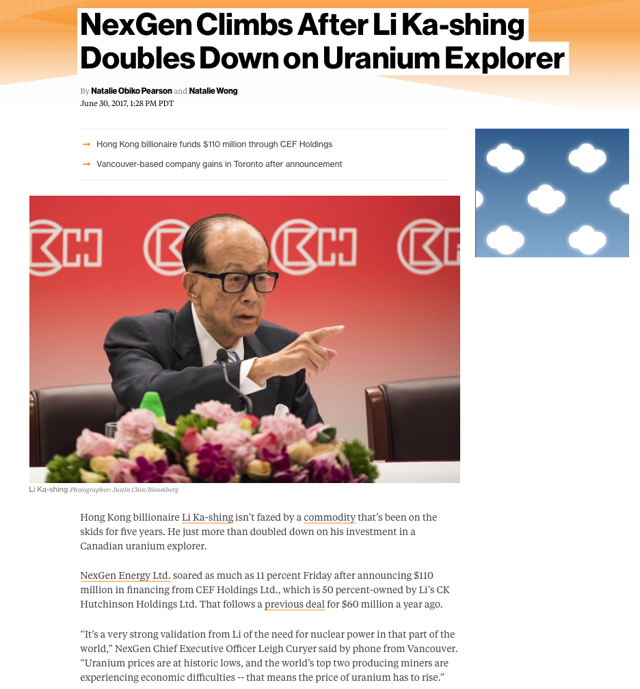 Source: Bloomberg
Even better, investors buying in today are able to do so at an even lower price than the last financing, which issued script at $2.07/share.
Conclusion
No one has a crystal ball and can accurately predict when the uranium market will bounce back, but when it does, I would imagine that the market cap/valuation of NexGen will increase profoundly from its current levels. The Arrow deposit is truly spectacular and one of a kind, yet despite that, we may still only be in the early stages of resource delineation; if exploration over at South Arrow can amount to something meaningful as well, we could really be looking at the makings of something truly special here.
Because sentiment towards uranium is so unbelievably apathetic right now, investors have been afforded the rare opportunity to be able to add shares of a high quality company with improving fundamentals at increasingly favorable prices. During the most recent dip, I have dollar-cost averaged down on two occasions to add to my NXE position and am pacing myself to add another tranche in the event the sell-off exacerbates itself even further.
The NexGen story has only gotten better over these past few months with the release of a very solid PEA and the announcement of a possible new discovery in South Arrow, so it is difficult for me to feel truly fearful of a precipitously falling share price, which ought to only be impactful in the short-term. But it is worth keeping in mind that investing in the uranium sector requires a great degree of patience, as these macro turns can often take much longer to materialize than investors anticipate going into a speculation. As such, investing in NXE may not be suitable for everyone; you must know your objectives and time horizon. In the big picture, I do believe that fundamentals will ultimately win the day and NexGen has that in spades.
Disclosure: I am/we are long NXE.
I wrote this article myself, and it expresses my own opinions. I am not receiving compensation for it (other than from Seeking Alpha). I have no business relationship with any company whose stock is mentioned in this article.