The US housing bubble is still going strong, and home affordability has never been more out of reach than it is now. In fact, real home prices are at or near all-time highs in most major cities. Yet, the median incomes for families are not even close to keeping up. When you look at the numbers, you start to ask questions about how sustainable this is - could we be near a top in real estate prices? And, if so, what will happen to real estate in the United States?
I put together a comparison chart of the Case-Shiller House Price index (inflation adjusted) vs. real personal income in the United States: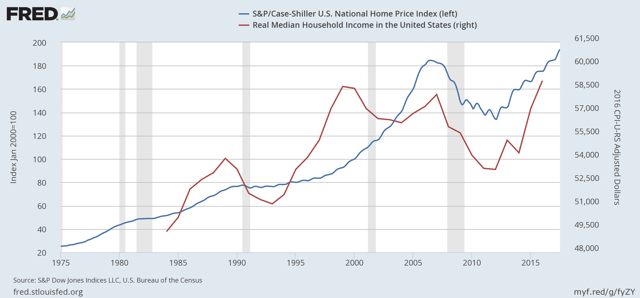 The Case-Shiller index is currently at 93 and is hitting all-time highs. At the same time, incomes in the United States are just breaking new ground and have finally eclipsed levels from 2000 during the Dot Com era. Both charts are heading higher, albeit, there is a lag in incomes.
If you look at what happened to home prices in 2000 vs. incomes you see the problem. After the Dot Com bubble, incomes dropped dramatically, on a real basis. Housing prices just kept going higher. Finally, incomes have surpassed their year 2000 highs. Housing prices fell after the US housing bubble. But, the rebound was quick, especially when you look at the time it took from peak-to-trough-to-new highs.
But to just look at these headline numbers you would be misled into believing that the moves in incomes and housing prices are strongly correlated. This chart shows the median for both homes and incomes. The charts are representative of the middle of the entire country for both home prices and incomes. Some 80% of individuals live in densely populated/urban areas or major cities.
The Debt-To-Income ratio (DTI) that is recommended for purchasing a home is a maximum of 43%. If you were plain vanilla, bland, and your nickname was Joe Sixpack, you had the median income and lived in a neighborhood where the home prices were the national average, you could get a loan. With current mortgage rates at 4.18%, and using a 30-year fixed mortgage, your payments would be $985.00. The DTI for this mortgage is 25%. This assumes, however, you have no other debt such as student loans, car loans or credit cards.
The cities tell an entirely different story and show how out of reach housing actually is. Take, for instance, San Francisco. According to CNBC, the median income in the city is $77,000.00. However, the median home price is a whopping $1.2 million, according to Zillow. Granted, San Francisco is an outlier. But it is representative of issues around the country.
Mostly, whenever anyone tries to justify the high costs of real estate, these individuals always point to the low rate of interest rates. The lower the interest rate the lower the mortgage payment. But, this rationale only applies if you are a "median" kind of person... again, the cities are where the bigger problem lay.
But these arguments are all rubbish when you look at home ownership participation rates. They are sitting at near all-time lows: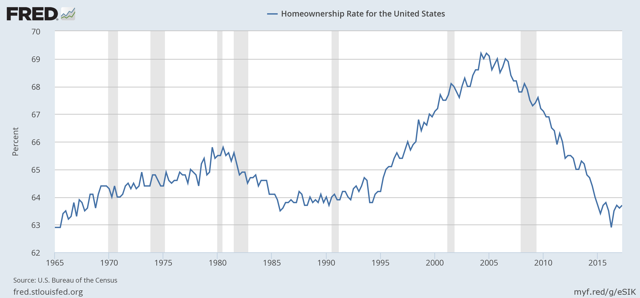 The Census Bureau put together a nice listing of home prices for each state. This breakdown shows some of the disparities between the states, which ultimately skews the median. Some states have seen multiples of seven times since 1950 alone in the rate of growth of their respective median house prices.
Existing home sales has been softening somewhat. The levels have not hit pre-housing bubble levels yet. I do not believe that will happen: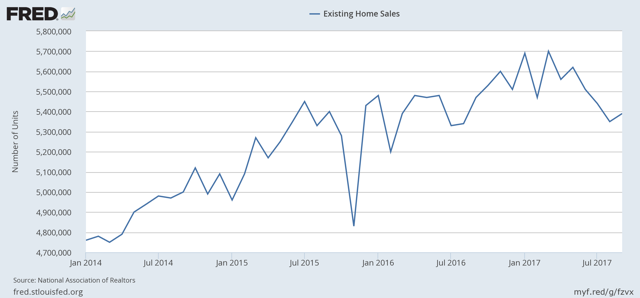 There are three key indicators that I have been keeping a watchful eye on existing home sales, inflation data and personal incomes. I don't know about you but everything just seems expensive no matter where I go. And yet, inflation reports are coming in at a soft 1.3%. At the same time, incomes are clearly not keeping up with costs as the above chart shows. Eventually - and, maybe we are starting to see this happen right now, either the price of homes needs to stop increasing, mortgage rates need to come down even lower or incomes need to accelerate more rapidly to keep the reality in line with costs.
Yes, buying a home is far more expensive for today's purchasers than it was in the 1980s on both a real and nominal level. Without the requisite income increases, home affordability, and eventually home participation rates will decline even further.
The macro economist in me believes that no matter what home prices have peaked or will come down. Participation rates are at lows not seen since 1965 simply because homes are too expensive. With incomes not keeping up with the pace of home prices too many individuals are priced out of the market. The only way that these marginalized individuals can possibly afford a mortgage is if lending standards were dropped all the way back down to 2005 levels. But the financial world knows how that story ended. But the very start of all of that was ultra-low interest rates from the Federal Reserve. Isn't that where we are right now, all over again?
Home prices have to come down one way or another. I fear that if the economy starts to move forward more solidly, such as with increased personal incomes and then consumption, then the Federal Reserve will begin to tighten interest rate levels to stave off inflation. That keeps buyers out of the market simply because the increased interest rates will mean higher costs. But, at least - theoretically - home prices will come down.
If you are a potential home buyer this may be good news. If you already own a home, this may not be such good news to see any potential equity evaporate. But, no matter how you look at it, something has to give.