The payment processing space delivered yet another bullish sign this morning.
After PayPal (PYPL) and Visa (V) stole the show with pristine results in the past couple of weeks, it was MasterCard's (MA) turn to shine. The company reported 3Q17 results that topped Street's expectations by a good margin, despite the stock having gained little traction during the trading session today.
Revenues of $3.4 billion represented a YOY increase of over +18% that was the highest growth rate as far back as I can track - even after accounting for the 250-bp inorganic boost. The main operational metrics that fuel the top line looked healthy, with GDV (gross dollar volume) up +11% YOY on USD terms on the back of mid-teen growth outside the United States. Transaction volume was up 16%, and both of MasterCard's key indicators topped Visa's (V) already impressive numbers reported last week.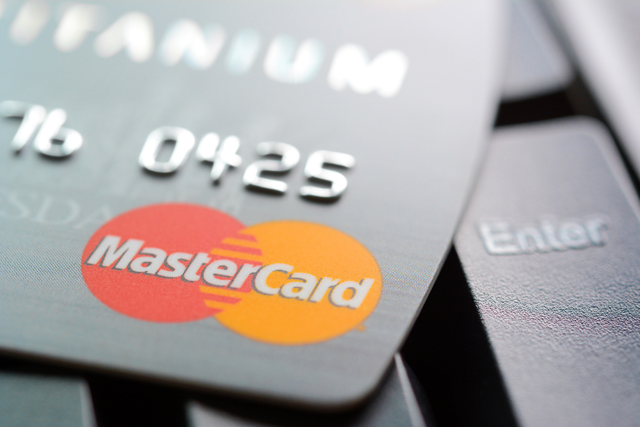 Image Credit: pymnts.com
In terms of profitability and unlike peer Visa, MasterCard saw operating margins shrink YOY. Although profitability headwinds were expected as a result of the May 2017 acquisition of VocaLink, a company that carries lower margins, the 380-bp deterioration compared to last quarter's comps caught me a bit by surprise. However, I believe proper management of the expenses absorbed with the acquisition can lead to improved margins in the longer term and eventually drive bottom-line upside from operating leverage. Considering the robust top-line growth and MasterCard's opportunities to further gain scale, my estimated two cents in YOY EPS headwinds caused by deteriorating margins this quarter do not concern me.
See summarized P&L below, with the impact to EPS of each major line item.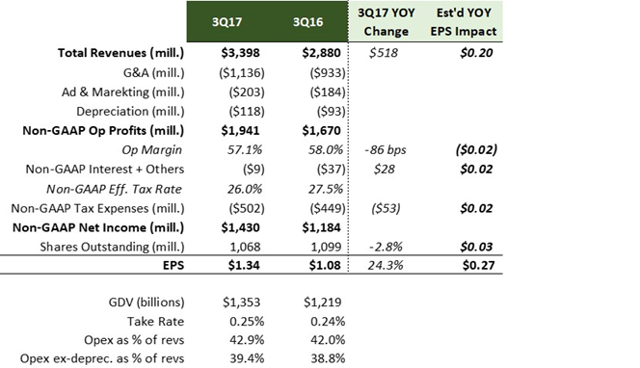 Source: D.M. Martins Research, using data from company reports
Elsewhere on the P&L, the lapping of a 2016 impairment charge and a favorable geographic mix that led to better effective tax rate helped to propel EPS up vs. last year. Although these items are generally considered of lower quality in measuring earnings improvement over time, I believe MasterCard's business continues to look very solid in general.
My thoughts on Mastercard stock
I have recently expressed my appreciation for the payment processing companies, including not only the two largest players but also able incumbents like PayPal. In fact, I even labeled peer V "better than an ultra-growth stock" given its high historical returns coupled with low volatility through bear and bull markets (see table below). In my view, MA shares more similarities than differences with its key competitor.

Source: DM Martins Research, using data from Yahoo Finance
In my view, MasterCard is equally exposed to the same macro trends that seem to be lifting all boats in the sector: the transition to plastic and electronic payments, growth in e-commerce, pickup in peer-to-peer and other "alternative" transaction forms, resilient economic activity, to name a few.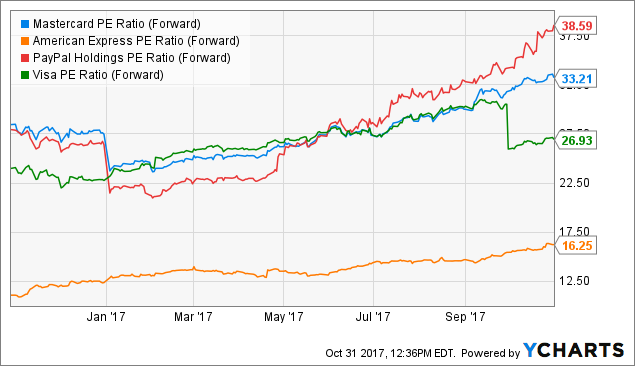 MA PE Ratio (Forward) data by YCharts
| | | | |
| --- | --- | --- | --- |
| Company/Ticker | Forward P/E | LT EPS Growth | Forward PEG |
| MasterCard - MA | 33.2x | 18.3% | 1.8x |
| American Express (AXP) | 16.3x | 10.0% | 1.6x |
| PayPal- PYPL | 38.6x | 17.7% | 2.2x |
| Visa- V | 26.9x | 17.3% | 1.6x |
With MA's valuations comparable to V's (the difference between the multiples above can be largely attributed to Visa's reflecting fiscal 2018 estimates), I see both stocks with about equal chances of pleasing long-term investors - and I believe those chances are high. MasterCard is one of the few stocks that, despite valuations sitting above 30x on a forward earnings basis and the share price run of over +40% YTD, looks like a compelling buy to me even at current levels.
Note from the author: If you have enjoyed this article and would like to receive real-time alerts on future ones, please follow D.M. Martins Research. To do so, scroll up to the top of this screen and click on the orange "Follow" button next to the header, making sure that the "Get email alerts" box remains checked. Thanks for reading.
Disclosure: I/we have no positions in any stocks mentioned, but may initiate a long position in MA, V, PYPL over the next 72 hours.
I wrote this article myself, and it expresses my own opinions. I am not receiving compensation for it (other than from Seeking Alpha). I have no business relationship with any company whose stock is mentioned in this article.