Earlier in the year, China had a liquidity concern with their debt. Debt instruments were sold; money left the country. The government stepped in and stabilized the market. It seems the concern has resurfaced again last night. Bond yields moved higher, equity markets moved lower. China is a powder keg about to erupt with its off-balance debt obligations held by their banks; it is believed that 30% of loans on the books of banks are in default. If China's growing debt concerns begin to grow and become more problematic, this could create financial havoc around the world.
I have had a keen eye on China for some time. The IMF believes that some $4 trillion of debt held by Chinese banks is in default and considered worthless, amounting to 30% of their loans on books. The government has been pushing the banks to clean up these books. The problem is that all of the banks are intermingling their loans with each other; if one bank goes down it could take multiple banks with it. The size of this problem would make the 2008 financial crises here in the United States look small.
Overnight, there were liquidity concerns, and interest rates in China moved up, sharply pushing down equity markets: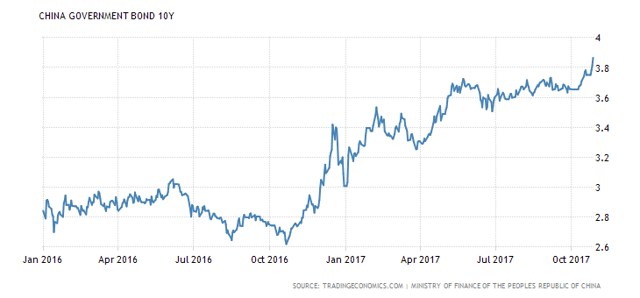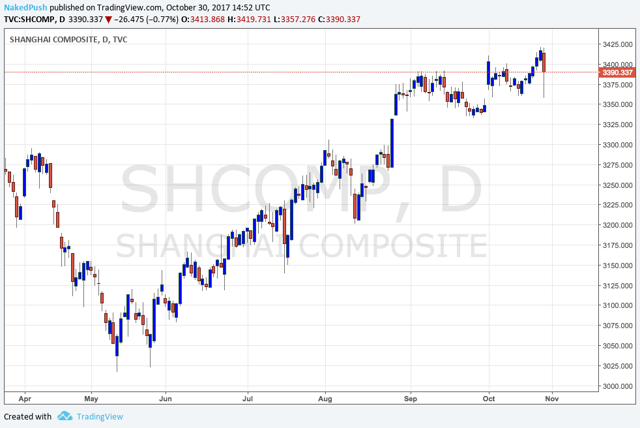 So far, this has been mostly contained; however, the bond yield in the United States did move lower as money flowed to safer territory. You can see the moves in the dollar as well as the bond market: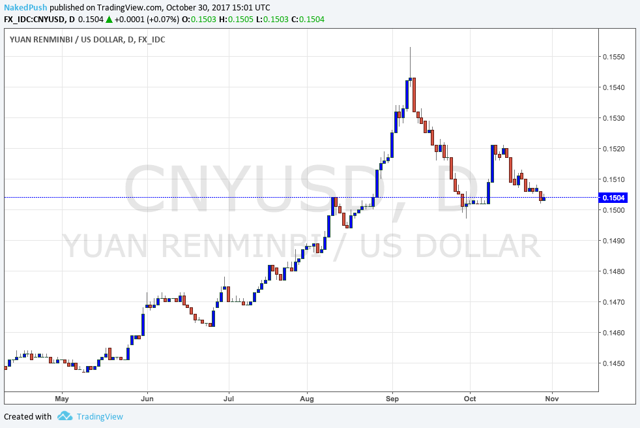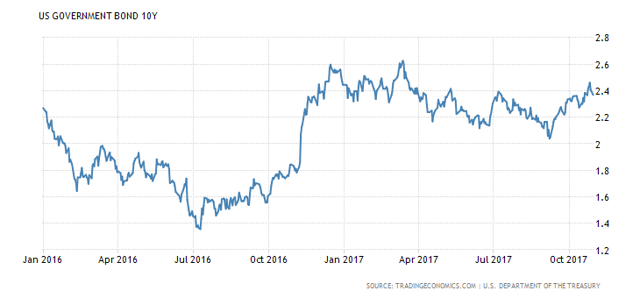 International markets are highly interconnected at this point. If something major happens in China it will affect the markets here in the United States. So there are ramifications to this problem. The question is: Can China continue to contain this problem, or is this finally the beginning of something far, far bigger?
China's solution over the springtime was to step into the market with their massive currency reserves and prop up the bond, equity and currency markets. However, that amounted to a 25% haircut off of their total reserves. The Bank of China's reserves were $4 trillion about three years ago. Slowly but surely, however, $1 trillion was lost to maintaining the narrow band for their currency as the Bank worked to contain the flow of money out of the country.
The Bank has limitations. Those limitations are the remaining $3 trillion in reserves. The Bank just lost 25% in about 24 months time. Would it be safe to say another 25% would be used over the next several months to continue to defend the currency? I believe the Bank's limitations would mean that they would not allow such a large portion of their reserves to be used in the market to prop the currency up and keep interest rates in check.
That means that the currency is going to have to move lower. A much larger look at the currency rate shows how big of a problem, and the potential move in the currency, this could create (this chart is inverted to show CNY v. USD):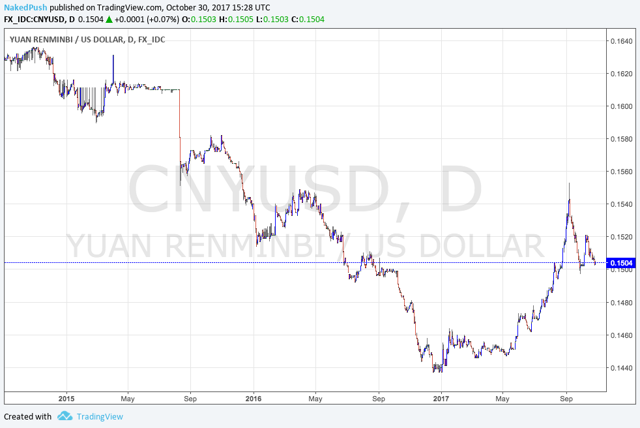 You can see the moves all the way up to September where the Bank of China did as much work as they could to prop their currency. But once the Bank stopped, and markets were left to their own, the Chinese Remnimbi came right back down.
Ultimately, I believe the currency will break the lower levels seen in January. However, I am reluctant to believe that this is starting today and will continue unabated. There is going to be a lot of push-and-pull in the next several months until market forces begin to overwhelm the Bank's efforts to contain money flows. I am getting ready to go back in on this trade idea in large style.
Looking at these levels of on the Bank of China's Foreign Currency Reserves you can see a pseudo "line-in-the-sand" at the $3 trillion level. This is the level where pride kicks in and it is said the Bank will not allow their reserves to drop below. The levels were just a hair above that level earlier in the year and have slowly climbed back higher. However, the moves higher have been modest and artificial.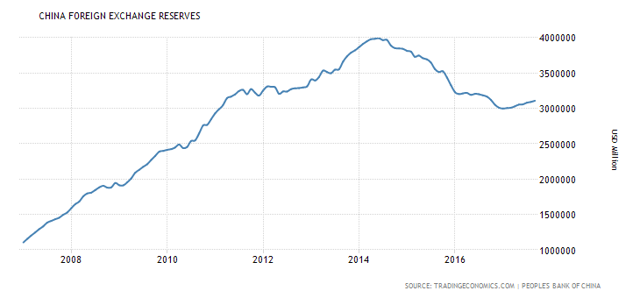 Another key level to watch is the 10-year Government Bond Yield, the benchmark for the country. Businesses are struggling to repay their debts, the very root of the issue. Since early 2016, bond yields have been moving higher, steadily. This is affecting the GDP as growth is slowly sliding lower. In this kind of environment where business growth is slowly moving lower and interest rates are moving higher, having businesses repay loans at ever increasing interest rate levels is surely not going to help. I see this issue getting worse, not better.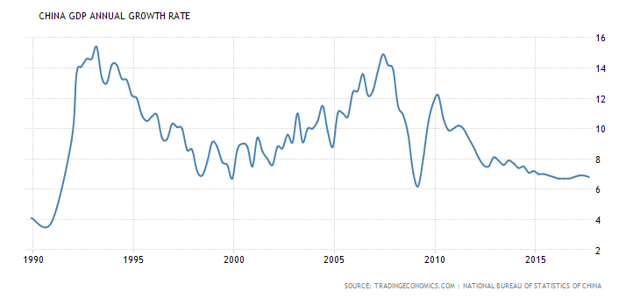 I am looking to start the process of going short CNY versus USD. I am not looking to do that just today. This is my thesis of what I will be working on (and had been working on since earlier in the year). The key issue that is preventing me from hitting the buttons now is that government intervention can be unpredictable and costly. I want to see how much tolerance the Bank of China and the Chinese government has for the issues at hand; will they intervene in large-scale artificially propping up their currency and pushing interest rates lower? I believe they will to some extent. But I also believe that sooner than later market forces will exasperate the money-flow issue as funds leave China in search of calmer investment opportunities.
Eventually, however, I can see China beginning a Quantitative Easing policy in China to push interest rates lower. I just wonder if they have the necessary tools to pull that off.
This issue is going to be huge for financial markets worldwide. In 2009, The Congress of the United States authorized $1 trillion for the bailout of the United States Banks. The problem is that the size of these bad loans is 4-times that number, and China is not the United States. Being able to bail out this large of a problem would be far more difficult if possible at all. China's economy is $11 trillion. This is potentially 30% of that number. If the problem continues, which has been in the background the past few months, the flow of money and ramifications would be exasperating.
A great deal of safe-haven flows would end up in the United States, as investors sought the relative safe-haven of US Treasuries. The flip side of this is that interest rates would continue lower in the United States because of that, if that were a silver lining. However, the damage caused by a financial implosion of this magnitude could be a major drain on economic activity for a long time to come.
I have always believed that China's growth was going to be a problem that would rear an ugly face at some point. We are getting to that point. I believe that this potentially could turn China into another Japan in the sense that the country limps through several decades of near-zero economic growth. This would be a major drain on global economic growth
Disclosure: I/we have no positions in any stocks mentioned, and no plans to initiate any positions within the next 72 hours.
I wrote this article myself, and it expresses my own opinions. I am not receiving compensation for it (other than from Seeking Alpha). I have no business relationship with any company whose stock is mentioned in this article.