U.S. semiconductor chemical suppliers lost market share to Japanese and European competitors in every major segment over the past decade. Despite a shift in semiconductor manufacturing from the U.S. to Japan, to Korea, and then to China, over the past few decades, the chemical supply chain is still dominated by U.S., Japanese, and European chemical companies.
Within this supply chain, U.S. chemical manufacturers lost market share in every major chemical sector over the past decade. Specific details for the top three suppliers in each of the sectors are listed in the table below.
According to our report entitled "Chemicals and Materials for Sub-100 nm IC Manufacturing," four public U.S. companies - Versum (VSM), KMG Chemicals (KMG), DowDuPont (DWDP), and Honeywell (HON) - all lost share to foreign competitors in the past decade.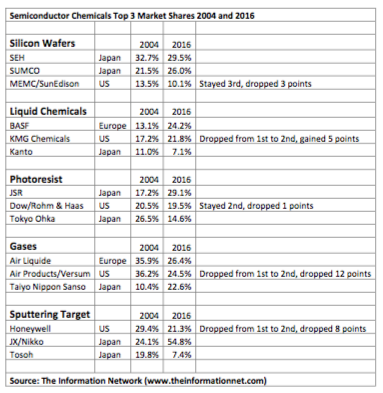 According to the report, in each of the other sectors, the U.S. company dropped in market share.
In the gases sector, Air Products/Versum was the largest loser, dropping from first (when it was Air Products in 2004) to second place (when the sector was spun off to Versum), and losing 12 points in market share, primarily to Japanese competitor Taiyo Nippon Sanso.
In the liquid chemicals sector, KMG Chemicals (KMG) dropped from first place to second place, but gained market share because of its acquisition of OM Chemicals in 2014.
In the photoresist sector, Dow/Rohm&Haas (DOW) held a 20.5% share (before the Dow acquisition of Rohm&Haas in 2009) but share stayed the same but dropped 1 share point in 2016 when it was Dow Chemical and before the merger with DuPont.
In the sputtering target sector, the Honeywell Electronic Materials division of Honeywell dropped from first to second place while dropping eight share points, primarily to Japan's JX/Nikko.
The Silicon Wafer sector is one of the more interesting, because GlobalWafers, a Taiwanese company, acquired SunEdison in late 2016 making it the first company to break into the top three that wasn't from headquartered in the U.S., Japan, or Europe.
MEMC/SunEdison held a 13.5% share in 2004 (when it was called MEMC) but it dropped to 10.1% in 2016 (when it was called SunEdison).
Investor Takeaway
What's important is that the market for semiconductor chemicals is huge – $14.0 billion in 2016 and about a third of the semiconductor equipment market. In 2004, this market was worth $4.1 billion.
In addition, the semiconductor chemical market is projected by The Information Network to grow to $16.0 billion in 2020.
The loss of market share by a company is extremely important and telling. First it could mean that the company's product is not the "best-of-breed" that is prevalent in the industry today. The global semiconductor market was $340 billion, so semiconductor manufacturers do not purchase inferior products with such a large market at stake.
Secondly, once a chemical is qualified by the semiconductor company, that product is used essentially throughout the lifetime of that product. Since a particular generation of IC can last 2-3 years and beyond, that chemical sale has legs. Even more important, the chemical supplier has an advantage in the purchasing decision for subsequent IC generations, further enhancing growth of the chemical supplier.
Disclosure: I/we have no positions in any stocks mentioned, and no plans to initiate any positions within the next 72 hours.
I wrote this article myself, and it expresses my own opinions. I am not receiving compensation for it (other than from Seeking Alpha). I have no business relationship with any company whose stock is mentioned in this article.