Overview
The Lean Long-Term Growth Portfolio (LLGP) was created in early February 2016. The objective of this portfolio is for long-term capital appreciation and will include both companies that pay dividends and those that do not. The projected dividend yield for 2017 is likely to remain below one percent as growth and value are the focus of the portfolio. Over the long-term, yield may become a higher priority.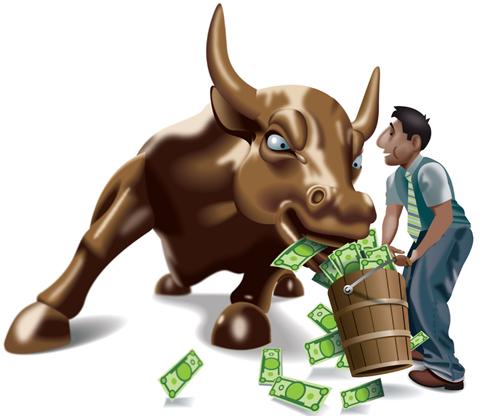 There are currently 42 individual stock holdings under management – an increase of five companies from the previous month. As the portfolio is still in its early stages, management strategies are still looking to find the "sweet spot" for the number of holdings.
As some of you may know, I focus intently on transports. The substantial majority of this focus is freight-related, so airlines, airports, and transit services are not strongly covered. I also focus intently on industries for holdings within the portfolio. Overall, 110 or so companies have detailed databases tracking quarterly information. Additionally, most industries also have other pricing and demand trends, which are monitored.
Currently only individual stocks are purchased. The primary objective is for long-term growth; however, value has become an increasing component of the portfolio. There are also strategies in place to manage overweight positions, which may be sold for short-term gains.
Motif has been used recently for both Traditional and Roth IRA accounts. However, this has been revisited and Merill Edge accounts have been opened to transfer all positions to. The primary benefit is 30 free trades per month, which should more than satisfy the need.
As of October 31, 2017, the fund held 42 companies including:
Holdings Performance – Update
As of October 31, 2017, the table below provides the stock acquired and sell dates, average price, weighting, performance by current year and monthly change. All dividend payouts are included in the performance to illustrate total returns. Companies owned during the year, but previously sold are still included so short-term gains are transparent. Overall performance is based upon unrealized/realized gains from 57 total companies, which have been owned at some point during 2017.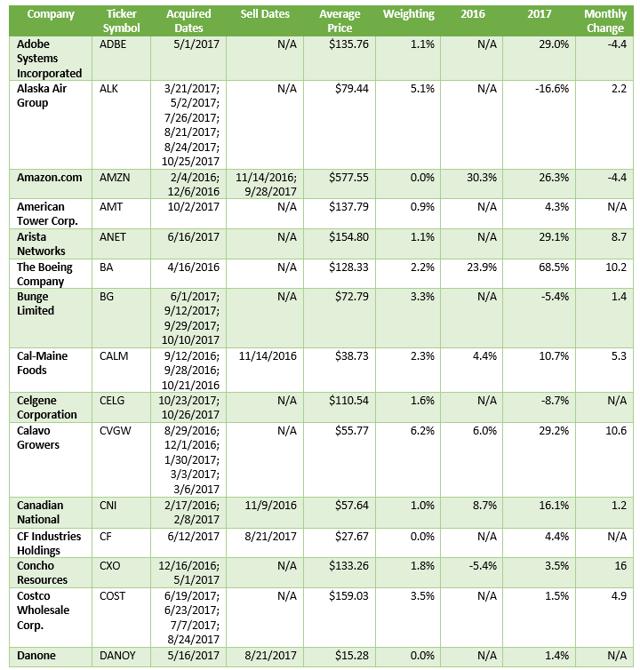 Source: Personal Database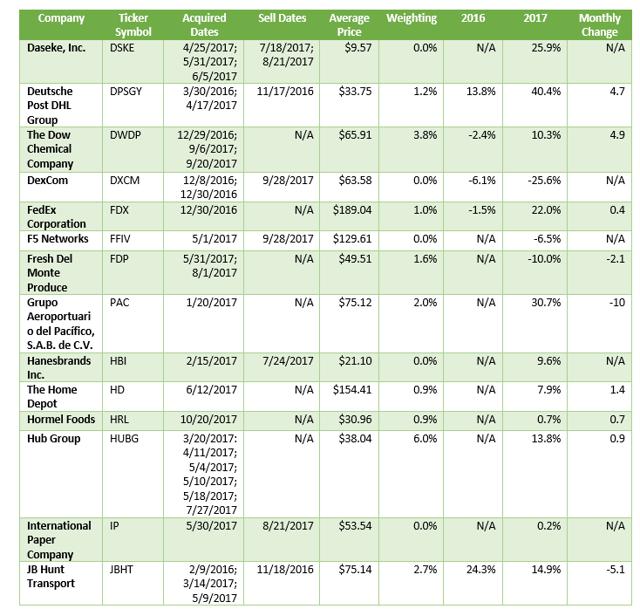 Source: Personal Database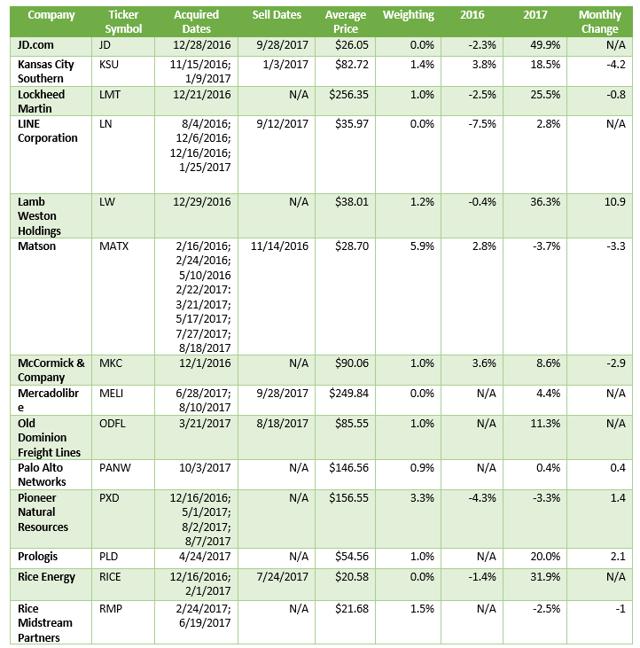 Source: Personal Database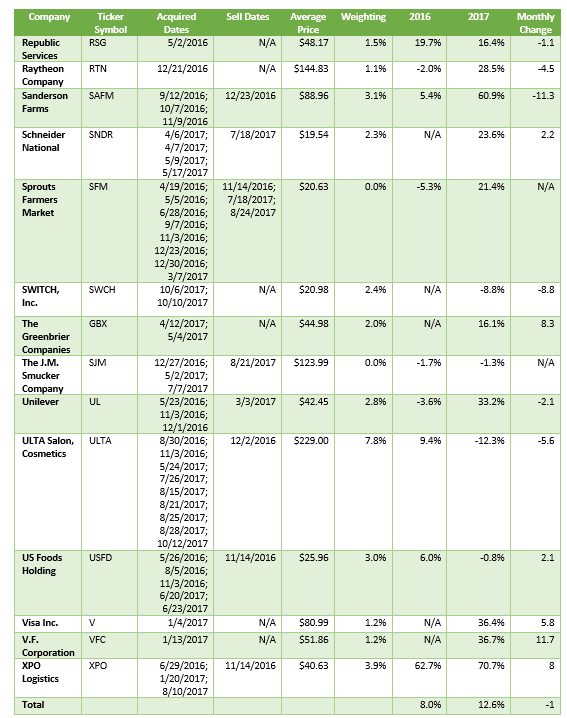 Source: Personal Database
Key Buys
New companies added to the portfolio were varied including REITs (real-estate investment trusts), biotech, consumer goods and technology sectors. Averaging of existing positions included companies within airlines, commodities and retail.
None of these moves paid off immediately during the month of October. In fact, a few of the positions have witnessed greater volatility and/or negative stock price pressure. The overweight strategy has paid off for a couple core holdings such as Calavo Growers and Hub Group. Expectations are for Alaska Air, Matson, Switch and Ulta to follow suite.
Key Sells
No positions were liquidated during the month of October. The LLGP has become over weighted within select holdings as displayed below. Each respective holding has a different time frame as to when a strategic selling opportunity may arise.
Top 10 Holdings
The top ten holdings within the LLGP reflected just over 48 percent of the total based upon the closing investment value (including dividends paid) as of October 31, 2017. As a proportion of the total holdings, the top ten reflected 24 percent. From a management perspective, the top ten holdings based upon weighted percentage may decline in the near-term.
Ulta 7.8 percent

Calavo Growers 6.2 percent

Hub Group 6 percent

Matson 5.9 percent

Alaska Air Group 5.1 percent

XPO 3.9 percent

DowDuPont 3.8 percent

Costco 3.5 percent

Bunge 3.3 percent

Sanderson Farms 3.1 percent

Pioneer Natural Resources 3.3 percent
Total Return Snapshot
Overall, performance has remained solid with 47 of the 57 companies owned during 2017 (82 percent) having positive total returns since a position was taken. Some of these companies have been held for less than one year, with the longest period being 20 months. For total return performance, leaders and laggards were as follows:
Leaders (25 companies, or 44 percent at or greater than 20 percent)
Boeing 106.9 percent – 18-month duration

XPO 81.1 percent – 16-month duration

Amazon.com 48 percent – 19-month duration (total gains realized)

JD.com 46.4 percent – 9-month duration (total gains realized)

DHL Group 43.5 percent – 19-month duration

Republic Services 39.1 percent – 17-month duration

Sanderson Farms 38.1 percent – 13-month duration

VF Corporation 36.7 percent – 9-month duration

Visa 36.4 percent – 9-month duration

Lamb Weston 35.7 percent – 10-month duration

Calavo Growers 32.5 percent – 14-month duration

Rice Energy 31 percent – 7-month duration (total gains realized)

Grupo Aeroportuario del Pacific 30.7 percent – 9-month duration

Arista Networks 29.1 percent – 4-month duration

Adobe 29 percent – 5-month duration

Unilever 28.3 percent – 17-month duration

JB Hunt 26.3 percent – 20-month duration

Raytheon 26 percent – 10-month duration

Daseke 25.9 percent – 4-month duration (total gains realized)

Kansas City Southern 24.5 percent – 11-month duration

Schneider National 23.6 percent – 6-month duration

Lockheed Martin 22.4 percent – 10-month duration

Canadian National 21.3 percent – 20-month duration

FedEx 20.2 percent – 10-month duration

Prologis 20 percent – 8-month duration
Laggards (3 companies or 5 percent at or worse than -10 percent; 7 companies or 12 percent at worse than -5 percent)
DexCom -30.1 percent – 9-month duration (total losses realized)

Alaska Air -16.6 percent – 7-month duration

Fresh Del Monte -10 percent – 5-month duration

Ulta -9.1 percent – 14-month duration

Switch -8.8 percent – 1-month duration

F5 Networks -6.5 percent – 4-month duration (total losses realized)

Bunge -5.4 percent – 4-month duration

Pioneer Natural Resources -4.4 percent – 10-month duration

Rice Midstream Partners -2.5 percent – 8-month duration

J.M. Smucker -2.4 percent – 8-month duration (total losses realized)

Matson -2.1 percent – 20-month duration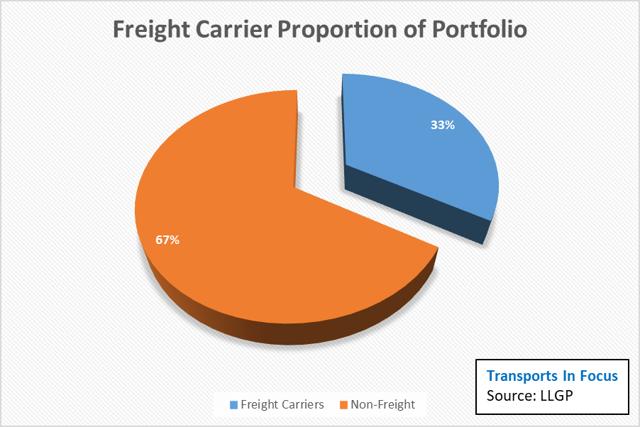 Freight holdings, as a percent of the total, decreased by 4 percentage point to 33 percent. This was partly driven by the increase in new positions, as well as the weaker performance for transports. Freight carrier positions will likely remain near one-third of the portfolio for the time being.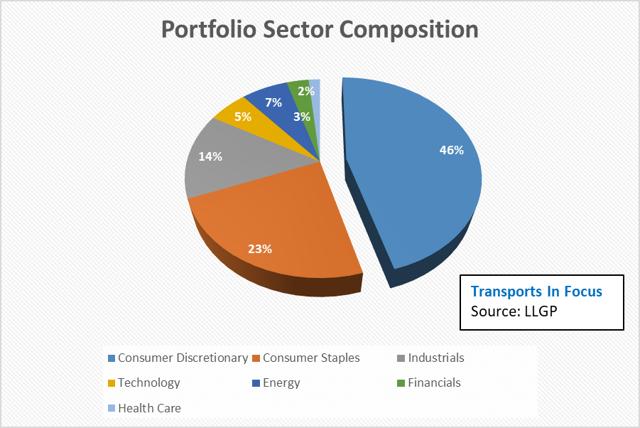 Most transports in the LLGP are categorized within the consumer discretionary sector. As a result of September moves, this sector decreased further by 2 percentage points, while consumer staples declined by 1 percentage point. Industrials increased by 2 percentage points, technology increased by 3 percentage points, energy and financials were flat and health care increased by 2 percentage points.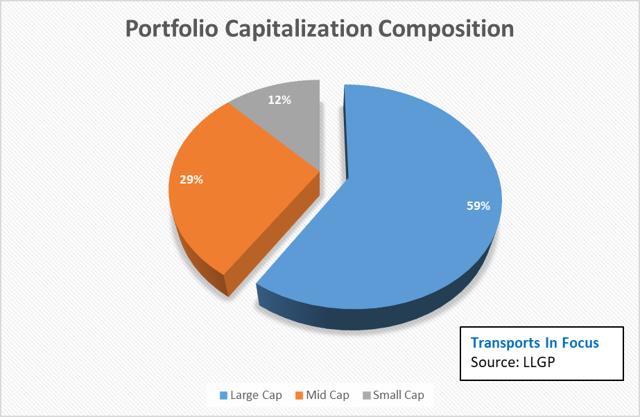 Large cap holdings increased by 2 percentage points to 59 percent of the LLGP's total. The mid cap composition was flat, and the small cap composition declined by 2 percentage points to 12 percent; the mega cap segment no longer exists as Amazon was liquidated.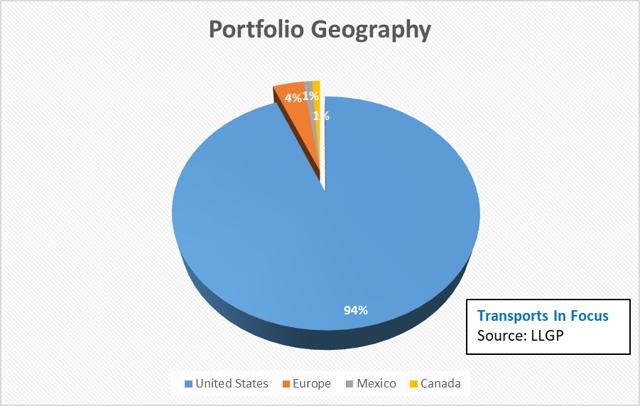 The percentage of U.S.-based holdings increased by 1 percentage point to 94 percent. Europe declined by 1 percentage point. Mexico and Canada remained marginal, as both Asia and Latin America exposure are no longer part of the portfolio due to recent liquidations.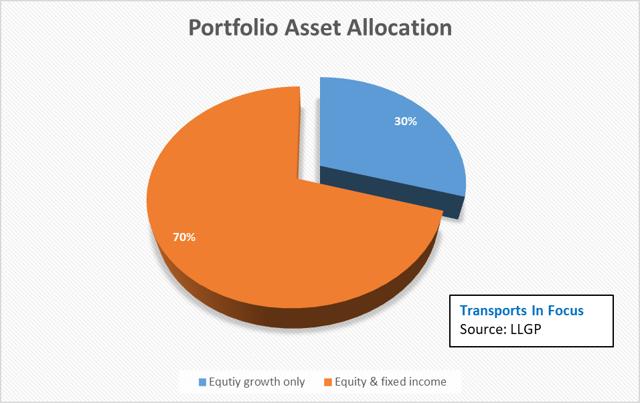 The combination of added companies, as well as the portfolio's overall performance, led to a 4-percentage point increase in equity growth only holdings. New additions contributing to this growth, included Celgen, Palo Alto, Switch and Ulta.
Benchmark Comparison and LLGP Historical Performance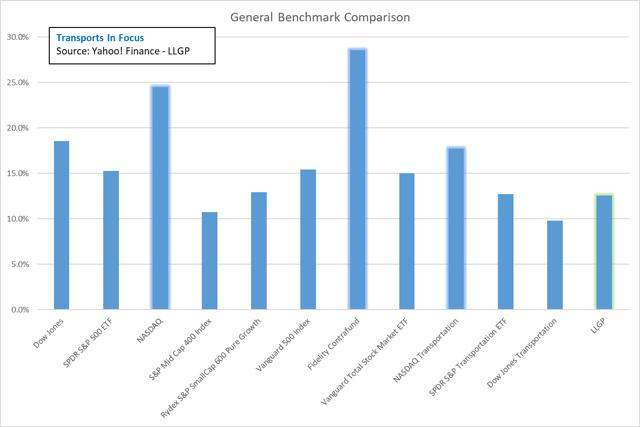 Through October, the LLGP has returned 12.6 percent. A handful of companies have paid dividends, but the current yield remains at 0.6 percent. Through October, the LLGP has fallen behind most benchmarks. The NASDAQ, Fidelity Contrafund, Dow Jones and NASDAQ Transportation have performed the strongest.
Based on the portfolio's current 42 holdings, there still remains a fairly close balance between growth and value, and large and mid/small cap compositions. However, composition has recently drifted closer to a large cap blend. The LLGP continues to be benchmarked against over 1,700 mutual funds, via Morningstar's fund category performance total returns. Through October, the LLGP ranked 1,183 rd or in the 30 th percentile. This was a substantial decline from the previous month's 82 nd percentile ranking. Performance has been as follows since monitoring the larger peer group:
June 86

th percentile

July 63

rd percentile

August 41

st percentile

September 82

nd percentile

October 30

th percentile
The top performer to date is now the Leland Thompson Reuters Venture Capital Index (LDVIX) up 52.7 percent. This has replaced the TCW New America Premier Equities fund (TGUNX) which was still up 35.7 percent. The worst performer was the Frank Value C fund (FNKCX) at -2.2 percent. The average return to date out of the mutual fund peer group was at 14.4 percent, while the mean was at 15.1 percent.
After using the larger benchmark for the past five months, it remains clear that the number of holdings in the LLGP is likely to contribute to more volatile fluctuations. This will remain to be especially true from the fact that the top 10 holdings reflected 48 percent of the total investment value, and 24 percent of the total holdings.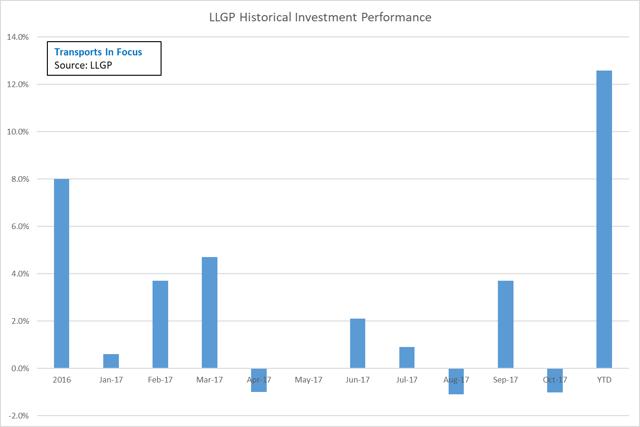 The month of October witnessed a 1 percentage point decline. This performance was responsible for the poor benchmark comparison as most other indices had a good month. For the year, six of the ten months have now been positive. The exposure to transports remains a positive, however, some over weighted positions may restrict as robust performance for the remainder of the year.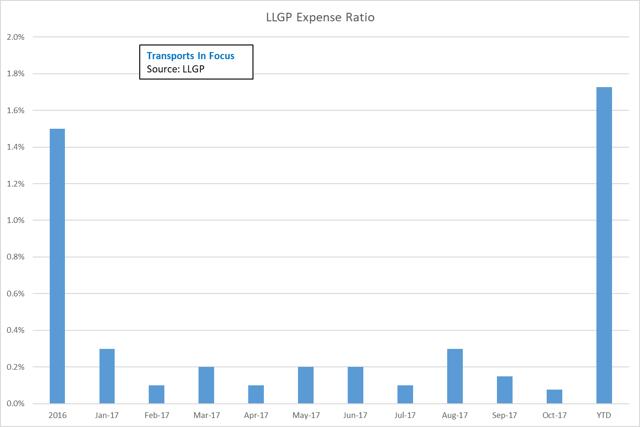 All expense ratio information is computed by a weighted average basis ((WAB)). The WAB is simply the transaction fees incurred, divided by the average of each of the LLGP's closing-day value. The original objective was to maintain the expense ratio near 0.5 percent, this level has obviously been exceeded due to the initial inception and build-up of holdings in the portfolio.
Through October, the expense ratio was at 1.7 percent, surpassing all of last year's transaction costs. The month of October witnessed 12 transactions. As mentioned earlier, the Motif accounts are currently being transitioned to a Merill Edge account where 30 monthly free trades will be available. This will reduce the expense ratio to zero. Had this been in place since the beginning of the year, the LLGP's performance would have logged 13.9 percent.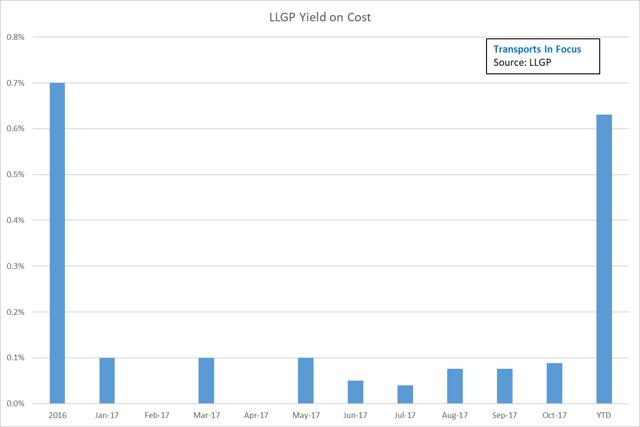 The dividend yield-on-cost (YOC) is an area that will simply take a little bit of time to increase. Additionally, management of positions will impact the magnitude of payouts. Originally, I was optimistic that the YOC would be closer to the 1 percent level, but as the portfolio has increased its total unit cost, the yield has been diminished. For 2018, the dividend YOC is estimated at 1.2 percent.
Conclusion
The market looks like it will log another solid year of performance. For the LLGP, results have fallen off a bit in October, but a 12.6 percent return for the first full year of management is not a bad one. Over weighted positions will be liquidated as we approach year-end and into 2018. Key top performers have included Calavo Growers and Hub Group. Other holdings looking to replicate similar performance include Alaska Air, Matson and Ulta.
Alaska Air is looking like next year is going to be the payout opportunity. Both Matson and Ulta will be reporting earnings results soon, and may see a turn towards stronger stock price performance in the short-term. Either way, the LLGP is still positioned to perform well for 2017.
Disclosure: I am/we are long ADBE, ALK, AMT, ANET, BA, BG, CALM, CELG, CVGW, CNI, CXO, COST, DPSGY, DWDP, FDX, FDP, GBX, PAC, HD, HRL, HUBG, JBHT, KSU, LMT, LW, MATX, MKC, PANW, PXD, PLD, RMP, RSG, RTN, SAFM, SNDR, SWCH, UL, ULTA, USFD, V, VFC, XPO. I wrote this article myself, and it expresses my own opinions. I am not receiving compensation for it (other than from Seeking Alpha). I have no business relationship with any company whose stock is mentioned in this article.
Editor's Note: This article discusses one or more securities that do not trade on a major U.S. exchange. Please be aware of the risks associated with these stocks.