Global Blood Therapeutics - The Halloween 2017 Bioscience Stock
Summary
Global Blood Therapeutics can be a "trick or treat" investment to shareholders.
The stellar response of the single patient with SCD can foretell positive phase 3 trial.
Voxelotor can potentially capture peak sales ranging from $2B to $3B.

Global Blood Therapeutics (NASDAQ:GBT), a firm focusing on the innovation of medicine to treat blood disorders, made our featured presentation as the Halloween 2017 stock. Yesterday, the stock won our Bioscience Catalyst trade of the day, as it earned more than 10% profits for traders. The winning momentum extended into today's trading: shares traded up $1.15 at $39.80 (for another 2.98% profits). As we previously mentioned, the new fortunes are due to the stellar pipeline development.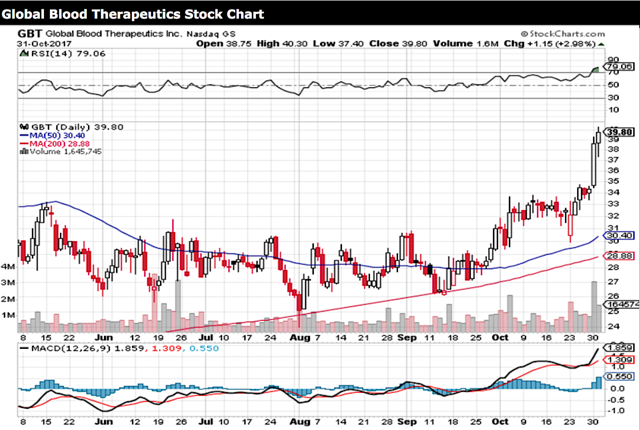 Source: Dr. Tran BioSci (Adapted from StockChart)

Accordingly, the firm reported robust response in the single patient (having moderate to severe symptoms associated with sickle cell disease) who has been treated with lead molecule GBT-440 (voxelotor). While the data on a single patient can indicate favorable results for the phase 3 Hope trial, the limited info can be difficult to gauge into upcoming fortunes. That being said, we'll dissect the arguments for Global Blood Therapeutics for readers to gauge whether the firm is a trick or treat this Halloween.

Sickle Cell Disease

Affecting millions of people worldwide, SCD is a major health concern. According to Statistics from the CDC showed that there are 100,000 Americans living with the said condition (which occurs in 1 out of every 365 African-Americans, and 1 out of every 16,300 Hispanic-Americans). Prominently, SCD genes will always remain in the population, because "carriers" (those having the diseased plus normal genes) have other survival benefits. Most surprisingly, there is one carrier out of 13 blacks.

HbS (sickle hemoglobin) in its deoxygenated state is deformed (and it tends to clump together to form rods). Gradually, the deformed RBCs become stiff (causing a reduction in the blood flow). In addition, those sickled cells are easily degraded, thus leading to inadequate red blood cell level (or anemia).

The combinations of anemia and flow reduction cause oxygen deprivation throughout the body, thereby leading to a hypoxic state. Ultimately, hypoxia induces the "sickle cell crisis" - a painful condition, requiring multiple hospital admissions and blood transfusion that, in and of itself, causes other complicating effects.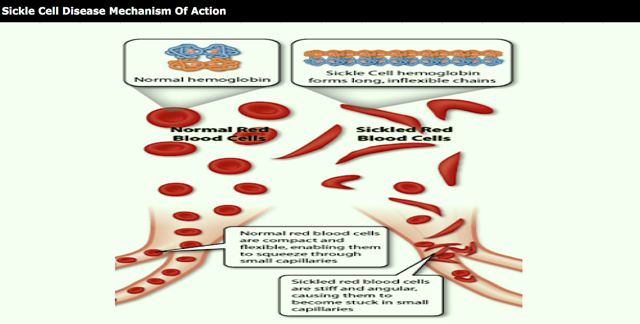 Source: Dr. Tran BioSci (Adapted from Sgugenetics)
To fill the robust demand for better SCD treatment, voxelotor can come in handy by limiting the binding of Hbs. With the ability to galvanize normal hemoglobin function (and to improve oxygen flow), the aforesaid drug can potentially ameliorate the dreaded effects of SCD.

Notably, the FDA has granted the voxelotor the fast track, Orphan Drug and Rare Pediatric Disease designations for the treatment of patients with SCD. Furthermore, the said drug has been listed by both the European Medicines Agency and the European Commission in the Priority Medicines program and Orphan Medicinal Products, respectively.

Financials

As of Q2 2017, cash position is improved to $93.7M (from $92M for the same period a year prior). Total debts stand at $20.1M. For the past year, Global Blood Therapeutics spent $82.5M. At this rate, there should be adequate funding for operations for another year. In the foreseable future, the firm will need to either issue more shares or to borrow money. This is nothing out of the ordinary, as a developmental stage company needs to have adequate capital to innovate their therapeutics.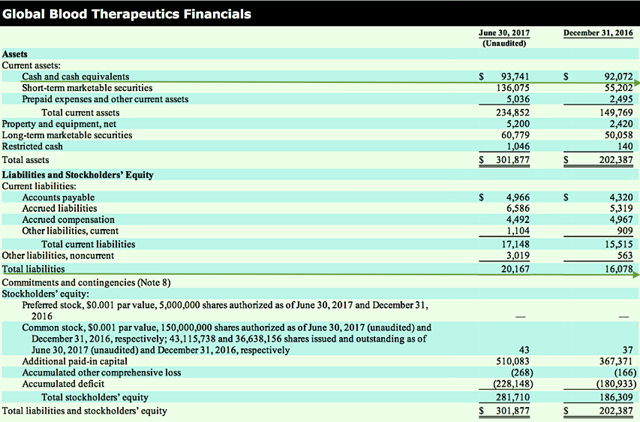 Source: Dr. BioSci (Adapted from Global Blood Therapeutics Q2 report)

Potential Risks

As alluded, the main risk to this investment is the outcomes of the Hope trial. While the stellar data for the single patient on voxelotor could foretell the positive outcomes of the said study, this can be tricky (as it is tough to gauge the trial results by the single patient alone). If the outcomes will be positive, Global Blood Therapeutics will be a gargantuan treat for investors, as the share price is most likely to increase multiple folds. If data report is negative, the stock will shed most of its value, thus giving shareholders the bitterness of the trick.

Conclusion
With the market cap of $1.74B and the potential blockbuster voxelotor to service the large SCD market - one in dire need for better treatment - Global Blood Therapeutics can give investors the gargantuan treat. Alternatively, the investment can be tricky due to the uncertain clinical outcomes of its key developing therapeutic, voxelotor.

Last but not least, you can join Integrated BioSci Investing community, where we provide consultation regarding the outcomes of the Hope trial for subscribers. Our service can help you achieve the investor's edge in clinical trial forecasting. The marketplace article is much more in-depth with pictorial depictions (as well as discussion of the Hope trial and expert interviews).
This article was written by
The #1 Biotech Service for Growth Investing and Catalyst Power Trading
As an astute devotee of Warren Buffet, Ben Graham, Phillip Fisher, Sir John Templeton, and Peter Lynch, Dr. Harvey devoured any resources/books on these gurus to learn their craft for over two decades. In the process, he refined their investment approaches specifically to biotech and founded Integrated BioSci Investing: The Number #1 Biotech Service for Long-Term Growth Investing and Power Catalyst Trading. 

Since inception, our flagship portfolio has delivered over 31.23% annual average (i.e. 187.39% for roughly six years). As you can appreciate, we're adept at assisting and serving institutional/retail investors/traders who are looking for alpha. Dividend investors wanting to boost your return can also benefit greatly from our investment research. We currently have over 20 docs in our service for us to tap into their clinical insight for your gains.

Check out some of our binary event forecasts that lead to meteoric gain like the 359% single-day pop from Madrigal Pharmaceuticals (MDGL)'s NASH data release. During his training at the world-renown Columbia University, Harvey Tran, M.D., M.S., developed a passion/edge for analyzing the intricacies of various preclinical/clinical studies, biostatistics, and science/medicine. Importantly, it allowed the physician-scientist Harvey to realize the internal working of various therapeutic in-development that the market tends to overlook.

In recent years, Dr. Harvey founded and led two healthcare roll-up companies. The endeavor helped him gain deep insight into the inner working of a corporate board. His experience as a consultant to common/professional investors and institutions gave him a huge advantage in biotech analysis. The combination of elite training and a passion for biotech provided Dr. Harvey with an aptitude for delivering highly accurate clinical data forecasting that is crucial to picking winning biotech investments for you.

Follow us for the latest research. And, take our FREE 2-week trial to Integrated BioSci Investing to start your winning process now!

Check out Dr. Harvey's LinkTree for his complete experience. You can make your one good decision a year as Mr. Buffett recommended by checking out  Integrated BioSci Investing!
Analyst's Disclosure: I/we have no positions in any stocks mentioned, and no plans to initiate any positions within the next 72 hours. I wrote this article myself, and it expresses my own opinions. I am not receiving compensation for it (other than from Seeking Alpha). I have no business relationship with any company whose stock is mentioned in this article.
Seeking Alpha's Disclosure: Past performance is no guarantee of future results. No recommendation or advice is being given as to whether any investment is suitable for a particular investor. Any views or opinions expressed above may not reflect those of Seeking Alpha as a whole. Seeking Alpha is not a licensed securities dealer, broker or US investment adviser or investment bank. Our analysts are third party authors that include both professional investors and individual investors who may not be licensed or certified by any institute or regulatory body.