Welcome to the October 2017 edition of Electric Vehicle (EV) company news. After an amazing month last month (due mostly to the China ICE ban plan), the momentum has continued with record global electric car sales, several great deals signed, and a bold prediction by BYD Chairman Wang Chuanfu (in China all cars will be electrified by 2030) and BAIC Chairman Xu Heyi (China EV production to hit 1m units in 2018). October was yet another incredible month for EVs.
Global electric car sales as of end September 2017
Global electric car sales finished September 2017 with over 123,000 sales for the month, up 55% on September 2016. This was a record for the industry easily beating the previous record of 103,746 sales from last December. Year to date sales are up about 50% on the same period last year. Of note, 64% of all global electric car sales in 2017 are pure electric.
China electric car sales were 59,000 in September 2017, up 80% on September 2016. Electric car market share in China is currently at 1.8%.
Current subsidies in China were reduced by 20% in 2017 and will be reduced by 40% in 2019 and 100% by 2021. China's Zero Emission Vehicle (ZEV) credit system was announced on September 28, and will begin in 2019 with 10% of credits required from new energy vehicles (NEVs). We are also expecting an announcement at some stage as to when China will ban ICE vehicles by (BYD Chairman Wang thinks by 2030).
Europe had over 33,700 electric cars sold in September 2017, 32% higher than in September 2016. Europe electric car market share is currently at 1.8%. Norway still leads the world with a truly amazing 48% market share of electric cars sold in September.
US electric car sales were 21,282 for September 2017, 29% higher than in September 2016. US electric car market share is currently at 1.1%.
Note: An acknowledgement to Jose Pontes of EV Sales and EV Volumes for his excellent work compiling all the electric car sales quoted above.
Global EV sales by manufacturer to end September 2017 and YTD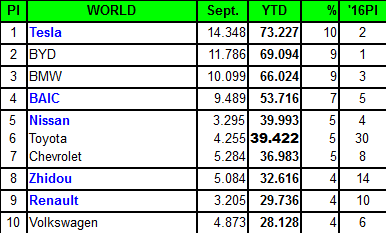 Source: EVSales
EV market news for October 2017
This month I came across an excellent September Bloomberg video "The Factors Driving Electric Vehicles Forward." It is well worth watching.
On September 27 Futurism published: Expert asserts that all cars in China will be electric by 2030. "Wang Chuanfu, chairman of Chinese automaker BYD Co., Ltd. said Thursday of last week that he expects all cars in China to be "electrified" — i.e., either full-electric or mild hybrid vehicles — by 2030. This timetable for a shift to so-called new-energy vehicles (NEVs) seems fairly aggressive, but considering current developments in China in favor of electric vehicles (EVs), it seems much more realistic." An excellent summary quote from the article:
Five nations, including Germany, Norway, and France, have formalized their plans to do so and China may soon be following suit. A number of other studies have shown that the world, on a whole, is moving towards an electric future. Back in August of 2016, a study from the Massachusetts Institute of Technology (MIT) suggested that today's EVs could replace 90 percent of all cars. Meanwhile, back in July, Dutch bank ING released a report which said that EVs will dominate the European automobile market by 2035. Then, earlier this month, a report by the International Monetary Fund (NYSE:IMF) and researchers from Georgetown University said that 90 percent of vehicles in the U.S. could be electric before the 2040s.
On October 5, The Conversation wrote an interesting article, "Jobs, tax and politics: three ways electric vehicles will change our world."
On October 12, Reuters reported, "Paris plans to banish all but electric cars by 2030. Paris authorities plan to banish all petrol-and diesel-fueled cars from the world's most visited city by 2030, Paris City Hall said on Thursday." Recall France plans to ban fossil fuel cars by 2040.
On October 18, The Economist released a good 6-minute video titled "Electric cars will come of age in 2018."
On October 18, Reuters reported, "China's electric vehicle (NYSE:EV) production could touch 1 million units next year and 3 million units by 2020, said Xu Heyi, chairman of carmaker BAIC Group, on Wednesday, likely exceeding a government set target. An industry ministry official said last month that China was already looking into setting a timetable to ban the production and sale of cars using traditional fuels."
On October 19, Yahoo News reported, "UK government could force petrol stations to install EV chargers. Ministers are clear that "all UK motorway services and large petrol retailers" will need to be on board and that the government will be given powers to "make it compulsory for charge points to be installed across the country."
On October 26, Green Car Reports reported, "Electric cars are some of fastest-moving used vehicles in the U.S. Electric and plug-in cars dominate the top 10 fastest-moving used vehicles."
On October 30, Bloomberg reported, "Hong Kong's richest man doubles down on electric cars. Billionaire Li Ka-shing agreed to buy shares in O Luxe Holdings Ltd. (HK:860) for the second time in a month, a deal that would make Hong Kong's richest man the second-largest investor in the owner of an electric-car maker. Shares of O Luxe rose." Japanese electric car company GLM was acquired by O Luxe in 2017.
The GLM G4 concept electric car.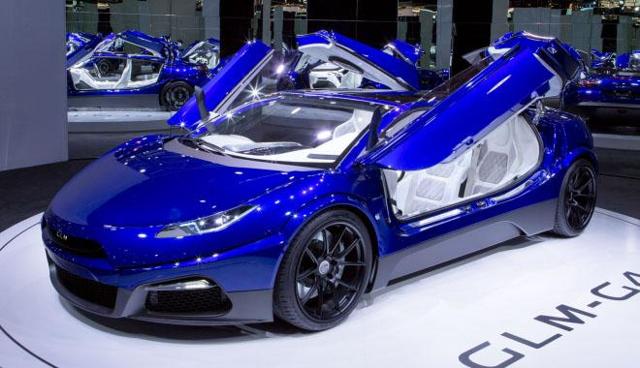 Source
On October 31, Green Car Reports wrote, "When will U.S. ban sales of new cars with engines? Poll results. More than a third of respondents (38 percent) said such a ban would happen only in 2050 or later."
EV company news for October 2017
Tesla Inc. (NASDAQ:TSLA)
Tesla is currently the number 1 electric car seller in the US with 25% market share, and also still number 1 globally with 10% global market share. Of interest the Tesla Model S was the number 1 selling electric car model in Europe for September.
On October 11, Seeking Alpha reported, "Tesla recalls 11K Model X vehicles due to a seat issue."
On October 22, Teslarati reported, "Tesla reaches agreement to build China factory in country's free-trade zone. Having a manufacturing presence in China will not only allow Tesla to lower its production costs and streamline its Asia supply chain, but also strengthens the company's relationship with the Chinese government, which may open new doors. Vehicles produced in the country's free-trade zone would still incur a 25% import tariff."
On October 22, Teslarati reported: "This latest 50-stall Supercharger station and Tesla's pledge to install 1,000 Superchargers in China by the end of this year is a testament to the company's support of the world's largest auto market."
Tesla's massive 50-stall Supercharger in Shanghai, China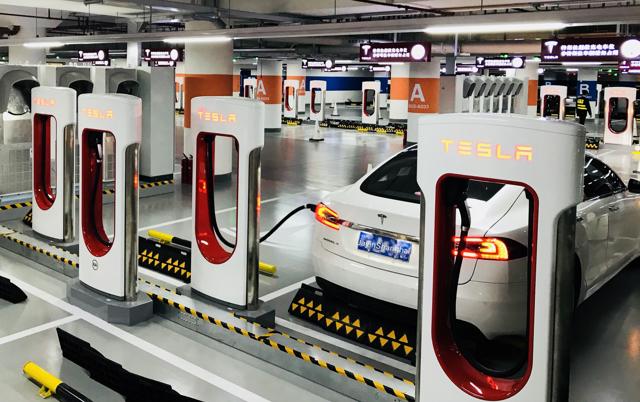 On October 25, CNBC reported, "Tesla starts work on first Puerto Rico energy project to help rebuild island."
On October 27, Naver reported, "Tesla may tap Samsung, LG for EV batteries. Tesla recently met with Korean battery makers Samsung SDI and LG Chem to discuss electric car batteries, amid speculation that Tesla's Model 3 manufacturing bottleneck may be caused by battery supply delays."
On October 27, Reuters reported: "Tesla cuts Model 3 part orders to Taiwan supplier Hota: report. Luxury electric carmaker Tesla (TSLA.O) plans to slash by 40 percent its orders for parts for the new Model 3 mass-market sedan from Taiwanese auto component maker Hota Industrial Mfg. Co (1536.TW) from December, according to a media report. Shares of the parts maker dropped nearly 9 percent after the Economic Daily News reported; citing Hota Chairman Shen Kuo-jung that Tesla had told the firm orders would be cut to 3,000 sets per week from 5,000 sets starting December, due to a "bottleneck" in the production of Model 3. Hota manufacturers "gears and axles for vehicles."
BYD Co. (OTCPK:BYDDY, OTCPK:BYDDF, HK:1211)
BYD is ranked number 1 in China with 19% market share and are number 2 globally, with 9% global market share.
On October 23, 4-traders (from the China Daily Information Company) reported, "BYD bags mass transit order in Egypt. The transportation authority of Alexandria, Egypt's second largest city, signed a Memorandum of Understanding with BYD for the project on Oct 21. The MoU envisages a monorail project spanning 128 kilometers and plans to conduct feasibility studies." An impressive deal.
JPMorgan have raised their price target for BYD Co (HK:1211) to HKD100.
BMW (OTCPK:BMWYY)
BMW is currently the number 3 global electric car manufacturer still with 9% global market share. BMW is number 1 in Europe with 20% market share.
On October 12, Bloomberg reported, "BMW to outsource China mini car making to Great Wall (Motors). Great Wall Motor, BMW discuss exporting Minis from China. Hong Kong-traded Great Wall shares suspended after 14% jump." Note they are still in talks so a deal is not yet finalized. Recall that Great Wall Motors recently signed a binding off-take agreement to purchase lithium from Pilbara Minerals [ASX:PLS] (OTCPK:PILBF).
On October 24, Green Car Reports reported, "Who sold 10,000 plug-in vehicles last month." Off course the answer was BMW. It's the first time BMW Group delivered plug-in sales over 10,000 units during a single month, and its 2017 figures to date have already exceeded 2016 sales figures as a whole. Specifically, BMW i, i Performance, and Mini electric cars brought the total number of plug-in cars sold in September to 10,786. Deliveries of BMW plug-in cars rose 50.5 percent while Mini plug-in deliveries climbed 64.2 percent."
2018 BMW i3 and i3s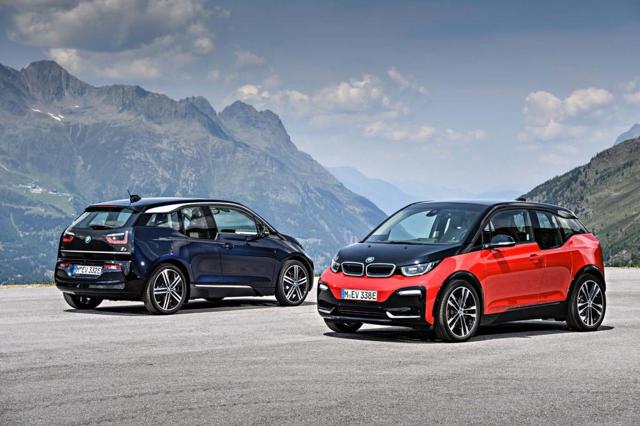 Beijing Automotive Group Co. (BAIC) (OTC:BCCMY, HK:1958), Shanghai Automotive Industry Corp. [SAIC] (CH:600104)
BAIC is currently the number 2 selling electric car manufacturer in China with 15% market share and the global number 4, with 7% market share.
No news this month from BAIC; however, in September, the BAIC EC-Series was the global number 1 selling electric car.
Renault (OTC:RNSDF)/Nissan (OTCPK:NSANY)/Mitsubishi (OTCPK:MSBHY, OTCPK:MMTOF)
Nissan is currently ranked number 5 for global electric car sales with 5% market share, and Renault is ranked global number 9 with 4% market share. Renault is ranked number 2 in Europe with 13% market share. The Renault Zoe is Europe's number 1 selling electric car in 2017 with 11% market share.
On October 5, Nikkei technology reported, "Nissan improves energy density of Leaf EV's battery pack. The drive range of the new Leaf electric vehicle is 400km (approx 249 miles) per change (under the JC08 test mode), which is about 40% longer than that of the previous model of the Leaf. While the size of the new model's battery pack is equivalent to that of the previous model's battery pack, the battery capacity was increased from 30kWh to 40kWh. Though Nissan did not disclose the details of the battery materials, it uses a lithium-nickel-manganese-cobalt-oxide-based material (ternary material) for the positive electrode and carbon for the negative electrode. The new cell is 0.9mm thicker than the previous cell."
On October 6, Yahoo news reported, "Renault wants half its cars to be electric or hybrid in 2022. French carmaker Renault said Friday that half of its models will be electric or hybrid by 2022 and it's investing heavily in "robo-vehicles" with increasing degrees of autonomy."
On October 6, Reuters reported, "Renault expects electric cars and emerging markets to boost sales. Electric cars are "turning into a significant contributor to our performance while other automakers are just starting the journey," Chief Executive Carlos Ghosn said on Friday."
On October 24, Green Car Reports reported, "Nissan IMx concept electric SUV debuts at Tokyo Motor Show." The car is pictured below.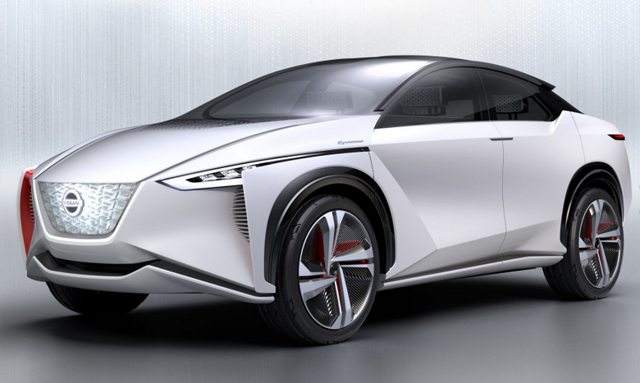 Toyota (NYSE:TM)

Toyota is currently ranked number 6 in the global electric car manufacturer's sales ranking, with 5% global market share.
On October 23, Green Car Reports reported, "2019 Toyota Prius V to shift from wagon to SUV design, but will it have AWD?"
On October 30, Automotive News reported, "Toyota lagging on technology? No, just quiet. The pioneer of the Prius and lean manufacturing wants the world to know it's not falling behind on electrification — or autonomous technology, for that matter. It's just not one to brag. "The electrified car started 20 years ago here when we started to introduce the Prius", Didier Leroy, executive vice president of Toyota Motor Corp., said on the sidelines of the auto show here last week. We have a lot of experience with these kinds of things. We are not behind our competitors. "In the early 2020s, we will introduce solid-state batteries," Leroy said. "I won't give you a precise date, but it won't be later than that, I can tell you." When that happens, he said, pure EVs will make more sense."
General Motors/Chevrolet (NYSE:GM)
GM/Chevrolet is currently the number 2 ranked electric car seller in the US with 21% market share. They are currently the number 7 global electric car manufacturer with 5% market share.
On October 2, Green Car Reports reported, "GM to launch two new electric vehicles within 18 months, 20 electric and hydrogen fuel-cell vehicles globally by 2023. Mark Reuss, GM's executive vice president of global product development said "GM believes the future is all electric." He also said ""we believe you need two flavors of electrification, battery-electric and fuel-cell electric, depending on a customer's needs and demands placed on the vehicle. Lightweighting too plays a role in future electric cars. Reuss noted that every model line launched in the last several years by GM has been 250 to 400 pounds lighter than the model it succeeded."
On October 13, Reuters UK reported, "GM, suppliers to invest $500 million in Argentina to produce new model. The company will invest $300 million while its supplier network will invest $200 million at the Alvear plant in Argentina's Santa Fe province."
Volkswagen Group (OTCPK:VLKAY)/Audi (OTCPK:AUDVF)/Porsche (OTCPK:POAHF)
Volkswagen is currently the number 10 top-selling global electric car manufacturer with 4% market share.
On October 12, Electrek announced, "VW plans large $1.7 billion investment to bring electric trucks and buses to market. Joachim Drees, CEO of Volkswagen's MAN Truck & Bus said: "We plan to deliver the first nine fully electric trucks to our customers in Austria by the end of 2017. The company also confirmed plans for "series production of electric buses due to start before 2020."
Daimler-Mercedes (OTCPK:DDAIF, OTCPK:DDAIY)
On October 31, Green Car Reports reported, "Mercedes parent Daimler launches E-Fuso electric truck sub-brand. The E-Fuso Vision One features a 300 kilowatt-hour battery pack that it says provides 350 kilometers (217 miles) of range. E-Fuso says a production version of the Vision One concept will likely first come to market in Japan or Europe (it likely won't arrive before 2021); both China and the United States are vastly different and demand long-range haulers due to the countries' sheer size. In the near future, the brand will focus on electrifying all of its trucks and buses in some manner, with the heavy-duty all-electric truck a final goal."
E-Fuso Vision One concept electric truck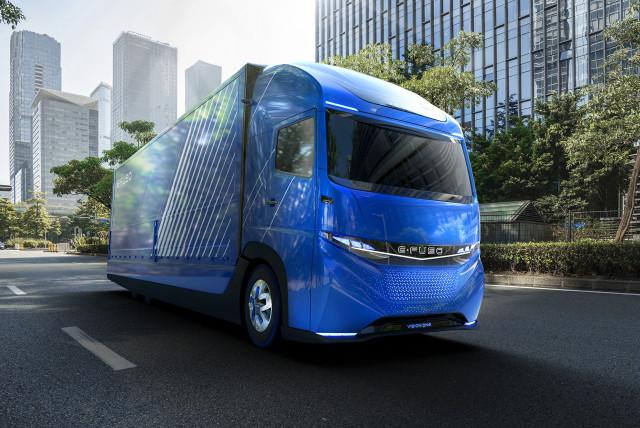 Geely Automobile Holdings Ltd (OTCPK:GELYY, HK:0175), Volvo (OTCPK:VOLVY), Kandi Technologies Group (NASDAQ:KNDI), Proton, Lotus

On October 9, Geely announced, "Sales volume for Sept 2017 reached a record high level of 108,872 units, up 42% YOY." Note this is not electric car sales.
On October 31, Green Car reports wrote, "Could automotive subscription services boost electric-car use? Volvo CEO Håkan Samuelsson believes one in five of his band's new-car sales will come via subscription by 2023."
Ford (NYSE:F)
On October 2, Automotive News announced, "Ford to expand EV offerings. Ford Motor Co. said Monday it will increase its battery electric vehicle offerings beyond the 300-mile range crossover EV it plans to offer by 2020. The automaker is setting up an internal team named "Team Edison" to study and develop fully electric cars. It will be separate from Ford's other electrification efforts, which include hybrid and plug-in hybrid offerings. We see an inflection point in the major markets toward battery electric vehicles. Ford is on track to deliver 13 electrified vehicles over the next five years."
Honda (HMC, OTCPK:HNDAF)
On October 25, Automotive News reported, "Honda previews potential sporty EV at the 2017 Tokyo Motor Show." The car is shown below. Their other car the Urban EV is much closer to market, and will go on sale in Europe in 2019 and in Japan in 2020.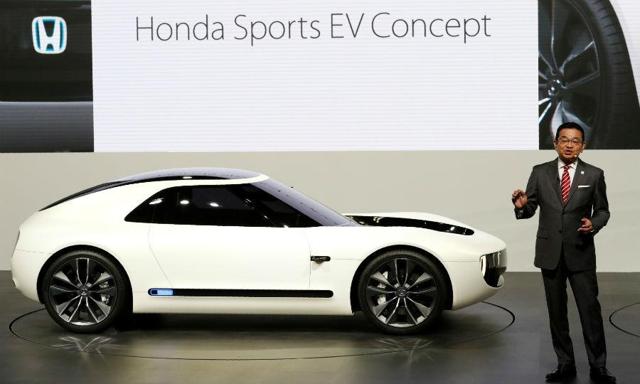 Source
Tata Motors (TTM) group, Jaguar Land Rover
On September 29, Auto Car India reported, "Tata Motors to supply 10,000 electric vehicles to government. Tata Motors will now supply the EVs in two phases - the first 500 electric cars will be supplied to EESL in November 2017 and remaining 9,500 units in the second phase."
Note: Jaguar Land Rover is a subsidiary of Tata Motors.
Autonomous Driving/Car Play and IT connectivity
Currently, Alphabet Inc. (GOOG, GOOGL) and Tesla are leaders in autonomous vehicles. Note that the new Model 3 will come as standard with Wi-Fi. Apple (NASDAQ:AAPL) is doing well with on-board entertainment Apple Play, as is Google with Android Auto. Nvidia (NASDAQ:NVDA) is a leader in supplying GPU chips for modern cars at various levels of autonomy and safety, but AMD (AMD) and Intel (INTC) may be gaining ground. All the above should benefit from the switch to EVs and higher-tech vehicles. Investors may like to read my recent article "Companies to benefit from the future smart car boom."
Other EV companies
Other EV companies I am following include Chery Automobile Co. Ltd. (private), Faraday Future, Fiat Chrysler (NYSE:FCAU), Fisker (private), GreenPower Motor Company (GPV), Hyundai (OTC:HYMTF), Kia (OTC:KIMTF), Lucid Motors (formerly Atieva) (private), Mahindra & Mahindra (OTC:MAHDY), Mazda (OTCPK:MZDAY), Nio (formerly NextEV), and Subaru (OTCPK:FUJHY).
The list of countries and cities banning (or soon to ban) petrol and diesel vehicles include at least - Britain, China, Germany, France, Netherlands, London, Paris (2030), Stuttgart, Mexico City, Madrid, and Athens. Added to this are countries pushing hard to become 100% EV - Norway and India. There are probably many more, but I have only just recently started this list.
Investors may also like to read my latest article "The Electric Vehicle Boom Just Went Into Overdrive - What Stocks To Buy."
Conclusion
September 2017 global electric car sales were a new best ever record, and grew 55% on September 2016 sales. Electric car sales market share now exceeds 1% in all major regions US (1.1%), China (1.8%), and Europe (1.8%). I am expecting to soon see market share above 2% for China and perhaps Europe by year-end.
October has been another great month of EV news and deals.
My highlights for October were:
Tesla reached 25% market share in the US electric car market, and are number 1 both in the USA and globally (10% share).
BYD Chairman Wang expects all cars in China will be electric by 2030. BYD bags mass transit order in Egypt. The plan is for a 128 kilometers long monorail.
GM to launch two new electric vehicles within 18 months, 20 electric and hydrogen fuel-cell vehicles globally by 2023. And "GM believes the future is all electric."
Ford forms "Team Edison." Ford is on track to deliver 13 electrified vehicles over the next five years.
VW plans large $1.7 billion investment to bring electric trucks and buses to market.
"Paris plans to banish all but electric cars by 2030."
As usual, all comments are welcome.
Trend Investing
Thanks for reading this article. If you want to go to the next level, sign up for Trend Investing, my Marketplace service. I share my best investing ideas on the latest trends that are going to change the business world. I'd love to have you join our community as we look to take advantage of the hundreds of hours of work we've done to analyze the best opportunities in emerging industries. You can access via here.
My latest related Trend Investing articles are:
Disclosure: I am/we are long BYD CO (HK:1211). I wrote this article myself, and it expresses my own opinions. I am not receiving compensation for it (other than from Seeking Alpha). I have no business relationship with any company whose stock is mentioned in this article.
Additional disclosure: The information in this article is general in nature and should not be relied upon as financial advice.
Editor's Note: This article covers one or more microcap stocks. Please be aware of the risks associated with these stocks.