Introduction
In this article, we want to shed light on the new Preferred Units issued by Golar LNG Partners LP (NASDAQ: GMLP).

Our main goal is to acquaint market participants with the product and see how it holds up against its peer group while maintaining a relatively neutral stance in terms of investment recommendations along the way.
The New Issue
Before we submerge into our brief analysis, here is a link to the 424B5 Filing by Golar LNG Partners LP - the prospectus.
Source: SEC.gov
For a total of 4.8M units issued, the total gross proceeds to the company are $120M. You can find some relevant information about the new preferred units in the table below:
Golar LNG Partners LP 8.75% Series A Cumulative Preferred Units (NASDAQ: GMLPP) pays a qualified fixed dividend at a rate of 8.75%. The new preferred units carry no S&P rating and are callable as of 10/31/2022. Currently, the new issue trades close to its par value. This translates into a Current Yield of 8.78% and YTC of 8.84%.

The Company
Golar LNG Partners LP is a limited partnership formed by Golar LNG (NASDAQ: GLNG).
Golar LNG Partners LP owns and operates floating storage regasification units (FSRUs) and liquefied natural gas (LNG) carriers under long-term time charters. The Company operates through the LNG market segment. The Company's fleet consists of approximately six FSRUs and over four LNG carriers. The Company's FSRU vessels include Golar Spirit, Golar Winter, Golar Freeze, NR Satu, Golar Igloo and Golar Eskimo. Its FSRU vessels have a total capacity of approximately 846,000 cubic meters. The Company's LNG carriers include Golar Mazo, Methane Princess, Golar Grand and Golar Maria. Its LNG carriers have a total capacity of over 564,400 cubic meters.
Source: Reuters.com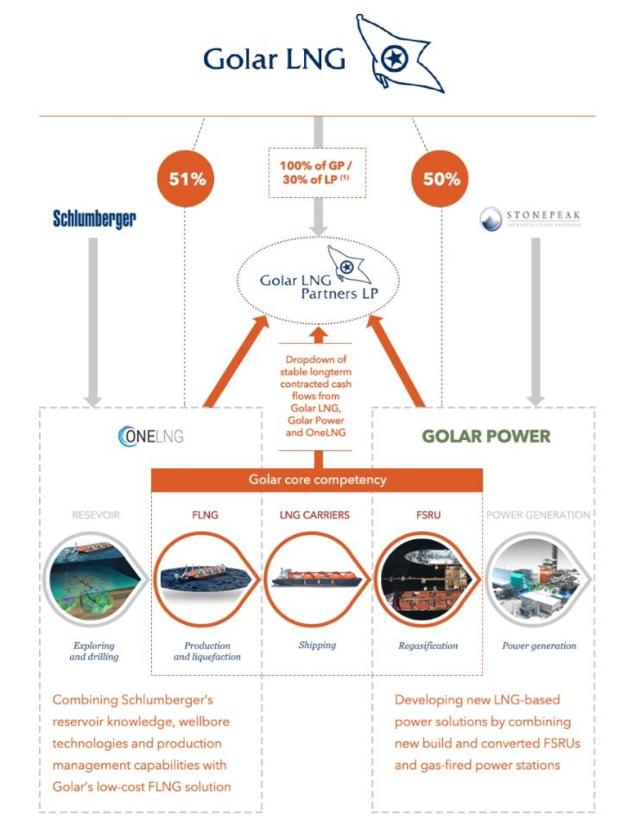 Source: The company's website - Business Structure
You can find some price information for GMLP in the chart below: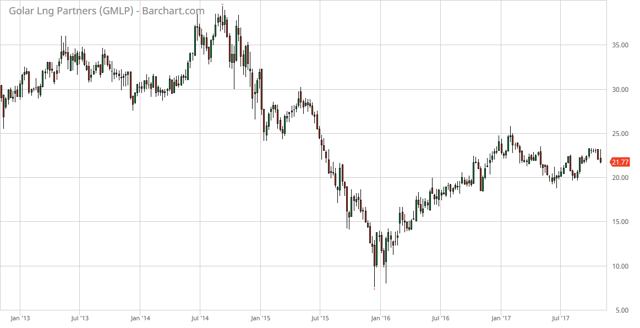 Source: Barchart.com - GMLP Weekly Chart (5 years)
Golar LNG Partners LP paid a $2.31 dividend on the common stock for the last year, which means $159.96M yearly as an absolute value. This puts GMLP's Current Yield at 10.09%. For comparison, the yearly dividend of the new preferred units is going to cost them $10.5M.

In addition, GMLP's market capitalization is around $1.57B, which makes it the third largest shipping company, while GNLG is the second largest with a market capitalization over $2B.
Capital Structure

Source: Company's Balance Sheet - Fidelity.com
As of June 2017, Golar LNG Partners LP had a total debt of $1.579B ranking senior to the newly issued preferred units. The new Series A preferred units rank junior to all outstanding debt and equal with the other preferred units of the company. Heretofore, the Series A is the only preferred units issued by the company.
Sector Comparison
GMLPP is the fourth IPO, issued by a shipping company for the past month, after HMLP-A, SSWA, and TGP-B.
This chart contains all fixed income securities in the shipping sector with non-suspended distribution. This means that the NM preferred stocks are excluded from this chart as they don't pay dividends.
Here is a chart of the preferred stocks and units from the sector that pay a fixed dividend:
It is important to take note that all of these preferred stocks are eligible for the 15% federal tax rate except TGP-A. Furthermore, only DLNG-A, TOO-A, TOO-B, TGP-A, TGP-B are K-1.

Special Considerations
Although we are organized as a partnership, we have elected to be taxed as a corporation solely for U.S. federal income tax purposes. For such purposes, we believe that all or a portion of the distributions you would receive from us with respect to your Series A Preferred Units would constitute dividends. If you are an individual citizen or resident of the United States or a U.S. estate or trust and meet certain holding period requirements, such dividends would be expected to be treated as "qualified dividend income" that is taxable at preferential capital gain tax rates. Any portion of your distribution that is not treated as a dividend will be treated first as a non-taxable return of capital to the extent of your tax basis in your Series A Preferred Units and, thereafter, as capital gain. In addition, there are other tax matters you should consider before investing in the Series A Preferred Units, including our tax status as a non-U.S. issuer.

Source: SEC.gov - Golar LNG Partners LP
With the current market capitalization of the new issue of $120M, it is a potential addition to the S&P US Preferred Stock iShares Index (NASDAQ: PFF). If the average monthly volume of GMLPP after its first six months on the NASDAQ is more than 250,000, it would be eligible for inclusion in the S&P U.S. Preferred Stock Index. With fewer than six months of trading history, issues are evaluated over the available period and may be included if available trading history infers the issue will satisfy this requirement.

Conclusion
This is an informational article about the new preferred units GMLPP. With this kind of articles, we want to keep you in touch with all newly issued fixed income securities.
Disclosure: I/we have no positions in any stocks mentioned, and no plans to initiate any positions within the next 72 hours. I wrote this article myself, and it expresses my own opinions. I am not receiving compensation for it (other than from Seeking Alpha). I have no business relationship with any company whose stock is mentioned in this article.