An Attempt To Quantify The Immeasurable
Nov. 01, 2017 9:38 AM ET
TBT, TLT, TMV, IEF, SHY, TBF, EDV, TMF, PST, TTT, ZROZ, VGLT, TLH, IEI, BIL, TYO, UBT, UST, DLBS, PLW, DTYS, SPTL, VGSH, SHV, VGIT, GOVT, SCHO, TBX, SCHR, FTT, SPTI, GSY, TYD, DTYL, EGF, VUSTX, DLBL-OLD, TYBS, SPTS, DTUS, TUZ, DTUL, DFVL, TAPR, DFVS, TYNS, RISE, FIBR, GBIL, HYDD, UDN, USDU, UUP, RINF
Editor's note: Originally published at tsi-blog.com on Nov. 1.

To paraphrase Einstein, not everything worth measuring is measurable and not everything measurable is worth measuring. The purchasing power of money falls into the former category. It is worth measuring, in that it would be useful to have a single number that consistently reflected the economy-wide purchasing power of money. However, such a number doesn't exist.
Such a number doesn't exist because a sensible result cannot be arrived at by summing or averaging the prices of disparate items. For example, it makes no sense to average the prices of a car, a haircut, electricity, a house, an apple, a dental checkup, a gallon of gasoline and an airline ticket. And yet, that is effectively what the government does - in a complicated way designed to make the end result lower than it otherwise would be - when it determines the CPI.
The government concocts economic statistics for propaganda purposes, but even the most honest and rigorous attempt to use price data to determine a single number that consistently paints an accurate picture of money purchasing power will fail. It must fail because it is an attempt to do the impossible.
The goal of determining real (inflation-adjusted) performance is not completely hopeless, though, because we know what causes long-term changes in money purchasing power and we can roughly estimate the long-term effects of these causes. In particular, we know that over the long term, the purchasing power of money falls due to increased money supply and rises due to increased population and productivity.
By using the known rates of increase in the money supply and the population and a 'guesstimate' of the rate of increase in labour productivity, we can arrive at a theoretical rate of change for the purchasing power of money. Due to potentially large oscillations in the desire to hold cash and to the fact that changes in the money supply can take years to impact the cost of living, this theoretical rate of purchasing power change will tend to be inaccurate over periods of two years or less but should approximate the actual rate of purchasing power change over periods of five years or more.
I've been using the theoretical rate of purchasing power change, calculated as outlined above, to construct long-term inflation-adjusted (IA) charts for about eight years now. Here are the updated versions of some of these charts, based on data as at the end of October 2017.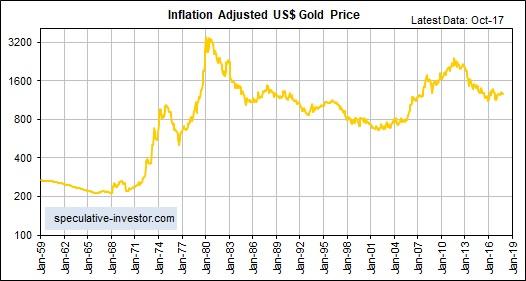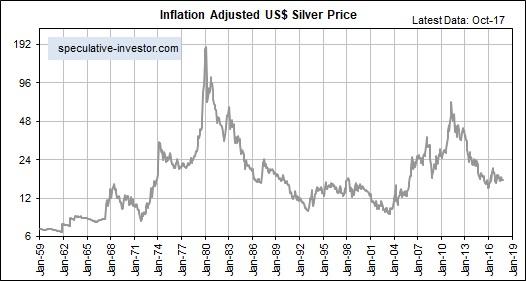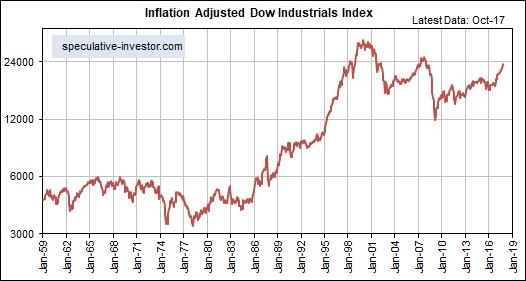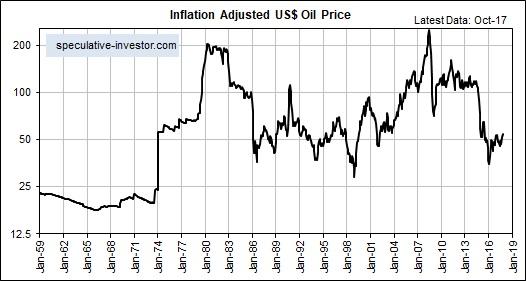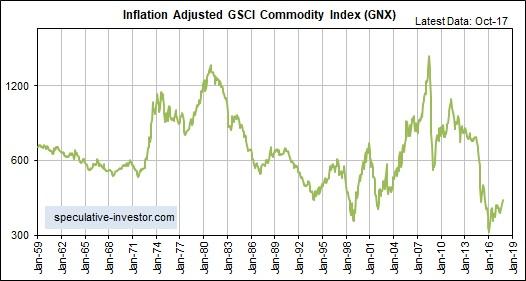 This article was written by
I graduated from the University of Western Australia in 1984 with a degree in electronic engineering and from 1984 until 1998 worked in the commercial construction industry as an engineer, a project manager and an operations manager. I began investing in the stock market 2 months prior to the 1987 stock market crash and thus quickly learned about the downside potential of stocks. Only slightly daunted by the rather inauspicious timing of my entry into the world of financial market investments, my interest in the stock market grew steadily over the years. In 1993, after studying the history of money, the nature of our present-day fiat monetary system and the role of banks in the creation of money, I developed an interest in gold. Another very important lesson soon followed: gold may be the ideal form of money for those who believe in free markets and a wonderful hedge against the inherent instability of the government-imposed paper currencies, but it is not always a good investment. By mid-1998 the time and money involved in my financial market research/investments had grown to the point where I was forced to make a decision: scale back on my involvement in the financial world or give up my day job. The decision was actually quite an easy one to make and so, at the beginning of 1999, I began investing/trading on a full-time basis. My major concern in deciding to pursue a career in which I devoted all of my time to my own investments was that I would miss the personal interaction that had been part and parcel of my business management career. The Speculative Investor (TSI) web site was launched in August of 1999 as a means for me to interact with the world by making my analysis/ideas available on the Internet and inviting feedback from others with similar interests. During its first 14 months of operation the TSI web site was free of charge, but due to the site's growing popularity I changed it to a subscription-based service in October of 2000. Its popularity continued to grow, although I remained -- and remain to this day -- a professional speculator who happens to write a newsletter as opposed to someone whose overriding focus is selling newsletter subscriptions. My approach is 'top down'; specifically, I first ascertain overall market trends and then use a combination of fundamental and technical analysis to find individual stocks that stand to benefit from these broad trends. This approach is based on my experience that it's an order of magnitude easier to pick a winning stock from within a market or market sector that's immersed in a long-term bullish trend than to do so against the backdrop of a bearish overall market trend. Fortunately, there's always a bull market somewhere. I've lived in Asia (Hong Kong, China and Malaysia) since 1995 and currently reside in Malaysian Borneo.