Introduction
We have published a series of articles titled Kiwis Don't Fly, in which we have written extensively about the newly formed coalition government, between the Labour Party and the New Zealand First Party, and its implications on New Zealand's immigration policy, monetary policy and its currency ("NZD") (NZDS, ENZL).
We are beginning to see signs emerge that the new government is serious on following through on its 'immigration and monetary policy reform' agenda. The government is expected to announce a timeline for a review of Reserve Bank of New Zealand's (RBNZ) policy mandate with an aim to broaden it to include both employment and inflation in the coming weeks.
We've been quite clear about the changes that we want to make, it will be necessary to look at them in the context of other things that the bank does, so we will announce a program and a timeline for the review in the coming weeks...

We want to be clear about the bank's role, not only in managing inflation which is extremely important, but also in terms of the overall health of the economy...

What we want to do is open up the decision making beyond the governor to a committee that includes both internal people from the bank but also outside experts...

Grant Robertson, Minister of Finance.
For those of you who have ridden along with us it's been a good ride but it might be time to take most of the money off the table. Our view is that the easy money to have been made in short Kiwi dollars has been made. Below we review its performance against the US dollar ("USD") (UUP, USDU, UDN), the Canadian dollar ("CAD") (FXC, CADS), the euro ("EUR") (FXE, EURS, EUO, DRR, ULE, EUFX, ERO, URR).
NZD/USD - Currently at 0.6845
Levels to watch:
Support at 0.7035 gave way without any meaningful fight; we expect this level to act as resistance going forward.
The market is currently testing support at the 0.6860 level.
On a follow through move lower look for the 0.6690 and then 0.6433 levels to act as magnets.
Barring a strong US dollar that takes out every currency in its path, our view is that the easy money has been made being short this pair. Our expectation going forward is for a range bound market.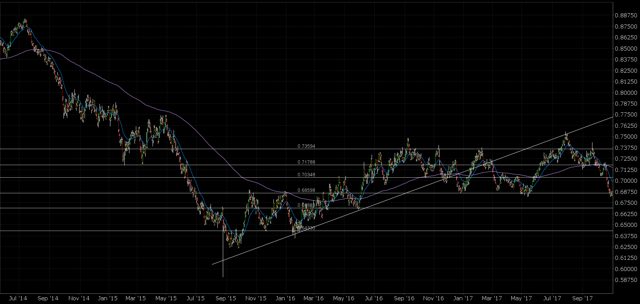 EUR/NZD - Currently at 1.7011
Levels to watch:
As we expected, resistance at 1.7169 was tested but it wasn't taken out. Meaning that the resistance has held...for now.
If that resistance does not hold, then there is very little in the way of this pair until 1.8056; that's a long ride up!
Our view is that easy money being long has already been made; we expect a sideways range bound motion for sometime but watch for a break of 1.7169 for a bullish breakout and a break of rising trend line support, which now comes in at 1.66, for a bearish break down.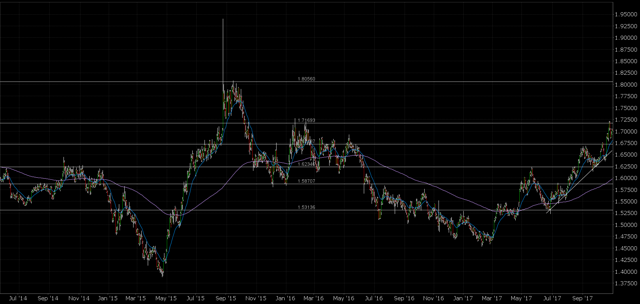 NZD/CAD - Currently at 0.8825
Levels to watch:
This pair did test support at the 0.8750 level, which has held beautifully so far. A break of this level should likely lead to a test of 0.8625.
As with NZD/USD and EUR/NZD, our view is that easy money being short this pair has already been made. It would be reasonable to expect sideways range bound trading for sometime but watch for a break below 0.8625 for a possible melt down in this pair.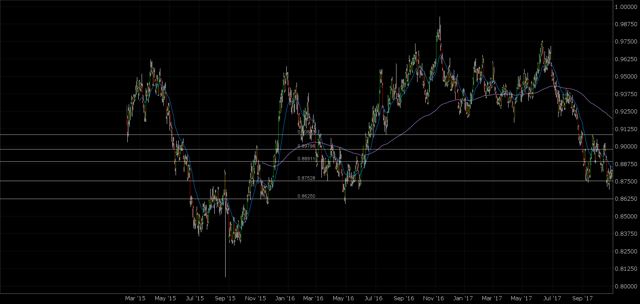 Disclaimer: Rigel Mercantile Limited specializes in Macro/Value Research and Systematic Trading. The views expressed above are our discretionary ideas that we have arrived at using discretionary analysis and, therefore, are limited to our discretionary portfolios only. Our systematic strategies may or may not have a position (long or short) in the securities mentioned above. Under no circumstances should the information contained herein be used or considered as an offer to sell, or a solicitation of an offer to purchase any security or investment service. The information presented herein is presented in summary form and is, therefore, subject to qualification and further explanation.