First Solar (FSLR) stock dropped about 10% on Tuesday for a good reason.
On Tuesday, ITC commissioners released their recommendations on the Suniva Section 201 case. As can be seen from the table below, sourced from MJ Shiao, Greentech Media, the commissioners' opinions are diverse with varying remedies and there needs to be coming together of minds to get to the final recommendations.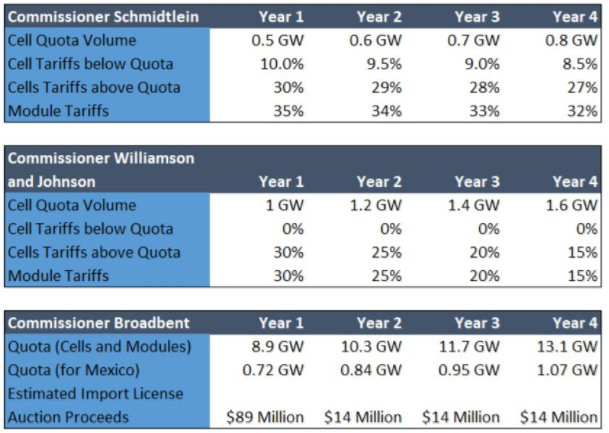 As we discuss below, these recommendations from ITC commissioners are generally seen as less positive news for First Solar than previously anticipated.
Based on the diverged opinion, and with three of the four commissioners expressing the needs for tariffs around 30%, it appears that the final recommendations to the President are unlikely to have tariffs above 30%.
On 11/13, the final recommendation will be sent to President Trump who can accept, ignore, or modify the commissioners' recommendations. While Presidential discretion makes the commissioners' recommendations toothless, the odds are that Trump will stay in the parameters proposed by the commissioners.
Excluding Presidential discretion, there is little doubt that the tariff recommendations are likely to fall short of what Suniva and SolarWorld have requested. As such, we believe that declining tariff rates of 30%, 25%, 20%, and 15% are the most likely remedy. These estimates are toward the low end, or even below, the 10 to 20 cents penalty we forecasted in June.
Based on the commissioners' views, here is our revised estimate of preliminary impact, at a module level, on what could happen:
The effective tariff may be no more than $0.06 to $0.10 per watt in 2018 and reduce to as little as $0.04 cents by 2020.
With market prices for modules having climbed anywhere between 5 and 15 cents in the recent past, this decision will most likely will lead to immediate module price reductions.
There could be limitations on the number of modules that US can import. However, this may not be a big challenge, at least for 2018.
This prognosis has significant implications for First Solar.
First Solar booking momentum will most likely stall starting immediately. The big jump in bookings that the Company witnessed will be a onetime event and not indicative of future bookings strength.
While First Solar does not announce module pricing, odds are that the price on future First Solar module contracts may drop or at best stay firm going forward. The pricing has potential to go down further when a final determination is reached.
As a consequence of these direct impacts, First Solar stock fell on Tuesday and could fall further once the impacts become more widely known.
A more detailed report, including impacts to other players is available to subscribers.
Our View of FSLR: Hold
Before it is here, it is on the Beyond The Hype subscriber platform. For timely and in-depth research and analysis of solar, battery, autonomous vehicles, and other emerging technology stocks, please consider subscribing to our Beyond The Hype platform.
Disclosure: I am/we are long FSLR. I wrote this article myself, and it expresses my own opinions. I am not receiving compensation for it (other than from Seeking Alpha). I have no business relationship with any company whose stock is mentioned in this article.