ADP: U.S. Hiring Bounces Back In October
Nov. 01, 2017 11:47 AM ET
SPY, QQQ, DIA, SH, IWM, TZA, SSO, TNA, VOO, SDS, IVV, SPXU, TQQQ, UPRO, PSQ, SPXL, UWM, RSP, SPXS, SQQQ, QID, DOG, QLD, DXD, UDOW, RWL-OLD, SDOW, VFINX, URTY, EPS, TWM, SCHX, VV, RWM, DDM, SRTY, VTWO, QQEW, QQQE, FEX, ILCB, SPLX, EEH, EQL, SFLA-OLD, SPSM, QQXT, SPUU, IWL, FWDD, SYE, SBUS, SMLL, SPXE, PPLC, PPSC, UDPIX, JHML, OTPIX, RYARX, SPXN, USSD, HUSV, RYRSX, SCAP, SPDN, SPXT, SPXV, USWD
Companies added a sharply higher number of workers in October, according to this morning's ADP Employment Report. Private employment increased by a strong 235,000, the biggest monthly advance since May. More importantly, the one-year change accelerated to the fastest pace in more than a year - a sign that the near-term outlook for the labor market and the economy remains upbeat.
Today's release offers relief after September's weak data on employment. "The job market rebounded strongly from the hit it took from Hurricanes Harvey and Irma," says Mark Zandi, chief economist at Moody's Analytics, which co-produces the employment data with ADP. "Resurgence in construction jobs shows the rebuilding is already in full swing. Looking through the hurricane-created volatility, job growth is robust."
The rebound in job creation is particularly conspicuous in the year-over-year change. US private employment increased 2.1%, the best pace since March 2016. The latest figures suggest that the hurricane-related weakness in September was a one-off event. Even better, today's results imply that the deceleration in annual growth that prevailed during 2015-2016 has ended and is now giving way to a more robust labor market.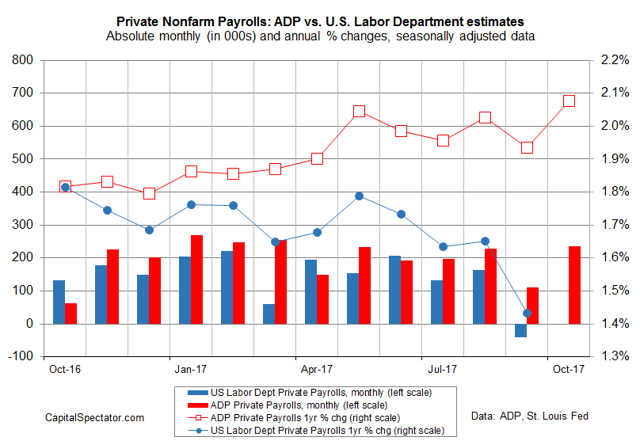 The ADP data also points to an upbeat report for Friday's official employment numbers for October. Economists are projecting a strong rebound in the Labor Department's report: Econoday.com's consensus forecast sees private employment rising 320,000, a world above September's 40,000 slide.
Not surprisingly, Fed funds futures markets are currently pricing in a near certainty that the Federal Reserve will hike rates next month - a roughly 97% probability at the moment, according to CME. By contrast, no change in rates is expected for today's monetary policy statement due at 2:00 pm eastern.
In sum, the macro trend for the US looks encouraging. Surprising? Not really. The odds for an NBER-defined recession has been low for some time, as profiled in last week's business cycle risk update.
Short of a huge miss in Friday's employment data from Washington - unlikely given today's numbers - the stage is set for another rate hike at the December 12-13 FOMC meeting.
This article was written by
James Picerno is a financial journalist who has been writing about finance and investment theory for more than twenty years. He writes for trade magazines read by financial professionals and financial advisers. Over the years, he's written for the Wall Street Journal, Barron's, Bloomberg Markets, Mutual Funds, Modern Maturity, Investment Advisor, Reuters, and his popular finance blog, The CapitalSpectator. Visit: The Capital Spectator (www.capitalspectator.com)