The information in this article discussing TCP Capital (TCPC) was previously made available to subscribers of Sustainable Dividends, along with target prices and buying points, real-time changes to my personal BDC positions, updated rankings and risk profile, real-time announcement of changes to dividend coverage and worst-case scenarios and suggested BDC portfolio. TCPC reports calendar Q3 2017 results on November 7, 2017, before the open of the financial markets.
Does Lower Yield = Lower Risk?
Typically, lower yield implies lower risk, but this is not always the case, especially when it comes to business development companies ("BDCs"). Listed below are the BDCs with yields below 9% after taking into account semiannual and special dividends for Main Street Capital (MAIN) and TPG Specialty Lending (TSLX).
Oaktree Specialty Lending (OCSL) and Oaktree Strategic Income (OCSI) have recently been taken over by Oaktree Capital (OAK), and there is a good chance that OCSL will cut its dividend in 2018 due to the reduced hurdle rate with the new management agreement as discussed in "Oaktree Management Fees Driving Upcoming Dividend Cuts".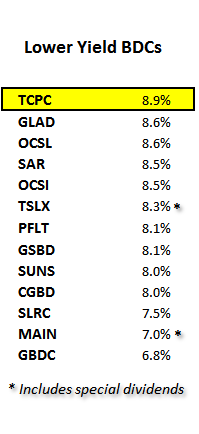 Source: BDC Buzz.com
Previous articles on lower yield BDCs:

Quotes from management: All quotes from management in this article can be found at "TCPC Transcripts" on SA.
The stock has recently traded down likely due to headlines such as "Preliminary numbers from TCP Capital show drops in income and book value"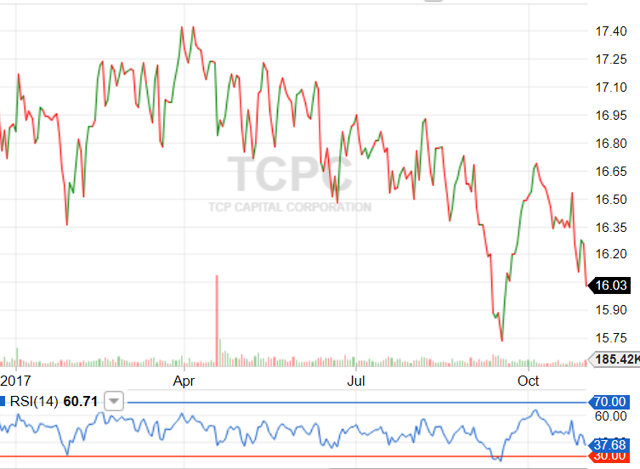 Dividend Coverage Discussion:
On October 30, 2017, TCPC provided estimates of upcoming NII and NAV.
We currently expect that our net investment income per share was between $0.46 and $0.48 for the quarterly period ended September 30, 2017, and our net investment income per share after incentive compensation was between $0.37 and $0.39 for the quarterly period ended September 30, 2017.
We estimate that our net asset value per share as of September 30, 2017, was between $14.91 and $14.93.
My takeaway: As discussed in this article, I was already expecting "lower dividend coverage related to lower expected prepayment-related income and slower originations in Q3."
TCPC continues to have a lower cost of capital and on October 30, 2017, the company issued $50 million of 4.125% Notes due 2022.
"Our low cost of capital and diverse funding sources are key competitive advantages for TCPC. We remain well positioned with attractively priced leverage and access to a variety of equity and debt financing alternatives, including convertible notes, term loan revolving credit facilities and long term SBIC unsecured notes."
Included in the Form 497 associated with the note issuance was the following update on portfolio activity:
"From July 1, 2017 through October 30, 2017, the Operating Company has invested approximately $305.9 million primarily in 20 senior secured loans with a combined effective yield of approximately 10.2%."
The company consistently over-earns its dividend growing its undistributed taxable income to approximately $17 million or $0.29 per share. Management continues to take a higher quality approach, including selective portfolio growth, with adequate protective covenants, at higher yields for improved dividend coverage. It is also important to note that dividend coverage for TCPC is not reliant on fee and dividend income, some of which is amortized over the life of the investment, reducing the potential for "lumpy" earnings results.
"Our income recognition follows our conservative policy of generally amortizing upfront economics over the life of the investment rather than recognizing all of it at the time the investment is made."

Source: TCPC Q3 2017 Investor Presentation
I have slightly reduced my base case projections for TCPC to take into account the recent guidance provided by management, including lower prepayment-related income and likely slower originations. It is important to keep in mind that Q2 2017 was an atypical quarter with higher-than-average originations and repayments due to timing and could result in lower activity for Q3 2017.

Source: TCPC Q3 2017 Investor Presentation
"And if you look at the originations that we recorded to date in Q3 at $52 million which is well below our historical norm for 4 or 5 weeks into the quarter, that is coincidental too. We run a lumpy business. We do good deals when we see them. We've got a lot of flow. We're passing on a lot of things. The fact that we were able to close so many deals in Q2, I think, is a credit to the platform, but probably more a function of coincidence and timing. Some of those could have just as easily gotten pushed into Q3 or Q1. And so we don't derive too much from it having been a record quarter...One thing I might add to my prior comment. Last few quarters, of course, we've had little more prepayments than usual, I'd be careful about making the run rate of the last few quarters. It is lumpy and can be as low as $0.02 or $0.04, but ranges all across the board."
For Q2 2017, TCPC beat my best case projections covering its dividend by 120% due to $0.15 per share of income related to prepayment premiums and accelerated original issue discount amortization (up from $0.06 the previous quarter). NAV per share increased by 0.7% "primarily a result of net investment income in excess of paid dividends and the accretive impact of its share issuance above NAV in April 2017" as anticipated in the previous projections. Its portfolio yield remained stable at 11.1%, and management was able to grow the portfolio after taking into account higher prepayments due to $267 million in originations during the quarter.
The company has plenty of growth capital with a regulatory debt-to-equity ratio of 0.59 (see table below) as of June 30, 2017, due to the recent equity offering closed on April 25, 2017, raising net proceeds of $93.6 million.

Source: TCPC Q3 2017 Investor Presentation
On August 4, 2017, the company announced the pricing of $125 million in of 4.125% notes due 2022. Previously, TCPC completed a direct equity offering of 2.3 million shares in an effort to increase the ownership of longer term institutional investors similar to the converted $30 million note and institutional support from CNO Financial Group (CNO). CNO is an NYSE listed insurance holding company with over $30 billion in assets and is committed to invest more than $250 million of capital that will be deployed over time in TCP's managed funds.
Last year, TCPC received an additional $75 million commitment from the SBA, increasing the total SBA commitment to $150 million. The company has been prudently ramping its SBIC borrowings with only $75 million of the $150 million allowable with its first license and potentially up to $350 million allowed with three licenses, giving the company access to low cost longer term borrowings exempt from typical BDC leverage ratios.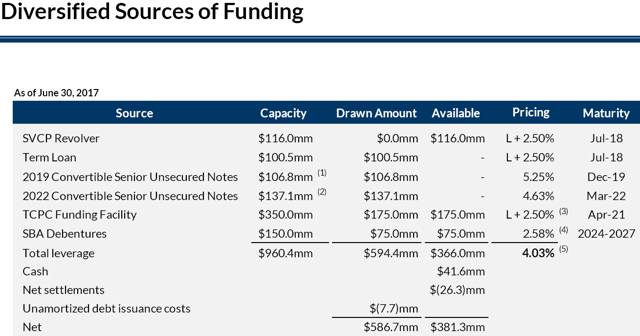 Source: TCPC Q3 2017 Investor Presentation
On February 13, 2017, TCPC announced that it had agreed to provide a $100 million engine financing facility to Mesa Air Group, Inc. (Mesa), a leading regional airline that now accounts for around $37.5 million (around 2.6%) of the portfolio.
Risk Profile Discussion:
Overall credit quality of the portfolio remains strong, with around 95% of the portfolio in senior secured debt (mostly first lien positions) and non-accruals declined to 0.1% of the portfolio fair value. As discussed in the previous report, Boomerang Tube, CORE Entertainment, and Iracore International, Inc. were restructured and/or exited leaving Essex Ocean as its only investment on non-accrual status with a fair value of around $1.1 million.
TCPC realized a gain of $7.0 million on the sale of its equity position in BlackLine Inc. (NASDAQ:BL) and another $1.7 million on the sale of its equity position in SOASTA Inc. offset by a $10.1 million loss due to the restructuring of its loan to Iracore International, Inc.
Unrealized losses were mostly related to a $5.3 million markdown of Kawa Solar Holdings (see discussions below), partially offset by various market gains resulting from generally tighter spreads.
"While Kawa was current in its interest payments during the quarter, the revolver was markdown due to challenges the company is facing and we since restructured the business. Net unrealized losses were reduced by unrealized gains from spread compression. Our credit quality remains strong, with only one loan on nonaccrual status at quarter end, representing just 0.1% of the portfolio at both cost and fair value."
TCPC reduced its direct retail exposure to 1.2% due to the repayment of Gander Mountain Company. As mentioned in the previous report, Gander filed for bankruptcy and recently liquidated assets. TCPC had a $14.6 million second-lien term loan with a fair value of $14.9 million that was slightly marked up in Q1 2017 due to TCPC's position covered by assets.
Quality of Management and Fee Agreement:
The primary advantages for TCPC investors are its stable NAV per share, investor-friendly fee structure that protects total returns to shareholders on a cumulative basis by taking into account capital losses when calculating the income incentive fees ("total return hurdle") and lower cost of capital, which have resulted in superior dividend coverage, previous special dividends, and growing undistributed ordinary income.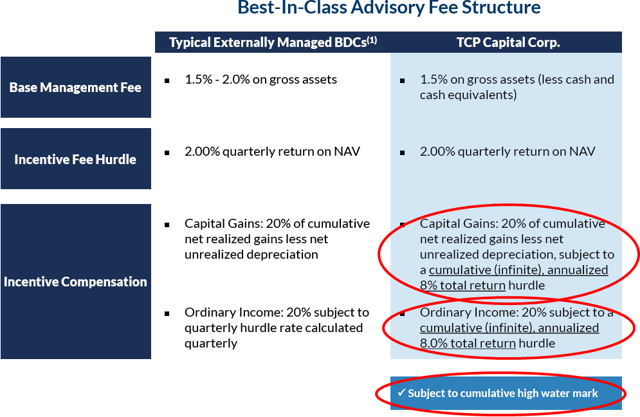 Source: TCPC Q3 2017 Investor Presentation

I consider TCPC to have higher quality management for many reasons, including the previously discussed fee agreement, conservative dividend and accounting practices (recognizing fee income over the life of the investment), insider ownership, strong underwriting standards, and measured approach when raising and deploying capital.
"Finally, our interests are closely aligned with our shareholders. Our origination income recognition practices are conservative and we have one of the more shareholder-friendly fee structures in the industry. We continue to invest alongside our shareholders and members of the management team and the Board of Directors have frequently purchased TCPC shares in the open market. Our ATM program has been a shareholder-friendly way to raise equity to fund new lending opportunities. And we may reactivate it this quarter. As in the past, to the extent shares are issued pursuant to the ATM, it will be in a manner that we believe is shareholder-friendly."
On August 2, 2017, the Board re-approved its stock repurchase plan to acquire up to $50 million in common stock at prices below NAV per share. However, the stock has not traded below NAV during the recent quarters, and no shares were repurchased in Q2 2017. The company has the ability to issue shares below NAV, but I do not see this as a "red flag", given the quality of management.
Similar to other externally managed BDCs, TCPC benefits from having access to a broader credit platform, Tennenbaum Capital Partners ("TCP"), giving the company access to scale, relationships, and expertise which has advantages, including incremental fee income and higher investment yields. TCP has invested over $18 billion through its credit opportunities strategy in addition to a specialty fund focused on debtor-in-possession financing. As of December 31, 2016, the firm had in excess of $7 billion in committed capital under management.
"Our co-investment exempted really from the SEC which was granted a decade ago, affords us the opportunity to co-invest alongside 10 capital - Tennenbaum Capital's private funds to provide larger and more comprehensive capital solutions to our borrowers than TCPC could pursue on its own. Looking to the future, our strategy remains the same. We will continue to focus on effectively deploying capital from our diverse lending sources to optimize our portfolio performance by effectively preserving capital and generating a strong recurring earnings stream."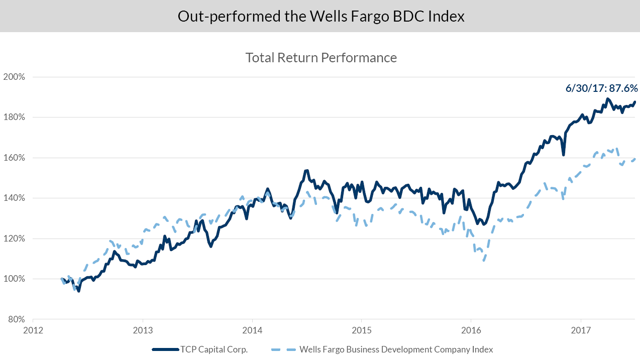 Source: TCPC Q3 2017 Investor Presentation
Reasons to Buy TCPC:
Recently lower stock price.
Sustainable dividend yield of 9% and the potential for near-term capital gains and the potential to increase and/or pay special dividends.
Lower cost of capital.
Higher quality management and credit platform.
Portfolio credit quality remains strong, and the company has successfully reduced its direct retail exposure (1.2%) and non-accruals (0.1%).
Upcoming Earnings Announcements:
BDCs will begin reporting calendar Q3 2017 results next week, including TCPC on November 7, 2017, before the open of the financial markets. Please subscribe to Sustainable Dividends if you would like updates on the following as each company reports:
Target prices and buying points
Real-time changes to my personal BDC positions
Updated rankings and risk profile
Real-time announcement of changes to dividend coverage and worst-case scenarios
BDC portfolios
As mentioned in "Q3 2017 Earnings Season Preview For BDCs", many BDCs have provided timing for reporting Q3 2017 results. "A" denotes after the market closes, "B" is for before the markets open, and "Est" is estimated reporting date.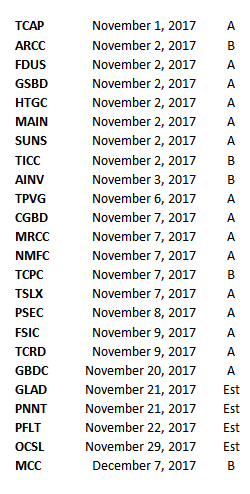 Disclosure: I am/we are long TCPC. I wrote this article myself, and it expresses my own opinions. I am not receiving compensation for it (other than from Seeking Alpha). I have no business relationship with any company whose stock is mentioned in this article.