Shopify (SHOP) stock dropped some 10% after the sizzling e-commerce company reported blowout Q3 results. It was a clean beat-and-raise quarter followed by bullish commentary from management on the conference call. Nonetheless, SHOP stock dropped 10% because the market was not entirely satisfied with management's response to the Citron short thesis.
We believe this sell off is a buying opportunity. We believe the robust growth numbers speak for themselves, and further believe management added enough color around those numbers to adequately deflate concerns related to the Citron short thesis. The valuation remains rich, but growth remains bigger, a combination that will likely lead to handsome share price gains in the long term.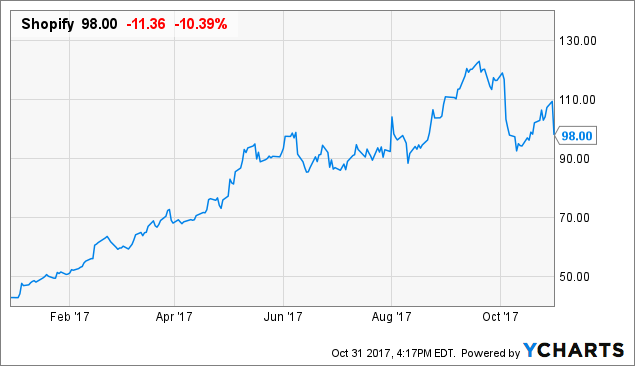 SHOP
data by
YCharts
This earnings report was critical for two reasons:
SHOP needed to show that its scorching growth story was, in fact, still scorching.
SHOP management needed to appropriately respond to the Citron short thesis.
SHOP did both of those things this quarter.
Management appropriately refuted Citron claims that Shopify was a "get rich quick scheme." On the call, management said they consulted with outside legal counsel and came to three conclusions: 1) Shopify sells a commerce platform, not business opportunities, 2) Shopify complies with FTC rules, and 3) Shopify actually consistently underscores just how hard (not easy) entrepreneurship is.
Management went on to say that most of Shopify's revenue comes from a merchant successfully completing a transaction, meaning that Shopify only succeeds if its merchants succeed. Thus, if Shopify is growing as quickly as it is, then it means the underlying merchant base also is succeeding.
While management admitted that there is churn in the merchant base (a lot of entrepreneurs don't succeed on their first try), they also said that there are a lot of successful merchants on Shopify. Management said that every 90 seconds an entrepreneur makes their first sale on the platform.
Overall, management's sentiment on the call captures how we feel about Shopify. Shopify is an enabler of e-commerce solutions for small to medium-sized businesses that would otherwise be eaten alive by Amazon (AMZN) and other big retailers. While there are certainly marketers out there who have put together articles and videos detailing how one can get rich using Shopify, that doesn't mark the business as illegitimate.
It's no different than articles and videos telling you how to make money from YouTube or Instagram. Google "how to be a YouTube star" or "how to be Instagram famous." There is plenty of content out there on that front, but none of it serves to undermine the value of YouTube or Instagram.
Same with Shopify. Shopify's value is providing a commerce platform at a reasonable price to hundreds of thousands of merchants. That value isn't undermined by videos and articles saying its possible to get rich with Shopify. Shopify's value stands on its own as a platform that allows SMBs to level the commerce playing field with big retailers.
Beyond refuting Citron, SHOP also proved that its growth story is still red hot. Revenue growth remains on fire (+72% versus +75% in each of the prior two quarters). Subscription solutions growth is actually accelerating (60% to 64% to 65%). The accelerated growth is being driven by yet another record quarter of merchant adds. That is what really matters in the Shopify business model - how much the company can grow its merchant user base. Merchants are the people who add value to Shopify and drive recurring revenue higher.
On that note, monthly recurring revenue jumped 65% in the quarter, the best growth rate seen this year. Shopify Plus also is scaling nicely, as its contribution to MRR has gone from 17% to 18% to 20% so far this year. That means the proportion of merchants that see Shopify as adding "big value" continues to go up.
GMV growth remains strong at nearly 70%. Gross profits jumped 86%, the best growth rate seen this year. Operating loss narrowed. Shopify reported its first ever adjusted profit as a public company. Plus, the revenue and earnings guides were hiked substantially.
Clearly, this growth narrative isn't showing many signs of slowing.
Bears want to point to the valuation and say it makes no sense. At 15x forward EV/revenues, SHOP stock is more richly valued than comps Square (SQ), Workday (WDAY) and ServiceNow (NOW). But not by much. The 15.1x forward EV/Revenues multiple is only a 30% premium to the average 11.6x multiple for SQ, WDAY and NOW.
We say only because SHOP is growing more than 2x as fast those companies. The average MRQ revenue growth rate at those three companies is 35%. Revenue growth at SHOP has been consistently above 70% this year.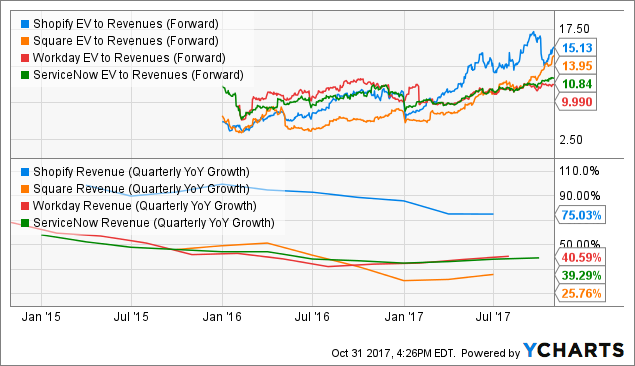 SHOP EV to Revenues (Forward)
data by
YCharts
In fact, if you look at the one-year forward EV/revenue multiple, SHOP is no longer the most expensive stock in the group.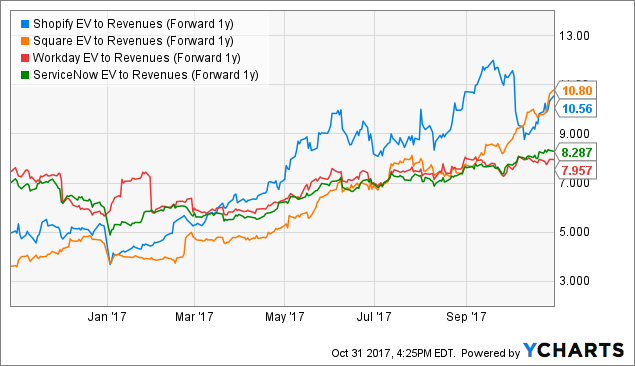 SHOP EV to Revenues (Forward 1y)
data by
YCharts
In other words, SHOP does have a big multiple, but it should be bigger considering SHOP's huge growth rates. A 70%-plus revenue growth story should trade at more than 15-times EV/revenues.
All in all, SHOP is still attacking only a small portion of its massive addressable market (see our TAM analysis here). That is why top-line growth rates are staying high at 70%-plus. Growth will inevitably come down, but this is a 20%-plus revenue growth story for the next five years-plus.
Consequently, we believe SHOP stock is still in its early innings. We continue to believe this stock will follow an AMZN-like trajectory. There will be road bumps (such as shorts attacking the stock), but that won't knock this secular growth stock off course for long. Overall, the multi-year trend will be solidly up.
Disclosure: I am/we are long SHOP, AMZN. I wrote this article myself, and it expresses my own opinions. I am not receiving compensation for it (other than from Seeking Alpha). I have no business relationship with any company whose stock is mentioned in this article.