Correlation is not causation, but correlations provide us with probabilities. The gold market is heavily correlated with four much larger markets; interest rates, the dollar, the USD/JPY FOREX pair, and inflation expectations. In this article, we will review these four correlated markets and make a conclusion about the balance of probabilities as they apply to the gold market.
Rates
Gold shows a tight negative correlation with all three parts of the Treasury rate curve. The, 30-year, 10-year, and 2-year Treasury rates have recently broken out of a down-sloping channel and are now rising within up-sloping channels (chart below). Aided by the Fed's plans for reverse QE (balance sheet reduction) and the Fed's need to increase rates ahead of the next recession—the market is pricing in a 98% probability of a rate hike in December -- the bias for interest rates is definitely up. Since gold tends to move inversely to rates, the bias for gold is down.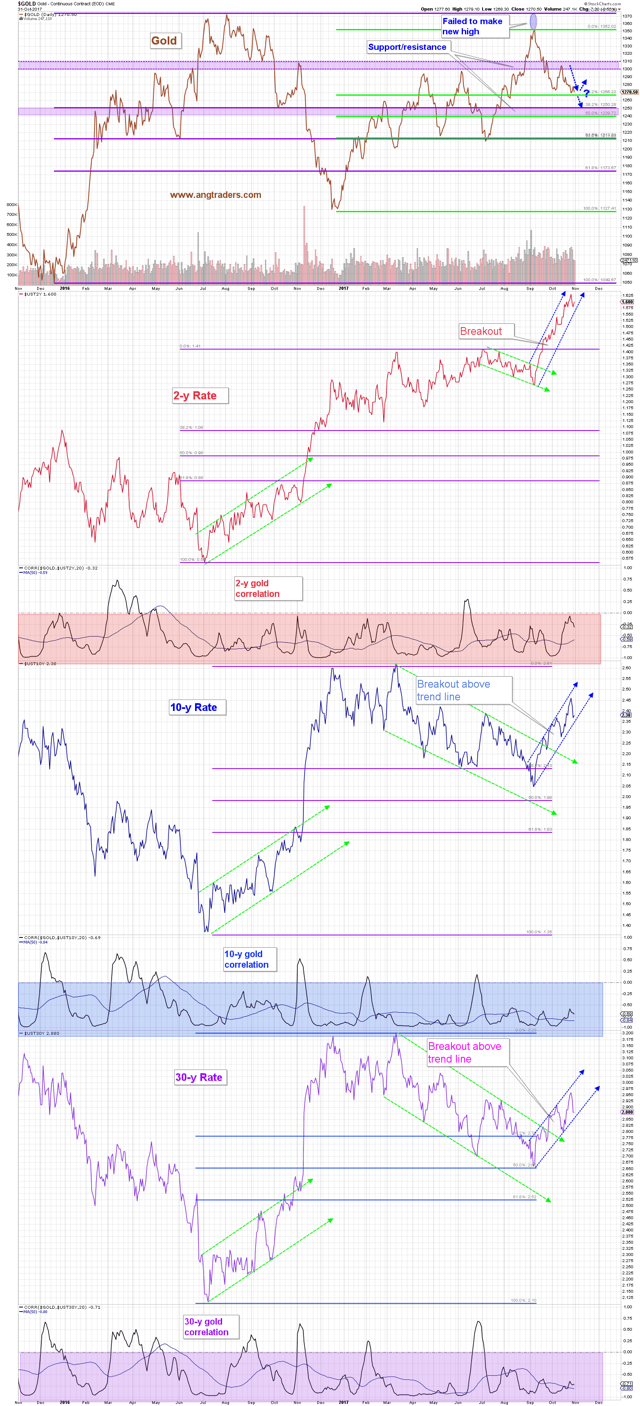 The Dollar
On average, gold and the dollar maintain a negative correlation. The relentless decline in the dollar that started at the beginning of the year seems to have finally ended in a classic bullish reverse head-and-shoulders pattern (chart below), and looks to continue rising in response to the rising rates. A rising dollar tends to put pressure on gold.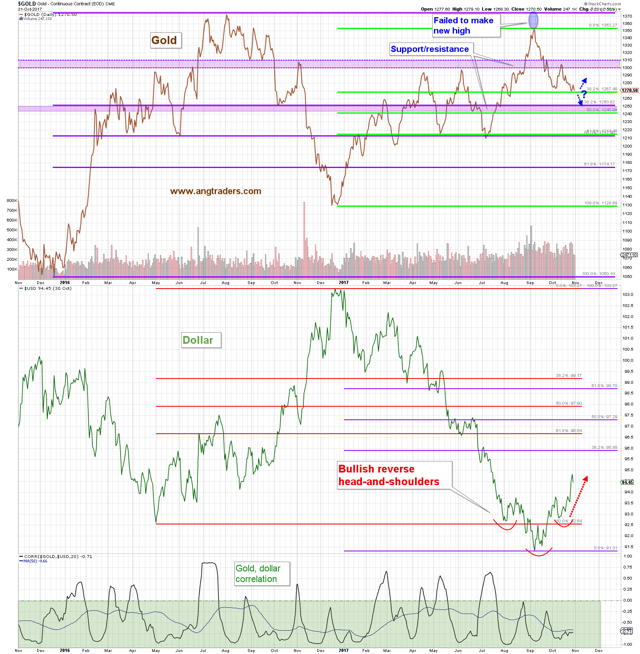 USD/JPY FOREX Pair
The FOREX USD/JPY pair, also maintains a negative correlation with the gold price (chart below). Since the Bank of Japan has a strong easing bias, and is unlikely to raise rates, the bias for the USD/JPY pair is up which will put pressure on gold.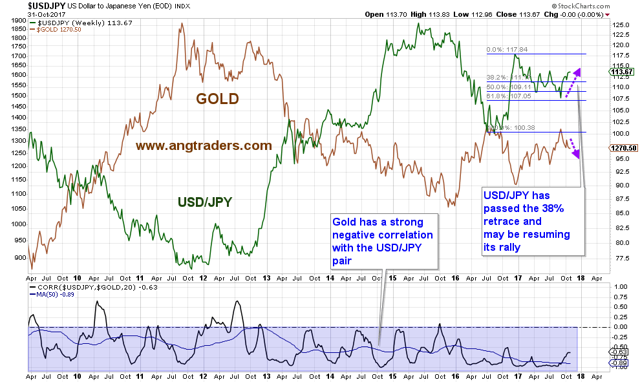 Inflation Expectations
Gold maintains a strong positive correlation with inflation expectations. Although there is a school of thought which is convinced that inflation information is not accurate, we try to look past the inflation numbers themselves and instead marvel at the correlation between the Treasury Inflation-Protected Securities ETF (TIP) and the price of gold (chart below).
Inflation expectations have been trending lower ever since September when the Fed started telegraphing their intention to start reverse QE. Combined with the need to raise rates as soon as possible (December), the Fed's tightening actions will serve to keep a lid on inflation and pressure on gold.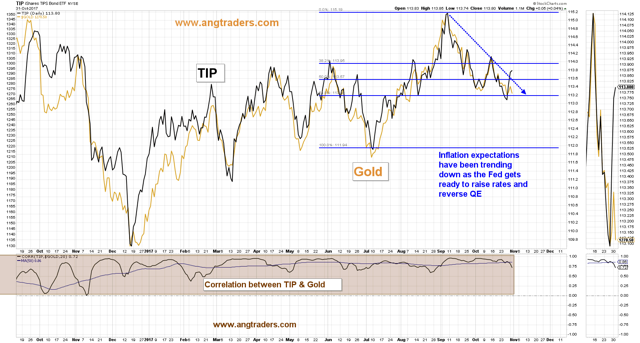 In conclusion:
Treasury rates, the dollar, and the USD/JPY FOREX pair are upwardly biased and negatively correlated with gold.
Inflation expectations have been steadily decreasing for the last two months and are positively correlated with gold.
The balance of probabilities falls on the side of lower gold prices over the next several months.
Disclosure: I am/we are long GLL. I wrote this article myself, and it expresses my own opinions. I am not receiving compensation for it. I have no business relationship with any company whose stock is mentioned in this article.