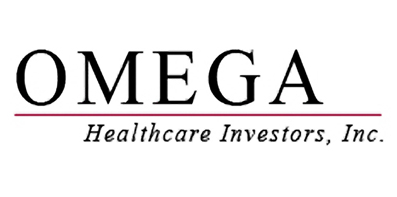 Shares of health care REIT Omega Healthcare Investors, Inc. (NYSE:OHI) crashed on Tuesday after the company reported weaker-than-expected third quarter results. Omega Healthcare Investors also revealed tenant problems that led to a major impairment charge and lowered its full-year guidance which investors used as an excuse to dumb the stock. However, I think there is a good opportunity to buy into the health care REIT after the sell-off because investors likely overreacted to Omega's tenant issues. The dividend is not at risk in my opinion.
Omega Healthcare Investors slumped 6.81 percent on Tuesday after the health care REIT reported a third quarter net loss of $137.5 million or $0.67/share. Funds from operations, or FFO, a metric typically used to assess the cash flow power of a health care REIT and is used to calculate dividend coverage, was also negative $46.8 million or $0.24/share. Omega Healthcare Investors was forced to take an impairment on a direct financing lease amounting to $194.7 million tied to one if its troubled operators, Orianna Health Systems. Related, Omega Healthcare Investors' financial statements showed an $11.9 million provision for uncollectible accounts.
Orianna Health Systems has experienced a decline in occupancy in the last several years, and Omega Healthcare Investors is trying to move Orianna facilities over to new operators. Orianna accounts for approximately $46.1 million, or 5.2 percent, of Omega Healthcare Investors' contractual rent/interest. Here's what Omega's Chief Executive Officer had to say about the problem yesterday:
We believe that for some of the Orianna facilities new operators may be able to improve occupancy and reduce expenses; however, based on current facility performance, we anticipate that the current annual contractual rent of $46 million will likely be reduced to a range of $32 million to $38 million once the transition process is complete. The transition timing is expected to take approximately six months.
Omega Healthcare Investors has placed Orianna on a cash basis during the third quarter, and has already moved nine Orianna skilled-nursing facilities in Texas to another operator.
Based on Orianna's troubles and lower expected revenues, Omega Healthcare Investors lowered its full-year guidance from $3.42-$3.44/share to $3.27-$3.28/share, reflecting a decline of 4.5 percent.
What's Going To Happen To The Dividend?
This is the question of all questions. After all, Omega Healthcare Investors is primarily an income vehicle affording income investors with a steady stream of dividend income.
That said, the good news is that the dividend is likely to be unaffected by the recent operator troubles, and there are several cues in the earnings release that suggest that the dividend is NOT at risk here.
For one thing, Orianna is not the largest operator in Omega Healthcare Investors' portfolio (Ciena Healthcare is, representing 9.8 percent of the REIT's contractual rent and interest) and the company already has had success transitioning Orianna's Texas facilities to a new operator in the third quarter. While the decline in revenues and FFO is not good news, of course, I consider the decline in FFO to be a one-time event. Further, Omega Healthcare Investors again raised its quarterly cash dividend $0.01/share in October, well after the company learned about the Orianna problems, suggesting that management is committed to its dividend policy.
If we take a look at Omega Healthcare Investors' dividend coverage stats, the health care REIT has consistently overearned its dividend with adjusted funds from operations (AFFO adjusts for one-time impairment charges). Assuming that the impairment of the direct financing lease is a one-time thing, which I believe it is, Omega Healthcare Investors should have no problems sticking to its dividend policy of $0.01/share quarterly dividend raises.
Here's Omega Healthcare Investors' dividend coverage updated for Q3-2017 AFFO and dividend.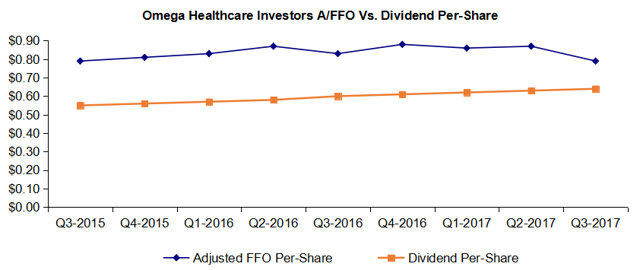 Source: Achilles Research
Omega Healthcare Investors' Dividend Stream Just Has Gotten A Lot Cheaper
Investors dumped the REIT's stock yesterday, spooked by Orianna fears and rattled by the lower guidance. That said, I think the drop is an excellent opportunity to open up a long position. Besides the issue just discussed - the dividend is likely unaffected by Omega's operator issue - Omega Healthcare Investors' shares are widely oversold and now sell for a much more affordable valuation. Based on the healthcare REIT's new guidance, Omega's income stream costs investors only 8.8x 2017e AFFO after Tuesday's emotional sell-off.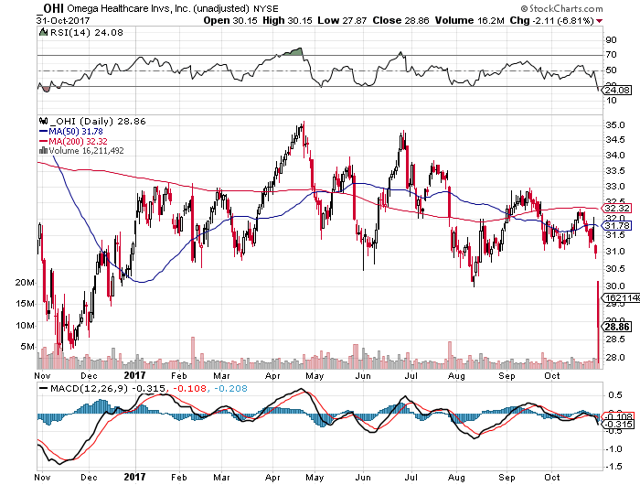 Source: StockCharts.com
Your Takeaway
I aggressively gobbled up shares yesterday because I think the dividend is sustainable and the operator problems are contained. Omega Healthcare Investors already has had success moving Orianna's facilities over to a new operator in the third quarter, and the REIT's AFFO is more than sufficient to cover the dividend. While the guidance adjustment is not good news, investors are widely overreacting to the REIT's solvable problems. Since Tuesday's sell-off included a large emotional element, I see Omega Healthcare Investors as a Strong Buy on the drop. Buy for income and capital appreciation.
If you like to read more of my articles, and like to be kept up to date with the companies I cover, I kindly ask you that you scroll to the top of this page and click 'follow'. I am largely investing in dividend paying stocks, but also venture out occasionally and cover special situations that offer appealing reward-to-risk ratios and have potential for significant capital appreciation. Above all, my immediate investment goal is to achieve financial independence.